Bangkok is 'fake it' central. It's a city where pretending you're something you're not has become a way of life. Everywhere you go, you'll see fake designer purses, watches, shoes, suits; you name it, and Bangkok has it in all the colors.
So what better way to spend a day in Bangkok than to pretend you're rich? If you do it right, it's totally affordable, and fun.
Tip: Don't forget to bring a change of outfit – rich people never wear the same clothes all day.
There are so many ways to do it, but we've put together a sample 'Fake it Til You Make it' day in Bangkok:
Start on Khao San Road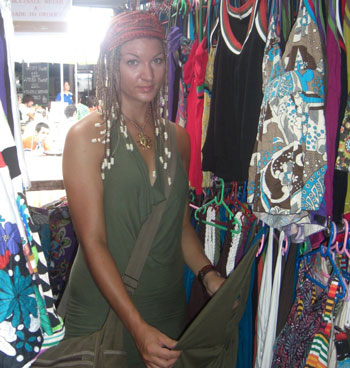 This is the place to buy your designer dress or jacket, your essential overly large sunglasses, and your chunky jewelry, chic hats, and ritzy belts. You can get top-notch designer knock-offs here for cheap, cheap, cheap.
Tip: always start bargaining at 50 percent or less of the quoted price. Just because you're pretending to be rich doesn't mean you have to pay more!
Taxi downtown: No rich person would ever be seen on a bus or in a tuktuk. Taxis are cheap (just remember to insist on a meter!), and the air-conditioning is essential to keep you looking fresh and at your best.
Tip: Don't bother taking the highway – you'll have to pay a toll and it's far more scenic to take the long route. Besides, you're not in any hurry.
Get designer shopping bags at Central World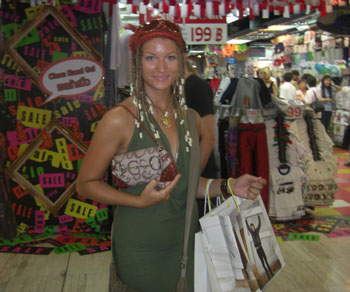 You will be shocked by what a difference it makes to carry designer shopping bags around. Everyone treats you with more respect if they see D&G or some other posh name on your bag. Just pop in to the fanciest-looking shops and ask for a bag.
The stiff ones are best because it's easy to disguise their lack of content. If the shop attendant asks what it's for, them him or her that you're doing a photo shoot, or something equally glamorous.
Tip: Now that you've got these bags, you're far more likely to be accosted by beggars and street vendors who will see dollar signs in your eyes. If you can swing it, 10 baht (about 30 US cents) can be a huge help for that woman and her small children looking up at you with those big, sad eyes.
Make your way to the Siam Center's Gourmet Market via the Skywalk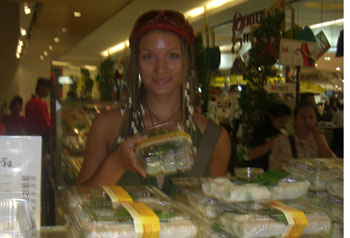 Here you will be able to dine on gourmet foods for not much more than you'd pay on the street. The place is full of rich-looking cakes and pastries, as well as healthier fare, including salads and gigantic sandwiches.
You'll definitely find something to suit your taste, and you'll feel so much more posh in the ritzy air-conditioned indoor market than you would getting pad thai from a street-side stand for about the same price.
Suggestion: spring rolls for 50 baht (about US$1.50) and tapioca pudding for 40 baht (about US$1.20).
Tip: Snack on an appetizer of free samples, which are everywhere here.
Rolexes and Guess bags at MBK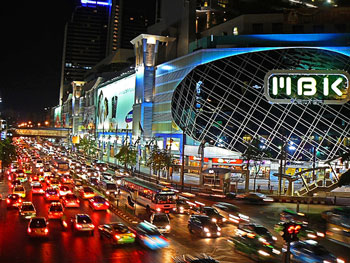 MBK is a massive shopping complex that is the place to get your fake designer handbags and watches. It's 8 stories filled with over 2,500 different shops, many of them specializing in electronics, but there are also plenty that specialize in fashion knock-offs.
The rip-offs are among the most realistic this writer has seen in this side of the world (Hong Kong included). It's like Khao San Road on steroids.
Cruise through the stores and take note of your favorite things before you make your purchase, because you may find a better and cheaper version in the store next door.
Tip: Take note of where you enter. It's easy to get lost in MBK.
Stroll through Vimanek Mansion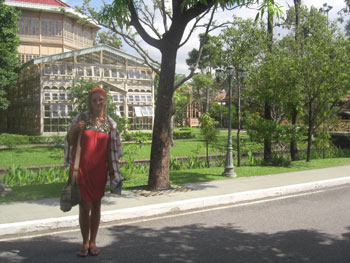 It's far cheaper than a visit to the Grande Palace (100 baht (about US$3) compared to 350 baht), and just as nice. See how the rich kings lived as you tour through their palace rooms.
A guided English tour is included in the price. Check out the gorgeous gold and mother-of-pearl meditation chair used by very posh monks (unfortunately, you won't be able to sit in it).
Tip: Remember to bring something to cover your shoulders and wear knee-length slacks or skirts.
Get a street-side massage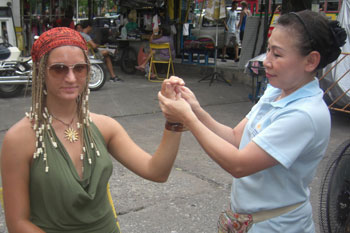 You must be tired: Why not relax how the rich do? Get a street-side massage for 200 baht (about US$6). Let the Thai masseuses work their magic on your aching muscles. After your long and strenuous outing, it will feel particularly divine.
Tip: Avoid the ritzy-looking tourist-trap places, and head for an outdoor massage station. The massage will be just as nice (if not better), and everyone who walks by will see you getting pampered, thereby adding to your upper-class credibility.
Enjoy some wine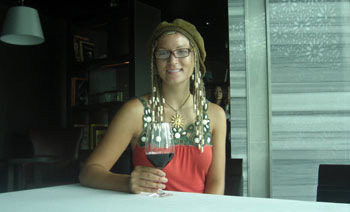 Some vino? Now you really get to experience rich life. Looking your finest, stroll through the gates of the ritzy boutique hotel Ma Du Zi around 5:30 for their after-work wine promotion.
Pay 650 baht (about US$20) and get as many wine refills as you like until 8:30pm. Ladies get a free canapé. The place is tricky to find, but if you head to Asoke Sky Train station, and ask around, you'll be sure to be pointed in the right direction.
Tip: But be careful with how much wine you consume; it's not classy to get too drunk.
Pretend you're a celebrity at Skybar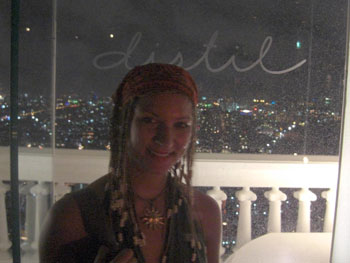 This famous Bangkok lounge is a favourite hang-out of the ultra high class and celebrities. Not only that, but at 60 floors up, it offers an impeccable view of the entire city.
It's almost worth the 450 baht (about US$15) you'll have to pay for the cocktail. But if the view isn't enough, rubbing elbows with high society will definitely give you a taste of how the other side live.
Tip: Enjoy the free pre-peeled pistachios – the bowl will be refilled when you get to the bottom.
Of course, it's all in the attitude. Walk around like you're worth it, and people will think it's true. So, what are you waiting for? Go see how the other side live.
All photos courtesy of Kaila Krayewski, except MBK, by maistora on Flickr