My third day in Seoul, exploring an alley off the main shopping street of Insadong, I was—what should I say—lured? Seduced? Neither of those words quite fits, so let's just say that I was pulled by instinct into a restaurant, and I was gifted with the traveler's treasure of discovery.
Looking into the front window from the alley, I had seen a large tray of dumplings. They were like a fleet of perfectly spaced fat boats sailing across the silver surface of a pond. Each was the size of a small fist. Each was astonishingly overstuffed and crowned with a crenulated crest of pinched dough.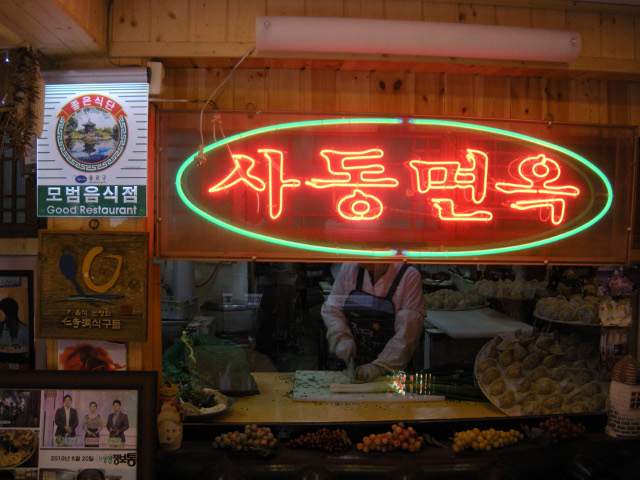 I pulled open the door and I stepped in. My desire was instantly deflated by a small chaos of construction at the front: ripped up floor tiles, a scatter of abandoned tools, no tables in sight and no welcoming face. No matter, I told myself, I was not hungry anyway. I turned around and continued down the alley.
I passed the window again on my way back to the main street. This time I found English on a menu posted outside: DUMPLING SOUP, written next to Korean words in the roman alphabet, MANDUT GUK. I pushed myself to enter, again, and to step around the square black gaps of no tile and over a small mallet left lying on the floor. I saw tables ahead in another room. A woman with short black hair cut like a man's and wearing a white apron caught sight of me and veered from an errand. She waved me to follow her when I held up my index finger to indicate I was alone.
The restaurant was not crowded; it was 2 pm. She guided me to a white plastic stool with legs that grated as I scooted closer to a small table. Behind me were a few booths; before me was a wall with shelving. Arranged there in neat stacks were plastic glasses, metal cups, stainless steel pitchers, crockery bowls the color of red clay, and bottles of sauces. On a little table shoved up against mine sat a stainless steel rice cooker, so big it blocked my view of the lower shelves. The waitress handed me a menu with English, and I pointed to the dumpling soup.
Within moments she returned and slid five white plastic plates and bowls onto my table: banchan, side dishes, the ubiquitous opening to any Korean meal. I lifted the lid of a plastic box shaped like a bottle. The words Coca-Cola® were written across the top in that familiar advertising script. I picked out a pair of metal chopsticks and a long-handled metal spoon. Settling the chopsticks into my grasp, I began to sample what was before me.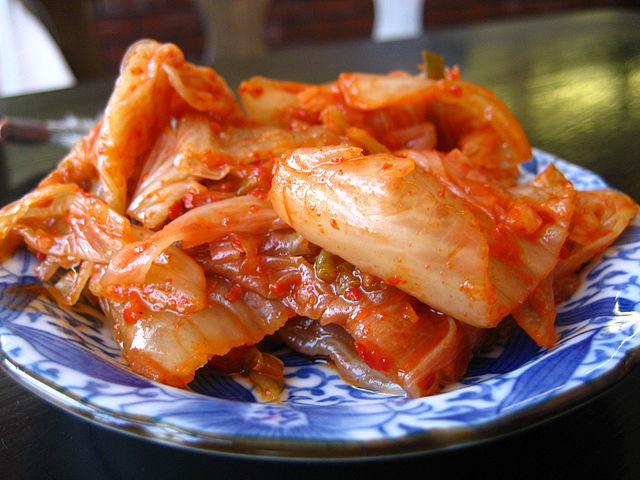 I plucked a nibble from the plate of kimchi, fermented Napa cabbage in a pool of watery red-pepper sauce. After only a few days in Seoul, the wilted tang, heavy with salt and garlic balanced by a bit of peppery zing, was familiar to me; kimchi had appeared at every Korean meal I had eaten thus far. A medium-sized bowl held mounded strips of white radish coated with flecks of red pepper, a crunch with a sting that burned my mouth. In another bowl, glass noodles looped around the orange curls of raw carrot, brown bits of frilly fungi, green onion, and cooked spinach. To get a bite into my mouth I had to gather and twist the noodles in my spoon to prevent their escape from the clasp of the metal chopsticks. Another plate held parboiled bok choy in a sauce that I tasted as soy with a hint of sesame oil. And finally there was a dipping sauce, chunks of white onion in a mix of mild vinegar and soy.
As I sampled and savored and chewed, conversations in Korean tickled my ears, and then I thought I caught a whiff of English. I turned to scan my fellow diners, but saw only Asian faces. Perhaps I was wrong. But no, I heard a snippet again as a question posed: "You like that thin collar look?" This time I found the source: two men sitting in a booth against the wall.
The waitress appeared again, and all my senses were claimed by what she delivered next: a large metal bowl. A dinner plate would have barely covered the top. It was like a bulging bell, like a temple bowl designed to sing when a stick is run around the rim. Inside three dumplings were docked in a broth.
The fat sailboats in the window had morphed with cooking, and their skins were a plumped white crinkled into labyrinthine convolutions.  Hidden now were the green snips of spring onions that had shown through the uncooked translucent wrappings the way light glows through the paper windows and doors of Korea.
White and green circles of sliced leeks floated on the surface of the soup and sprinkled the skins of the dumplings. Broth-filled rectangles of golden dried tofu drifted on top. A single bright diagonal slice of a fresh red pepper was a splurge of warning color.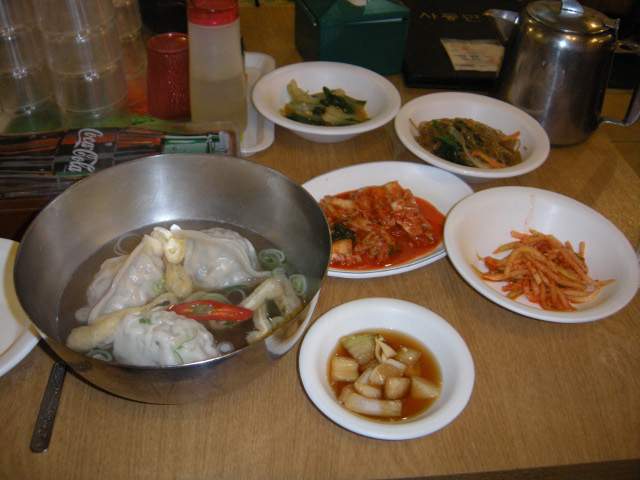 I scooped out a dumpling and set it on the plate before me. With the edge of the spoon, I leaned into the wrapper, and it collapsed open. Overtones of garlic and ginger rose from the filling in a tiny cloud of steam. I lifted ground pork and onion into my mouth and chewed. The wrapping was as light and delicate as thin handmade pasta. The balance of flavors and textures was perfect.
I dipped into the broth—the heat traveled up the handle of the spoon—and I washed down my bite. The taste was rich and full, a brewed essence of bones and brown flavor. A fitting harbor for the dumplings.
A voice filtered through my focus on the food: "You found a good place!" I looked up. The two men speaking English in the booth behind me were passing by my table, headed briskly to the front to pay their bill.
The taller one spoke: "We came all the way from Ohio to eat here!"
Before I could clear my mouth and speak, they had moved on. I longed to jump up and follow, ask questions: What is this place? How did you know about it? But they were already gone. No matter. I had received their blessing of my instincts.
I finished my lunch and went to pay my bill: 5,000 won, about five dollars. I stepped into the alley and headed for the subway.
Check out the following articles and resources about travel in South Korea:

Nancy Penrose writes to capture the ephemera of travel and to explore the moments that resonate in memory. She has been a traveler since 1957 when she was four years old and her family moved from a farm in Oregon to spend two years in Teheran, Iran, for her father's job in agriculture. Her writing has appeared in publications that include Memoir (and), Passager, Marco Polo Arts Magazine, Drash, the essay collections of Travelers' Tales, and the 2011 anthology Burning Bright: Passager Celebrates 21 Years.Her most recent award is from the Soul-Making Keats Literary Competition 2011. Her website is www.plumerose.net.
Photo credits:  Jeremy Keith; all others courtesy of the author and may not be used without permission