Local, sustainable, and organic are terms that get tossed around a lot in the culinary world these days, but in few places does this emphasis seem to be so pervasive than in Nova Scotia, Canada. Perhaps due to their (until the last several decades anyways) relative isolation, Nova Scotians have learned to fend for themselves, using the natural resources available to feed their families. Nowadays the food they are creating from the local bounty isn't just sustenance, it's creative, fresh, and delicious food that often rivals that which you'd find anywhere else in the world.
And lately this emphasis on locally-produced pride has gotten a little help in the marketing department, making it easier for traveling foodies to seek out the best of the province. The Taste of Nova Scotia, a marketing consortium of over 100 members, has created the Adventures in Taste program, which points visitors to places that offer hands on educational experiences that go beyond just shopping and dining. The activities, which include special chefs dinners, wine tastings, tours, and demonstrations, are meant to give tourists an inside look at food producers in Nova Scotia,  not as attractions but as experiences.
If you're an adventurous foodie out to discover the best of what Nova Scotia has to offer, don't miss these top spots.
Ironworks Distillery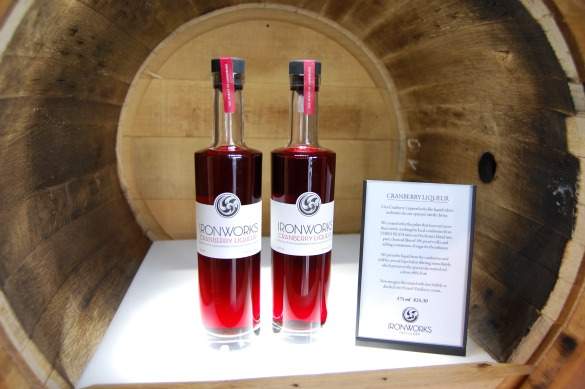 Set on the edge of  town in Lunenburg (a UNESCO Heritage site),  Ironworks Distillery is located in a 100 year-old former blacksmith shop and sells vodkas, brandy and liquors made from fruit. The owners were on a flight one day and saw an article about apples made from brandy. As Nova Scotia's Annapolis Valley is a major producer of apples, they decided to try to create specialty spirits made from apples and other local fruit. So they bought the old shop, kept the uneven floors, open beamed ceiling and wooden plank walls, and converted it to a craft distillery, which opened in early 2010.
They use McIntosh, Honeycrisp and Russet apples to make apple vodka (which doesn't taste like apples), apple brandy, and blueberry and cranberry liquors. Ironworks also produces a molasses rum – due to overwhelming local demand – which was released to a 500-person waiting list in late 2010. They're even experimenting with making spirits from the balsam buds of Christmas trees. The company offers no mail order service and no shipping, so you'll need to come enjoy the free samples if you want to taste it.
Tip: While in Lunenburg, head to the Salt Shaker for lunch for a pint of Propeller beer and a pound of mussels for $12.50, or to the more upscale, award-winning Fleur de Sel.
Sugah! and Rum Runners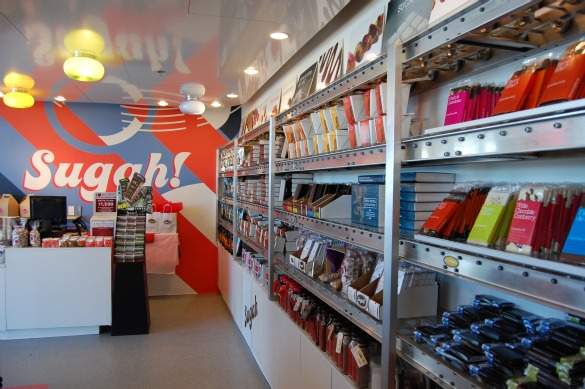 Next-door neighbors, Sugah! and Rum Runners should top the list of must-stop spots for anyone with a sweet tooth in Halifax. Sugah! offers seemingly endless rows of house-made, all-natural candies and chocolates. Cool off with four flavors of locally-made ice cream, topped with your choice of candy and mixed on a marble slab, or stock up on candies like the dark chocolate bar with Nova Scotia sea salt, milk chocolate with Canadian maple sugar, white chocolate with cinnamon and dried apricots and Nova Scotian cranberries, or dark chocolate infused with Fog Burner coffee.
Then head next door to Rum Runners, where the great grandson of rum runner Gordon Stevens pay homage to those who brought rum down to the US from Canada in the 1920's and 30's with a tasty treat. Using the recipe that Stevens' wife used to make cakes from the contraband, the store now creates dense, moist cakes topped with pecans and coconuts and soaked in sweet rum. The cakes are available in regular, chocolate and whisky flavors and are also available online (as are Sugah! chocolates).
Tip: If your sweet tooth still isn't satisfied, wander down the boardwalk to the Beaver Tails stand for some fried dough topped with cinnamon and sugar or chocolate hazelnut spread.
Brooklyn Warehouse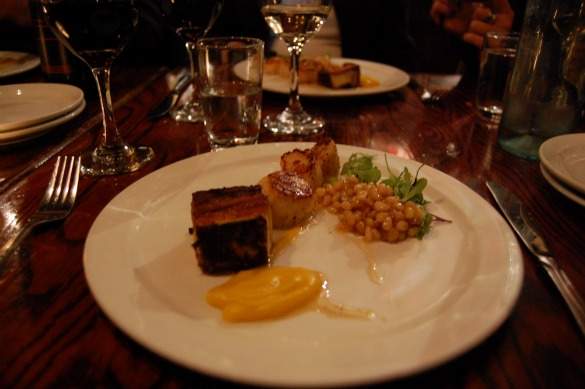 Cozy Brooklyn Warehouse creates affordable, simple food dressed up with fresh, locally-sourced ingredients and served in a relaxed bistro atmosphere. Helmed by chef Graeme Ruppel, the restaurant's philosophy seems to be easily summed up with his own words:   "Screw it, we're just going to make good food."  With a focus on local and sustainable food, Ruppel says he knows there is "one guy between me and the fisherman" and that he tries to use every part of the animal, to respect its life enough not to waste it. But the main emphasis is clearly on producing good, flavorful food.
Standout dishes include the PigFish, a mole pork belly with Nova Scotia scallops on squash puree, and the pork chop brined in Propeller root beer, drizzled with a vanilla-whisky sauce and served with bacon-cider risotto, which Ruppel says was influenced by the days when he was a poor cook and could only afford two things – root beer and pork chops.
Tip: They don't take reservations and the intimate restaurant only seats 40, so go early or plan on having a few drinks at the bar. If you're on a budget, go on Tuesday for the three-course prix fixe menu.
Tangled Garden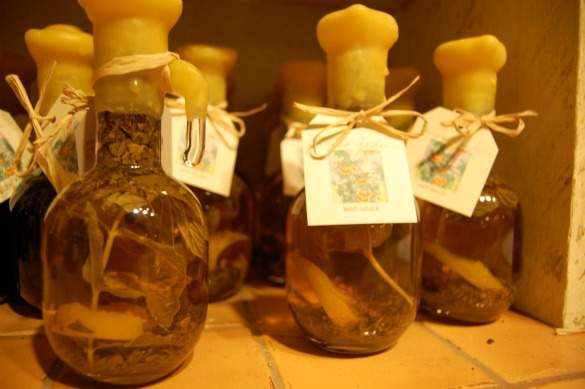 Set in the beautiful Annapolis Valley, Tangled Garden looks like  a fairy wonderland, full of flowers and herbs which seem to cover every square inch of space. 20 years ago, owner Beverly McClare  began experimenting with adding herbs to jams, jellies and vinegars. Now her store stocks over 60 different herb products, nearly all grown onsite, and all produced in her tiny kitchen, six jars at a time.
Guests are invited to sample liberally from products like ginger lime thyme jelly, apple sage jelly, fennel bay vinegar, lavender maple syrup, hot peach salsa, strawberry tarragon jam, raspberry and rose geranium liquor, and cranberry and orange mint liquor (the stores is also a licensed distillery). On warm days, you can even wander the peaceful five acre garden while cooling off with some lavender, rose petal or mint ice cream.
Tip: If you can't make it to Grand Pre, you can order products online, or buy them at Bishop's Cellar in Halifax or at the Halifax Farmers Market.
Fox Hill Cheese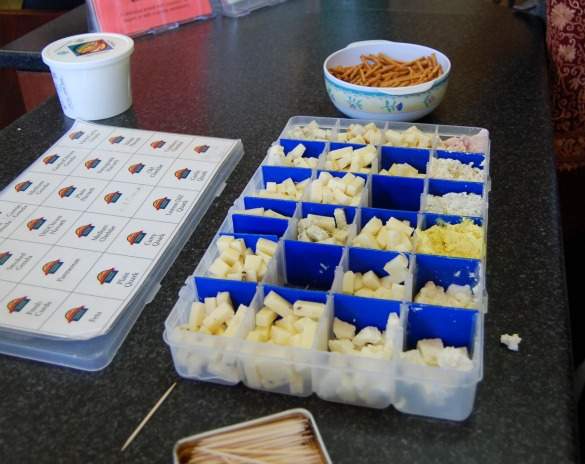 Cheese lovers in Nova Scotia should head straight to the award-winning Fox Hill Cheese in Port Williams (near Wolfville). The small, family-owned and run company started in 2002, releasing its first cheese in 2004. Now they make over 20 kinds of cheese, including gouda, cheddar, feta, several different kinds of havarti (including dill, Italian and fenugreek), and a unique cheese called parmesran, which is like parmesan but has a moisture content higher than the Italian cheese.
Fox Hill also produces yogurt, gelato, quark – a tangy, low-fat traditional German cheese – and milk, all of which is made from local, hormone-free cows. Guest can come to shop, sample, or simply watch the cheese-making process through large windows that look into the production room.
Tip: Come hungry. Between the cheese, yogurt, quark and gelato, there's a lot to sample and to take home for snacking on later. And if you can't make it to the store in Port Williams, you can visit their Halifax location or pick up some cheese at farmer's markets all over Nova Scotia.
Grand Pre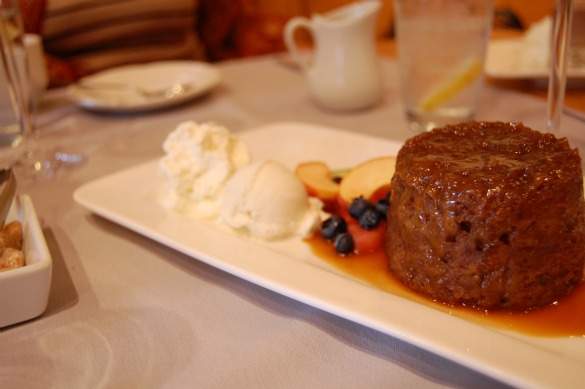 Like other wine regions in the world, Nova Scotia's Annapolis Valley Vineyards offer more than just the chance to sip award-winning wines. Here, you can make a day of it, visiting several wineries and enjoying a leisurely lunch. And one of the best places for that lunch (or a romantic dinner) is Le Caveau restaurant at Grand Pre. Visit the tasting room before or after and sample the regional L'Acadie wine or a some muscat, Marechal Foch, or icewine.  Winery tours are $7, tastings are free, and most bottles range from $15-$34.
Then head to the restaurant, where you can choose from not only Grand Pre wines, but from many of the Valley's best selections. Menu ingredients for lunch and dinner are sourced locally and change according to what is seasonally available, with global influences seen in items like the Moroccan crusted Nova Scotia Sea Scallops, Marechal Foch braised red deer with herb spatzli and red cabbage, and the cumin crusted lamb.
Tip: If you'd rather not drink and drive, both the Gasperaux and Muir Murray vineyards are only 3 kilometers (less than two miles) from downtown Wolfville. Several companies, like Go North Tours, offer customized wine tours from Wolfville and Halifax. Read more about wine tasting in Nova Scotia here.
Farmers Markets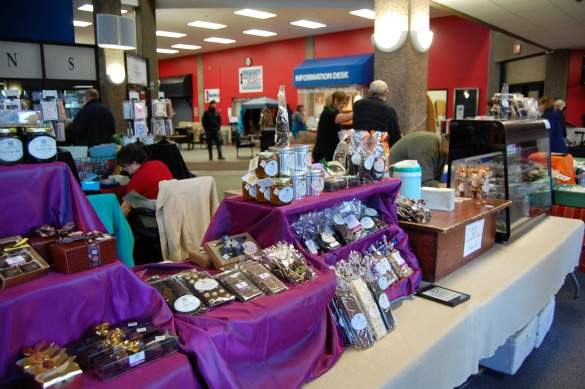 The are over a dozen farmers markets in Nova Scotia, with many operating year round. The year-round Halifax Farmers Market is the largest, and North America's oldest farmers market. The majority of artisanal products produced in the province are found here. On Saturday, Sunday, Wednesday and Friday, nearly 200 vendors welcome thousands of people, and sell everything from baked goods, cheese, wine, meat and produce to art, jewelry and crafts.
There are also several farmer's markets scattered around the province, including the much smaller Wolfville Farmers Market, where local vendors sell beeswax candles, jewelry made from recycled records, handmade pottery, knitted hats, organic teas, German baked goods, Indian samosas, fresh pasta, preserves, and much more to about 1500 visitors per day.
Tip: If you can't make it to the vendors listed in this article, the farmers markets are a great one-stop shopping option. Be sure to bring cash though, as many vendors don't take plastic.
L'Acadie Vineyards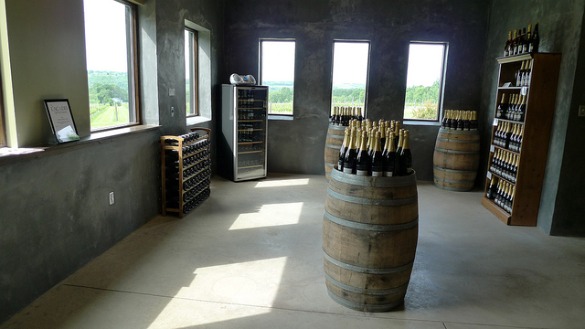 When Bruce Ewert moved to Nova Scotia from British Columbia to open L'Acadie Vineyards in 2004, he did so with two decades of wine-making experience already to his name.  He named the vineyard L'Acadie after the region's signature grape (which in turn, is named after the region, once called Acadia), a hybrid of European and American grapes, which was created at the Ontario Vineland Research Center in the early 80's. The grape failed in the warmer climate of Ontario but flourished here.
L'Acadie Vineywards was the first to use the grape to create a sparkling wine and the first to be certified organic from its creation. Tastings at the winery are complimentary, but if you can't visit, you can pick up the wines at farmers markets in Wolfville and Halifax (they are also available at many restaurants). The grounds also host several small cottages that are open from May to October and overlook the vineyards. Rooms go for $150 a night.
Tip: When checking out Nova Scotia wines, look for the symbol of a lobster claw holding a wine glass. This means the wine is 100% Nova Scotian.
Local micro (and not so micro) brewers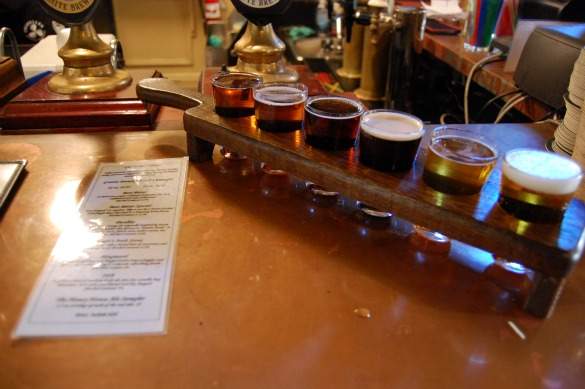 The wines of Nova Scotia attract many visitors, but beer drinkers aren't left out either. Head down to the Halifax waterfront near Pier 21 to visit Garrison Brewing, where you can sample beers like the Tall Ship Amber, Hopyard Pale, Baltic Porter or Nut Brown Ale for $2 each.  Tours are available for groups of ten or more and you can grab a few beers to go after your tasting.
Another Halifax microbrewery, Propeller, also offers group tours by appointment. While they don't offer public tastings, you can stock upon their London Style Porter, seasonal Pumpkin Ale, or Extra Special Bitter, or find them at bars all around the province.
Tip: Alexander Keith's is the largest and most famous brewer in Nova Scotia…and it tastes like it (that is to say, mass-produced). The brewery tour is kitcshy, over-the-top fun, but if you've only a limited amount of time and money to spend, skip it in favor of sampling more of the quality craft brews. The city has no shortage of brewpubs where you can try beers from Nova Scotia and elsewhere in Canada.
Five Fisherman and Ryan Duffy's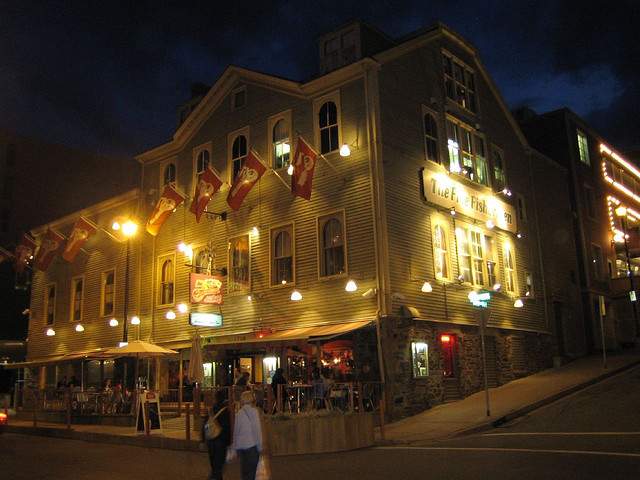 Fishing is the number one industry in Nova Scotia, with lobster fishing the largest subsection, so if you eat fish don't leave the province without at least a few seafood meals. In Halifax, try the Five Fisherman. Set in a 200-year old (supposedly haunted) building it's is one of the city's best restaurants for seafood lovers. As its name suggests, the menu is predictably seafood heavy, with a fine-dining focus. Expect Lobster Thermidor, seafood linguine, lobster-stuffed scallops, and seared Atlantic salmon, along with a few meat options like grilled bison tenderloin and truffle and sage roasted chicken. Diners who purchase an entree can visit the complimentary mussel and salad bar, and there's an optional three-course tasting menu, which changes monthly.
If you prefer meat over seafood, check out Ryan Duffy's. Once a speakeasy, Ryan Duffy's is now a modern steakhouse, the kind of place where businessmen in power-suites make deals over lunch and where Halifax couples come for a special night on the town. But beyond the fine-dining atmosphere and service is cuisine that is delicious and locally and sustainably produced. Much of the meat is local, most of the seafood is Ocean Wise, and ingredients like herbs and honey are actually produced on the restaurant's roof.  Menu items include dishes like Indian Point mussels, Duffy's famous seafood chowder, hormone-free Nova Scotia beef tenderloin, Nova Scotia halibut, and Nova Scotia lobster tail.
Tip: If you're on a smaller budget, come to Ryan Duffy's between 4:30 and 7pm for $4 cocktails and bar bites (which range from $10-$15) at the bar.
If you're ready to fill up in Nova Scotia, check out our Canada Travel Guide to find out where to stay in Halifax, check out things to do in Halifax and compare prices on airfare to Halifax.
I visited some of the above establishments as a guest of the Nova Scotia Tourism Board, but my opinions are my own.

All photos by author except Five Fisherman by Everyspoon, L'Acadie by velkr0