While Bangkok doesn't necessarily have a signature dish, it's the place to take in a little bit of everything, from globally-known Thai dishes to exotic fruits. You can wander Bangkok's streets and sample not just food from all over Thailand, but from all over Asia. Familiarize yourself with some of Thailand's cooking here, and then get ready to taste for yourself. Following is a list of some more popular and familiar Thai dishes, as well as a couple of international neighborhoods that we recommend for any tour of Bangkok. And remember: you don't eat Thai food with chopsticks!
Pad thai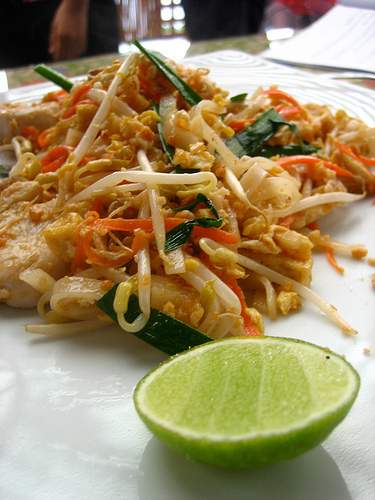 It just wouldn't be Thailand if we didn't sample one of the country's most popular exports. Though it's only been recognized as one of Thailand's national dish for about 100 years, pad thai is nevertheless one of the most popular Thai dishes that foreigners love. Head to the streets around Khao San Road for this backpacker favorite. Noodles (often you can choose which kind you'd like: ramen, egg, large, or small) are fried up with egg, fish sauce, tamarind sauce, and chilies, and then topped with bean sprouts, coriander, crushed peanuts and lime.
Banana roti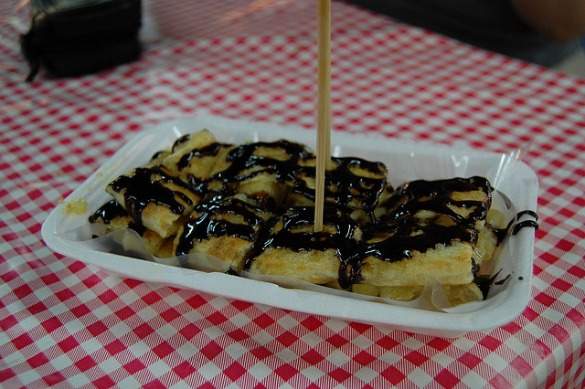 Another backpacker staple, banana roti is found wherever there is a late-night crowd. Often you can smell the warm bananas and chocolate before you see the roti cart. In this dish, thin, springy dough is flattened and set on a griddle. Oil or butter is heated both under and on top of it, and the roti maker flips it once one side is browned. Sliced banana is added on top, and the dough is folded over into a square. It's then scooped into a Styrofoam container, sliced into small, bite-sized squares and drizzled with chocolate sauce and sweetened condensed milk. A toothpick or two is added for sticky-free eating (and sharing).
Cha yen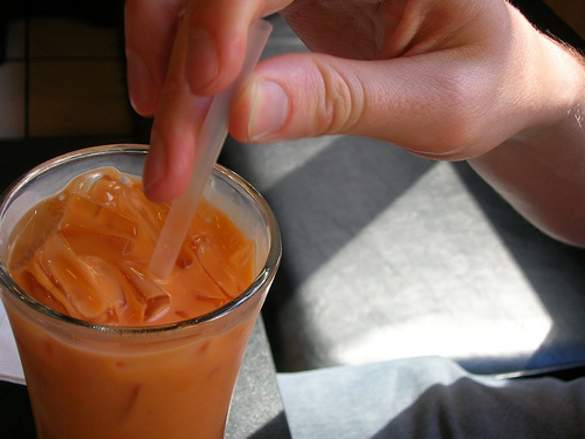 At its most basic, Thai iced tea is a blend of black tea and sweetened condensed milk.  A surprising orange color, the tea is a great sugar-rush-cum-pick-me-up in the heat of the afternoon.
Besides tea and sweet milk, vendors often add such ingredients as orange blossom water or star anise, and perhaps a bit of food coloring to give it that vibrant color. Evaporated milk gives the tea a lovely creaminess, and if you drink it out of a plastic bag you'll really feel like you're going local.
Jok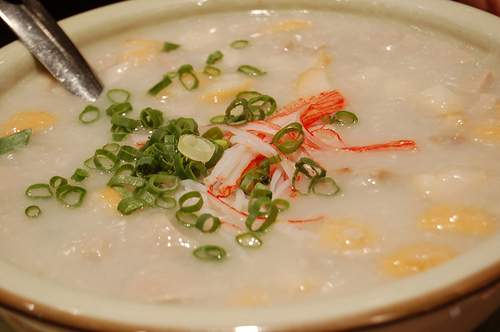 Usually a breakfast dish, jok (pronounced "joke"), or congee, is a savory rice porridge that is warming, light, and a great way to start your day. (This is also a good dish for those suffering an upset stomach, by the way.) A bowl is lined with oil, spices, and fish sauce, then a raw egg is cracked on top of that. Thinly-sliced pork is often added to the rice gruel, which is then poured over the bottom ingredients and cooks the egg to your liking in the process. On top, crispy noodles, sliced ginger, and a bit of chili and garlic are added.
Khao niao mamuang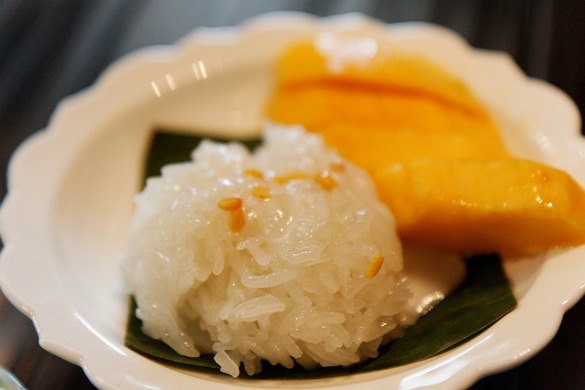 A rich, delicious, and omnipresent dessert, this dish consists of sticky rice cooked or soaked in sweet coconut milk and then topped with sliced ripe mango. The combination is heavenly, with the mango just tart enough to balance the creamy rice. This is an easy dish for anyone a little nervous about sampling something unfamiliar; consider it a "gateway" dessert for some of Thailand's exceptionally colorful sweets.
Som tam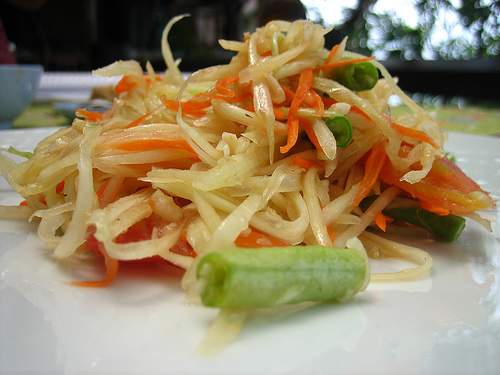 Like pad thai, som tam is another well-known Thai dish. Green papaya is shredded and mixed in a mortar and pestle with chilies, sugar, garlic, fish sauce, green beans, tomatoes and roasted peanuts. Often tiny brined shrimp are also added, though we like ours without. Like most Isaan food, som tam is nice and spicy. Eating this raw dish is a good way to feel as if you're eating healthy; consider a Thai version of a salad.
Kaeng massamman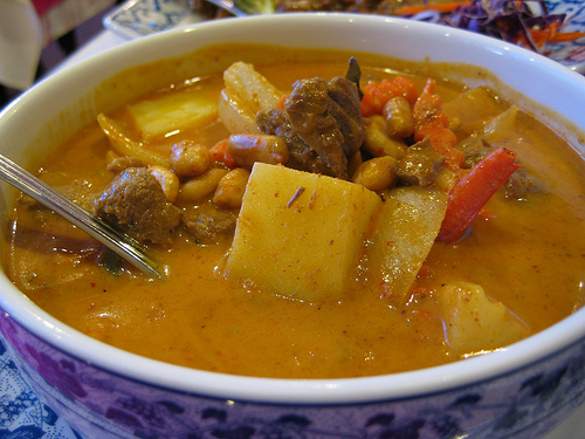 In English this dish is known as "massaman curry," and, like pad thai or khao niao mamuang, it's a mellow introduction to Thai cuisine. A sweet, savory, and mildly spicy curry, massaman is mixed with coconut milk, peanuts, chilies, onions, potatoes, and beef. It's a hearty dish associated with the Muslims of southern Thailand, though it's found all over the country.
Chinese food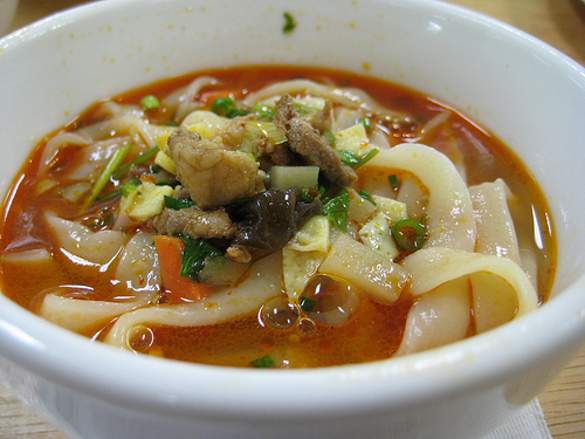 Wander yaowarat, Bangkok's Chinatown, for a taste of the Orient. Street-side stalls are where it's at in this historic district; just point at what you want to order. Steamed dumplings, noodle soups, egg noodles with barbecued pork: other familiar fare is on offer, but don't be afraid to delve deeper into this cuisine. After dark is when stalls are set up, so save your appetite for post-sunset eating.
Indian food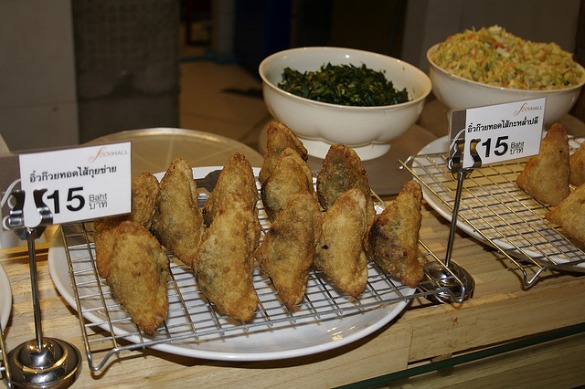 Bangkok's Little India, or Pahurat, is the place to find your samosas and biryani. Really, almost anything you'd like from the subcontinent is available, from chai to naan bread to samosas to chutney. Wander the street stalls and find a place that is busy – a sure sign of good food.
Want more? Eat and drink your way around other destinations. Or start searching for cheap flights to Bangkok and looking for hostels in Bangkok.

Thank you to the Tourism Authority of Thailand for providing information and resources for this post.
Photos by:  adactio, sue-lin, ((brian)), snowpea&bokchoi, Dennis Wong, adactio, VirtualErn, life's a gasp