With a phalanx of attractive architecture and heritage sites, Barcelona has so much to offer for all kinds of travelers – most of all, the food-lovers. As the gastronomic capital of Spain, Barcelona is after all the birthplace of nouveau cuisine and creative culinary styles. Thanks to its Catalonian identity, Barcelona cuisine has a distinctive character and unique flair. To begin your Spain culinary trip, these are a sample of traditional Barcelona fare that will whet your appetite for more.
Pa amb tomàquet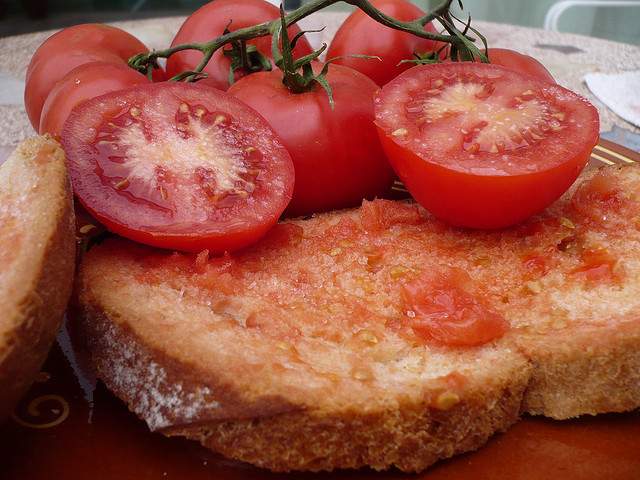 A typical Spanish breakfast item, the pa amb tomàquet is essentially a crisp baguette toast drenched with fresh mashed tomatoes, olive oil and salt. Sounds simple but it's a magical creation. Although the pa amb tomàquet is a traditional Catalan item, it is commonly enjoyed throughout Spain and is known as pan con tomate in Castilian Spanish. Next to the churros con chocolate, this is one popular breakfast that cannot be missed when in Spain. One of the best places to try pa amb tomàquet is the famous restaurant, Paco Meralgo, off Calle Muntaner.
Tortilla de Patatas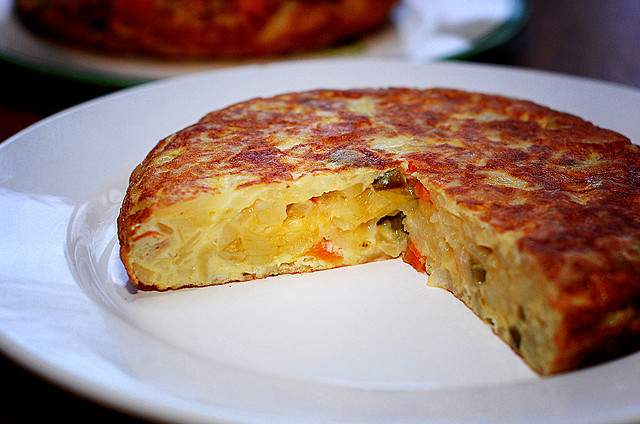 The ubiquitous tortilla de patatas is a hot favorite among both locals and foreigners. Thick egg omelette stuffed full of potato cubes, the tortilla is sometimes known as tortilla española. On the contrary, the tortilla francesa (French omelette) is an empty omelette without a single filling. The best tortilla de patatas are usually crispy on the outside and soft and wet on the inside.
Patatas Bravas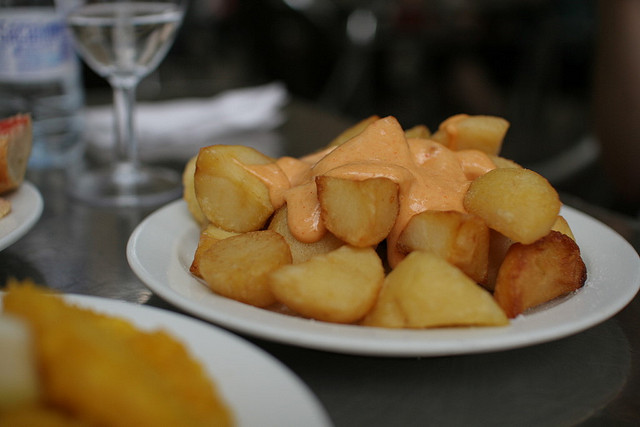 Found on every Spanish tapas menu in Barcelona, the patatas bravas is a scrumptious jumble of golden fried potato chunks dipped in a spicy, tomato-based sauce. Simple to prepare yet outrageously flavorful when prepared the right way, patatas bravas has a loyal following especially in its hometown, Barcelona.
Botifarra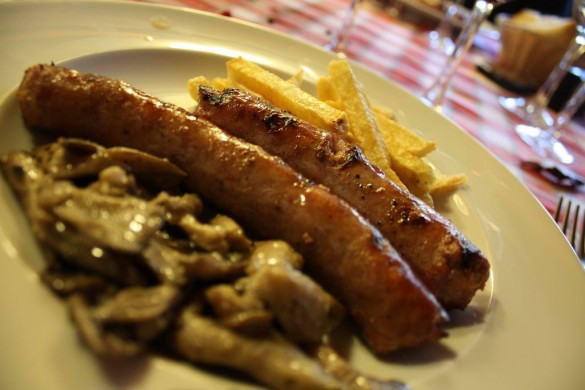 The botifarra is the most quintessential Catalan dish in this entire list. On your culinary tour in Barcelona, you may like to take time to hunt down the best botifarra in town. A type of sausage, the botifarra comes in various forms: white, rice or blood botifarra. The most popular version is the botifarra amb seques, or botifarra with stewed white beans. In Barcelona, locals unanimously point to La Botifarreria de Santa Maria as the best place to find botifarra in all its variations.
Jamón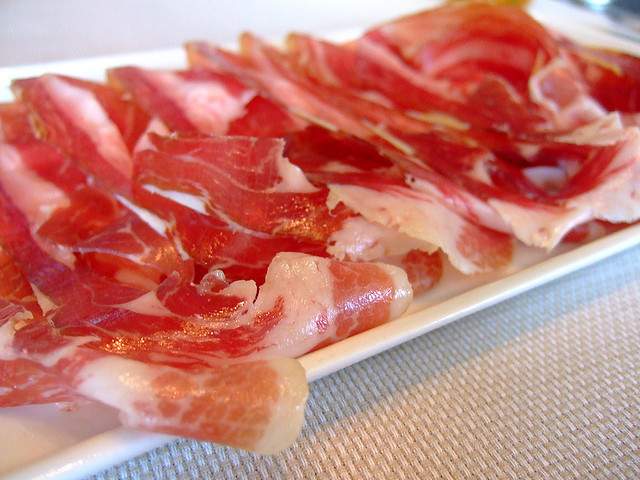 As the holy grail of all Spanish products, the jamón is worshipped by Spaniards all over the country, including the Catalans. Jamón is generally cured ham produced from years of preparation. There is a variety of jamón species, with the most expensive fetching hundreds of Euros for a platter. In Barcelona, it is found in the form of massive pig legs hanging obscurely from the ceiling of most bars and markets. Although the best jamón is produced elsewhere in Spain, you can find an excellent selection of cured ham in Barcelona's La Boquería market.
Cava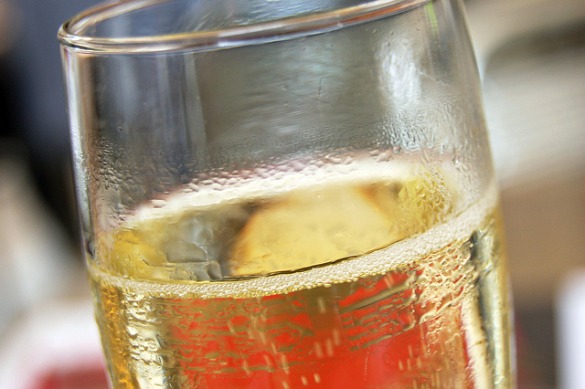 Cava, a well-received bubbly drink, is Spain's version of champagne. Spain's main cava plant is situated just outside Barcelona – so you can expect to find some of Spain's best cavas here. Although usually enjoyed on special occasions, cava can be enjoyed during or after a meal. One of the best cava bars in Barcelona is el Xampanyet, famed for its chic décor and the wide range of top-quality cava. For a cheap cava kick, head to Can Paixano, where a glass can be had for under 1 euro (and bottles go for just 3 euros before 5pm, with the purchase of food).
Crema Catalana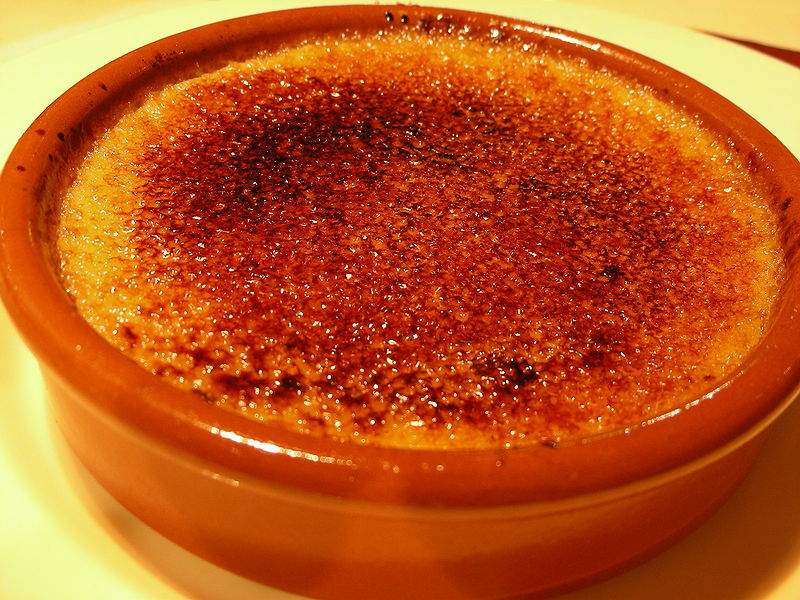 A cross between the crème brulee and the flan, Barcelona's birth child is an essential dessert item nationwide. The crema catalana is an egg pudding topped with a crispy layer of caramelized sugar and usually served in a brown clay bowl.
Want to add Barcelona to your RTW trip?
Barcelona is a great city to add to your long-term trip, whether it's a backpacking trip through Europe or part of a longer, round the world journey. Check out the following multi-stop trip on Indie, and click on "Price this trip" on the bottom left of the map to customize it to make it your own. You can have a bookable price back within minutes!
Next week's articles
Stay tuned next week for the following articles and events:
Monday: Top 101 Books for Independent Travelers – We have been working hard, with the help of you, our readers, on compiling a top notch list of travel books.
Tuesday: Slow Travel in the Loire Valley – Jo Fitzsimons hunkered down in France's Loire Valley for 3 months during her RTW trip and explains why you might want to do the same.
Wednesday: 5 Questions to Ask When Planning Your Big Trip – Jenn Miller's second RTW Wednesday column deals with the practical aspects of planning an extended trip and is especially helpful for first-timers.
#RTWChat on Twitter: Don't forget to join us every Wednesday on Twitter as we host #RTWChat. This week's topic will touch on Monday's article as we share and talk about our favorite travel reads.
Thursday: Indie Travel in Spain on $55 Per Day – Chelsea Perino breaks down travel in Spain by telling you how to do it comfortably without breaking the bank.
Check out the following resources for planning a trip to Spain:

Photos by: 1 – calafellvalo, 2 – Victor Bayon, 3 – sim00n, 5 – yosoynuts, 6 –saekhow, 8 – Javier Lastras, all others by the author and may not be used without permission.