Shopping at a neighborhood market is one of the best ways to experience daily life in a foreign city. This is where the action is – where deals are made, wages are earned, and family meals are planned. From munching on fresh crab to watching a gigantic tuna sell for more than a small car, wandering the varied stalls of the public market is a carnival for the senses. It's also a great way to save a little money while still savoring the local foods and flavors. Here are some of the best food markets in the world.
Pike Place Market, Seattle, Washington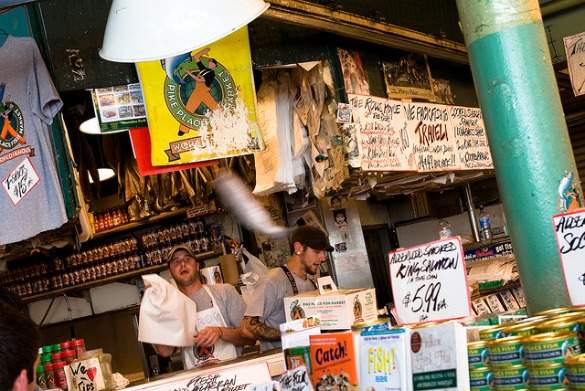 Pike Place Market, founded in 1907, is one of the oldest continually-operated farmer's markets in the United States. The last hundred years have seen it grow from a few produce stands to a multi-building complex that houses over 200 merchants selling items ranging from fresh veggies, meats and dairy to antiques, wine, and jewelry. Specialty food retailers offer endless samples of herb-infused olive oils, handmade cheese, and imported truffle creams for discerning chefs, and cafés like the Crumpet Shop and the original Starbucks keep shoppers caffeinated and satisfied.
[social]
At Pike Place Fish Market oversize crab legs and gigantic lobsters share the space with a dizzying array of fresh fish – most of it caught in the waters of the Pacific Northwest or brought down from Alaska. Order up a few filets, which can be cold-packed and shipped worldwide, and watch the show as the selected item is effortlessly catapulted through the air from one fishmonger to another. Talk about a fresh catch!
>> Find flights to Seattle and book Seattle hostels
Mercat de Sant Josep de la Boqueria, Barcelona, Spain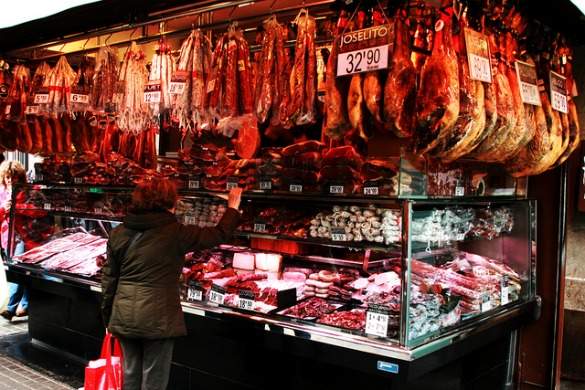 La Boqueria Market, off the famous La Rambla, is a feast for the eyes and a treat for the taste buds. Meats and produce have been sold on the site for hundreds of years, though the market in its current incarnation dates back to the mid 1800's, with the sheltering metal roof being added in 1914. It's the most famous of Barcelona's markets, luring in tourists who drool over displays of brightly-colored candy and gawk at gastronomical oddities like tripe and head cheese.
But La Boqueria is a serious center for commerce in the city and is the place where most residents come to do their daily shopping. Amidst the fresh fish, vibrant produce, and jamón stalls with full legs of ham, hoof and all, hanging from the ceiling, you'll also find some of the best pinxtos (tapas) bars in the city. At Pinotxo, all the dishes are created with ingredients found at the market – so work up an appetite exploring and then settle in for a little taste of what you've just seen.
>> Find airfare to Barcelona and get ideas for what to do with three days in Barcelona
Queen Victoria Market, Melbourne, Australia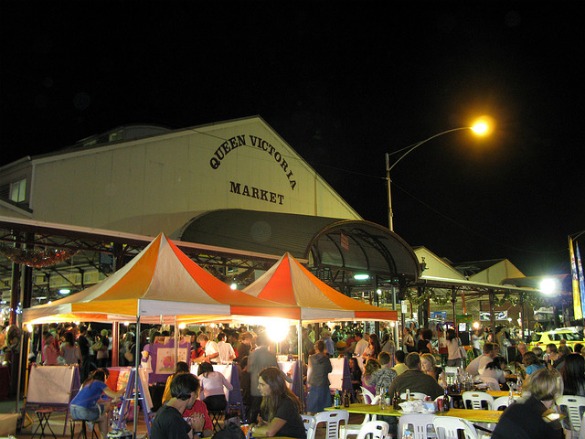 The Queen Victoria Market is the largest open-air market in the southern hemisphere. Separated into several districts, the market is the place to find everything from fresh produce and gourmet goods to discount electronics and one-of-a-kind antiques. A Meat Hall houses multiple butchers and fishmongers and the Deli Hall offers a mind-boggling array of specialty foods from around the world like bratwurst, Turkish pita sandwiches and flaky French pastries.
On Sundays the market's frenzy relaxes a bit as local families come to shop and sample, while summer nights bring the excitement of the night market – a raucous party filled with food stalls, drink vendors and live entertainment.
>> Find flights to Melbourne and read about free things to do in Melbourne
Kreta Ayer Wet Market, Singapore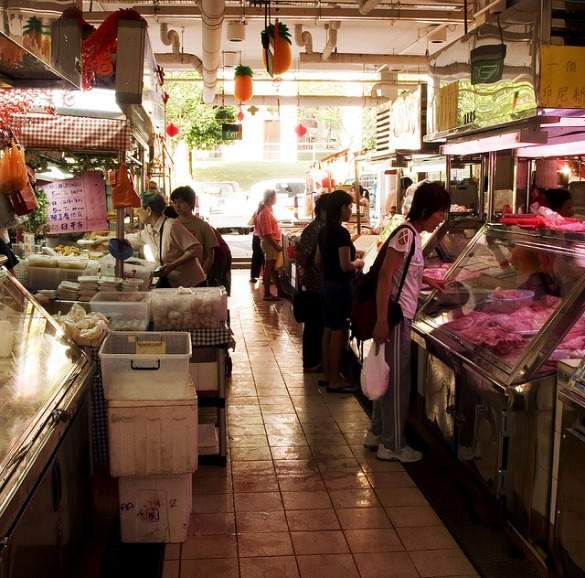 The Kreta Ayer Wet Market lies at the heart of Singapore's Chinatown district. The floors of the open-air market are frequently sprayed down with water, often flooding it in areas and giving it the name "wet market". The lure of the market lies in the expansive array of local delicacies on offer. Next to unrecognizable fruits and vegetables in every color of the rainbow, you'll find fishmongers and raw seafood sellers and stalls devoted to bean curd, noodles, and roasted pork.
More exotic offerings include black-skinned chickens, eels, snakes, and even frogs all destined to be someone's dinner. Watch locals shop for the day's dining, or head up to the second floor food court area to sample some of the local fare for yourself.
>> Find flights to Singapore and look for Singapore hotels
Marché International de Rungis, Paris, France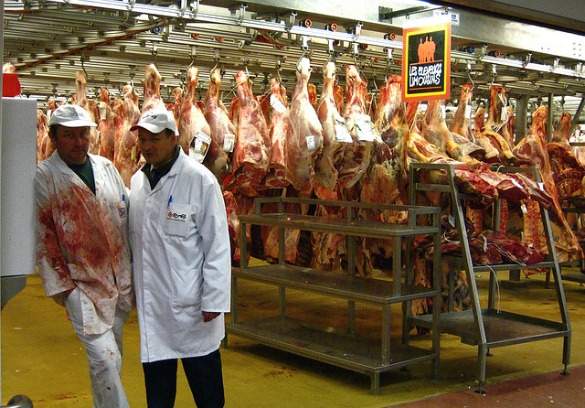 The Rungis Market replaced the fabled Les Halles when traffic and demand led it to outgrow its space in central Paris. The new market, in Paris' southern suburbs, is now the largest wholesale food market in the world. It's hard to comprehend the market's sheer size. It spans several buildings covering 232 hectares (573 acres), employs 12,000 people, welcomes 26,000 cars daily and receives 1.5 million tons of food products each year. In short: it's big, really big.
One can easily spend several hours exploring the different sectors, which require a car to travel between. Rungis doesn't just take lots of time to visit; it also requires the sacrifice of sleep and a serious lack of vanity. The market is open from 2 a.m. – 7 a.m. most days and all visitors must don a not-so-flattering sanitary ensemble that faintly resembles a doctor's scrubs.
A tour of Rungis is also not for the squeamish – along with appetizing giant wheels of cheese and fragrant fresh flowers, you'll find carcasses of fish and fowl and many a skinned beast, too. Those who don't lose their appetite from the grizzly sights can find fresh-from-the-market delights at one of Rungis' 21 restaurants.
>> Book tickets to Paris and learn more out eating in Paris
Tsukiji Market, Tokyo, Japan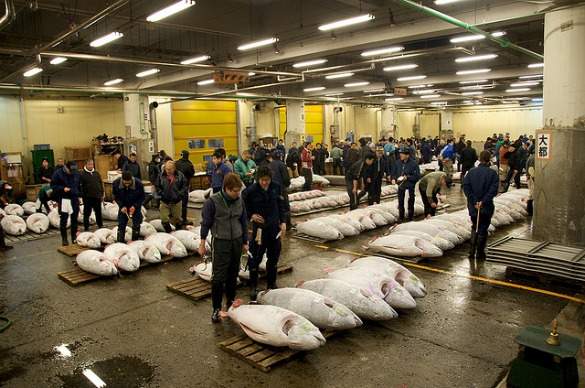 Tokyo's Tsukiji Market sells meat, poultry and produce, but the real action happens around the fish.  The market is the largest wholesale seafood market in the world; close to 1000 vendors sell over 400 types of seafood. Browsing the stalls of unidentifiable whole fish in bright colors and unusual shapes and gawking at the behemoth giant tuna filets is reason enough to visit, but those who arrive prior to 5 a.m. are in for an added treat.
At 5:20 a.m. the tuna auctions begin. Great slabs of fresh and frozen bluefin tuna are laid out to be inspected and then a fierce bidding war ensues, with the top fishes selling for several thousand dollars. After the excitement, check out the market's sushi bar for a smaller, and much less expensive, sample of the coveted fish.
>> Find deals on airfare to Tokyo and learn about hotels in Japan
Yeliseyevsky Gastronom Market, St. Petersburg, Russia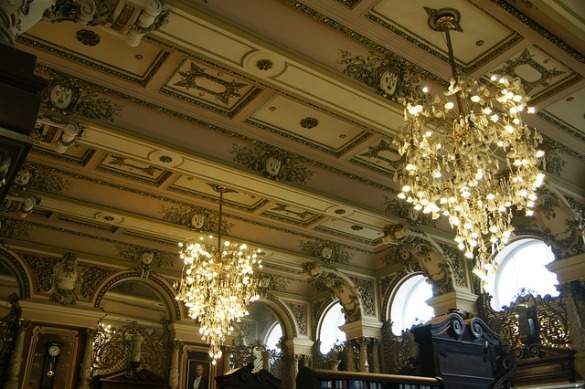 Built in 1901 by a family of wine merchants and housed in an ornate mansion, Yeliseyevsky Market takes luxury shopping to a new level. The market has been restored to its old splendor and now offers one of the most-aesthetically pleasing shopping experiences one can have.
Many of the items sold here can be found around town, often slightly cheaper, at other less-elaborate markets, but shopping in the arms of such grandeur may be worth a small markup. Browse shelves of caviar, champagne, sturgeon, vodka, and tea and sample blinis, pirozhki and fine chocolates as you stroll beneath the gilded ceiling and ornate chandeliers dripping with crystals. And with all the merchants offering up free samples of their goods, you can snack like czar without spending a dime.
>> Find airfare to Russia and learn more about visiting post-Communist countries
Djemaa el Fna, Marrakesh, Morocco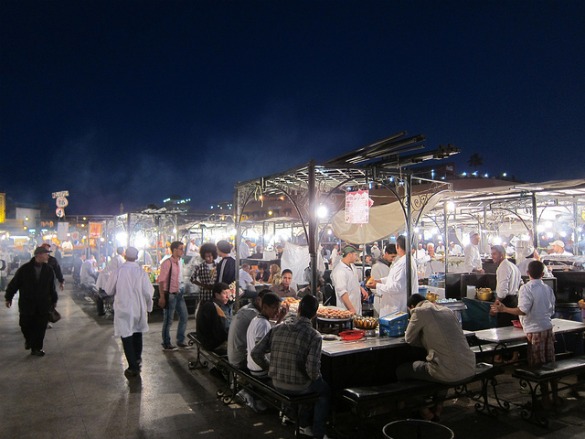 The Djemaa el Fna Market, in Marrakesh's Medina, is home to a collection of orange juice stalls, sidewalk cafes, souvenir shops, and snake-charmers by day. But as night falls, the market becomes the main gathering place for locals and tourists alike. Food stalls set up shop and the square is filled with the sight of heaping plates of colorful food and myriad smells of grilled meats.
Sample harira soup, sheep heads, kabobs, sausages and grilled vegetables as storytellers recount epics tales, acrobats tumble and male belly dancers entertain the crowds. If you can bear to tear your attention away from the succulent feast before you, you'll be in for quite a show.
>> Search flights to Morocco and find hostels in Morocco
Learn more about foodie travel:
Photos by: gregkendallball, gmaximo, sensesmaybenumbed,  Sherwin Huang, Antoaneta, larryhalff,  jaime.silva, woutervv