Carlos Castejon greets us wearing a cowboy hat, a red flannel shirt, jeans and cowboy boots. For him, it's just another day at Finca el Cisne, his 2,000-acre ranch outside of Copan Ruinas, Honduras. But for us, it will be a day filled with tasting local produce, horseback riding and learning about how coffee beans are grown and harvested.
Our visit at Finca el Cisne begins with a small meal of plantains and coffee, both harvested on the property. As we finish our meal, Castejon leads us to a small orchard right outside the door of the on-site lodging. He cuts open a limon real, which looks like a grapefruit but tastes tart and sour like a lemon. I wipe my teared-up eyes after eating a slice and am ready to ask for another piece, but we've already moved on to another tree. This time Castejon pulls an achiote from off the tree and cuts it open so we can see the tiny seeds swimming in a red pigment, which have been used in sauces in the local cuisine since pre-Colombian times.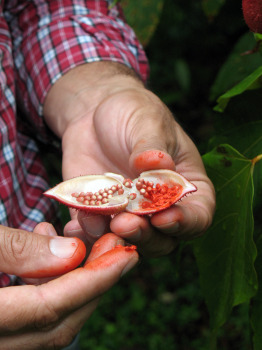 Castejon is giving us the opportunity to experience life as he knows and lives it. I taste the produce he plucks from the trees and eats for breakfast every morning. I feel the coffee beans he harvests as they slide through my fingers into the piles he's sorted out for sun drying. And I have the opportunity to ride a horse alongside Castejon and his horse as they ride through the fields, making sure everything is intact and running smoothly.
My visit to Finca el Cisne is defined as agritourism, an experience as authentic as the land we stand on. It's yet another kind of tourism – one that's becoming increasingly popular. Here are the basics:
What is agritourism?
In recent years, travel has become much more than just ticking through the mandatory list of local museums and sites. Travelers want to slow down when they discover a new destination. They want to meet locals in their natural environments and become more involved with the land they are visiting.
With this in mind, agritourism was born. At its most basic level, agritourism is a style of travel that takes place on a farm or ranch and usually offers the opportunity to help with on-site farming or ranching tasks during the visit. It entails a meaningful visit with a producer of land-based products and services.
Agritourism generally encompasses slower, more leisurely activities that help a person understand and appreciate the land and the people who live on it. It includes, for example, enjoying a long walk through the vineyards of a winery and tasting a variety of wines afterward, spending an afternoon riding a horse along a lazy river that runs through a ranch or taking a hay ride through a pumpkin patch on a crisp autumn afternoon. It can also involve bundling up for a sleigh ride through a field of ice and snow on a chilly winter morning, picking apples in an orchard, tasting honey straight from the hive or staying at a local bed and breakfast that offers fresh food from the property.
Where did agritourism come from?
Even before it was labeled as agritourism, people were signing up to spend time on dude ranches, where they had the chance to ride horses, help with cattle herding and otherwise relax outside the city atmosphere. Today, however, an increased interest in food production has helped define agritourism as a legitimate form of travel. So while agritourism as it is defined today has only been around for a few years, the idea behind agritourism – learning about living off the land – has been around for decades.
Why is agritourism important?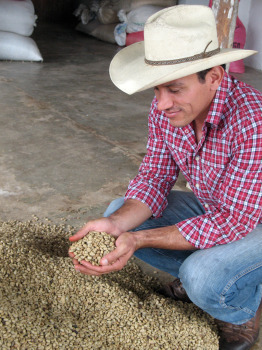 As commercialism and mass production become the standards by which we live, agritourism has given people who work in the agricultural and horticultural sectors a chance to share their work with the masses. Some agritourism experiences allow guests to buy food products grown on the farm or hand-crafted products made by the farmers' families; purchasing these goods helps provide ranchers who rely on their land with another source of income.
Home and consumer education has given way to technology courses in middle and high schools, and many children grow up without ever really knowing what the countryside is or what it's like to interact with live farm animals. Agritourism, therefore, gives parents the opportunity to introduce their children to something other than the city life.
Where is agritourism found?
If there is farmland, acreage for a ranch, space for a garden or someone living off the land, then there is room for agritourism to move in. The plains states in the U.S. and the ranches scattered throughout Central and South America are probably the most obvious places to find agritourism, but travelers shouldn't look past the vast wineries in Central California and Argentina, the apple orchards in Washington state or the coffee plantations in Costa Rica for an authentic land-based experience.
In Europe, different regions of the continent are known for different kinds of food, and tourism has become synonymous with the production of these particular products. For example, Italy and France have a rich agritourism industry centered around wine production, which welcomes people to stay in working farmhouses and experience the wineries through hands-on exploration. Cheese production in Italy has prompted agritourism to flourish as well.
How can I participate in agritourism?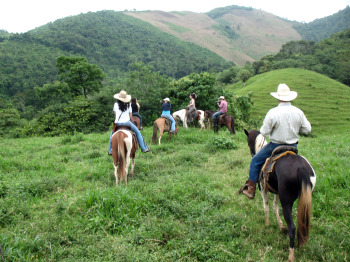 Many travelers may already participate in agritourism even if they don't realize it. Taking hay rides, horseback riding, visiting agricultural production facilities such as coffee plantations or dairy farms, supporting community gardens, tapping maple syrup, shopping at farmers' markets and learning about bee culture are all considered a part of agritourism. Naturally, then, many agritourism experiences are discovered organically by visiting mom-and-pop farms or ranches and stopping by orchards, gardens and countryside inns.
There are also companies that can introduce agritourism to travelers. World Wide Opportunities on Organic Farms (WWOOF) and Help Exchange are two organizations that offer travel experiences based on gardening, farming, agriculture, fruit picking and caring for animals.
How should I prepare for agritourism?
Before taking part in agritourism, know that you are an integral part of the experience and that you will be interacting with people who are intimately involved with the place you are visiting. It is a travel experience that is three-dimensional, and showing respect and appreciation to your hosts for their hospitality is important. These people have opened up their doors to share their culture and livelihood with you, so be flexible and realize they are still living their day-to-day lives even though you are visiting. Farmers work long hours with little pay, so plan ahead by letting them know that you plan to visit. This gives your hosts time to prepare for your arrival.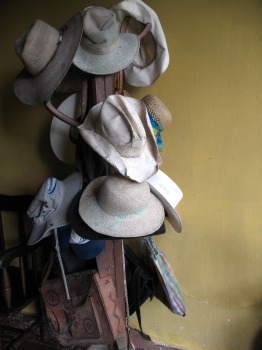 Agritourism by its very nature encompasses the sounds and smells of a farm. Dress for the weather and wear clothing you don't mind getting dirty. Pants, sturdy shoes or boots, a jacket, hats and gloves may all be appropriate. If you are introducing your children to agritourism, remind them to show restraint around animals.
If you will be spending an extensive amount of time on a farm as part of a farmstay, you may be asked to help around the property or house. Remember that these chores are as much a part of the agritourism experience as riding horses and gazing at the stars away from the city lights.
***
At the end of the day, I hang up the cowboy hat Castejon has lent me and shake his calloused hand in gratitude. He walks us to the gate and tips his hat as we drive away. We're moving on in our travels, but workable daylight hours for feeding the farm animals and getting more coffee through the plant are dwindling. I look out the van window one last time. Castejon is already walking back toward the orchard.
So goes the life of a farmer.
all photos by JoAnna Haugen and may not be used without permission