It's an inescapable fact in the foreigner scene abroad: a divide exists between backpackers and expats, and the animosity that emanates between the two sides can sometimes be as spicy as Thai green curry. Among the expat community, "tourist" and "backpacker" are often used as dirty words, whereas "expat" can be sometimes be heard with a negative tone amongst backpackers.
Having been both a backpacker and an expat myself, I've experienced and observed the animosity from both sides. Both expats and backpackers usually have genuinely solid reasons for any ill feelings that may exist between the two.
That said, many backpackers and expats get along just fine. Indeed, as one expat put it: "backpackers seem mostly like nice kids. I give 'em lift when I'm going their way." And many backpackers see expats not as a source of abhoration, but as a source of infinite knowledge about the town or city they're in.
But one cannot ignore the snide comments, the malevolent looks, the crude jokes, and the general hostility that are often hit back and forth in touristy towns between those foreigners who are visiting, and those foreigners who are staying. Despite the fact that many expats may claim everlasting love for backpackers, the t-shirts hanging in the windows of many shops in backpacker towns proclaiming, "If it's tourist season, why can't we shoot them?" would have many believe otherwise.
So, let's give each side their fair say.
[social]
Hey guys, why all the hate?
First, let's start by defining, just so that there can be no misinterpretations, just what exactly is a backpacker, and what is an expat.
Expat is short for expatriate, which is defined by the Oxford dictionary as a person who lives outside their native country.
The Oxford dictionary doesn't carry the term 'backpacker', but the Macmillan dictionary defines a backpacker as someone, especially a young person without much money, who travels around an area on foot or public transport, often carrying a backpack.
Backpackers Weigh In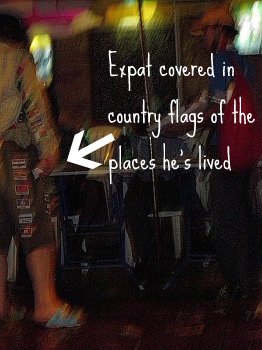 The differences may lie in the very different situations that people from each side find themselves in, explains Digby Smith, an Australian who backpacked around Southeast Asia. "Expats can be on a different wavelength due to being familiar with their surroundings and often have other priorities." Smith also acknowledges that his kind may be to blame: "In party towns and cities, I think backpackers can annoy some expats." However, he points out that expats are not totally innocent: "I have noticed them to be rude and sometimes a bit arrogant towards local staff," says Smith.
Backpacker Scott Gibson, originally from Canada, is a little more blunt when it comes to his feelings about expats. When asked how he feels about them, he replies simply, "not a huge fan." He explains why: "they tend to want to share their infinite wisdom of a place with you in a very condescending way. As far as males go, I think it's pretty pathetic to move somewhere so you can be with a woman normally out of your league because of your money."
Johan Falk, who hails from Sweden, has been backpacking for over a year. "I feel sorry for most of the ones I've met in Southeast Asia. It seems like most of them are here for one reason: boom boom, except for the ones that work with dive shops or running a serious guesthouse." Falk says he feels that most expats tend to have an I-was-here-first attitude, making other travelers feel unwelcome. All this being said, Falk qualifies that often these expats are the exception to the rule: "I've met so many nice expats willing to offer their time and help."
>> Read about backpacker stereotypes you'll meet on the road
Expats Get Their Say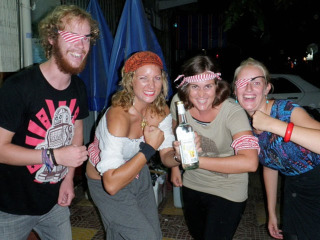 Expats, of course, have their own take on the situation.
Anne-Marie Drozdz, an expat living in Vietnam, had one particularly off-putting experience with backpackers when she was living in Turkey, and went on a cruise: "There were 19 'round the clock drunken backpackers," she explains. "They were loud and disrespectful towards the Turks. They created havoc on this four-day trip." Drozdz also explains that she felt animosity from those same backpackers when they discovered she was an expat, living in Turkey at the time.
Drozdz gives her take on the possible reason for expat animosity towards backpackers: "Expats have a deeper knowledge and understanding of the culture, language and customs of the host country and when they see backpackers barreling in for a few hours and being disrespectful or whatever, then maybe that causes resentment."
Nicole Hill, who lived as an expat in Central America, says that expats have every right to make a stand when backpackers cross the line: "We're the ones who have to deal with the lasting impression it creates of foreigners, Brits, Americans, whatever. Even if you're not one of the 'bad' tourists, by virtue of the fact that you're going to be moving on soon, you'll behave differently to those of us who live and work in places."
Manis Ender, originally from Germany and living in Thailand, acknowledges that there may be subconscious animosity towards backpackers from expats. "I have no honest interest in them, their stories, or countries they have traveled," says Ender. "Often they just bore me on the first sight." Ender goes further to explains that backpackers often give off a bad image, which makes him prefer to avoid them: their dress code, their pack-like behaviour, as well as their ignorant and arrogant behaviour are all things that Ender finds off-putting.
>> Read the 7 signs you're ready to go from tourist to resident
Can't We All Get Along?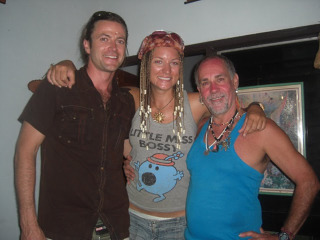 Digby Smith thinks so. He suggests that expats be more mindful of backpackers' predicaments: "I think that expats can forget they were once new to the area and forget that they may have been in the same position."
Anne-Marie Drozdz thinks that backpackers should also be mindful of their surroundings, saying that they might take care to "behave reasonably towards the local community and respect the culture." Drozdz says that everyone – expats and backpackers, should try accepting people "for what they are and respect their decisions to either travel short-term or stay in a country." (Unless they are pedophiles, she qualifies.)
At the end of the day, it seems that each side has its valid points. The positive side is that both backpackers and expats are able to acknowledge the others' strengths, and their own weaknesses, which is the first step towards building a strong relationship.
We certainly won't be seeing expats and backpackers singing kumbayah on Khao San Road any time soon, but if each side is ready to make some concessions, there might be the possibility for a little more love in the world abroad.
>> Read about the stupid travel arguments we wish we'd stop having
Further reading:
photos supplied by Kaila Krayewski & may not be used without permission