Chile's rep as a killer adventure travel destination is nothing new. With the archipelago of Chiloe, a bucolic Lakes District, 2,700 miles of coastline, the planet's most arid desert, the towering peaks of the Andean Cordillera, and one of the most badass commercially navigable rivers, it's no wonder this beguiling ribbon of a nation is a haven for active travelers.
[social]
Below are six great places to find adventure in Chile:
1. Atacama Desert/San Pedro de Atacama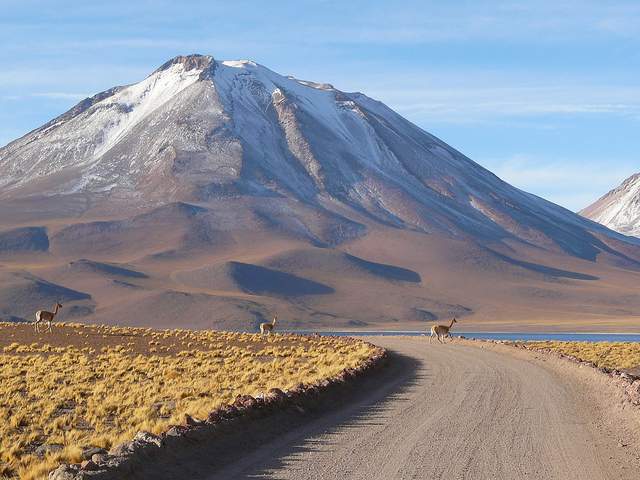 Much is made of this region's trippy moonscape, the driest desert on earth. But the region is worth the hype.  It's amazing how much biodiversity is packed into such a desolate place. There are cone-shaped volcanic peaks like Licancabur (At 19,553 feet, it straddles the Chilean/Bolivian border); one of the largest salt flats in the world; altiplano lakes and lagoons shimmering with flamingoes; twisting, brick-colored gorges; dusty fortified stone villages, and the main town of San Pedro de Atacama (abbreviated as San Pedro)—perhaps the most charming backpacker ghetto in existence.
Located at 7,000 feet on the Altiplano, San Pedro is a pretty little 16th century adobe village that still retains its Atacameño (the region's indigenous people who have lived here thousands of years) culture. You'll find hints of that culture in some of the restaurants and cafes, as well as the many artisan shops that line the narrow streets.
If you look, you can find great bargains on quality jewelry; Atacama is a major copper and lapis lazuli mining region. There are less-wonderful deals on artwork, handcrafted alpaca and sheep's wool clothing, and textiles such as brightly colored blankets, rugs, and pillow-covers. They can be pricey, but the inexpensive factory versions are still fairly good quality, although not made with natural plant dyes. If you head up into the villages in the foothills, you'll get much better deals and quality from artisan co-ops run by local indigenous communities.
As for more calorically-challenging pastimes, Atacama is full of them: trekking, volcano bagging, sand-boarding, mountain biking, swimming in altiplano lagoons, and horseback riding. You can also engage in adventure activities necessitating border crossings to Bolivia and Argentina (these can be done as day, multi, or one-way trips if you're doing onward travel).
There are dozens of outfitters and travel companies in San Pedro.  Be sure to do your research first, and remember that you usually get what you pay for. If a deal on a three-day border crossing adventure to Bolivia's Salar de Uyuni sounds too good to be true, it probably is. Throw down the cash for a reliable operator; the extra safety, comfort, and better food and treatment are worth it. Many of the hostels—and there are a lot of great ones to choose from—offer variations on the same day trips and activities provided by independent outfitters and high-end hotels. You can also self-drive and partake in many of these adventures on your own, but ask a local guide for advice first.
I opted for doing a handful of full- and half-day trips offered by my hotel, Alto Atacama Desert Lodge & Spa. I spent one morning relaxing at Laguna Cejaren, a crystal-clear saltwater lake, and then took a sunset hike in the dramatic Quebrada de Kari (Kari Gorge). Another day, I visited the Altiplano lakes of Miñiques and Miscanti, then watched the sun go down while flamingo watching at Laguna Chaxa. I capped off my final night with a star-gazing talk with Alto Atacama's resident guide/astronomer.
>>Check out our flights out of Santiago, Chile
>>Find other activities in the Atacama region.
2.  Valle Nevado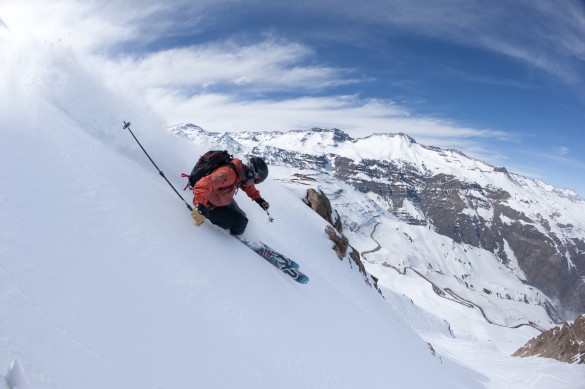 Chile is a well-known skiing and snowboarding destination, especially amongst norteamericanos seeking a longer season. Wide-open, above-treeline terrain, serious pow, and a lack of crowds are a major draw, as is heli-skiing, which is world-class.
Once summer hits in the Western Hemisphere, head south to Valle Nevado, which offers some serious savings on its season-long package deals. Located 37 miles east of Santiago, at just over 9,000 feet, Valle Nevado is South America's largest ski resort. It has a terrain park and offers interconnect tickets to the neighboring resorts of La Parva and El Colorado, opening up 7,400 acres of skiable terrain. Portillo Ski Resort, two-and-a-half hours from Santiago, is better for advanced skiers, but the down side is you're locked into a seven-night stay at just one hotel. At Valle Nevado, you have a choice of three different all-inclusive packages that include lodging, lift tickets ($77USD), half-board, and access to all facilities.
The hotels range from high-end to budget (condos are also available as a separate rental option), with three-, four-, and seven-night packages, suitable for singles, couples, or families. You can also just make a day trip from Santiago. It bears mentioning that I've lived in both Vail and Telluride and (grudgingly) have to admit, the snow at Valle Nevado kicks the ass of anything I've ever encountered.
New this year at the resort is a gondola and free Wine Festival every Thursday. It also boasts the best heli-skiing in South America, where it's possible to nail up to 4,500 feet of vertical in a single run. Another selling point if you're on a tight timeline? Proximity. I enjoyed an epic bluebird day on the slopes, plowing through feather light powder. By happy hour, I was at a beachfront café in the seaport of Valparaiso, sucking down pisco sours and watching the setting sun bathe the city in golden light.
Do note that unlike many skiing hot spots in the U.S., most Chilean resorts are just that: no town or independent entities. There are various options for lodging, dining, and shopping, but all are a part of the resort complex. If you're looking for that small ski town vibe, Farallones and Termas are good options, located just outside of Santiago en route to Valle Nevado.
To get to Valle Nevado from Santiago, the drive is on a very steep, winding road that gets jammed with weekend traffic because it's one-way at certain times of the day (click here for hours and details, which are subject to change according road authorities).  Transfer vans are an easier option.
>>Want more inspiration for hitting the slopes 12 months of the year? Read about Ski Seasons Around the World.
3. Rosario, the Bio Bio Valleys, and the Maipo Valley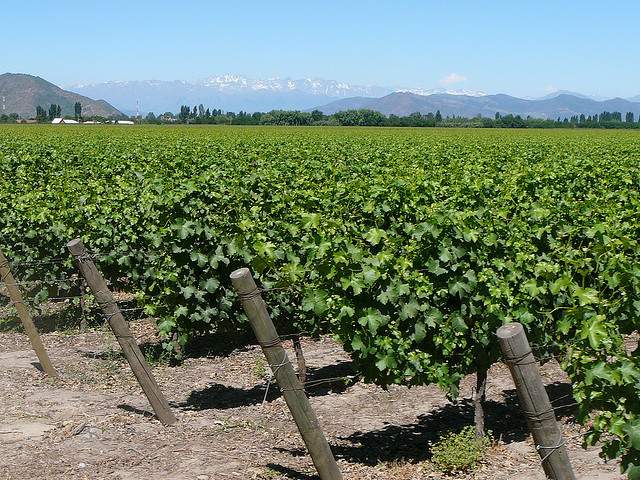 Chile now rivals Argentina for South America's best wines, at a fraction of the price. Chile's first vineyards were planted by Spanish conquistadors in the mid-16th century around the Maipo River in southeastern Santiago. Today, Chile is best-known for wineries that are on the cutting edge of technology and sustainability, but you'll also find they're incredibly gracious, down-to-earth hosts. The mild, Mediterranean climate is conducive to the production of Carménère, Chile's signature varietal, as well as Pinot Noir, Syrah, Cabernet Sauvignon, Malbec, Merlot, and Chardonnay and Sauvignon Blanc.
The topography is a patchwork of rolling hills lined with vineyards: some regions and sub-regions, such as the Rosario and Bio Bio Valleys, are less than an hour's drive from the twin beach resort cites of Valparaiso and Viña del Mar (see following section), making them an easy day trip if you're in need of a beach-break.
As for wine tourism, it's blowing up, most notably in the Maipo Valley and surrounding sub-regions of the Casablanca and San Antonio Valleys. They're close enough for a day-trip from Santiago (between 30 minutes and two hours, depending upon your destination), but if you're looking for an urban escape, spend a few days in wine country. An increasing number of wineries offer accommodations, as well as activities including horseback riding and biking. There are also bike and wine tours and day trips offered by various travel companies.
Self-driving can be difficult, not to mention dangerous, and while it can be done, it may be best to leave the planning and driving to someone else. Santiago-based Enotour offers a number of wine-centric itineraries including the Maipo or Colchagua Valleys, with side-trips to Valparaiso and Viña del Mar. True oenophiles will love the themed trips they offer as well. They also offer wine pairing, culinary tours, and custom wine tours.
Below are a few recommendations for wine-tasting:
>>Santiago Adventures specializes in custom, full-day van or bike tours that give you a chance to visit with winemakers, tour wineries not normally open to the public, or enjoy traditional Chilean food.
>> For more information on the wine regions of Chile, click here.
>> Read Wine Tasting in South America: Where to Go and What to Try
4. Valparaiso and Viña del Mar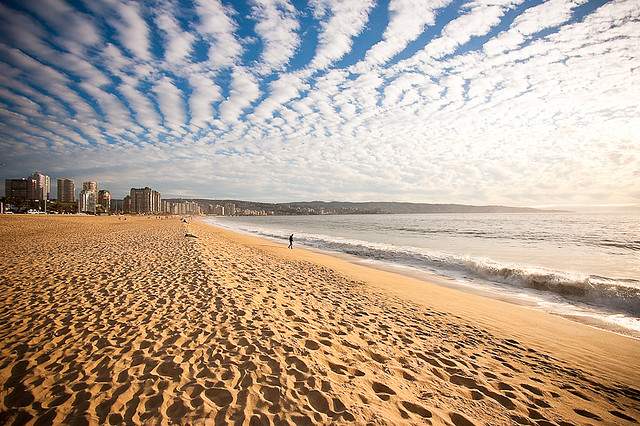 Even if your idea of adventure is walking the steep, cobbled, slightly gritty streets of this bohemian seaport, you'll go home happy. Valpo, nicknamed the Jewel of the Pacific, is a UNESCO World Heritage Site that's still very much an eclectic, ethnic melting pot of artists, writers, poets (Pablo Neruda's former home, La Sebastiana, is now a museum well worth visiting), wharf rats, sailors, students, and hipsters. The city is rife with galleries, boutiques, cafes, restaurants, bars, nightclubs, and museums, but there's also a strong (if peaceable) military presence due to a naval academy and Naval and Maritime Museum. The hillsides are a kaleidoscope of multi-hued houses, street art (those less enchanted might deem it graffiti, much of it political, but here it's a bona fide art form), flowers, flags, stray dogs, musicians, and tourists. Take a 19th century funicular (ascensor) up the steep hillsides into Cerro Alegre, the heart of Valpo's boho scene, and stroll along Monte Algre for great photo ops.
If you're not burning enough calories trekking up Valpo's streets, not to worry. The region has beaches suitable for everything from windsurfing and surfing to scuba diving. There's deep-sea fishing and nearby fishing villages like Los Molles, which is also a favorite scuba spot. The one thing that's not easy to find is a safe swimming beach. Because Chile is located on the Continental Shelf, most have steep drop-offs that can be deadly. One of the best area beaches for swimming is Algarrobo, which is also a hub for other aquatic activities. Chile is a bit of an inside secret amongst North American surfers, who head south for the year-round big breaks at Pichilemu, a resort area also popular with windsurfers. Whatever beach you hit, there's no shortage of palapas, bars, and cafes offering snacks, beer, and the ubiquitous pisco sour – a visit to Valpo isn't complete without toasting the sunset.
Valpo is reliably packed in (their) summer with Santiaguinos on holiday, but hit it in early fall and you'll likely be rewarded with pleasant weather and a lack of crowds. Accommodations run the gamut from campgrounds, hostels, and guesthouses to boutique gems. Just south of Valparaiso — actually, the two cities blend into one another – is the slightly more ritzy resort of Viña del Mar.
It's a fairly straightforward self-drive, but far easier and less expensive to just take a bus from Santiago's Terminal Metro Pajaritos (about 90 minutes). You don't really need a car, as the trolley and city buses are dirt-cheap, and there's no shortage of taxis.
>>Check out hostels in Valparaiso and Vina del Mar
>>Learn more about Valparaiso's history.
5. Chiloe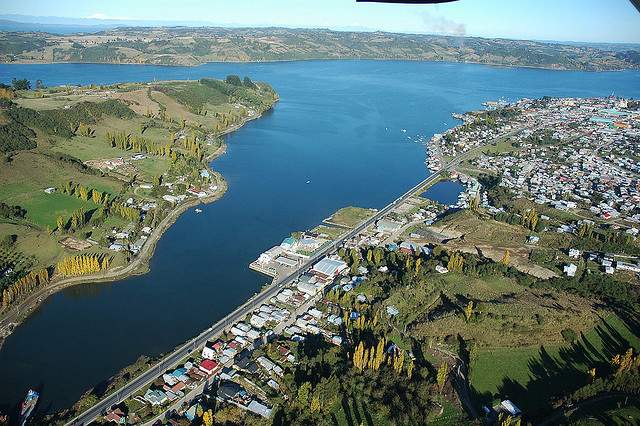 Chile's Lakes District in Palena Province is the gateway to Patagonia. If you're an outdoor person at heart, this is ground zero. Whether it's fly fishing, kayaking, rafting, canoeing, sea kayaking, horseback riding, trekking, climbing, mountaineering, or volcano bagging, this region has it, amidst a backdrop of cobalt-blue glacial lakes, emerald fjords, snow-capped volcanoes, and native alerce forest.
Chiloe is a 41-island archipelago located across the Chacao Channel from the bustling seaport of Puerto Montt. In 2009, Lonely Planet ranked it #3 on their Best Places to Visit list, so the secret is out, but little has changed. If your idea of a vacation is a remote place comprised of sleepy, rural villages; if you enjoy hiking, contemplative paddles or a live-aboard boat tour of fjords and inlets, or agritourism, Chiloe is for you.
The main island, Isla Grande (Chiloe Island), is the second-largest in South America, but it feels anything but. Flocks of sheep, ox carts, horses, and donkeys are the main sources of traffic (equines provide transportation just as frequently as do pick-up trucks), and milk cans sit at the entrance of rutted driveways, awaiting pick-up from the dairy co-op. Gaudy palafitos (wooden waterfront houses on stilts) line the coastal villages, and vibrant-hued, wooden Chilote fishing boats bob in shallow waters. Pigs forage amongst apple orchards and colorful beehives stacked like children's blocks. This is a place of subsistence farming and fishing, with considerable European influence, yet it's also steeped in indigenous Mapuche, Chonos, and Cunco culture.
If you consider eating an adventure sport (god knows I do), you'll appreciate Chilote cuisine, which is renowned throughout Chile. Patagonia (both Chile and Argentina) has a large number of descendants from German, Swiss, French, Welsh, and Yugoslavian immigrants that arrived in the mid-1800's to establish small farmsteads, which is reflected in the hearty cuisine. Many of the farmsteads still make their own cheese, jams, and charcuterie, and in the last decade, agritourism has become increasingly important to the island economy.
Staying at one of Chiloe's farmsteads means feasting on local ingredients that may include lamb, sea urchin, mussels, clams, potatoes (which originated here, not Peru) or foraged foods. You'll also want to make arrangements to attend a curanto, a Chilote shellfish, potato flatbread (known as milcao and chapalele), and meat bake thought to have been inspired by Polynesian luau, via Easter Island. Curanto is prepared in a pit covered with seaweed or the leaves of nalca, an indigenous plant related to rhubarb; while the food cooks copious amounts of red wine and chicha (hard fruit cider) flow amidst traditional Chilote music and dancing.
Chiloe is connected to the mainland by ramps that have been built in the channel to form a motorway. The easiest way to get there is to fly from Santiago to Puerto Montt and then take a bus. There are terminals in the main towns of Ancud (north island), Castro (east coast), and Quellon (end of the road on the southeastern coast), but you hop off in any of the villages en route.
>>Check out Chiloe-based Austral Adventures if you want to take any tours. The company specializes in live-aboard and land-based eco-tours that focus on Chiloe's wildlife and outdoor activities, including visits to Parque Pumalin, across the Golfo de Ancud.
>>Learn more about the people and culture of Chiloe here.
6. Futaleufu River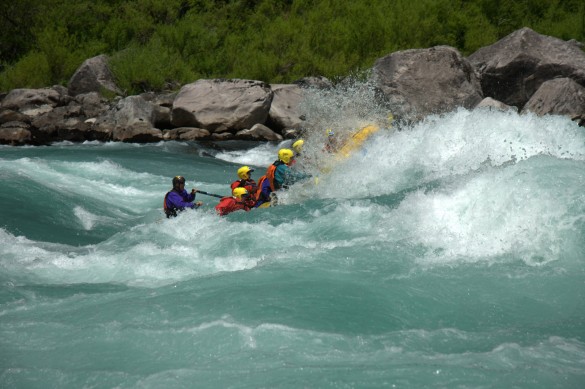 If whitewater rafting is your thing, it's worth a trip to Chile to run the legendary, turquoise-hued Futaleufu River with its frothing Class IV and V rapids, located 130 miles south of Puerto Montt, also in the Lakes District. The verdant, mountainous Futaleufu Valley lies just across the Argentine border on the rainy western slope of the Andes. Due to the 2008 eruption of Volcan Chaiten, which decimated the Chilean town (and airport) of Chaiten, it's now necessary to cross into Argentina to get to the little border town of Futaleufu, which is the jumping off point for outdoor adventure.
Futaleufu (which can refer to the town, river, or valley) is a major destination for outdoor thrill-seekers, who flock here for the thundering rapids, as well as world-class fly-fishing and exploration of the shimmering lakes, forests, and alpine meadows by foot or horseback.
Bio Bio Expeditions has specialized in running the Fu' since 1996, and their luxury safari-style base camp is located on land leased from an organic farm, 15 miles from town. The Truckee, California-based eco-company was co-founded in 1991 by rafting guides Laurence Alvarez-Roos and Marc Goddard. One of the things that makes Bio Bio stand out among other eco-outfitters is their honest commitment to preserving the ecological and cultural integrity of the regions they visit. Their guides are top-notch, and include some of Latin America's reigning kayaking champs. You also won't go hungry; their Chileno camp chef sources many of his ingredients from local farms and one of the week's highlights is a traditional asado (barbecue) from the farm's own lamb.
When you're not working your biceps executing the churning hydraulics of rapids with names like Terminator and Cañon del Infierno in six-person rafts, you'll have the opportunity to spend a day kayaking nearby Rio Azul, horseback riding up to a second small camp located at the foot of a waterfall, enjoying the base camp's riverside bar and wood-fueled hot tub, or indulging in a sauna or massage. The scenery is hauntingly beautiful: slender, silvery waterfalls course down sheer cliffs, and the jagged spires of the surrounding peaks form dramatic silhouettes.
The easiest way to get to Futaleufu is to catch a bus in Puerto Montt, which will take you through Argentina. For direct travel, it's best to fly into Bariloche or Esquel, Argentina, via Buenos Aries, and take a bus or rent a car to get to Futaleufu. Be aware that most businesses only accept cash in Futaleufu, and banks and ATM's are few and far between in this region.
>>Find hostels in Futaleufu
>> Click here for more on Chile's Lakes District.
>> Check out this Chile and Argentina Discovery Adventure Tour
Read more about adventure travel: 

This trip was sponsored by Wines of Chile, but the opinions stated are my own.