Which phrase best describes your style of traveling?
[  ] Scurry through sites, snap photos of temples and sushi conveyor belts, lodge in pricey digs, and bolt home before achieving any meaningful interaction with locals.
[  ] Toss away security blanket and parachute into a new culture.
Half the trick to genuine DIY indie-travel lies in cultivating a sense of adventure, but in the particular case of Japan, it'll pay to bolster your gumption with street-smarts.
Here's an anthropological cheat-sheet on how to crawl under the skin of this tradition-steeped society and experience the world through the hearts and minds of ordinary – and extraordinary – Japanese folk.
Share My Roof
A bold Net phenom with the potential to knit societies, Couchsurfing empowers travelers in Japan to arrange free accommodations with locals, or find a new buddy with whom to sip lattes or take turns grilling and flipping Japanese pancakes. To increase your chances of being accepted as a guest, sprinkle your profile with heaps of details and photos, and search for hosts outside of major cities.
Thanks to this website, I admired BMW-priced koi on a fish farm with an ex-baseball player/wrestler, assembled diorama miniatures with a graphics design major, and toured a home for the elderly blind at a mountainside temple.
Another popular website, WWOOF, enables visitors to swap work on organic farms in exchange for room and board.
"To increase your chances of being accepted as a guest, sprinkle your profile with heaps of details and photos, and search for hosts outside of major cities."
During the summer, grab a tentacle of squid jerky, wander over to neighboring tents, and introduce yourself for a mind-opening, heart-warming evening under the stars at one of over 3000 campgrounds (free – $24 USD) across Japan. Minimalist backpackers will want to trudge up a mountain slope and bunk at yamagoya (mountain huts, free – $24 USD), which provide bare-bones cooking facilities, latrines with bowel-stirring vistas, and the hearty company of mountain hikers.
In Hokkaido and rural areas, ask around for rider houses ($4 – $24 USD), basic accommodations catering to motorcyclists and cyclists, but in practice available to anyone who can make it to their doorsteps – ask your host for a reenactment of the story about the stuffed grizzly in the lobby, and gird your tummy for another slice of raw deer sashimi.
Share My Road
Feel like hanging out with a dreadlocked paintball worker, dapper jeweller, jazz-loving soldier-trumpeter, or a duo of teenaged speedsters? I met these folks and many more while hitchhiking around Japan.
In larger cities, start off by catching a local bus or train to the city outskirts, write your destination on white paper in English and/or Japanese characters (you can copy Japanese characters from brochures, maps, or Wikipedia, or chat up a convenience store clerk to do the honors), and within a few seconds to an hour, you have your ride. Slide your sign into a clear plastic cover to protect it from rain and wind. Diehard eggheads can tuck an e-book reader behind their signs and peruse Edo period history while trucks spit diesel dust on them in real-time.
Japan's crime rates are among the lowest in the world, but hitchhikers are always advised to practice prudence.
Alternatively, pack your own bicycle (or tandem bike, unicycle, skateboard, etc.), or pick up a used upright bicycle ($24 – $48 USD) with basket and generously-proportioned seat. Hardcore tramps forgo wheels and ball bearings entirely, and hoof it from one prefecture to the next.
Share My Bath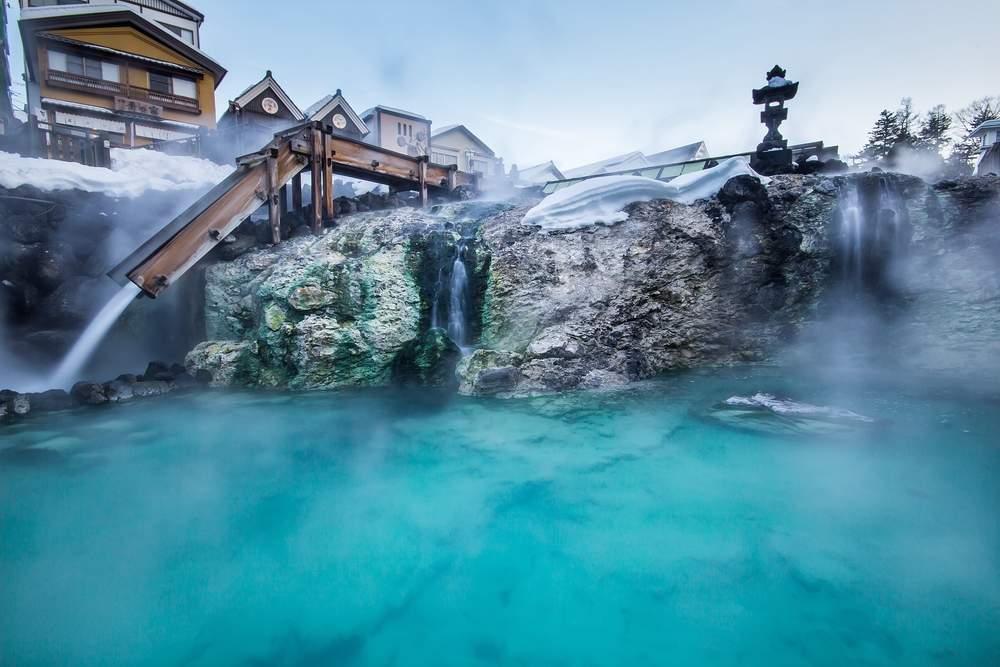 Thaw the ice with new Japanese acquaintances by baring soul and sundry scars at a hot springs bath (called onsen, $2 – $12 USD). Indoor hot springs have gender-segregated baths, but nature-buffs seek out outdoor hot springs (rotenburo), which are often free and co-ed (younger women may opt to drape towels around their bodies or wear bathing suits).
Just as common sense would suggest, whipping out a camera when everyone is dressed in their best birthday suits could earn you a stern rebuke, so be forewarned. In towns without hot springs, you and your soon-to-be-intimates can scrub down at the local bathhouse ($2 to $9 USD).
Share My Food
Indie travelers whittling away at student loans and keening for company can slurp ramen noodles and toss sushi down the hatch ad libitum at university cafeterias (called shokudou; ramen starts at $2 USD). Another great place to strike up conversation over a meal is at a jovial izakaya ($6 to $24 USD), eateries that offer barbecue skewers in a cheerfully inebriated atmosphere.
Some of my fondest memories (the ones that I can recall after several rounds of sake, at any rate) are of a cozy family-run izakaya where Sapporeans convened to imbibe, burp, and bray their office worker blues away, while the wind beat the snow into a howl beyond frosted windowpanes.
Share My Language
The ultimate goal of the indie traveler is to attain some degree of Japanese fluency as rapidly as possible. Look up free Japanese language classes, where recent college grads, housewives, and retirees are happy to help foreigners decipher the mysteries of Japanese in exchange for English practice, the pleasure of introducing their culture to an outsider, or an opportunity for a lifelong friendship. Town culture centers may feature language-exchange boards, where you can pin up your specs and shop for new pals. One such board led me to a meeting with a pianist and her doctor husband, who offered me my first tantalizing glimpse of Japanese family life over salmon stew and exquisite sake.
Another option is to send a shout-out on language-exchange websites like lang-8 and mylanguageexchange.com, as well as Couchsurfing. Travelers can also search Facebook for groups of ex-pats and Japanese with common interests, like playing sports, trekking, dancing tango, or cooking. In Japan, the Internet has become something of a double-edged sword. Live-at-home bachelors and bachelorettes can barricade themselves in their family homes and surf the web in perpetuity, like disembodied spirits in a neural network; on the other hand, guerrilla social entrepreneurs can deploy the Internet to meet like-minded individuals in whatever causes they aspire to.
How to Recharge Societal Trust on a Shoestring
As in the West, societal trust in Japan is trending downwards. Japanese people often wax nostalgically to me about hitchhiking being more common in the former decades. Once, when a friend and I were ambling through a seaside village, an elderly lady invited us to have orange juice and salted fish in her house, for the sheer pleasure and habit of conversation.
As I hitchhiked Japan and clutched my handwritten signs next to busy thoroughfares, I encountered many emotions among drivers and their passengers: some people laughed, some turned their faces away, others expressed pity. It is no shame to be a vagabond. Rather, it is a shame to lose our faith and trust in one another.
Like termites armed with little more than teeth and altruism, indie travelers plod along and aspire to keep the colony healthy and happy. Keep these pointers in mind as you wander the valleys and coastlines of Japan, create your own adventures, and let us know where courage, prudence, improvisation, and lady luck lead you.
To read more about traveling in Japan, check out the following links: