It was a chilly day in Interlaken, Switzerland, however, the wind and drizzle was not what was making me shiver. The real reason that my teeth were chattering and my knees felt weak was because I was about to jump off the top of a canyon in the Swiss Alps with nothing but rushing rapids and jagged rocks below me.
Interlaken is well known for its myriad adventure and extreme sports. If you are the type of person who gets excited at the thought of jumping out of a plane or dreams about scaling canyons or paragliding, then this is the place for you. On this particular afternoon, I had decided to sign up for the Canyon Jump with Alpin Raft.
Bungie jumping was not something new to me. I had actually done it in Cairnes, Australia, at the AJ Hackett tower. However, while the tower had been man-made and had a pool awaiting me at the bottom, this time I would be jumping off a mountain, completely natural and full of beautiful yet dangerous surprises.
I was met at Balmer's Hostel by a member of the Alpin Raft staff who would be picking up all Canyon Jump participants from their accommodations then going for a scenic drive through Switzerland and into the mountains of the Bernese Oberland for the jump.
About Alpin Raft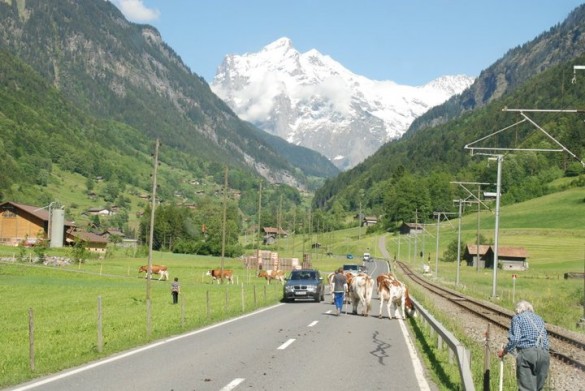 Alpin Raft is one of the leading adventure tourism groups serving the Interlaken, Switzerland, region. They have been around for over 22 years and are able to provide experiences with various adventure activities, including skydiving, kayaking, ice climbing, trekking, and canyoning, to name a few. Their focus is on being safe while having fun, and all guides are qualified and experienced in the adventure tourism profession.
What exactly is the Canyon Jump?
The Canyon Jump is a bungie jumping adventure that allows you to experience the Swiss Alps in a way that most people never will. While travelers who come to Switzerland often explore the country on foot by hiking or sightseeing, participants of the  Canyon Jump get to experience the region by free-falling 300 feet through a glacier canyon. What makes this jump particularly special is that, unlike many bungie jumps, you are not strapped in at your feet. This means that instead of hanging upside down once the free-fall is over, the bungie cord becomes a giant swing, allowing you to swiftly glide back and forth through the canyon over the rapids.
How much is it and what's included?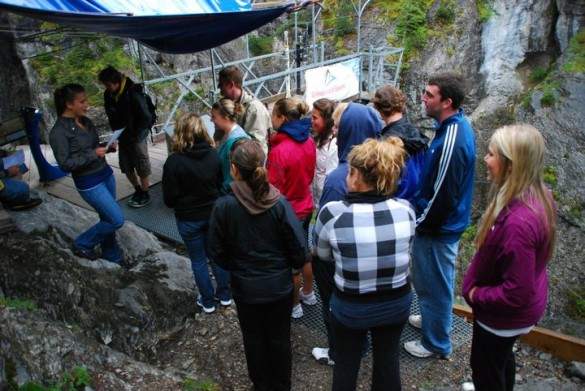 The price of the Canyon Jump is 129 Swiss Francs, which is equivalent to 153 United States Dollars, as of June 2011. Included in this price is transportation to and from your accommodation to the site of the jump, which is about 45 minutes away. Moreover, the activity takes about 3 hours, and all of the equipment, as well as the qualified guides that will be picking you up from your accommodation, as well as explaining what you will be doing, what rules to follow, and ensuring that you know what to do in order to be as safe as possible are included.
What should I wear?
When I participated in the Canyon Jump it was summer, mid-June to be specific, and it was extremely chilly and rainy. Because I was backpacking I did not really have any warm clothes me aside from a pair of capris and a light raincoat. Being in the mountains with all of the fresh, crisp air gave it an extra kind of chill. This being said, the weather can always change, just keep in mind that you will be outside in the mountains for a decent amount of time and you will want to be comfortable. Do not just assume because it is summer it will be hot and vice versa.
In terms of clothing colors, warm and bright colors look best in photos, so if you are planning on purchasing a picture package, keep this in mind!
I would also recommend forgoing any really baggy or loose clothing as well as anything that could prevent you from being harnessed in for the jump. And of course, remove all accessories, such as hats or jewelry, as they could come off during the jump. This includes loose shoes such as flip-flips, which could slide off your feet in the air. As for bottoms, I would recommend long pants, such as jeans or fitted sweat-pants, as the harness is tightly secured around that area. Shorts may become uncomfortable, and of course, skirts and dresses will leave little to the imagination of anyone watching your canyon jump.
Is there anything I should know beforehand or remember to bring with me?
While there is no age requirement to participate, there is a weight requirement for the Canyon Jump, with 100 pounds being the minimum and 240 pounds being the maximum. If you are outside of this weight requirement do not try to be sneaky and sign-up for the activity anyway; the guides will actually weigh you beforehand and write your weight on your hand. For those who don't want to know their weight don't worry, they write it in kilos!
As for what to bring, you can bring whatever you want as you are able to leave your belongings in the van during the jump. Most importantly bring a receipt that you paid for the activity beforehand as proof that you are all settled in terms of payment. Also, definitely bring some extra cash, as there is an option to order photos of your jump, as well as a restaurant right near the jump where we were able to order snacks and drinks. I would also recommend bringing a water bottle and a snack, as this activity is an extreme adrenaline rush and you will want to be physically ready for it.
What if I want photos?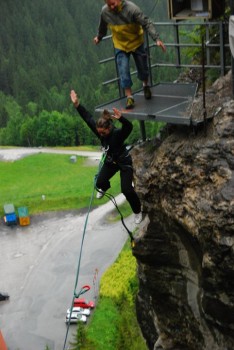 Alpin Raft has excellent photographers on hand who will snap a ton of action shots, group pictures, candids, and scenery pictures of the jump. Our photographer took photos of us before the jump as well, taking pictures of the group jumping in the air excitedly, walking up the mountain, the beautiful mountain scenery and picturesque sky, and, my favorite photos, the actual jump itself, from the moment you are being strapped in to when you are at the bottom swinging and waiting for be pulled back to safety.
You may be wondering how these photographers are able to take such great shots. Our photographer actually secured herself to a line and hung, extremely high up in the air in the middle of the canyon, holding an umbrella and camera. One of my favorite parts of the day was watching her and wondering how she was not terrified of falling off the line into the rocky rapids below, but I guess when you do something everyday you get used to it.
The price for photos is 30 swiss francs, which equals about 36 US Dollars, for a disc full of photos. It is a really good deal considering you will not have to worry about losing your own camera during the jump, and you will definitely want to remember this thrilling adventure!