With our first baby on the way in January, my husband and I have decided to take full advantage of the holiday gift-giving season to solicit infant and toddler travel gear. Numerous parents have assured me that traveling with a child will be a whole new experience, but that new parents should not be discouraged from packing up and taking trips with a little one.
Whether you're putting together your own baby registry or whether you're looking for inspiration on what to give a traveling mom-to-be, check out these 20 gift ideas for parents on the go.
Traveling with Baby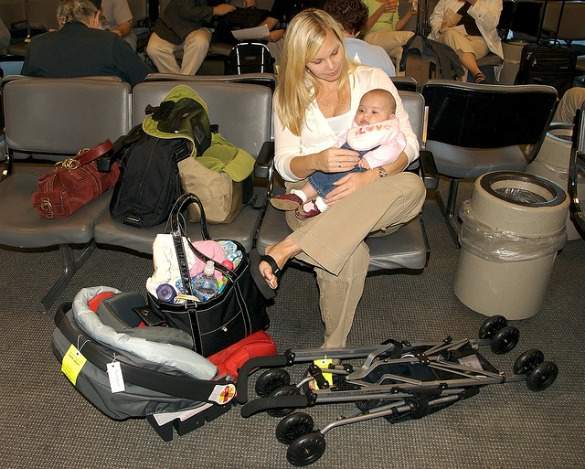 1. Adjustable sling
Instead of having clunky, space-consuming items like strollers and car seats to cart around, consider using an adjustable sling. Your baby will be close to you at all times, and a sling provides support for bottle-feeding or breastfeeding. The Balboa Baby Adjustable Sling, designed by renowned family physician and author Dr. Sears, comes in a variety of colors and patterns and can be used in four different carrying styles for babies from 8 lbs to 25 lbs. One thing that sets this sling apart from regular, cotton slings is its padded shoulder strap – a feature that is likely to be appreciated during long walks between airport terminals.
2. Baby backpack
For longer walks – such as city outings, day hikes or backpacking trips – you'll want a baby carrier with more support. Generally smaller babies are transported via front carrier, and when they get older you can swap to a backpack carrier. The Evenflo Snugli Front and Back Soft Carrier allows you to carry your baby in three positions: two on the front (face-in and face-out) and one on the back. It's good for infants from 7 lbs to 26 lbs, comes in several styles and tends to be less expensive than other brands.
3. Travel stroller
A lightweight or 'umbrella' stroller is ideal for traveling parents. Look for something that folds up easily, has a carry case and doesn't weigh too much. The Chicco Lightweight Stroller weighs 11 lbs and comes with a matching cloth bag for carrying it or checking it at an airport gate.
4. Stroller and car seat combo
Car rental companies usually charge a per-day fee for infant and toddler car seat use, so if you're planning on renting a car during your travels, it can be way cheaper to bring your own. Instead of carrying a heavy car seat by hand through the airport or while walking busy city streets, you can get a stroller and car seat travel combination. One of the most affordable models on the market is the Evenflo Aura Select Travel System.
5. Car seat travel accessory
Once baby is a bit older, some parents prefer to convert their rolling carry-on luggage into a type of stroller by attaching a regular car seat to the suitcase. You can do that with the Traveling Toddler Car Seat Travel Accessory. Keep in mind that you should push your luggage so that your child is in front of you instead of behind you, and it's not safe to use this contraption while going on stairs or escalators.
6. Gate-check bag for car seats
Not all airlines allow parents to bring car seats on board the plane, and if you don't have anything to wrap the seat up in it can get fairly banged up by going in the luggage hold. In order to keep your car seat from getting all scratched up and dented, keep a gate check bag for car seats rolled up in your carry-on or diaper bag.
7. Flyebaby
Infants often fly free, but only if they sit in parents' laps. For long flights, you might want to utilize a Flyebaby that attaches to the seat back in front of you so you can enjoy the trip with both hands free and be able to face the baby.
Sleeping and naptime
8. PeaPod infant travel bed
PeaPod travel beds, by KidCo, come in the form of a tent and are suitable for indoor or outdoor use. They offer UV protection, have screens for airflow and feature several zip closures to make access to baby easy from different angles. The bottom part of the tent is an inflatable air mattress, so baby won't be laying on cold or hard surfaces. The latest edition has a self-inflating mattress and is great for staying in bed and breakfasts, holiday rentals or guesthouses where cribs aren't available.

9. Pack 'n Play
More suitable for road trips and staying indoors, a Pack 'n Play is a combination playpen and bassinet that folds up easily and can be set up within a minute. The Graco Pack 'n Playard with Bassinet is good for infants up to 15 lbs and comes with a carry bag.
Eating on the go
10. Infant travel high chair
Once your baby is about 6 months old or can sit up by himself, you can use an infant travel high chair to give him his own seat while eating out. Travel high chairs fold or roll-up and are lightweight so you can easily carry one in your purse of backpack. The My Little Seat Travel High Chair is good for babies and toddlers weighing 15 lbs to 25 lbs and comes in several different patterns and colors.
11. On the go bottle warmer
If your baby is used to drinking warm milk, or if you'll be traveling in a colder climate, consider getting an on the go bottle warmer. Prince Lionheart's bottle warmer operates without batteries or electricity, is non-toxic, and heats up with the push of a button. You can use it to warm bottles or glass baby food jars.

12. Reusable baby food containers
Glass baby food jars can be heavy to carry around, and often it can be tough to find food suitable for baby while on the road. Instead of compromising with what you feed your baby, you can bring along homemade or store-bought baby food in lightweight, BPA-free Stay Fresh reusable baby food containers. Screw-on lids prevent spills and keep the containers from popping open. The containers lock together and each set of 12 come with a tray for easy storage or packing.
13. BPA-free feeding spoons
You can't always find baby-sized spoons while on the road, and not only can plastic disposable spoons you find at fast-food joints have rough edges, they may also contain toxins that you'd rather not put in baby's mouth. Ask for a package or two of Green Toys BPA Free Feeding Spoons as a gift and keep them in a zip-lock bag in your luggage for feeding times.
Keeping Baby clean and dry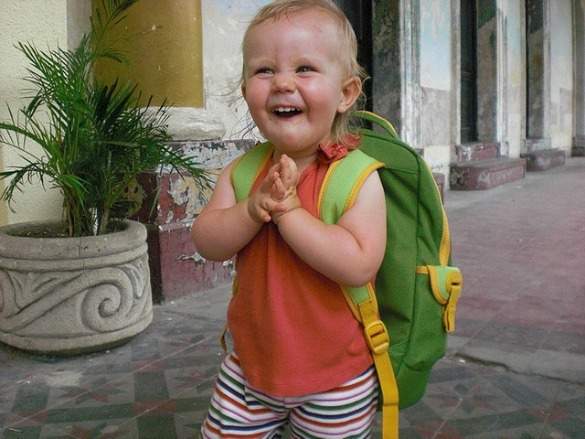 14. Planet Wise diaper wet bag
When no trashcans are available, you'll need somewhere to put those wet, dirty diapers. Planet Wise diaper bags come in three sizes – small, medium, and large – and are made of PVC plastic so you can enjoy waterproof protection without the chemicals usually found in vinyl products. Dozens of funky patterns and colors are available to make diaper changing seem a bit more fun.
15. Portable changing pad
As long as you can find a semi-flat surface, you can change your baby while traveling, but you'll probably want to put something down since you won't know how clean the area is. Go for a waterproof portable changing pad like the Kushies Deluxe or add the 100% cotton Childress changing pad to your wish list.
16. Inflatable bathtub
With an inflatable bathtub, you can bathe your baby anywhere with access to clean water. When you're done with the bath, deflate the tub, hang it up to dry and then roll it up and put it in your suitcase. One option for the traveling family is the Safety 1st Kirby Inflatable Tub.
17. Baby care travel kit
A great gift for traveling parents is a baby care kit with travel-sized toiletries. Jason Earth's Best Baby Care Travel Kit includes tear-free shampoo and body wash, chemical-free sunblock, diaper ointment, therapy cream and lotion in an attractive carry-case. Another option is the California Baby Starter Tote. Both brands' products contain no parabens and are free of synthetic fragrances that can irritate a baby's skin.
18. Grooming & healthcare essentials kit

Instead of going through the medicine cabinet every time you're ready to take off for a trip, having a small carry case with essential baby grooming products can make packing easier. The kit from Summer Infant includes nail clippers, scissors, brush, comb, teether, nasal aspirator, oral thermometer and other infant healthcare items.
Being prepared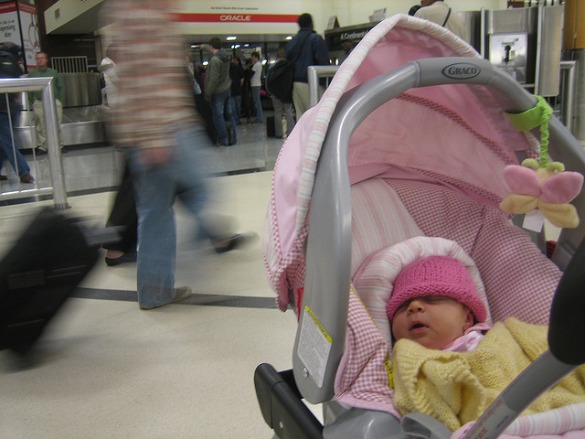 19. Baby MedBasics Travel Pack – Essential Guide
This travel item is a small, color-coded, waterproof guide to infant health that covers topics such as CPR and what to do in case of choking. Space is given inside the booklet to write down all of the emergency numbers and health insurance information you may need while traveling. It comes in a zipped carrying case, similar to a travel first aid kit, and can be clipped onto a stroller, backpack or piece of luggage for easy access.
20. Rough Guide to Travel with Babies and Young Children
And finally, for new parents who like to read up on things in a more tactile way, there's the Rough Guide to Travel with Babies and Young Children. This 224-page paperback is about the size of a guidebook and can serve as a handy reference while on the road.
Get more tips for traveling with kids or find more holiday gift ideas for travelers: 
Photos by: xparxy, Scott and Elaine van der Chijs, pinpirck,  Joshua Berman, chippenzedeutch