Athletic endeavours and alcohol don't seem to go hand-in-hand. In fact, most people pick up a sport or intense fitness regime to work off that beer gut acquired from years of college boozing and binge drinking. Some people, however, don't consider sports and alcohol to be mutually exclusive. There are a few creative geniuses who have managed to combine both. Sweat off the hangover? Sounds like a plan.
None of these sports are really taken seriously on a professional, competitive level; they're meant for those who never made the basketball team at school, but still enjoy some silly fun every now and then.
Extreme Croquet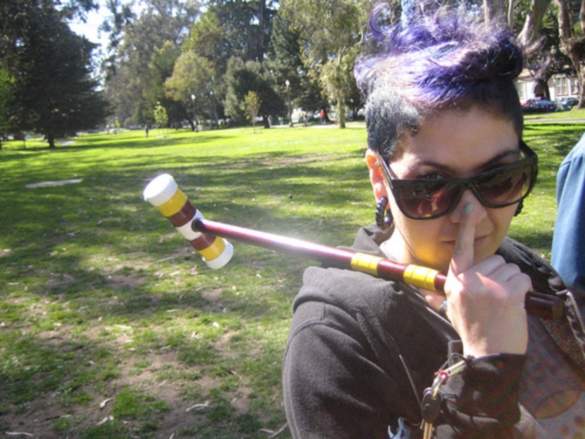 Extreme croquet is basically like taking a regular croquet course and moving it to more challenging terrain (i.e. somewhere with a forest, hills, or moving water). The sport goes back to the 1920s, when Herbert Swope built a large course with sand traps and bunkers on his Long Island estate. Since then, clubs have popped up here and there for the more serious player, particularly in the U.S.A.
Of course, the rules permit drinking. On the San Francisco Extreme Croquet's website, where some of the rules include "no singing of show tunes on the course" (or else the player gets verbally berated), one rule is titled "Hit the Beer." Hitting another player's drink will give you two extra turns, while hitting your own drink will end with more berating from other players "for wasting precious resources, i.e. beer or brain cells." Reasonable, right?
The Hash House Harriers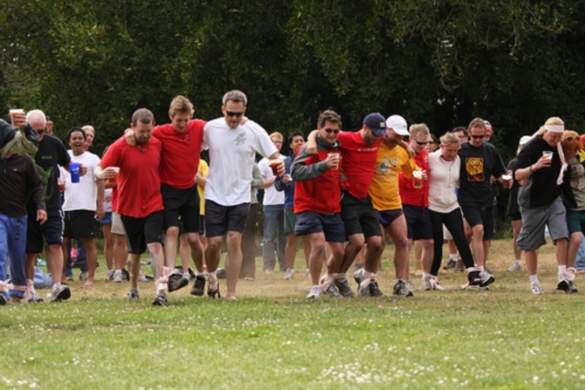 The Hash House Harriers are known as the "drinking club with a running problem." There are no restrictions, you can be any age or shape, but you do need one solid trait: a sense of humour.
The sport originated in December 1938 in the Federated Malay States (Malaysia), when some British colonial officers and expats started meeting on Monday evenings to run off all the indulgences of the weekend. They later became a more official group, and chose "Hash House Harriers" as their title due to their lodgings dubbed the "Hash House" because of the dull meals.
Now, the HHH are worldwide, and they know how to party. In a nutshell: there's a race (sometimes a themed one), and people get punished for getting lost or other incidents, like PDA on the trail. If you get lost (which is likely since nobody really knows where the trail begins or ends), you might be sentenced to a Down-Down, where you have to sing a song and chug a drink of your choice. Then everyone parties, there's music, and new friendships are made!
Want to find a club near you? Check out their official website.
Drunken Golf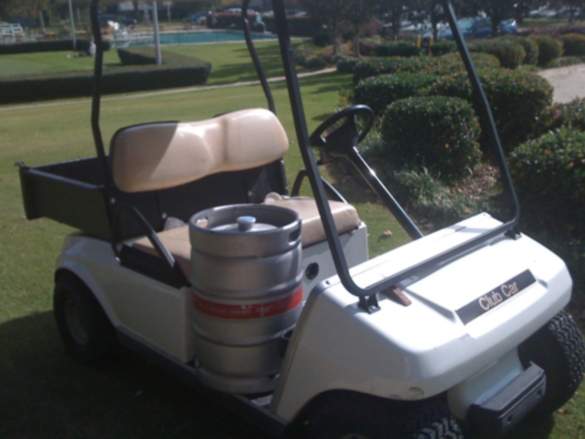 Most people think of golfing as the sport for retirees, elderly men sedately pushing balls around a wide, green field. Not so, however, for the younger (or younger at heart) generation. Nowadays it's not uncommon for guys to take off together on guy getaways, sometimes full weekends dedicated to drinking and driving balls.
Golfing has never been an entirely sober sport, however; there's a joke that the Scots used to hold tournaments just to sell Scotch by the barrel. Plus it's easy: all you need are some booze-loving friends, and some discreet beverage containers (i.e. coffee mugs). It is also suggested that you reduce the number of holes being played (9 instead of 18), and drink liquor rather than beer. Bathroom breaks are few and far between on the course!
Beer Darts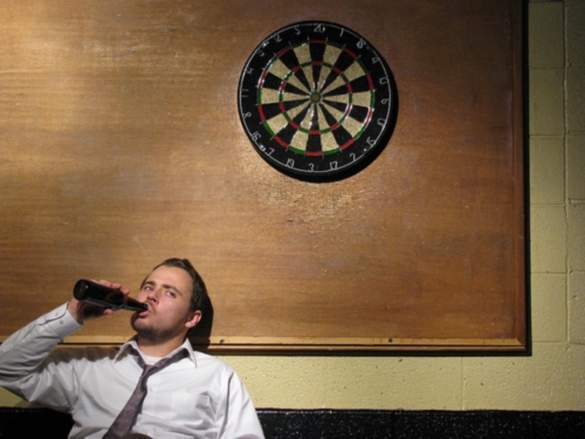 Nobody really knows how beer darts began, but the official website claims it was in a suburb of Minneapolis, Minnesota, and the sport was later refined at a Vikings Tailgating event in 1999. The website gives caution: beer darts can injure players and spectators.  Makes sense, you'll be throwing a sharpened spear through the air with limited hand-eye coordination.
The game is simple: two opponents sit separated by about 10 feet, with a can of beer placed in front of them. You must throw your dart at your opponent, trying to avoid his or her legs and feet. If your dart punctures the can, the opponent must drink until the level of beer in the can is lower than the hole. If the dart merely touches the can but does not puncture, the opponent takes a sip. The loser is the person who finishes the beer first, and the champion keeps his or her own beer while facing the next competitor.
Tip: the inventor of the sport suggests using a lighter, cheap dart. This is not for safety purposes; rather, "Heavier darts will puncture more readily, but can cause catastrophic can failure and rapid liquid loss!"
Beer League Softball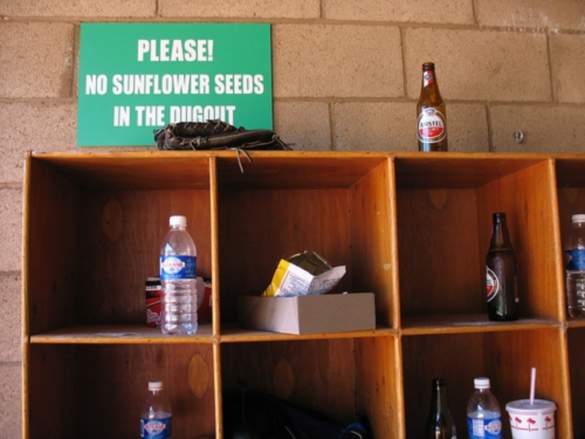 The origins and rules of this one seem hazy. Mostly the whole game appears to focus on exactly the same outline as normal softball, but with an incredible amount of beer. It also seems like most major cities have a league, sometimes co-ed, sometimes gender-specific. Somebody organizes a tournament, and people just show up with booze. You can either assemble your own team, or tag along with somebody else.
But beer etiquette is important. For example, show up with at least a six pack. Even if you don't have a steel liver, others may require lots of pre-gaming. Ensure beer is cold. Getting people to show up is actually the most challenging part of playing in beer league softball, because if the team goes without drinks, it's just a crappy day.
Booze Bowling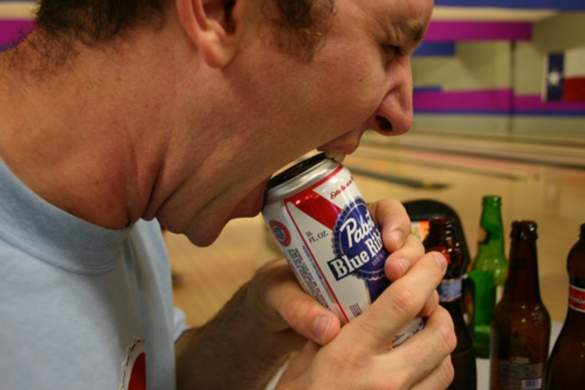 According to the Facebook group, Booze Bowling is defined as the following: "A game in which participants can incur drinking penalties for poor or spectacular tenpin bowling." A relatively new sport dreamed up in 2007, the founder was a University student from Durham, North of England, who enjoyed bowling but could not drag his friends away from partying. Therefore, he combined both activities. The sport has since gone international and has spread to UC Berkeley California.
Booze Bowlers gather at a bowling alley with copious pints of beer. After a bowler rolls their two balls, they must count how many pins are left. The number of pins remaining equals the number of "fingers" that need to be drunk (i.e. if there are two pins left, the bowler puts two fingers around the pint glass and consumes that amount of beer).
Other rules include having to chug a full beer if a gutter ball is thrown on the first round. Similarly, bowing a strike requires chugging a full pint. Basically, if you win, you get drunk. If you lose, you get drunk.
World Adult Kickball Association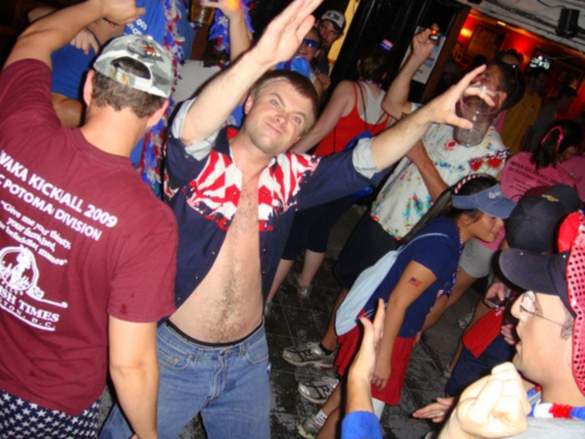 The World Adult Kickball Association (WAKA) is actually an incredibly legitimate league, with organized tournaments and even t-shirts. Their website is super accessible, and like hashing, anyone can do it (as long as you're 21 years and older).
This is the exact same kickball you used to play in childhood days, with all the same rules, but with partying before and after.  A WAKA season has eight regular games, and one division championship tournament. Each division is made up of 4-16 teams, and qualifying teams compete in the annual Founders Cup World Kickball Champion. This year's championship is being held in Las Vegas. Each season also promises weekly socials, mid- and end-of-season parties with free grub and beer, and charity events to make up for all the debauchery.
Cheese Rolling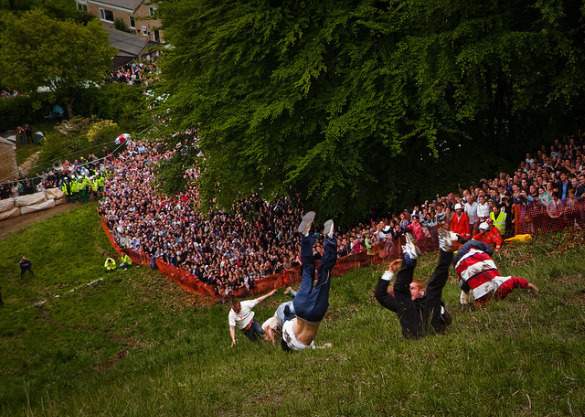 Cheese Rolling might be at the top of the "weird sports" list. This annual event has been around for at least 220 years, and is held each year at Cooper's Hill in Gloucestershire, England. People literally roll down an incredibly steep hill chasing a wheel of cheese, and the first person to cross the finish line at the bottom wins! Of course, he or she may not have their bones fully intact. Initially, only locals were involved in the competition, but now people come from all around the globe.
Seriously, just watch a video of the event on Youtube, and your day will become significantly better.
So while this sport does not involve alcohol directly, there's a pub near Cooper's Hill named "The Cheese Rollers," and two more named "The Cross Hands" and "The Victoria" where competitors gather beforehand for some liquid courage. Lots of it. After the race, of course, they gather again to discuss the race and tactics.
Darwin Lions Beer Can Regatta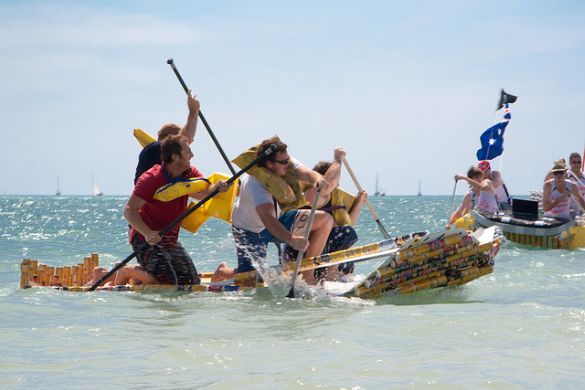 What if you could take the litter you've created from drinking so many beers and turn it into something beautiful? At the Darwin Lions Beer Can Regatta in Darwin, Australia, you can.
The regatta has been around since 1974, after Cyclone Tracy tore through the area and left behind tons of trash. Some bright folks thought it'd be a great idea to turn trash into treasure, and so the Beer Can Regatta was born. Now people gather to watch epic vessels made entirely from tin float and/or flounder. Proceeds are given to charity. Not a bad way to justify the drinking habit, huh?
The World Series of Beer Pong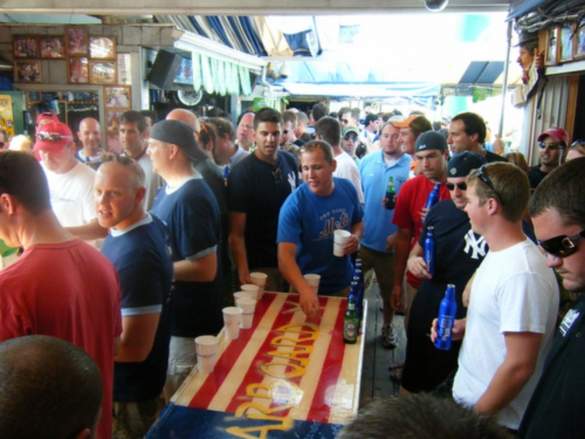 If you've ever attended a college party, chances are you've had a run-in with the popular drinking game dubbed "beer pong." Now, there's a world series…and it's taken extremely seriously. The longest running beer pong tournament in the world, the series was created for beer pong players, by beer pong players. Last year, 800 participants joined in from Canada and the USA, with a payout prize of $50,000.
Rules are governed strictly by the series, but generally follow the outline of any household party version. Plus anyone's eligible to play, simply sign up online. This league is definitely worth a try for $50k.
Photos by: ApplePirate, torroid, Mike D. Merrill, alex_ford, maveric2003, cote, methTICALman, ninjawil, oemebamo, autiscy