You can almost feel it: the plumeria scented breeze in your hair, warm sand between your toes, the heat of the last rays of the sun as it dips into the endless Pacific, your lover's hand in the small of your back as you walk, coconut drinks in hand, beneath the nodding palms.  Just the name Hawaii tastes as sweet on your tongue as the pineapples grown there.  It's at the top of the "dream destination" list for many, and if you're lucky enough to visit in the company of a lover, well, you're lucky enough.
Postcards just don't do justice to the blue of the sea, the smiles of the locals, or scent of Kona coffee being brewed in the Kihei Caffe, and it's all made even better when you have someone special to share it with.  There are lots of ways to "do" Hawaii. Here are six suggestions for exploring the islands' romantic sides with a loved one.
Revel in luxury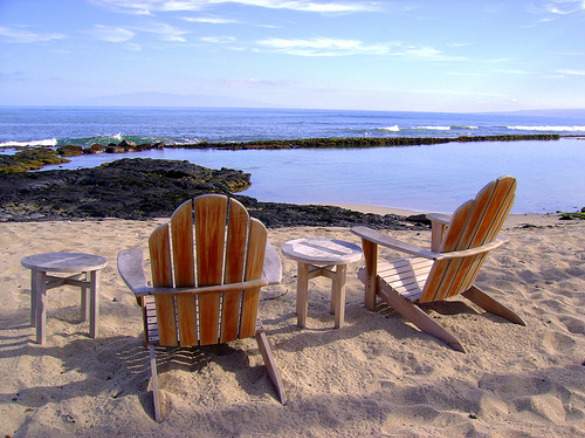 You've planned, you've saved, why not blow the bank and do Hawaii on a grand scale?  At the very top of my romantic destinations life list is the Four Seasons Resort at Hualalai, on the Big Island.
Nothing, can top this place for romantic seclusion.  Relax in the multiple pools; you can even snorkel in one and another is designated for adults only.  Enjoy the refreshing pool side "spritz" service and hand delivered ices while you sip on fruit frozen drinks or Mai Tais.  Book a private dinner on the beach at sunset.  Get a couples massage, relax on the terrace, or spend hours in your private outdoor shower. Watch the sea turtles surf up on to the beach, attend a Luau at the next-door Kona Village or explore Hawaiian traditions at the cultural center.
The whole place is plumeria scented and there is nothing like the carpet of snow white orchids scattered on the lawn for weddings in the afternoon, should you be lucky enough to be there when one is occurring.  Play a round of world class golf, if you must, but don't miss the low key bar scene at evening time.  Should you run into Steven Tyler, be sure to play it cool, "Aren't you Liv's dad?"
"I'd love to splurge," you say, "but the Four Seasons is just over the top, got anything else?" Of course!  Check out the Fairmont Kea Lani on Maui.  This place is an ocean front hotel with a four star rating.  It has all the best features of a luxury hotel, but with shoulder season pricing starting at around $200 a night, it costs less than half of the rack rate at Hualalai!
Mango Sunset Bed & Breakfast Inn at Lyman Kona Coffee Farms, is a small inn located on an entirely organic coffee farm on the Hualalai Volcano, overlooking the coast of the Big Island.  It's not right on the beach, but rooms start at under $100, and have ocean and mountain views.
Enjoy low-cost seclusion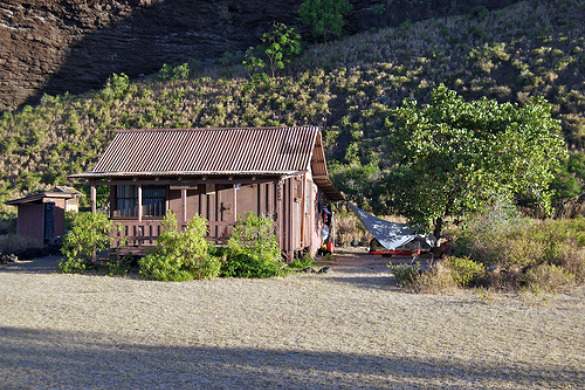 If the only way you can go is to go cheap, you should still go. Hawaii is not known as a "budget" destination, but there are some deals to be had.  The Outrigger Hotels, located on all of the major islands, provide a surprising list of amenities at piggy bank friendly prices, often as low as $75.
Rent a condo with a kitchenette and cook your own food, load up on fresh fruits and local bakery breads and picnic on the beach. You'll save money, and have more privacy. You can even camp. These little spots, tucked into local villages, instead of on tourist laden strips, will give you a window into the "real" Hawaii.  Be sure to take the time to walk the villages, talk with the locals and find the best coffee shop in the world.  For cheap food, eat at roadside stands run by families.  For cheap fun, read the memo board in the local grocery store or cafe and look for church suppers, village festivals or town competitions.  These are some of the best ways to have a "culturally broadening experience" without shelling out some major bucks.
Take a drive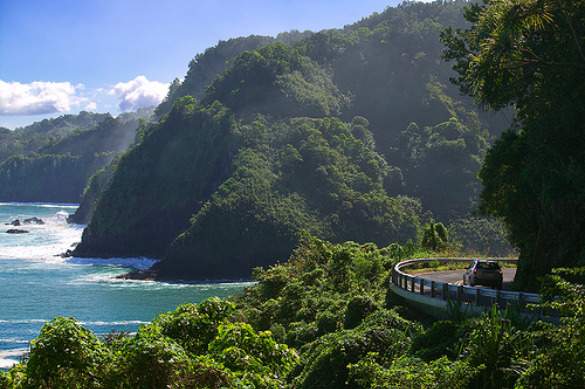 The most "unromantic" aspect of Hawaii is the glut of tourists. If what you crave is some alone time, why not rent a car and get off the beaten track.  A loop drive around any of the islands is a day well spent.  On the Big Island, be sure to hit Akaka Falls State Park, and drop in at at least one of the gorgeous coffee plantations.  Ask for a tour and sample the local Kona at it's finest.
On Oahu, picnic on the white sand beaches on the "back side" of the island (as far from Honolulu as you can get), tour the Dole plantation, and wonder at the amazing geological features of this volcanic isle.  On Maui you have a choice:  The big loop drive around the "fat" end of the island, which degenerates into road almost requiring four wheel drive and takes you past the seven sacred pools, or the shorter, and more harrowing, loop drive around the smaller end of the island.  I say,  take two days and go for both.  Don't be afraid to pull over anywhere there's room and hike back along stream beds in search of water falls, or wander through empty lava tubes to black and red sand beaches.  Definitely stop at a roadside stand and buy a big bag of the homemade coconut candy.  It's as sweet as tropical love.
Watch sparks fly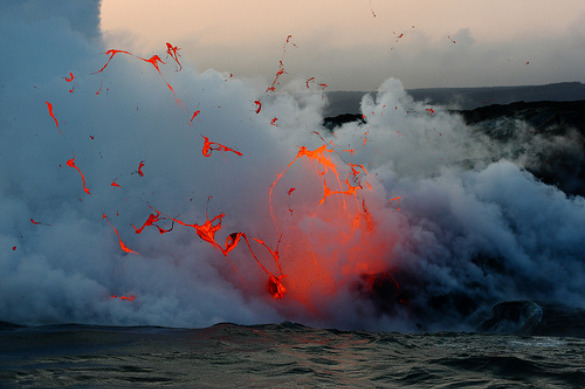 It's amazing how many people go to the volcanic islands of Hawaii and manage to never see a volcano. If you're staying on the Big Island don't leave without taking the twilight hike out across the lava fields to see the active flow in the dark.  It's at least as romantic as watching fireflies or shooting stars, and a lot more rare.  Be sure you pack a pair of solid sneakers and blue jeans for the hike; the razor sharp lava fields will tear through a pair of shoes and you definitely don't want to trip and fall in the dark with bare legs.
Take a helicopter ride, if you can afford it, into the valleys and discover breathtaking waterfalls and the most romantic of jungles.  It will feel like you've been transported back in time and will be a moment you'll never forget. If you have any time at all on Maui, be sure to scale Haleakala, and take in the view from the top of the world.  The tours that take you up for sunrise are worth the early morning, and for the truly adventurous, join one of the bicycle tours that ferry you to the top in a van so that you can enjoy the 10,000 foot descent on two wheels.  Be sure you stop and take a look at the silversword plant, exclusive to Maui.  It lives its whole life to pollinate, send up it's spike and then die. It's a plant that can't help but appeal to lovers.
Get wet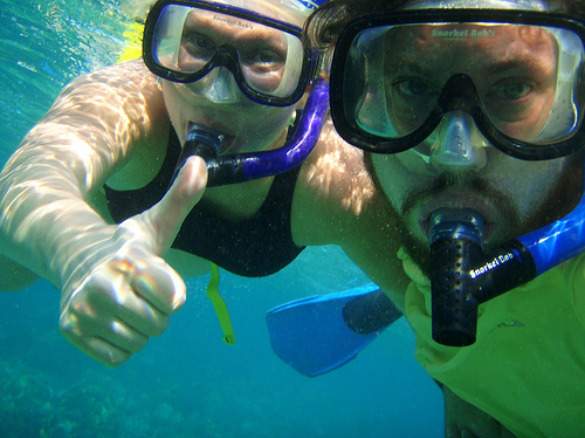 Hawaii is a place brimming with aquatic adventures in warm, blue waters; besides, it's a great excuse to wear your bikini. Don't leave without taking a surf lesson.  If you're between four and eighty, you can do this and the enormous starter boards make it a whole lot easier!  Rent the lovely, muscular, tattooed instructor to stand waste deep in the water and give you a push at the crucial moment – he's worth every penny.
If you'd rather be a surfing spectator, take a beach blanket and a cooler full of your favorite beverage and stake out a piece of sand.  You'll find the locals friendly and more than willing to point out the finer points of the sport… especially in trade for a drink!  Where should you go?  On Maui: Ho'okipa.  On Oahu: anywhere along the North Shore, just look for the boards.  On Hawaii: head to the south shore and Upolu for some of the island's best.
Take an early morning sail on a catamaran and snorkel in secluded volcanic craters, SCUBA dive around lava tubes with green sea turtles and, if you're lucky, you may even hear the humpback whales singing!  Try kite surfing, sail boarding, or rent a jet ski, stand-up paddle-board, or kayak.
Collect some memories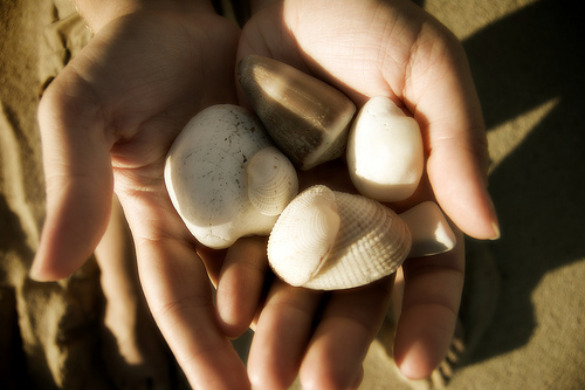 What better way to immortalize the trip of a lifetime with that special someone than to take something home that will remind you of Hawaii?  The best collections are the ones that are free and have specific memories attached to them.  So what should you collect?  How about ferns?  Hawaii has an amazing diversity of fern species; why not pick a few leaves, press them in your guidebook and frame them when you get home?
Take shell-collecting to the next level and create a message for your loved one in beach finds.  Want to live really dangerously?  Risk the wrath of the fire goddess and take home a piece of volcanic rock to remind you of the "hot love" you shared on the islands; supposedly this ensures an endless stream of bad luck until the rock is returned… which might be a good excuse to go back.
BootsnAll's WhyGo Hawaii site has everything you need to plan a trip to Hawaii. Find cheap flights, look for cheap hotels in Hawaii, and learn about things to see and do on the islands.
Photos by: Rosa Say, Wayne Batzer, IronRodArt – Royce Bair, slworking2, Rob Lee, JPhilipson