Humankind has long had the desire to build structures that pierce the sky and aspire toward heaven. Perhaps the most famous mythical tower, the tower of Babel testifies to these aspirations, but also to the follies and hubris of its builders. It all ended in disaster. Yet, towers continue to be built.
Every few years a new height record for towers is broken (towers being defined as self-supporting structures that are always taller than they are wide). Some towers are architectural marvels. Others are eyesores. Some are built for functionality, for promotion or economic speculation. And some are built just because they had to be. All hold their elemental fascination and primal power. Here's a tour of ten towers. Some are world-renowned landmarks. And hopefully, some are new discoveries for the intrepid traveler with his or her head in the clouds.
Leaning Tower of Pisa – Pisa, Italy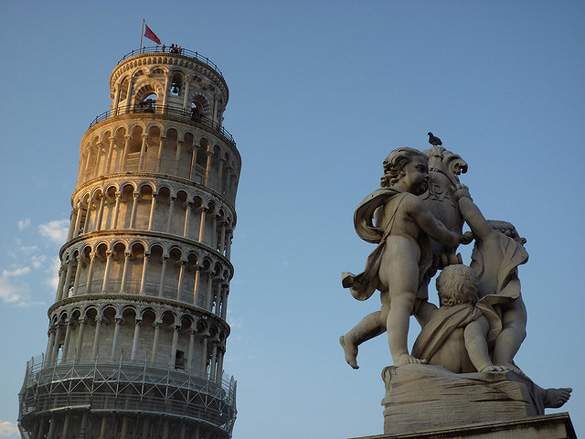 Structurally it's a hairbrained design, but architecturally Pisa's tower is stunning – a masterpiece of Romanesque style. It started leaning when they were building the second floor in 1178 and when finally completed nearly 200 years later, it tilted even more. The fourth and fifth floors were built with columns and arches bigger on one side than the other but it didn't help.
It also seems that Galileo didn't really drop two cannonballs off the tower to prove that the speed of falling objects is independent of their mass. But like millions of tourists you can pose for a photo pretending to hold up the tower, though that really doesn't help hold up the mass of this iconic tower. Or you can opt to climb the tower,  making your way up more than 300 steps of the spiral staircase.
>> Find cheap hotels in Pisa and learn how to get to Pisa from Florence
Eiffel Tower  – Paris, France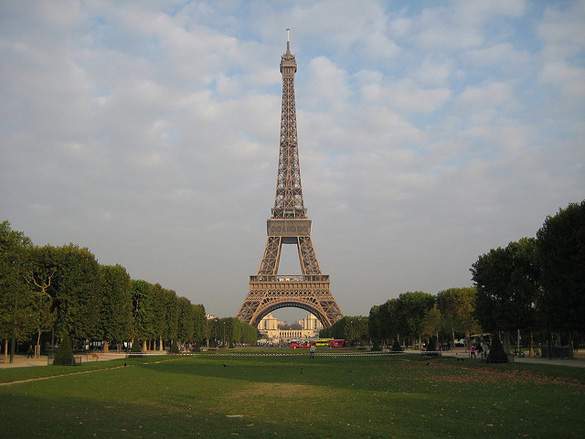 Constructed for the 1889 Paris Exhibition, Gustave Eiffel's famous tower became the tallest manmade structure in the world until the Chrysler Building in New York topped it in 1930. Though now a recognized masterpiece of structural engineering and a certain industrial beauty, it was met with a very strong reaction, much of it negative, during its construction and completion. A who's who of French intellectuals signed a petition against it. One of the signers, novelist Guy de Maupassant would eat in the tower's restaurant every day, claiming it was the only place in Paris where he didn't have to look at the tower.
Now you can dine at the Michelin starred Le Jules Vernes Restaurant, an Alain Ducasse restaurant on the tower's second level and see Paris like de Maupassant also without having to look at Eiffel's magnificent creation. Visitors can climb 704 steps to the second floor and take the elevator to the top from there.
>> Find hotels with a view of the Eiffel Tower or see some other World's Fair monuments you can still visit
Tokyo Tower – Tokyo, Japan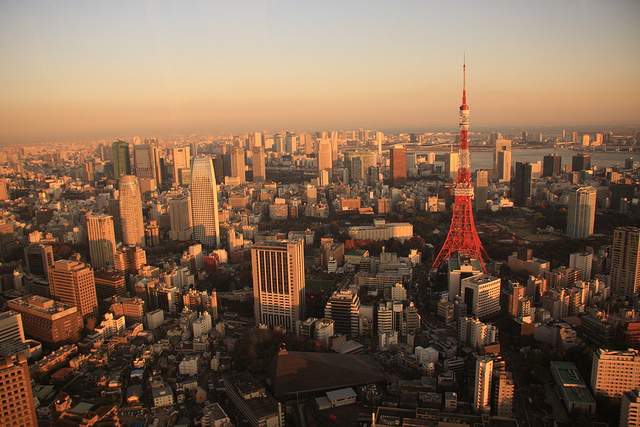 Tokyo Tower, a bright orange moderne knock-off of the Eiffel Tower stands out, not so much because it's a particularly beautiful building, but that it's a landmark easily seen and recognized from any number of neighborhoods in central Tokyo. And compared to much of the architecture that surrounds it, it looks pretty good. Built in 1958, it's long been a symbol of Japan's postwar economic miracle. Sturdy (designer Tachu Naito was the father of earthquake-proof design), functional (it's main purpose is as a radio and TV broadcasting tower) and commercial (the four story FootTown structure underneath the tower houses restaurants and souvenir shops), the Tokyo Tower attests to Japanese aspirations.
There's also a wax museum there where you can see the usual famous people and historical tableaus, in addition to wax sculptures of the heroes of prog rock. Frank Zappa and krautrock band Faust are among the luminaries. Tokyo's Sky Tree, now the tallest tower in the world is due to open next year, but Tokyo Tower still holds Tokyo's soul.
>> Book flights to Tokyo and find cheap Tokyo hotels
Cairo Tower – Cairo, Egypt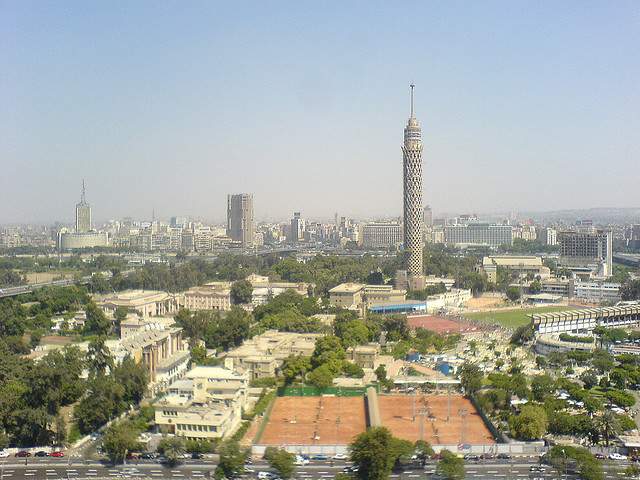 The Cairo Tower just had its 50th anniversary in April of this year. Word is that Abdel Nasser, the president of Egypt from 1956 to 1970 received a personal gift from the US government of $100,000 and turned it around as startup money for the tower. Things were a little cheaper back then. He brought on architect Naoum Shebib, the father of modernist architecture in Egypt to design it. And what a beautiful design it is! A delicately latticed cylinder of concrete stately rises 614 feet in Cairo's Zamalek district over the Nile River. A slight flair at the top evokes a lotus flower.
A recent remodeling added a few new restaurants in addition to the original 360 Revolving restaurant at the top. The restaurants are expensive and a bit dowdy, but if you want to get away from the madding crowds of Cairo and rub shoulders with African and Arab heads of state, the Cairo Tower is the place to be.
>> Search for airfare to Cairo
[social]
Space Needle – Seattle, Washington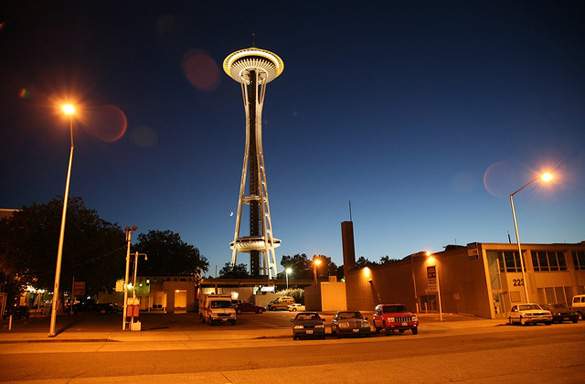 In 1962 Seattle was a still a one-company backwater town, not yet the cultural and economic capital it would become by the1990s. Granted the company that called the shots in Seattle was Boeing. This was the time of the Jetsons and Kennedy's space race speech. The Space Needle, built for the 1962 World's Fair, became the symbol for the future of Seattle. Even more so it became a more potent image for Americas future, launching a bunch of knock-off towers throughout the US and Canada. A flying saucer on top of a graceful modern tripod, pinched in the middle to give a feminine curve to the masculine thrust.
Its near perfect design was marred by an additional platform about 1/3 of the way up built in the 1980's, but it still defines the Seattle skyline, affording spectacular panoramas of Puget Sound. It's also where Dr. Evil, from the original Austin Powers movie had his lair. In addition to visiting for the views, you can also enjoy lunch, brunch or dinner in the revolving restaurant.
>> Find flights to Seattle and search for accommodation in Seattle
Ostankino Tower – Moscow, Russia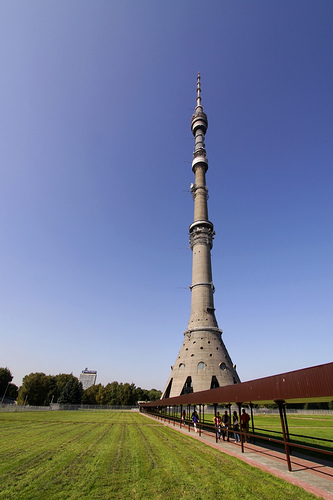 Not to be outdone by the tower building mania of the 50s and 60s, the Soviets got their biggest architect, Nikolai Nitkin on board to design the Ostankino Tower. Unlike his socialist pastiche style that served him well since the 1930s, he created one of the nuttiest and most wonderful modernist fantasies to ever tower over Moscow. Looking like a cross between a huge rocket ship and a minaret from someplace like Samarkand, it brings back an image of old Soviet hegemony. It's industrial, futuristic, a little clunky in choice of materials, but hints at the Soviet (and Russian) status as the nation where the East meets the West.
A ride to the top, which must be reserved, gives a fine view of the sprawl of Moscow. Unfortunately, the revolving restaurant, Seventh Heaven – the menu of which featured a heavenly array of traditional Russian goodies, most drenched in sour cream! – was damaged in a fire in 2000 and has yet to reopen.
>> Read our Moscow travel guide or learn about visiting formerly Communist countries
Berliner Fernsehturm – Berlin, Germany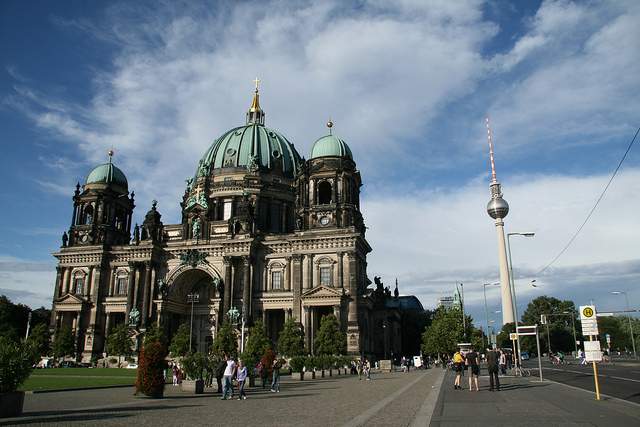 East German Architect, Herman Henslemann had a mixed up career. Early flirtations with modernism soon turned to some the grandest monuments of Stalinist architecture. He returned to modernism after Uncle Joe died, creating his most famous monument, the Berliner Fernsehturm. Now towering over a unified Berlin, it remains the tallest structure in Germany.
Completed in 1969 it's simple design of a sphere stabbed by a narrow pointed shaft, has a retro feel, yet gives a solid and stately architectural presence. The restaurant and bar on top offers another way to enjoy the 306-degree views of the city. No longer the exclusive domain of downtrodden East Berliners, it's become a symbol for all of Berlin and a fairly trendy hangout for hipsters with a bit of nostalgia for the Soviet days.
>> Find flights to Berlin or learn more about visiting Berlin
CN Tower Toronto  – Toronto, Canada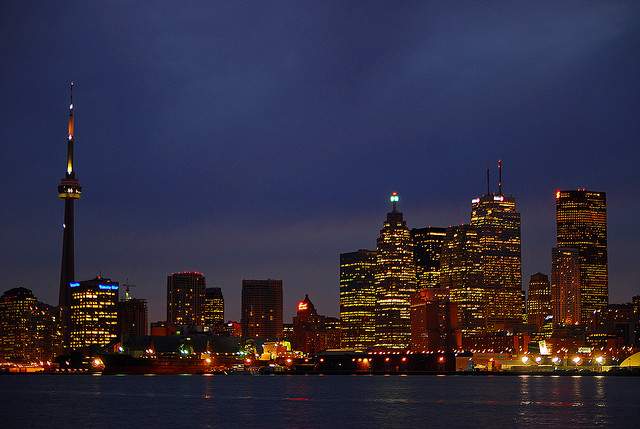 When the CN Toronto Tower was finished in 1976, it was a monster of a tower. At 1,815 feet, it towered over anything built on Earth for a good 34 years. It's a rather clunky appropriation of Seattle's Space Needle, with its tripod structure topped with a flying saucer – or in Toronto's case, a hamburger. But by sheer scale and presence, it remains an awesome monument. It's been declared one of the seven wonders of the modern world.
As in most modern towers, there's revolving restaurant. Unlike most towers, the food at the 360 Degree Restaurant is actually pretty good, if expensive. And it has a view to die for.
>> Book a hotel in Toronto
Canton Tower – Guangzhou, China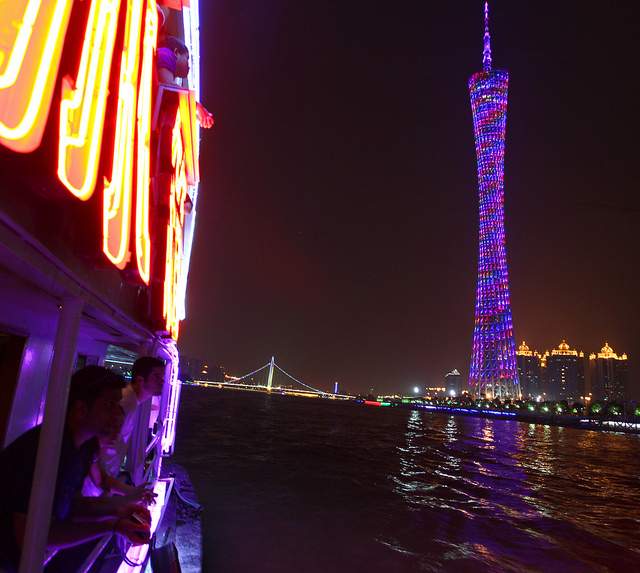 Throughout the 90s and new millennium, Asia has been racing to build the tallest towers – ever. Shanghai's Oriental Pear Tower was the tallest for a couple of years, but was soon outdone by the Canton Tower in Guangzhou. The Canton tower opened in September 2010, becoming the tallest tower in the world (though Tokyo's Sky Tree is now officially the tallest, it hasn't yet hasn't opened). The Canton Tower was designed by the Dutch firm, Information Based Architects, and has become a symbol for the information age. Comprised of a simple and elegant gently twisting spire, it has a feminine edge.
With restaurants, cinemas, the world's highest Ferris wheel, the shoot – a machine that simulates zero gravity – and a vertigo-inducing open-air staircase that winds around the inner structure of the tower,  it adds elements of extreme fun to an otherwise stately structure. At night, it's lit up in rainbow colors, making it a post-modern beacon, definitely at the cutting edge of engineering and technology.
>> Read our China travel guide or check out some lesser-known places to visit in China
Read more about some of the best views in the world:
Photos by: willsdad, Terrazzo, localjapantimes, ak_mardini, egorick, csaavedra, ZaNiaC, Aaron Webb