BootsnAll's Writer Platform: The Fabulous-First-Five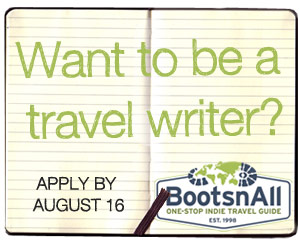 On May 17th, BootsnAll announced the first five lucky (& very talented) writers to be chosen for their newly launched Writer's Platform. Since that announcement, each of the writers selected has been busy, filling their respective sites with fascinating content, up-to-date information and expert advice.
With BootsnAll set to make the next call for writers, we thought we'd check up on each of the first five and ask them to share some of their favorite gems of road-worn wisdom. As you're sure to see, Amiee, Brooke, Christine, JoAnna and Nellie are five fascinating women—each with a different take on what makes travel so special. Be sure to pay a visit to their respective blogs, part of the BootsnAll network.
---
My first travel memory is touring the White House in Washington, DC.
I remember Lafayette Park being atrocious, and when I got home I wrote a letter to President Carter to tell him so. I received a little postcard back thanking me for my advice. I was six years old. (Christine Cantera – Why Go France)
My travel style is definitely dirtbagging.
Meaning traveling for as cheap as possible usually camping on beaches and parks along the way. I usually cook my own food on a backpacking stove so I can save money and travel as long as possible. (Amiee Maxwell – Travel Gear Blog)

My dad introduced me to travel when I was a tiny little girl.
Though I don't remember our trips, I'm told that I rode on his briefcase through the airport and sat on his lap on the airplane. The story he tells over and over again is the time we were flying and I looked up at him and told him I didn't feel well. Then I threw up all over his lap—his only work clothes—which he had to sit in for the duration of the trip. I haven't thrown up on a plane since then (thankfully), but my dad continues to be one my favorite travel partners. (JoAnna Haugen – WhyGo Las Vegas)
If you bring up travel, I could talk for hours on the possibilities of where to go, what to see and do, but when it comes down to the nitty-gritty details and scheduling, I just can't be bothered.
I hate planning itineraries, and I hate being confined to a limited amount of time. Open-ended is the way I roll. (Brooke Schoenman – WhyGo Australia)
I'm not a planner: I don't like to research beforehand; improvising on the road is part of the fun of traveling.
Every day is different when you're in an unfamiliar environment, and I love the element of surprise that travel brings. These days, with the use of social media, I'm getting excellent local tips and connecting with locals while on the road. (Nellie Huang – WhyGo Spain)

I don't have a particular travel style.
When I try to place myself into a niche, I surprise myself by doing something totally new. I don't think there's any wrong way to travel. I prefer to strap on a backpack and get dirty on the trails, but I've also been pleasantly surprised with how nice it is to stay at an all-inclusive resort, where I don't have to think about anything if I don't want to. I love adventure travel—white water rafting, zip lining, trekking—and I love local experiences, such as volunteering and agritourism. The only thing that I really don't like is anything that has serious repercussions environmentally or to the local communities. You won't find me on an ATV any time soon. (JoAnna Haugen – WhyGo Las Vegas)
As far as plans, I really don't have any.
I have a general idea about where I want to go or what I want to do but I am definitely open to suggestions or detours along the way. I don't often carry a guidebook but it is usually because I never got around to purchasing one. (Amiee Maxwell – Travel Gear Blog)
I usually get a trip idea from a picture I've seen – and that picture usually involves a body of water.
I then go online and see if there is a fantastic hotel with a view of that body of water. I get obsessed over it, book it, and go. (Christine Cantera – Why Go France)

I am a horrible travel planner and if at all possible, I let my husband take care of the details.
I find it tedious, boring and time consuming. If my husband didn't book my accommodations or check guidebooks out from the library for me, I'd have no choice but to sleep on the sidewalk. It's actually quite embarrassing. (JoAnna Haugen – WhyGo Las Vegas)
I'm a backpack sorta girl.
Traveling with a wheelie makes commuting difficult, especially on public buses in Guatemala or India, having a backpack is so much easier and more convenient.(Nellie Huang – WhyGo Spain)
My trips are usually built around some sort of physical activity like backpacking in Kauai or rock climbing around the American West so I really don't have to worry about staying fit on the road.
I choose to walk everywhere rather than renting a car so that keeps me fit as well. (Amiee Maxwell – Travel Gear Blogl)

My friend John Ott is one of the main reasons why I am a travel addict today.
Even though he died in 2008, the way he lived his life continues to inspire me. (You can read about it here). (Christine Cantera – Why Go France)
Music is one of my favorite ways to experience a place.
I love listening to local music no matter where I'm at – last night I took in some western banjo music in the park in Lander, Wyoming where I made camp for the night. (Amiee Maxwell – Travel Gear Blog)
I tried to go the Corporate America path.
I really did. But I tend to be too passionate and outspoken and neither of those traits is valued in the corporate world. At Burning Man in 2009, I met some incredibly inspiring people and decided to reclaim my life from The Man. By October, I was working for myself. Since then, I've been writing and traveling without the constraint of 40-hour work weeks and two weeks of vacation. (JoAnna Haugen – WhyGo Las Vegas)

The only way to tell which year a recent photo of me was taken is by looking at the length of my hair.
Chances are I am wearing one of a few different items of clothing that I still rotate into the small mix of things I own. Making it easy to live with just a few possessions is what backpacking has done to me, and I love that I can have such a simple life and still be happy. (Brooke Schoenman – WhyGo Australia)
Travel has changed me immensely.
In fact, not too long ago, I wrote about 100 ways that travel has changed me ( JoAnna Haugen – WhyGo Las Vegas)
I almost always carry a guidebook but I rarely actually use them.
Maybe it's like a security blanket. (JoAnna Haugen – WhyGo Las Vegas)
I like to eat local food when I travel.
I find the touristy section of town, turn 180 degrees and walk half a mile. That's where I find the good food. In Cusco, there were all these restaurants that had a "turistico" menu. Not a good sign. We walked just a few blocks further and found places to eat without a special menu and huge meals for a fraction of the price. (JoAnna Haugen – WhyGo Las Vegas)
I go weak in the knees when I'm face to face with good, authentic local food.
As a curious food-lover, exotic fare is a must-try when I'm on the road. From roasted cuy (guinea pig) in Peru to Spanish tripe stew and barbecued intestines in the Philippines, bizarre foods usually taste better than they look! (Nellie Huang – WhyGo Spain)

The first place I go to sample local food is always the streets or night markets.
Eating street food gives me a good peek into local gastronomy – of course, there are some places where street food should be avoided. Some of my favorite countries for street food include Vietnam, Thailand, Morocco, Hong Kong and Argentina. (Nellie Huang – WhyGo Spain)
I wish people didn't feel the need to create some sort of divide between travelers and tourists.
I think it's great when anyone gets out and explores the world regardless of whether they want to do it by cruise ship or hitchhiking. Traveling is such an important component to bridging cultures. Who cares how people make that happen? (JoAnna Haugen – WhyGo Las Vegas)
I could live without ever having gone to anyplace that has open sewage, no matter how popular it may be.
(Christine Cantera – Why Go France)
A few years back I finally visited the Grand Canyon and as I peered over the edge I was like "this is it?"
It wasn't until I hiked to the bottom that I experienced the grandeur of it all but I would still take any of Utah's incredible canyons over the "Grand" one any day.(Amiee Maxwell – Travel Gear Blog)

I'm a sucker for value.
So if I were to be given a plane ticket to anywhere, I'd probably have to choose some far-flung place in Africa or maybe just Uzbekistan, Georgia or Armenia. (Brooke Schoenman – WhyGo Australia)
Just because you are a traveler at heart doesn't mean that you have to like every place, or even want to go everywhere.
There's no point in lying to yourself and others. For me it is New Zealand – a place that many call their fave, but the rich, green nature or the cool, white mountains just can't strike my fancy… even after two visits. I'm sorry, New Zealand, it's not you, it's me. (Brooke Schoenman – WhyGo Australia)
My best piece of travel wisdom? Shut up.
Don't complain unless your life is in danger or your health is directly affected. (Christine Cantera – Why Go France)
I served in the U.S. Peace Corps in Kenya.
Living in a small home without any electricity and running water definitely served as a reality check. When you live minimally, you realize what you truly need and what you just want. (JoAnna Haugen – WhyGo Las Vegas)

I can't begin to explain how travel has changed me.
From a city-girl used to first-world comforts, I grew into a nature-lover and adventure-seeker, always hungry for something new. Old friends can attest to the drastic change that I've over gone. And of course, these things don't happen overnight. I owe it to the environments I've been in, people I've met and the amazing sights I've seen. (Nellie Huang – WhyGo Spain)
I always seem to get lucky when I travel, and I'm referring to the fact that I have met some amazing friends along the way.
What are the chances that I would meet someone I connected with so well in Bishkek, Kyrgyzstan? Or, what are the chances that I would randomly become roomies with the coolest, sweetest girl in Canada while teaching English in Ukraine? Better yet, how about meeting my Aussie boyfriend in a hostel in Riga, Latvia because he was sleeping in the bed right next to mine? (Brooke Schoenman – WhyGo Australia)

Travel is a lifestyle.
I weigh my options when deciding how to spend my money. I cherish the value of a dollar. I always have a travel goal that I'm working towards. (Brooke Schoenman – WhyGo Australia)
I'm inspired to keep traveling by the stories I hear along the way.
I just spent the last hour talking to some pretty incredible souls that are biking their way across the US. After hearing about their experiences on the road, crazy logistics of their trip, and the incredible camaraderie along they're sharing it almost made me want to put a cross-country bike trip on my bucket list (Amiee Maxwell – Travel Gear Blog).
Travel changes everyone, or at least I'd like to think so.
Above all else, it has forced me to appreciate American conveniences – 24-hour stores, ice, air conditioning, clothes dryers. (Christine Cantera – Why Go France)
Travel makes me feel alive.
There are a hundred and one reasons why I love travel, but that one thing that keeps me going is the joie de vivre. The energy, new sights and sounds and people I meet makes me want to keep going to different corners of the world. (Nellie Huang – WhyGo Spain)

I love to travel because it inspires and surprises me.
I might know where I'm going or vaguely what I'm going to do or where I'm going to stay, but I'm in a different space than I've ever been before. The realization that there are so many places with so many personalities—and it's all so accessible—never ceases to excite me. (JoAnna Haugen – WhyGo Las Vegas)
I love to travel because it's the easiest way to try out all the lives you're not living.
(Christine Cantera – Why Go France)
"How I Travel" is a BootsnAll series publishing every Tuesday in an effort to look at the unique and diverse travel habits of some of the world's most well known and proficient road warriors. Got ideas for who we should talk to? Drop us a note.
You'll find links to all the "How I Travel" articles on the How I Travel archive page, you can become a fan of "How I Travel" on Facebook, and you can follow the @howitravel profile on Twitter to get updates as soon as new features in this series are published.
all photographs provided by the BootsnAll Writers and may not be used without permission