It would be so easy to stereotype any patch of land in the Caribbean as a beach-bumming, rum-drinking, palm-fringed, laid back tropical island. But, just as each city has its own culture and most countries around the world are known for something specific, the islands of the Caribbean are no different … even if they share a name.
The U.S. Virgin Islands and British Virgin Islands are intermingled with each other, and the international border between the two is a bit fuzzy (though it is patrolled heavily), but each island has a distinct vibe that differentiates it from the others. Sure, visitors will find places to scuba dive, drink fruity drinks, enjoy the natural scenery and explore the Caribbean's history regardless of where they go, but some islands outperform others when it comes to impressing certain travelers. Which of the many Virgin Islands appeals to you?
St. Thomas, U.S. Virgin Islands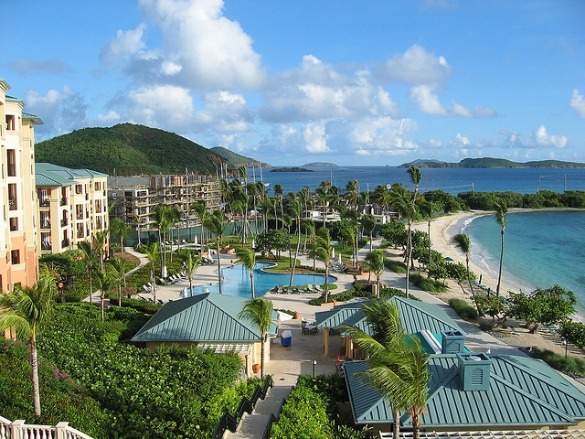 St. Thomas is home to a popular cruise port and an airport, so it's probably no surprise that this is also the busiest, most crowded and most commercialized of the three main islands that make up the U.S. Virgin Islands.
Near the cruise port, visitors can find restaurants, duty-free shopping (just try counting all those jewelry shops!) and drivers ready to skirt them around the island. There is a golf course on St. Thomas as well as several beaches including Magens Bay, which is often considered one of the most beautiful beaches in the world. All of the island's attractions, including Coral World Ocean Park and the St. Thomas Skyride to Paradise Point, are accessible and can be crowded when ships are docked.
St. Thomas is for you if: You love to shop, eat and enjoy the U.S. Virgin Island's most popular attractions. If you don't mind crowds and you want some action on your Caribbean holiday, then St. Thomas is the Virgin Island for you.
St. John, U.S. Virgin Islands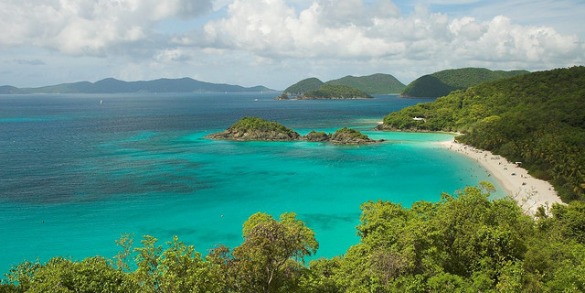 Known for its lush natural scenery, St. John is less crowded than St. Thomas. More than 11,500 acres—about two-thirds—of the island are protected as a U.S. National Park, which means there is significantly less activity than on St. Thomas.
Though it is located a mere three miles from St. Thomas, St. John is peppered with quiet beaches, underwater coral gardens, scenic roads, well-maintained walking trails, old plantation ruins and lush foliage. Public transit is not as readily available, and visitors will not find the shopping and dining options available on St. Thomas, though the island provides everything needed … even if it is just a bit pricier than its more popular sister island.
St. John is for you if: You would like to escape the crowds for more natural scenery. If you enjoy hiking or snorkeling off of beautiful—though not famous—beaches, you'll appreciate the tranquility St. John has to offer.
St. Croix, U.S. Virgin Islands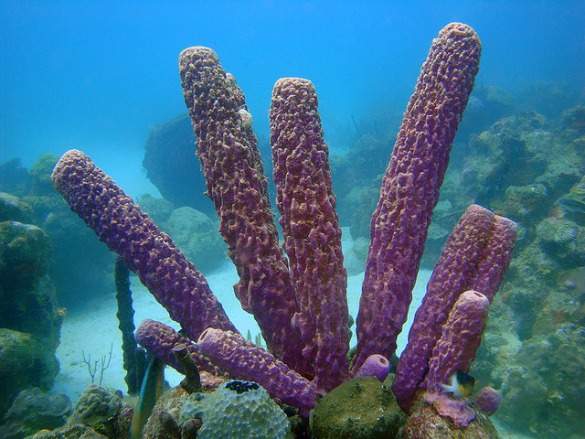 Often overlooked by travelers who visit St. Thomas and St. John, St. Croix has managed to avoid a lot of the tourism that is prevalent on the other two islands. It is the largest of the U.S. Virgin Islands and offers a variety of attractions (such as three golf courses) without feeling too crowded.
St. Croix is perhaps best known for the fact that it has retained a sense of culture and history, and the influence from Denmark is visible in the architecture and windmills on the island. Caribbean traditions are strong on St. Croix, and the island is often the site of cultural events and festivals. Christiansted, the islands most popular city, is a National Historic Site, and walking tours highlight historic homes, forts and churches. St. Croix is also known for its scuba diving sites, some of which are considered the best in all of the Caribbean.
St. Croix is for you if: You want to learn about the cultural and historical aspects of the U.S. Virgin Islands. Snorkelers and scuba divers will find that a visit to St. Croix is well worth their time as well.
Tortola, British Virgin Islands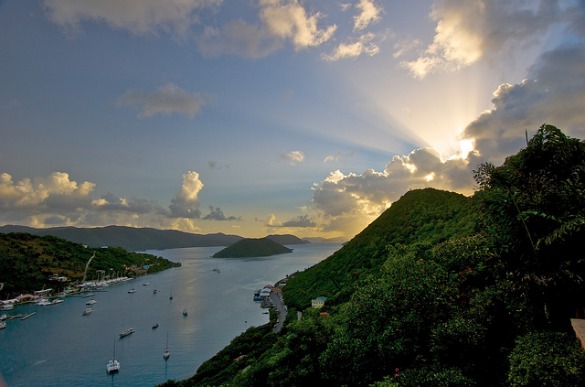 As the governmental and commercial hub of the British Virgin Islands—as well as the home to 80 percent of the country's population—there is no shortage of things to do and amenities to support the wayward traveler on Tortola.
Island tours are popular here, and colorful buses take tourists to the island's beaches and provide panoramic views of neighboring islands from its mountainous peaks. Snorkeling at Smuggler's Cove is a popular activity, and water sports ranging from sailing, kiteboarding and fishing to kayaking and windsurfing are plentiful.
Tortola is for you if: You are looking for the quintessential island experience. Water sport enthusiasts will find more than enough to keep them busy while those who prefer to explore with a tour guide will also be satisfied with the experience.
Jost Van Dyke, British Virgin Islands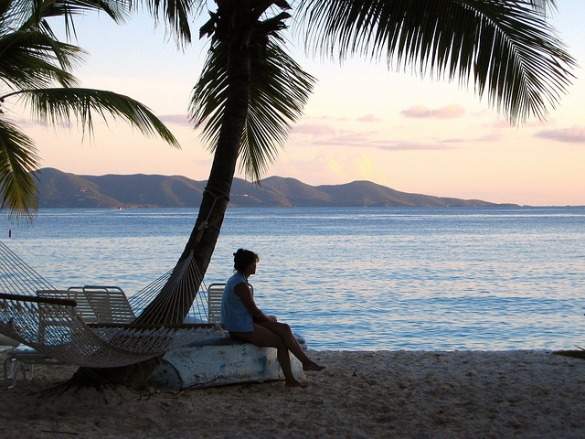 Happy, laid back and bursting with personality, Jost Van Dyke is known for its beach bars, restaurants and unspoiled Caribbean atmosphere. A late bloomer in many ways, Jost Van Dyke didn't have electricity until 1991 and roads arrived shortly after that. Accommodations are few and far between, and banks are non-existent on the island.
Jost Van Dyke is home to clean, uncrowded beaches and a New Year's Eve party (locally called Old Year's Night) known the world over. Though less than 200 people live on the island, thousands descend upon it to party it up at Foxy's—a bar on Great Harbor—every year.
Jost Van Dyke is for you if: You want to kick back at a beach bar and don't need attractions to entertain you. The main street is the beach, so if you'd like to kick off your shoes and soak in a casual Caribbean lifestyle, this is the island for you.
Virgin Gorda, British Virgin Islands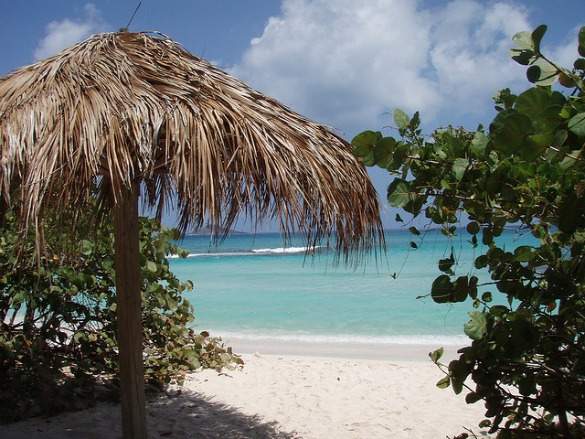 Upscale resorts dot the BVI's third largest island, but Virgin Gorda has still managed to maintain some of its natural beauty. Among its most popular attractions is a boulder formation known as The Baths, which require a short trek to visit. Copper Mine National Park and Virgin Gorda Peak also offer outdoor exploration opportunities.
What is most notable about Virgin Gorda, however, is its appeal to the rich and famous. Richard Branson owns a home right off of the coast, and many celebrities drop in for a relaxing reprieve from the glitz and glam. Elegant accommodations, a discerning selection of restaurants and yachting clubs are the norm.
Virgin Gorda is for you if: You want to be treated like a millionaire; the island knows how to cater to high-end travelers. If you enjoy exploring natural Caribbean beauty while working up a bit of a sweat, you might also enjoy Virgin Gorda.
Ready to pack your bags? Check out flights to the US Virgin Islands, flights to the British Virgin Islands, and deals to the Virgin Islands.
Photos by YoavShapiro, SMWalton73, divemasterking2000, Collin Erickson 83, eckinheimer, scubabear68