Washington, DC places high on the list of American cities to visit for travelers of all ages.   Full of history, culture, art and civics lessons on every street corner, it is also a wonderful city to visit with children.  Freebies abound in the nation's capital, and that helps to make it a relatively inexpensive destination for families on a budget.  It is amazingly clean and great care has been given to making the museums and monuments accessible to persons of all abilities, which also equates to stroller friendly!  The public transportation system is excellent, the museums are world class and there really is something for everyone.
Lodging in the city can be quite expensive and the overwhelming abundance of things to see and do can make planning a trip to DC with children a daunting prospect. Here a some tips to help you see the nation's capital with kids.
Where to Stay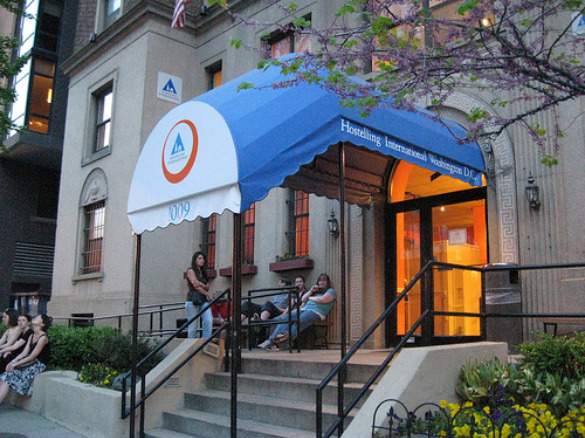 Admittedly, lodging is the biggest obstacle to a family visit to Washington, DC.  Finding a hotel in the city center can be tricky and is almost always pricey.  What's a family that needs two rooms to do?  Get creative.
[social]
One thing that DC has quite a few of is youth hostels.  These can be a life saver if you need several beds on short notice and at an average of less than $20 a bed, they'll definitely save some green.  For the adventurous, why not consider one of the campgrounds that ring the city?  We did this one year when the hotels were booked solid and we wanted to be in town for the Cherry Blossom Festival.  The sites were cheap, the showers were hot, and it was a short drive to the train that dropped us off right downtown.
By far the best options we've found, however, are the suite hotels located in the surrounding cities in Maryland and Virginia that cater to business travelers.  For a song your family can get two rooms with a living area, breakfast included (and occasionally dinner too)  Check Homestead Suites, or Staybridge Suites as two possible options. Compare prices on family friendly hotels in DC.
>> Find affordable hotels in Washington, DC
What to see and do
Visit smaller, lesser-known museums to avoid the crowds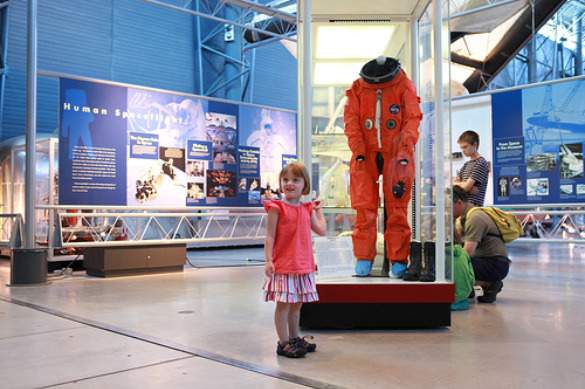 Open any guidebook and you'll be met with a dizzying array of "things to do" in the Washington DC area.  The Smithsonian Museums top the list, naturally, and since they're free, you can't beat the price!
When you've seen the big ones downtown, or if find the crowds too big, why not hop on the train and sneak out to visit our kids' favorite, the lesser known Udvar-Hazey Center.  Its huge hanger building, affiliated with the Air and Space Museum, houses aircraft from every era of flight from DaVinci to the NASA program.  Your kids will love the hands-on aspects of the displays, including the ability to climb into the cockpits of many of the beautiful planes.
For a quieter afternoon and a dose of hands-on history try the Postal Museum. It's not big, it's not flashy, but it sure is fun. Your kids will love exploring the different ways mail has been moved, from balloons, to stage coach, to bicycle. They can even send a postcard from the museum. For kids growing up in the age of instant e-mail a trip back in time with "snail mail" can be eye opening!
Don't be afraid to visit the lesser known, less flashy spots on the historical trail. What you learn might surprise you and create memories that will last a lifetime.
Check out our indie travel tips for visiting the nation's capital
Make "boring" sights fun for kids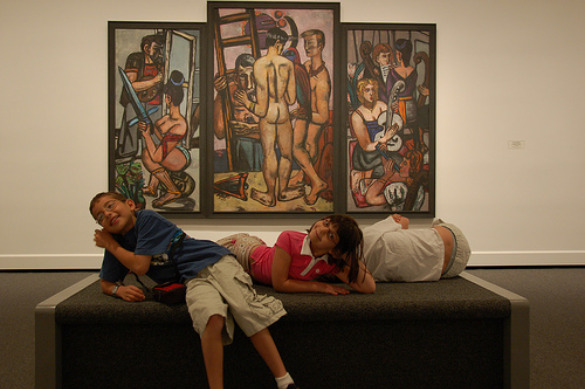 The National Gallery is high on the list of places to see for most grown-ups, but not always for the kids.  If your kids aren't yet excited about hours spent in the hushed halls of a high-ceilinged art museum, they will be when you turn it into a treasure hunt.  Bird Cage Press sells a set of "Close Up" cards for the National Gallery (and other major museums) that will send your kids digging through the greatest art of all time to find "their" paintings.  There are lots of ways to play and don't be surprised if your four year old, like our friend Sophie, starts to become quite possessive of the treasures and refuses to leave before she's found them all.
Don't assume that your kids won't be interested in a place just because they aren't marketing to children and there aren't any interactive exhibits.  We were shocked to find that, of all the places we've been in Washington, the little house across the street from the Ford Theater where President Lincoln died was more exciting to our kids than the National History Museum.  Why?  Because they had read about Lincoln, seen him sitting on his big chair in the monument on the mall and could relate to the sadness of someone being killed for simply being who he was and standing up for what he thought was right.
>> Learn how to make museums fun for kids
Make the sights come alive for kids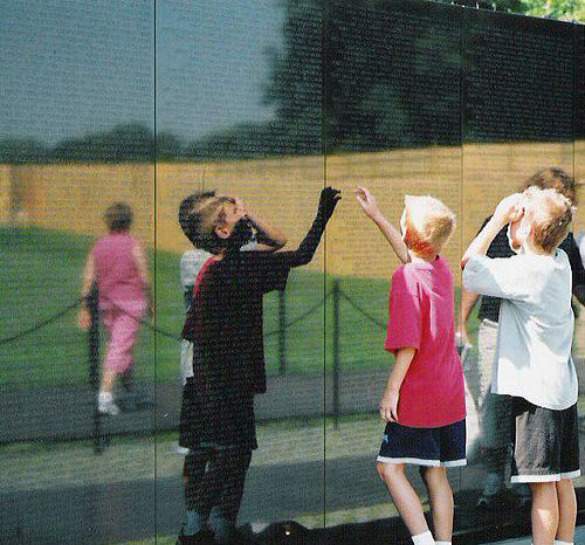 I love the National Mall with kids, and I hate the National Mall with kids.  I love it because it's one of the few places they can run, scream and burn some energy for a while.  I hate it because it's one very long walk and inevitably some child will say, "If this is a mall, why are there so many dead people and no stores?"
It's hard for young children to appreciate the gravity of the monuments that span the mall or to exhibit the self control necessary to respect the memories of the deceased.  There's a great book: The Wall by Eve Bunting, that helps kids get a handle on the gravity of the National Mall.  It's a story about a little boy visiting the Vietnam War Memorial with his Dad and it does a beautiful job of bringing the suffering and death down to a child's level.  Every time we visit, I reread this book to the littlest kids beneath an oak tree within view of the wall.
If you, like us, cannot get booked on a tour of the White House on the dates you're in town, I suggest contacting your Governor and arranging a tour of the Capitol Buildings instead.  We were blown away by the history, art and culture beneath that famous dome.  We had no idea that there were parrots hidden, sprinkled throughout the murals that line the walls of the interior, and hunting for them kept the squirmy littlest visitors happily engaged for the duration of the tour.  The aide to the Governor of New Hampshire, who took us through, did a great job, answered all of the many kid questions and even inspired some of them to work towards becoming aides themselves one day.  With that and free pens at the end of the tour, who could ask for more?
Three things to do when little feet get tired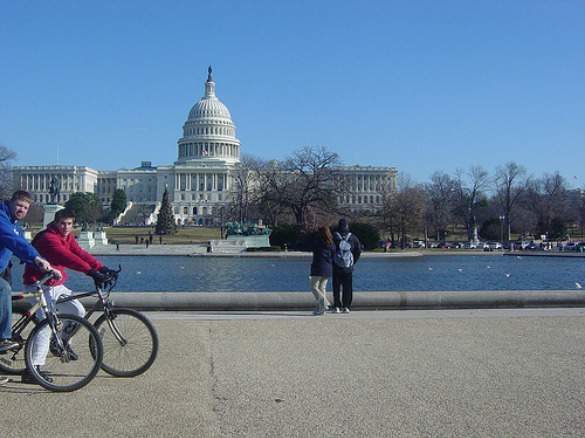 If there's one thing you're definitely going to do too much of in DC, it's walk!  If you're looking for something to do when little feet wear out and the whining begins, consider the following:
Take a bike tour: There are several places to rent bikes in the city.  You'll find options for  everything from fully guided tours to "grab and go" bikes for hire.  The bikes come with helmets, of course, and even pull-behind baby carriages can be rented for the smallest passengers who don't pedal quite yet.  It's an inexpensive, green and healthy way to see the city, or cycle out along the paths along the Potomac.
Catch a free show: There are quite a few places that have free or almost-free live stage or musical shows on a daily or weekly basis.  A quick internet search will turn up a list of choices.  Among the best are The National Theater, which presents a "family friendly" show every Saturday morning, free of charge, and the Kennedy Center's Millennium Theater, which puts on a free show every night at six.
Take a river cruise: The Potomac River winds its way through downtown Washington DC and is a very important part of the history, culture and geography of this place.  No visit would be complete without a stroll along it's banks.  Better yet, take advantage of one of the many companies offering riverboat cruises – they leave from multiple docks along the river every half an hour or so, and some even offer dinner.  You'll have no problem finding one, and even a tired kid is bound to enjoy a boat ride.
Book flights to Washington, DC, or read more about traveling with kids:
Photos by javacolleen, Bryan Bell, Scott Ableman, justindc, griffhome