Traveling and eating are two of my biggest passions, and India offers a great glimpse into both.  I prefer the dhaba (street) food over that which is served in a luxurious five star hotel. Often I have heard people complaining of the hygiene associated with these places.  While it may be true in some cases, there are many that are not only clean, but they also offer some of the freshest and most lip smacking dishes. The best part is that each region has its own speciality. From someone who has traveled through the length and breadth of the country, here are my personal top 10 roadside eateries of India.
Where to eat in North India?
1. Kesar Da Dhaba, Chowk Passian, Amritsar, Punjab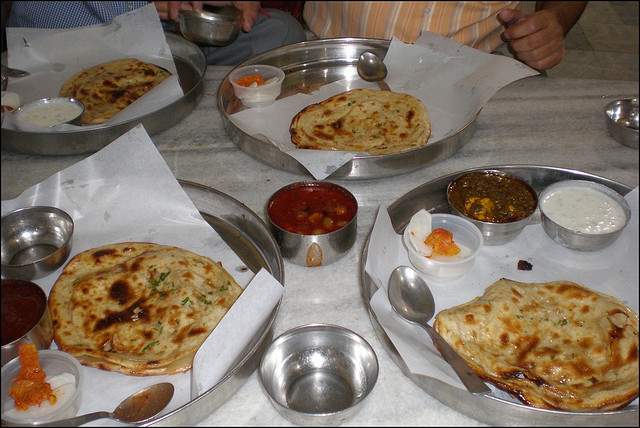 Located in the city of Amritstar, Kesar da Dhaba, the dhaba with crumbling paint and walls darkened by smoke, was started in 1916 by Late Lala Kesar Mal when he migrated from Shekhupura in Pakistan to set up shop here. Currently the fourth generation is running the business.
Despite being in operation for so many years, nothing about the place has changed. As Mr. Vijay Kumar, better known as Babbi Pehalwan, who runs the show now says, "It's not that we can't afford to change things, but we don't want to". So they continue to serve food on 20 clean tables with around 25 waiters (who know very little English) flitting in and out trying to meet the demands of a continuous jostling crowd sitting on wooden stools, thrice a day. The originality of the taste is commendable.
[social]
This "vegetarian restaurant with 100% ghee (clarified butter)" is located in the old city area called Chowk Passian. Cars can't reach the eatery. Instead one has to take a rickshaw from the Golden Temple (Rs.20-25 one way). Have a look at the houses which dot this lane – some are over a century old.
When it began operation, it used to serve only parantha and mah ki dal (urrad daal or black lentil).  The latter used to be served free with the paranthas. Now 23 items are served, of which baingan (brinjal) bharta (with its smooth seedy and smoky paste), daal tadka, shahi paneer, lacha parantha (flaky and crunchy) and desserts like phirni (a cold sweet dish made of ground rice), gulam jamun (a deep fried ball of cottage cheese soaked in sugar syrup) and rasmalai (a milky dessert served with chopped nuts) are the most popular.
This eatery is a complete value for money with a plate of baingan bharta costing only Rs.60 ($1USD). Palak paneer costs Rs.90, and dal fry is priced very nominally at Rs.30. On the other hand, if you order yourself a thali (plate system), you will be served two paranthas, mah ki dal, cholle and raita (a yogurt based dip) for only Rs.43 ($0.80USD).
He plans to open a new outlet in the civil area, but that's still some time away. Till then, for whoever is visiting Amritsar, he should definitely visit this roadside eatery at least once.
2. No.1 Ahuja Dhaba, G.T. Road, Murthal, Haryana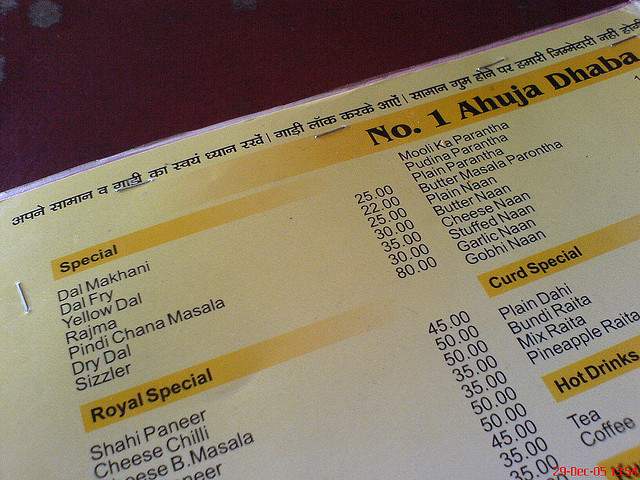 No.1 Ahuja Dhaba is located in Murthal, a village on NH1 highway on the way to Punjab and 50 km from the Delhi's northern border. Murthal, in fact is known for its rows of innumerable brightly colored dhabas and the smell of butter on paranthas.
When you get close to this dhaba, you will find Mercedes and Audis parked side by side with trucks on the either side of the road. Parking, in fact, can be a tussle, especially during evening or during festival times. No matter how much the rush, you will always be warmly welcomed by the dhaba owner and a waiter called chotu. No wonder it has been popular ever since its inception in 1948.
The ambience of the place is worth mention. Fields surround the dhaba, and the food is served while you sit on manjis (cots) and Punjabi music plays in the background.
This vegetarian dhaba is known for its stuffed paranthas and tadka dal (lentils cooked in lots of ghee) with achar and raita. The tandoor roasted paranthas are surprisingly light except for the dollops of white butter on the top. You will also get Chinese dishes, among which the soups and the spring rolls are good. If you are stopping by early in the morning, then don't miss the sweet and milky masala tea. Don't worry about burning a hole in your pocket as the dishes are very nominally priced. A meal for two will not cost more than Rs. 180-250 ($3.25 – $4.50USD).
It is quite a hygienic eatery as well. For example, the vegetarian dishes are prepared using fresh produce and green vegetables directly brought from the nearby fields and cooked in pure homemade ghee.
3. Lassiwala, MI Road, Jaipur, Rajasthan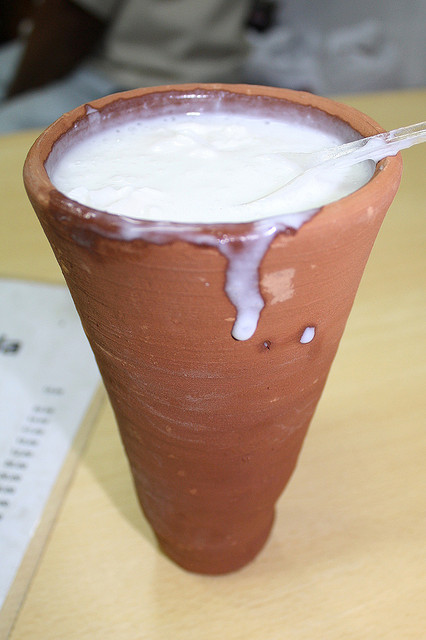 If you are in Jaipur then do not miss a trip to Lassiwala on MI Road (just off the Panch Batti Mod). There are three of them now. The original one; however, is the one that says that it has been there since 1944. Its shop number is 312 and is located on the extreme left. Also, this is the one that sells no chaat (a dish made of fruits or vegetables with a lot of different spices) unlike the other two. Parking could be an issue at this eatery. However, their service is quick so you won't have to wait for long.
On a weekend, be sure to reach the shop before 1pm because all the lassi gets sold out by then. On weekdays though, if you are lucky, a few glasses remain after 3pm.
They serve lassi in disposable earthen pots. So hygiene is not a cause for any worry. Their lassi comes in two sizes, and the price for the small one is Rs.15 ($0.27), while the larger ones range from Rs.30-40 ($0.55 – $0.72USD). Opt for the larger one if you know that your stomach will be able to bear the thick creamy (malai) shake. Other than the normal sweet and salty ones, they have saffron and mango flavored lassi as well. While the former has an interesting taste to it, avoid the latter when it's not mango season (else you might be drinking one with artificial flavors).
This shop is small and is lined with trays of the yogurt shake. It has no seating, so you will have to stand and drink your lassi, but the lassis are so fresh and tasty that it remains a much sought after place by both tourists and locals alike.
Where to eat in East India?
4. Balaram Mullick & Radharam Mullick, Padmapukur Road, Bhawanipore, Kolkata, West Bengal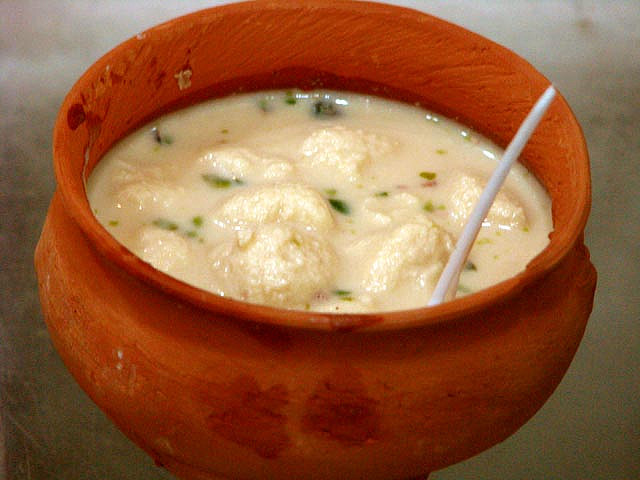 Kolkata is synonymous with sweets – the rosogolla (spherical cottage cheese based sweet), the sandesh, or even the mishti doi (sweet yogurt). One sweet shop that is very well known is Balaram Mullick & Radharam Mullick (open from 6.30am to 11pm). In fact, they have earned quite a name for themselves for producing sweets with a twist (like the chocolate sandesh, baked rosogolla, and the mango doi).
The sweets that have remained most popular are the traditional ones like talshaash, jolbhora, sor bhaja, kachagolla, abarkhabo, mihidana, sitabhog, patisapta, and the rasmalai. They are known most of all for their mishti doi and the chanar payesh (a dessert made of small cottage cheese balls in sweet creamy milk). Winters, of course mean sweets made of nolen gur (jaggery).
This small sweet shop located at Padmapukur started more than a hundred years back in 1885 and has continued its tradition since then. It began when Ganesh Chandra Mullick came from Konnagar in Hooghly and set up a shop on a rented 450 square feet of land in Bhawanipore. This was after his three year stint as a sweet maker in a shop in North Calcutta. The shop began by selling only three types of sandesh – kora pak, norom pak, and sandesh made of nolen gur. What he started was carried forward by his brother Balaram Mullick and his son Radharaman Mullick. Now it is run by Pradip Mullick, his brother, their spouses, and children.
Today this shop has grown in size with a neat seating arrangement, colorful decor, and even air conditioning. What has remained constant; however, are the traditional methods of making the sweets. They still use the age old iron pots and long wooden spatula to make their sweets. Sweets like the pantua and langcha still continue to be made over charcoal fire and mihidana is still fried in pure ghee. They even avoid artificial flavors and instead use the real fruit like mango, kiwi, custard apple, and oranges. Also, chocolates like Barry-Callebaut are used to make the chocolate based sweets.
The sweets are not too steeply priced especially given the quality, freshness, and the variety of sweets that they offer. Two people can get their stomachs filled with sweets for Rs. 60-70 (~$1.10USD).
5. Roll House, K G Marg, Gangtok, Sikkim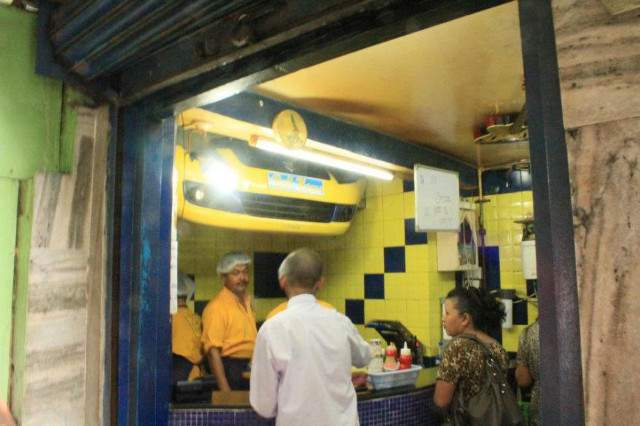 Roll House, a small, yellow and blue painted, hole-in-the-wall (hardly 10 feet by 10 feet) shop, is located on a narrow alley that branches out from M.G. Marg and goes towards the Sadar Police Station taxi stand. Its huge sign board will make sure that you don't miss the shop.
It started operation after Raju Sharma (or Raju bhai as he is fondly called), the manager, went to Kolkata and got a taste of what authentic rolls meant. Initially; however, business was very dismal for him. With the locals of Gangtok wanting to eat only momos (dumplings) and thukpa (noodle soup), rolls weren't sought after. He tried to entice them by distributing free rolls, but that did not work either. As Raju recalls, "There were times when I used to wait on M.G. Marg and request tourists to come and try the rolls. Selling even 3-4 rolls a day used to be a challenge." Things finally changed when he included momos in the menu too. Slowly people began to walk in to eat momos and began tasting the rolls as well. Soon the rolls became hugely popular, and today during the tourist season he sells more than 3000 rolls in a day.
Roll House has vegetable rolls, vegetable cheese rolls, paneer (cottage cheese) rolls and cheese rolsl on its menu. Of these, paneer rolls are the most popular. However, this eatery serves only vegetarian rolls. So for those who might have tasted chicken and egg rolls at Nizam's in Kolkata, developing a taste for vegetarian rolls might take a while. Momos are also popular because they are bigger and lighter in size compared to the others in the vicinity.
Don't worry about the hygiene because the paranthas that are used to make the rolls get fried in good quality oil on tawas right in front of you, and the momos are made fresh every day.
With only a small counter dividing the place between the roll makers and the roll eaters, don't think about sitting and eating here. However, despite the cramped space, none are pushed away or ignored. In any case, the clean M.G. Marg with rows of benches and blooming flowers in pots is a great place to sit, chew on a hot roll, and soak in the crisp air that Gangtok offers year round.
This small roadside eatery is a complete value for money with a double paneer or a cheese-paneer roll priced between Rs. 40-50 (~$0.80USD) and Rs. 30 ($0.54USD) for a plate of eight momos.
Raju has plans of opening another shop in Gangtok. But lack of space is holding him back. Until he does, Roll House on M.G. Marg is the place to be.
Where to eat in Central India?
6. Ram Raja Restaurant, Sheesh Mahal Road, Orchha, Madhya Pradesh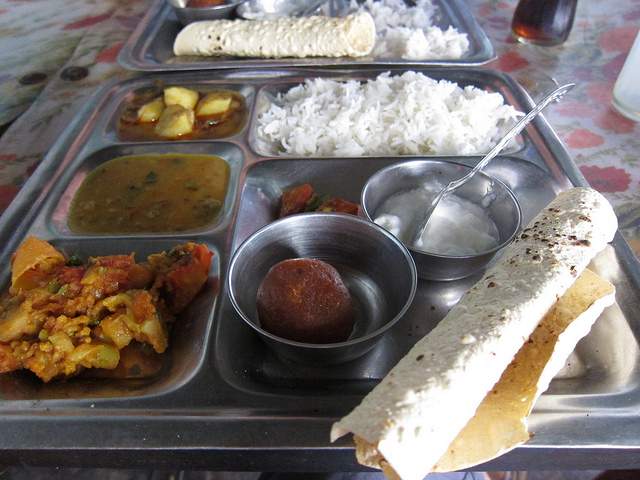 The first thing that catches your eye as you enter this eatery, owned by Parbat & Rani, is its advertisement of the temple view that reads "as recommended by Lonely Planet," and that it serves Italian and Korean food. It is a small eatery located near the Fort Bridge leading up to the palace, and it has a few tables covered with red and white checkered tablecloths. However, if you wish to experience the surroundings, then it is better to sit in the backyard. For this, you will need to find your way through the family section of the restaurant and then through a dimly lit kitchen and storage area till you reach the open backyard. As you order your food, don't be surprised if you find either the owner's friend sitting with you and entertaining you to poetry and songs or the monkeys chattering on the trees as a friendly cow comes up to you to say hello. You can also entertain yourself by watching fresh aubergines from the family's vegetable plot being roasted over clay fire or even try your hand at rolling the chapatis with a ball of dough,
This eatery serves a fine Indian thali of roti, rice, daal, gobhi matar (cauliflower and peas), chana (chickpeas), paneer (cottage cheese) and yogurt. The vegetable dish in the thali usually keeps changing, and you might even find one made of jasmine flowers. If you want to try their Korean dishes, then try the kimchi, a pungent pickle made of radish or the shakshuka, a dish made of either poached or fried eggs in a tomatoes, onion, and Indian spices sauce. It is usually served with a couple of slices of white bread. You could even try their pizza that is topped with vegetables and lots of cheese. It is prepared over wood fire which gives it a nice smoky taste.
This place is quite a value for money with the shakshuka priced at Rs. 40 ($0.72USD) and the pizza at Rs. 100 ($1.80USD).
Except for the fact that the washroom is located right next to the kitchen, the restaurant is quite a clean place. Not only is the food fresh with most of the vegetables coming from their own garden, but it is also served in a very neat and clean manner. The eatery is also a tidy place thanks to the family who runs it.
Where to eat in West India?
7. Bade Miyan, Colaba, Mumbai, Maharashtra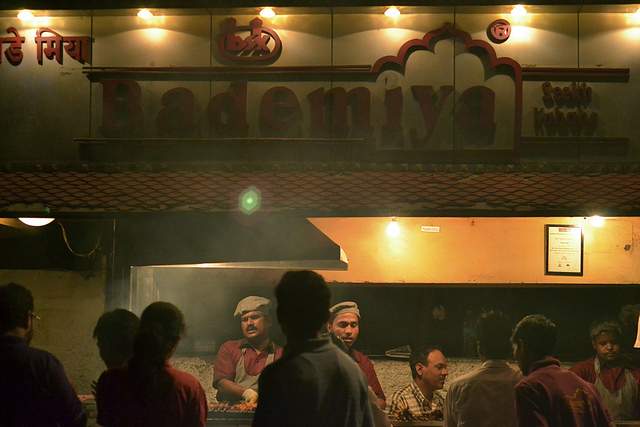 Bade Miyan, a historical roadside eatery of Mumbai, was started by Mohammed Yasin in 1960. To maintain authenticity, the recipes of this eatery have been handed down from generation to generation.
Bade Miyan is located in a narrow, dark lane behind the Taj Mahal Hotel. Some of the landmark places near it are the Gateway of India and Cafe Leopold. With around thirty plastic chairs and tables spread out on the footpaths, there is nothing remotely classy about this place (if the plastic don't appeal to you, and they might not, because there is a gutter nearby, you can always sit in your car, eat, and zip off once you are done). Yet it's a place that cannot be ignored. The kebabs roasting on coals are excellent. Even the top Bollywood stars might pay a visit for a meal. Since the time of Raj Kapoor, an icon of Hindi cinema, stars come here to gorge on the food. Despite literally being a thela (barrow) shop, one can find some of the trendiest crowds eating here until late into the night.
The most popular dishes that Mohammed Ismail Sheikh, son of the founder, recommends are roomali rotis (very thin Indian flat bread) with chicken bhuna, mutton boti, bheja (brain) fry, seekh kebabs for the non vegetarians and paneer bhurji and masala paneer for the vegetarians. These dishes taste best with a chilled soft drink. And a meal for two would not cost you more than Rs. 500-600 ($9-11USD).
Bade Miyan has also kept the vegetarian and non-vegetarian counters separate, keeping in mind that many don't like the same utensils to prepare both type of foods.
Until earlier this year, the eatery used to remain open all through the night. But rules have changed that. They now shut down by 1am. As for their rush hours; it's between 9pm to 11pm. It's best to avoid this time because you just might have to wait for over half an hour for a waiter to come and take your order.
Ayub's around the corner gives some competition to Bade Miyan. However, the latter has a huge set of loyalists who have and will keep returning to this joint for their roomali rotis and chicken bhuna.
8. Souza Lobo, Calangute beach, North Goa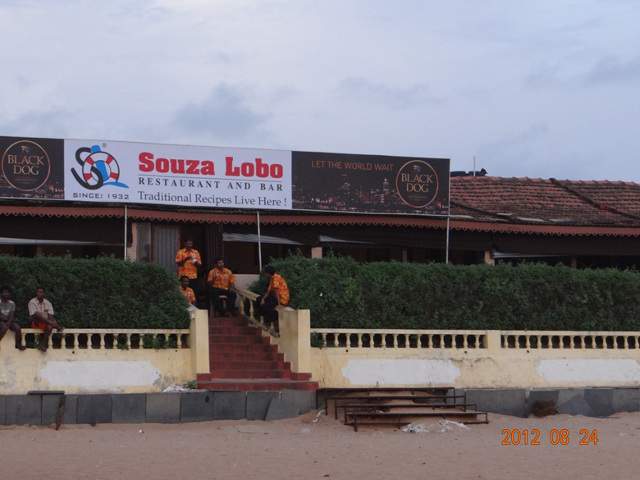 If you are in North Goa, then do try and visit Souza Lobo on Calangute beach. It is located on the main entrance to the beach (on the left side while facing the sea). Cars are not allowed in front of the restaurant. But the walk to the place is a very short one.
With its simple décor, tables with red tablecloths and wooden chairs, there is nothing fancy about the place. But it has been there for almost 80 years now and is known for the authentic Goan dishes that it serves. And they are open during off season as well.
During high season, this shack is quite full. So you might have to wait for 5-10minutes before you are given a seat. Try and get one overlooking the sea. Late evenings, when there is live music (and you can request your songs), is the best time to visit this place. They put out the tables on the beach then. Also, they are open until 11pm.
Other than the tandoori prawns, lobster thermidor, and crab xacuti, you may want to try their prawn cocktail, butter garlic crab or squid, king fish fry, pork sorpotel with rice, or pork vindaloo. If you are in the mood to experiment a little, then try their ox tongue, stuffed avocado and steak filled with ham and cheese, and baked crab meat. They also serve a seafood platter filled with crabs, king prawns, squid, oysters, and red snapper. Some of their desserts like the Bebinca (a multi layered cake) and Dodol (made of coconut jiggery) are also quite popular.
Their food does tend to be a little spicy. However, if that does not suit your palette then do ask to make it less spicy. The staff is efficient and courteous enough to listen to your request. Some dishes can be a little expensive, but overall it is a reasonably priced place. A meal for two would range between Rs. 350-Rs500 (without alcohol).
Where to eat in South India?
9. MTR, Lalbagh Road, Bengaluru, Karnataka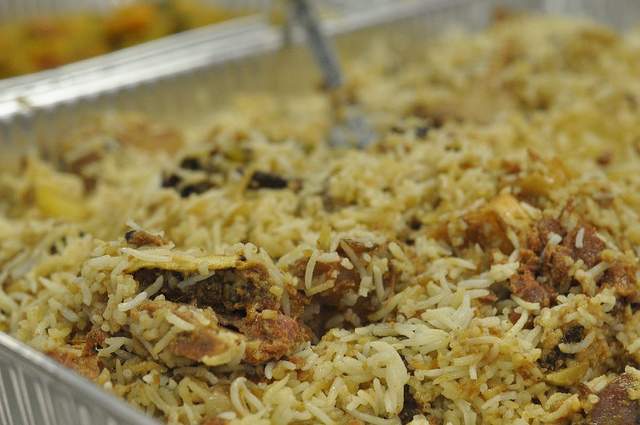 MTR, or the Mavalli Tiffin Rooms, at Lalbagh Road in Bengaluru, is the place for you if you are looking for authentic Bangalorean food.
Even though the food is authentic, getting a seat can be quite a challenge. In fact, be prepared to wait from anywhere between 10 – 40 minutes. The larger the group, the longer the wait. Most of the time you will find that both the waiting rooms are also full and people are standing outside as well. On a very busy day, even when you are finally given a table, you might find that you have to share a table with a different group. Their service is very efficient though, and the eatery has regulars who have been visiting this place for more than fifty years.  Try and have a chat with Mr. Janardhanam, who has been working here for close to forty years.
MTR is not a huge place but has been efficiently laid out with family rooms, a common dining area, and even a VIP room. The black and white pictures on colorful walls give it quite a cheery look.
MTR is popular for its masala dosa, rava idli, grape juice, gulab jamun, and the slightly bitter coffee that is served in silver cups. Also, even if you are full, do not miss eating the fruit salad and ice cream. Although it remains open from 6:30am to 11:00am and again from 12:30pm to 8:30 pm, be sure to reach by 9.30am or else they usually run out of vadas.
The food, although tasty, is very heavy because of the large amount of ghee that is used. So once you have your breakfast here, it is doubtful you will be able to stomach the lunch. This place is quite a value for money though, with a dosa priced only at around Rs. 30 ($0.54USD), and a plate of rava idli at Rs. 18 ($0.32USD).
10. Bawarchi, RTC X Roads, Musheerabad, Hyderabad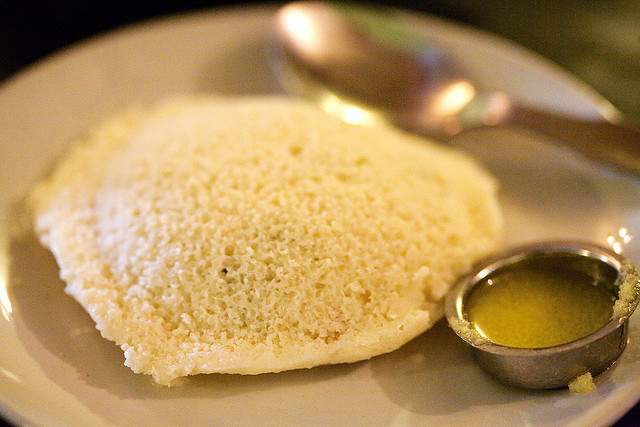 There are a number of Bawarchi restaurants in Hyderabad. However, the original one that began in 1992 is right in front of the Sandhya Theatre on RTC X Road. It's not a posh restaurant (despite having an a/c seating section) and yet retains its popularity.  Most of the time that it is open (10am – 11pm) you will have to stand in a queue outside for at least 15-20 minutes. The taste of the biriyani makes up for the wait though.
Bawarchi's competition is with Paradise. However most usually prefer the former over the latter because they serve large quantities (one plate is enough to fill two people), and the quality of the food in terms of the spices used and the lightness of the food is much better, too.
The chicken and mutton biriyani are the most popular, followed by mutton curry, tangdi kabab, and kadhai veg. This place is a little expensive compared to other roadside eateries (approximately Rs.400-500 -$7-9USD- for a meal for two, without alcohol), but the food is worth the money that you spend.
Bawarchi, however, has no parking or even valet parking, and you will have to park your car next to a bus stop a little distance away. Also, if you are traveling with a lady, it is better if you get the food packed (and the parcel counter works super fast) rather than sit amidst the jostling crowd on chairs which look a little old. However, if you do decide to sit and eat, then the a/c room is better than the rooftop seating.
All said, if you want to taste biriyani that is traditional to Hyderabad, then do visit Bawarchi.
India is dotted with roadside eateries in every city, town and village. While the above make it into my "Top 10" list, there are many more that should not be missed. So next time you are visiting any place in India, try to walk into a roadside eatery to experience the real taste of that state.
For more on traveling in India, check out the following articles and resources:

Photo Credits: Sean Ellis, Tahir Hashmi, Benjamin Vander Steen, Kirti Poddar, fabulousfabs, Satish Krishnamurthy, Charles Haynes, Megapixel Eye, all other photos courtesy of the author and may not be used without permission