Since that first round the world trip in 1996 that launched BootsnAll as a travel startup, we have been on a mission to make world travel easier and more accessible. Unarguably, one of the most complicated parts of planning a multi-stop trip is the inane process of flight searching.
Did you know?
Did you know if you try to book a trip with more than six stops – you need a travel agent?
Did you know it takes at least 48 hours to book this type of trip?
Did you know most of the tickets for this type of trip have endless rules regarding travel direction, time, and continents visited?
Did you know it can take days just to receive a price quote for this type of trip?
After years of talking, planning, working, and creating, we are excited to unveil Indie™ – multi-country flight finder. For the first time ever, you can search and book up to a 25-stop trip yourself, from anywhere in the world, to anywhere in the world. You can now buy your ticket in a matter of minutes — literally — without having to use a travel agent. No waiting. No lengthy price quotes. No long phone calls. No rules. Instant prices.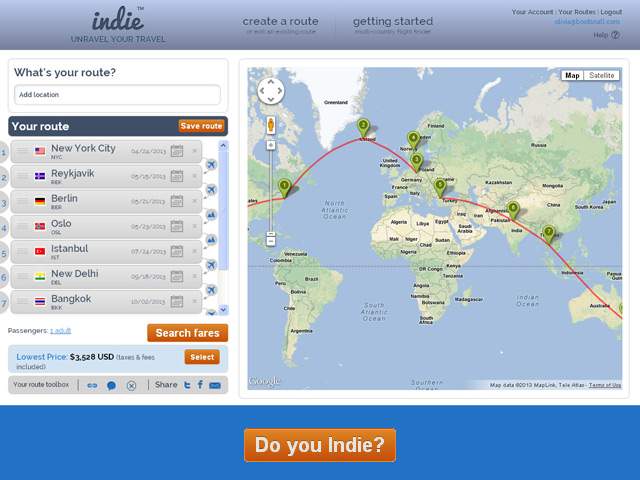 With this free web app, users can quickly type in their route, see it instantly on the map, drag stops up and down in the itinerary, choose both overland travel and flights, enter their travel dates, get an instant price, and book their trip. You don't have to travel in one direction. You aren't limited to a year. There are no mileage limits. To put it simply, there are no rules.
"The idea for Indie originated from actual travelers' feedback," Sean Keener, co-founder and CEO of BootsnAll, says, "to give travelers the ability to search and book a multi-stop or round the world ticket in minutes. We've been serving round the world [RTW] and long-term travelers since 1998, and one of the biggest pain points we have heard, thousands of times, is the difficulty in planning the airfare component. Indie solves this problem."
Indie has been in beta testing mode for a couple months, and customers have been able to search and book.  We have also shared Indie with some industry experts.  See what they all have to say about our new product.
Expert quotes
"Around the world travel planning has never been easy. For years this has been a manual task. Bootsnall is a great answer for RTW fares in just a few minutes. I don't know any other site that can do so many legs so quickly." –Terry Jones, Founder of Travelocity.com
"BootsnAll's Indie allows you to explore the possibilities of long-term travel in a way that actually reflects the flexibility of independent travel. It enables you to research international multi-stop and around-the-world flights with instant pricing, online booking, and none of the cumbersome rules and restrictions that come with airline-alliance bookings. If you're only planning a trip from Point A to Point B you might not need Indie — but if your journey entails onward travel to Points C or D or Z, Indie is an essential research tool." –Rolf Potts, author of Vagabonding: An Uncommon Guide to the Art of Long-Term World Travel
Customer quotes
"We travelled around the world last year and are looking to go again in 2013… We have had a number of quotes again using Star Alliance, etc. (that we used last time), but this system [Indie] seems a thousand times easier and lets us get to exactly where we want to go without the usual restrictions placed on you with other round the world ticket companies." –Brian Kelly, an Australian traveler who is planning a round the world trip for his family of four.
"Although I've never done an "around the world" trip, it's something I think about often. It's fun to plot out various trips just to see what the prices are, and then day dream about putting it all together." –Jamie Boud
"I had seen the RTW ticket option but didn't browse tickets until we decided to purchase one for our trip home.  I was hooked and probably tried 75 different trip / country combos over a month before purchasing."  –Jessica Thompson
See what others are saying about Indie
Think you don't have the money to travel around the world? Join us tomorrow to find out how to use Indie to find affordable RTW route from anywhere to anywhere in the world. Flight hacker in training? Join us tomorrow for #RTWchat on Twitter to see how you can find round the world routes for even less, and put your skills to the test.
Since Indie launched in January 2013, we have been adding new features to improve the customer experience and help maximize your time and money. Learn how!