Bosnia and Herzegovina was once in the forefront of people's minds for quite tragic reasons; however, they have put that in the past, and now travelers are beginning to realize that this country has tons of potential. Its incredible mountain landscapes make for great outdoor adventures, and its ancient cultures have created some of the most impressive temples and architecture in Europe. Its central location between the east and the west makes this country an eclectic mix of cultures. For five hundred years it was rules by the Turks, then had a brief spit with the Austrians, before finally finding its own unique personality.
When it comes to activities, I didn't say "No" to anything because of cost – I experienced everything there was to experience. From exploring Sarajevo's old city streets, ancients churches and interesting museums, to taking rafting trips in Bosnia various rivers, the suggested $45/person/day budget will allow you to do tons of things. Following is a breakdown of how you, too, can travel around Bosnia on $45 per day, and we'll offer tips, advice, and practical information for those of you who want to do it on less and more than that.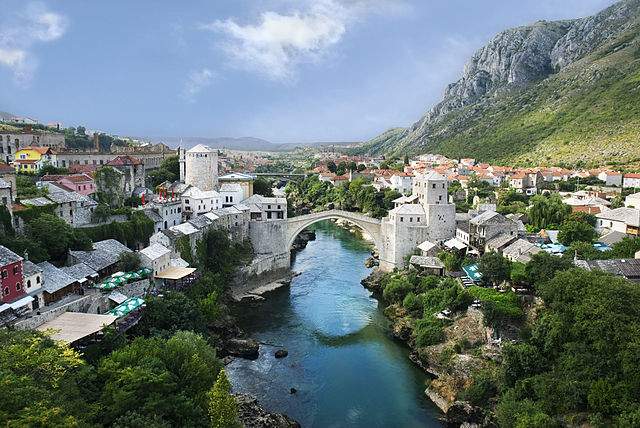 Transportation
The transportation infrastructure in Bosnia is affordable in comparison to other Western European countries; however it is less reliable, the roads are in poor condition, and the buses usually look like they are from another era. You will find that most buses connect through Sarajevo, Mostar, or Banja Luka. The easiest international destination to reach is Croatia; however, there are also frequent enough buses to Montenegro and Serbia. The main thoroughfares have regular connections, but if you plan to visit smaller towns be prepared for long waits and irregular service.
Getting in
You can enter Bosnia by several different methods:
Plane: Bosnia and Herzegovina's main airport is located at Sarajevo, and there are small airports in Mostar and Banja Luka as well. The main flights from Europe come out of London, Prague, Vienna, and Frankfurt. Sadly, there are very few discount flights into Bosnia and Herzegovina at the moment; however, an alternative option is to take a cheap flight to Zagreb or Dubrovnik and then take a bus.
Land: Bosnia shares its borders with Croatia, Montenegro, and Serbia, and you can cross borders by bus and private vehicle at several locations. Unfortunately the Eurail pass does not work in Bosnia, so bus is pretty much your only public transportation option.

To/From Croatia: There are frequent buses to and from Croatia from Sarajevo. Your best bet, if you want to travel to other locations within Bosnia, is to get to Sarajevo first and transfer to local transportation there. Mostar, Medugorie, Sarajevo, and Bihac have bus connections with Dubrovnik and Split and on the coast, as well as Zagreb.
To/From Serbia:  If you are traveling to Serbia, your starting point will have to be either Sarajevo or Banka Luka.  From either location you can take a bus to Belgrade.
To/From Montenegro: Similarly to Serbia, if your next destination is Montenegro, your starting point will have to be either Sarajevo or Banka Luka.  From either location you can take a bus to Podgorica in Montenegro.
Getting around
Travel in Bosnia is not as easy or user-friendly as in other Western European countries, but the plus side is that it is super affordable. Buses and trams are pretty much your only option in terms of public transportation, but they are not terribly comfortable, so be prepared for bumpy rides. Private cars are also available for hire but are expensive.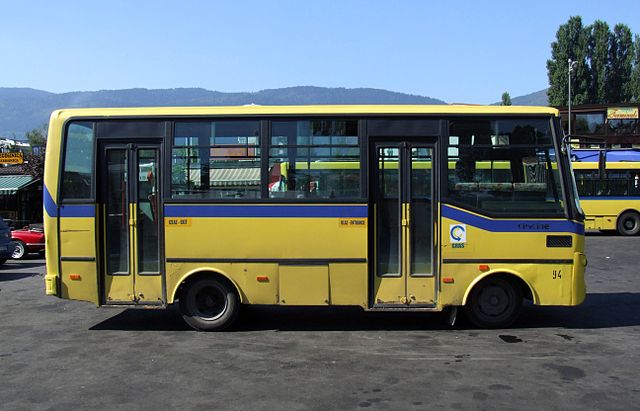 Bus:

Long distance buses: Bosnia and Herzegovina has a relatively comprehensive bus network, and although while the system is more or less reliable, some many buses look like they came from the prehistoric era. The main international destinations are Dubrovnik or Spilt in Croatia, Podgorica in Montenegro, and Belgrade in Serbia.  You have to pay to stow your luggage (about $1.50 USD per item, depending on the route).
Metro and city buses: Internally, Bosnian cities are well connected, although services between distant towns may be limited. Buses generally run on time, but due to winding roads the going is slow. And don't be surprised if you suddenly stop on the side of the road for an occasional smoke break.

Bicycle: The main group of people that cycle in Bosnia are expats, and this mode of transportation is not for the faint of heart. Outside of major cities, the roads are very hilly, and distances between then can be long.
NOTE: It is not safe to venture off established concrete or asphalt surfaces because of the risk of mines
Air: Sarajevo is the main transportation hub for flights, and local service is infrequent. The distances are small enough that it makes more sense to take a bus.
Rental: In the bigger cities like Sarajevo, car rental is available for a price. From about $60USD/300USD for one day/week with unlimited mileage, you can get a decent car. It is relatively safe to drive, but be aware that the roads have lots of curves, and the signage is not great.
Transport costs
Long distance bus: The bus fares in Bosnia are cheaper than other areas in Europe. Sample fares are about $8 USD from Mostar to Sarajevo, or $17 USD from Sarajevo to Jajce.
Local bus:  This is pretty much the only way to get around in Bosnia by way of public transportation. One-way trips will only set you back a couple of dollars.
Air:  Airfare is always changing, and Bosnia is so small that to fly internally does not make much sense. Sarajevo is the main international hub, and you can find daily flights to various locations.
Accommodation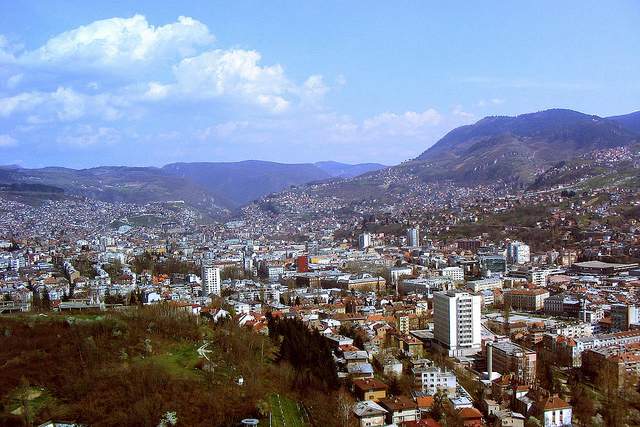 Bosnia is probably one of the cheapest places to visit in Europe, as you can till find hostel dorms for less than $10USD. Looking for something a little nicer? Lucky for you a private double won't break the bank, and you can find lot of variety, from campsites in the mountains, to shared dorms, to higher quality hotels. When I was in Bosnia, I averaged about $10USD per night with a dorm bed in a clean hostel. We had shared, co-ed bathrooms, and breakfast was not included. Lots of hostels don't provide linens, so having your own sheet or sleeping bag is smart.
$8-$12: A bed in a co-ed dormitory that can be somewhat drafty and not always the cleanest. Shared, co-ed bathrooms. This is the cheapest option and can save a lot when it comes to budget, but be sure to read about the hostel's reputation before booking, as some are very dirty. Many of the hostels have shared common areas and provide breakfast for an extra cost.
$15–$25:  This budget will get you a simple single room with a shared bathroom in a hostel or low-end hotel. If you are looking for some privacy but still want to be able to socialize, this option is a great choice. You can have your own space but still take advantage of the hostel common areas. Bosnia is one of the last European countries where getting a private room won't take up 90 percent of your daily budget, so take advantage of it while you have the chance.
$50-$75: Ironically, there is not much in the in-between budget in Bosnia. You either have very cheap hostels, or expensive hotels. That being said, with this budget you can expect nice, decent sized private double room, breakfast, and clean quarters.
$75-$130: Spending over $75 USD per night will get you a spacious hotel room, clean linens, breakfast, air-con, and a central location. Many hotels also have attached restaurants and bars, and some have swimming pools.
$130+: In Bosnia you can find really high quality accommodation for much less than it would cost in other countries in Europe, so if you want to splurge, this is the place to do it because you will get more for your money. If you are willing to spend more than $130 USD on a room, you will be rewarded with beautiful spaces, great service, super convenient locations, pools, and great food. 
Food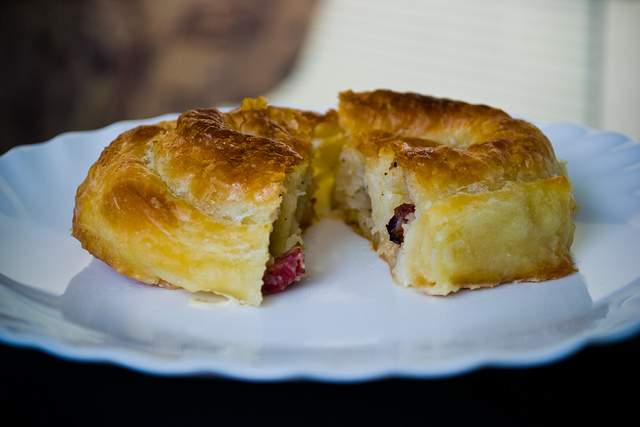 Bosnia has an interesting cuisine that is influenced by several different cultures, both from the East and the West. The food has links to Middle Eastern, Turkish, and Mediterranean cuisines, and the flavors and style of cooking is a tasty mix of all three. In addition, due to years of Austrian influence, there are also many culinary influences from Central Europe.
Natural spices are key in Bosnian cuisine, and the flavors are never overpowering. Bosnians like simple home cooking, relying most of the time on the natural flavors of the ingredients. For example, the sauces usually consist of little more than the natural juices of the main ingredients.
You will find vegetables in most of the typical Bosnian dishes – onions, garlic, cabbage, potatoes, tomatoes, bell peppers, and mushrooms are regularly used. Meat, (most often beef or lamb) is also a common ingredient and is cooked in various ways. Some local specialties include burek, dolma, cevapi, pilaf, and goulash.
The coffee culture in Bosnia is as strong as any other European country. You will find numerous cafes brewing thick, Turkish-like coffee, served in tiny copper espresso pots. Take a seat at one of the many cafes and people watch. In addition, Bosnia has a great climate for wine production, so while you are visiting, make sure to taste one of the local products. There are plenty of bars around, the nightlife is energetic, and the local people are friendly and always ready to make friends.
Highlights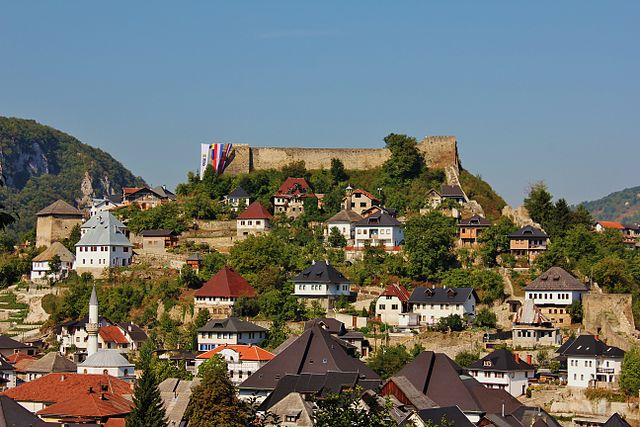 Sarajevo is a diverse mixture of cultures – Muslims, Orthodox Christians, Jews and Catholics once lived here in harmony. The old city is a puzzling maze of cobble stone streets, ancient archways, and hidden cafes.  Ancient workshops producing copper goods from the past are mixed in with souvenir shops, cafés, and trendy bars. But Sarajevo is not the only place where there are amazing sights. The towns outside the capital are quaint and embody the days of old. Mostar's Old Bridge and a plethora of temples please both outdoor adventurists and culture gurus, and Jajce's medieval citadel and waterfall are both beautiful and unique in their own respects.
Bosnia is also becoming most popular for its adventure sports. With many an opportunity for water rafting and kayaking trips, snow-topped peaks with some of the best skiing that Europe has to offer, and an abundance of hiking and biking trails, those with a thirst for outdoor activities are flocking to Bosnia.  To add to the allure, the prices have yet to mirror that of the other Europeans countries famous for outdoor adventures such as France or Switzerland, so if you have a lust for adventure, better get here before the prices spike.
Sarajevo – Wander the cobblestone streets, take a rich Bosnian coffee with the locals, and shop for handmade copper goods in the old souks. A mix of industrial communist era buildings and captivating old architecture in the old city center, this capital city seems like it is from another time.
The Tunnel Museum – While a majority of the 800m-stretch under the airport has collapsed, the Tunnel Museum is an important piece of Bosnia history and provides important insight into the experience of the Bosnian people during the war.
Mostar – The beautiful and iconic Stari Most (Old Bridge), arches over the stunning Neretva River. Visit here and witness locals leap from its sides into the churning water below. Mostar's impressive buildings, such as the Gymnasium and City Baths, are still intact from Austro-Hungarian times.
Jajce – With both its own waterfall and medieval temples, Jajce is a sight for both the outdoor enthusiasts and history buffs alike. With defensive towers, medieval catacombs, and a picturesque hilltop citadel, there are many sights to behold. Add an enormous statue of Tito, a prehistoric temple, and some amazing lakes nearby, and there is something for everyone in Jajce.
Off the beaten path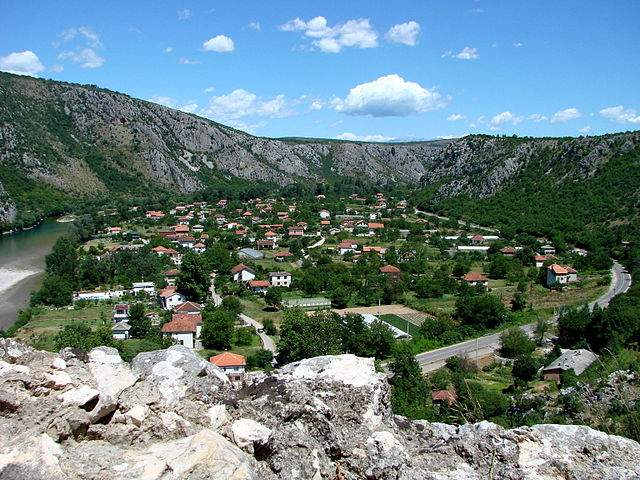 Bosnia is still under-traveled compared to its European counterparts; however, it is quickly becoming more popular on the tourist route, so get there fast while the adventures are still ripe for the picking.
Go river rafting in Bihac – The Una River has some impressive rapids, and add to that amazing gorges, a rafting trip is a great way to up your adrenaline and see amazing scenery at the same time. Just make sure to hold on tight!
Take the train from Mostar to Sarajevo – The train from Mostar to Sarajevo chugs its way through Bosnia's mountains via tunnels, viaducts, and switchbacks. It takes longer than the bus, but it also gives you a glimpse of what Bosnian life was like decades before.
Adding Bosnia to your RTW trip
A lot of travelers add a European leg to their longer, round the world trips, and with Indie, BootsnAll's flight tool, you can search, price, and book a multi-stop trip in a matter of minutes. This particular trip explores much of Eastern Europe before heading into Russia to take the Trans-Siberian Railway. Move on to Tokyo and San Francisco before making it back to the east coast. If you like what you see, you customize it to make it your own by clicking on price this trip (this trip was only $2500 at the time of writing), changing around any destinations and dates, and clicking on Search fares to get a price and book!
For more on traveling to Bosnia, check out the following articles and resources:

Photo credits: Ramirez, Adam63, brian395, Igor Trklja, Pudelek, ErminCelikovic