If walking in the footsteps of Alexander the Great sounds like an adventure to you, then Central Asia is the right place to be. There are other former USSR states that may be higher on most people's must-do list than Kazakhstan and Uzbekistan, but these still off the beaten path destinations are well worth a visit.  Between ancient Silk Road caravansaries like Bukhara and modern architectural marvels like Astana, there's a lot to see between the two countries, and for the most part, you'll find yourself well outside the normal tourist track.   But a word of caution, don't expect that just because they're off the beaten path that these countries are dirt cheap!  For now at least, these countries lack the tourist infrastructure to make their remote regions and activities accessible to the lowest budget tourist.
The first look at how we became a globalized society happened in this region thousands of years ago as cities in Kazakhstan and Uzbekistan became the cross roads of the different Silk Road routes from Europe and Southeast Asia into China.  The ruins of these caravansaries are incredibly preserved for the most part (Samarkand, Uzbekistan for example), and in some cases the cities still function much in the same capacity as they did a thousand years ago.  You can't help but be amazed by the mixing of Islamic, Indian, and European architecture and decoration, and although you might feel like you are out in a vast, empty plain today, the moment you step foot in one of these ancient buildings, you can't help but feel the history come alive.
You can't help but be amazed by the mixing of Islamic, Indian, and European architecture and decoration, and although you might feel like you are out in a vast, empty plain today, the moment you step foot in one of these ancient buildings, you can't help but feel the history come alive.
As opposed to other Central Asian destinations like Tajikistan and Kyrgyzstan, Uzbekistan and Kazakhstan do have somewhat of a tourist infrastructure.  This makes it easier, but not easy, to travel independently across the region.  Expect to spend more than you bargained for on remote tours, but you'll find if you have the cash they are well worth it. The administrative headaches may seem like a nightmare, but if you are adventurous the local spirit and warm culture will more than make up for the administrative headaches. Travelers will find Kazakhstan to be booming economically, heavy with business travelers in the major cities, while Uzbekistan feels not unlike it would have 100 years ago.  Although French tour groups cross the major tourist attractions in Uzbekistan, independent travel in both countries is relatively new and guaranteed to be an adventure. With few fluent English speakers outside of the cities, and road travel difficult even in the best circumstances, the region is best left to an intrepid and adventurous traveler.  Despite these difficulties, the returns are amazing and Kazakhstan and Uzbekistan may be easily some of the most memorable and rewarding travel of your life.
A note on budget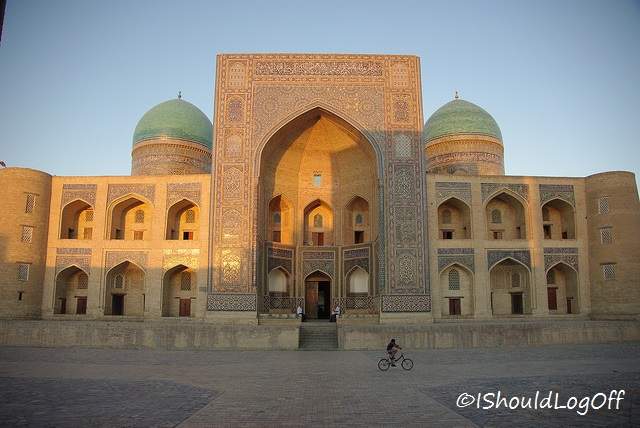 Our budget of $50 per person, per day comes from personal experience and updated research.  Budget accommodation is hard to come by in these countries, do not expect to find many mixed dorms or even dormitory accommodations in most places.  That doesn't mean you'll blow your budget.  A nice room with Wi-Fi in Uzbekistan ranges from $12- $17 per night.  Kazakhstan, due to the incredible growth of European businesses, is a bit more of a stretch in the budget range, with clean rooms going for a minimum of $30-$50 a night depending on the city.  This budget also takes into account train, shared taxi, and minivan travel, as well as the steep visa fees.  This region is changing rapidly, so always look for updated budget and visa information before you plan your trip.
[social]
When it comes to food, you'll find local restaurants to be the cheapest way to go and the best way to experience the cultural heritage of the cities.  Expect to pay in the range of $4-$6 for a sit down meal in a local restaurant, but for the most part, don't expect a long menu or a menu in English – the best way to go is to identify a few dishes you like and stick with them.  In the large cities, like Tashkent, Shymkent, Astana, and Almaty, expect to find Western style restaurants and a wide variety of cuisine options if you're in dire need of some Western comfort food.  The sheer number of NGOs and European businesses set up in the region, especially in Kazakhstan, makes it easy to find some creature comforts if you are willing to pay for them.
When it comes to activities and excursions, this is where you should expect to blow your budget.   With a limited tourist infrastructure outside of the main caravansaries and cities, visiting many sites requires a guide and private transportation. You'll have to be very careful on $50 a day which excursions you want to do if you are traveling solo – many of the hiking trips and visits to remote villages or places like the Aral Sea may be prohibitively expensive, as there are relatively few companies engaging in this type of tourism.  For the most part, excursions are priced per day no matter if one person or four people are on the trip, so it is best to find someone or a small group to help defray costs.  For example, heading to see the Aral Sea on a day trip from Nukus in 2012 cost over $300, even with good negotiating skills.  Even split between four people, that may be a budget buster.  Fortunately the entrance fees to the historical sites in Uzbekistan, like Khiva, Samarkand, Bukhara, etc… are very inexpensive, and there are student discounts if you have proper ID and ask.
Here are some tips, advice and on the ground practical information for how you can travel around Uzbekistan and Kazakhstan on $50 a day.
Solo-travelers should be conscious that although it is safe to travel alone, outside of the major tourist attractions it can be difficult to meet other travelers, so if you are the group travel type, make friends in the major tourist areas before going out on your own.
Transportation
Modern infrastructure is still under development outside the major cities and towns, especially in Uzbekistan, but all signs are for improvement. There are plenty of transportation options depending on your comfort level and budget constraints, but be forewarned that especially in Uzbekistan land travel can be lengthy and time consuming.  Kazakhstan is surprisingly large, so don't under estimate travel times.
Cycling is extremely popular for travelers in both Kazakhstan and Uzbekistan, and you are likely to meet cyclists touring these countries by bike.  Cyclists should expect to be welcomed into most guesthouses in Uzbekistan without a problem; however, finding safe storage for your bicycles in the major cities in Kazakhstan can be difficult, so plan ahead.
Getting in
Visas: Sorting out your visas should be a top priority for any Central Asian traveler and can be the most frustrating aspect of planning your visit.  Depending on your nationality, you will most likely need a visa in advance.  Be sure to check with the Kazakh or Uzbek embassy in your home country before you go.  You may be required to have a letter of invitation depending on your home country, as well as letters proving financial viability and intent to return to your home country.
Word of Warning: In our experience, policies listed on embassy websites were not necessarily known, enforced, or understood at the land border stations, so it is a good policy to have more documentation than you think is necessary to facilitate land border crossings.
In Uzbekistan especially, we found local government officials to be susceptible to corruption. Do not expect border guards and customs officials to speak English or understand that for your particular nationality a document is not needed.
When in doubt have more documentation on hand that looks official than you expect to need.  Maintain every receipt you are given by the embassy – and every piece of paper that looks official.  We heard warnings of travelers having to produce ATM receipts or receipts of currency exchange at land border crossings to leave Uzbekistan to prove they were not using the black market.  This did not happen to us, but we did hear the story a number of times, even from a local.
Registration: For both Kazakhstan and Uzbekistan you may be required to register upon entry into the country.  For Kazakhstan this can vary based on your nationality, the type of visa you have, and where you obtained your visa, but even if the official regulations say you do not need to register, it is best to seek local advice upon arrival.   Generally speaking, registration must be done within five days of entry into the country and in every city where you plan to stay more than 72 hours. Maintain all hotel and accommodation receipts, and if you are Couchsurfing or staying with a local, inquire about obtaining lodging receipts every few days for a small fee from a local hotel.  This can really smooth things out at a land border crossing.  Registration is unnecessary in Kazakhstan if you plan to arrive and depart by plane only and your stay is less than 90 days on a tourist visa.
Kazakhstan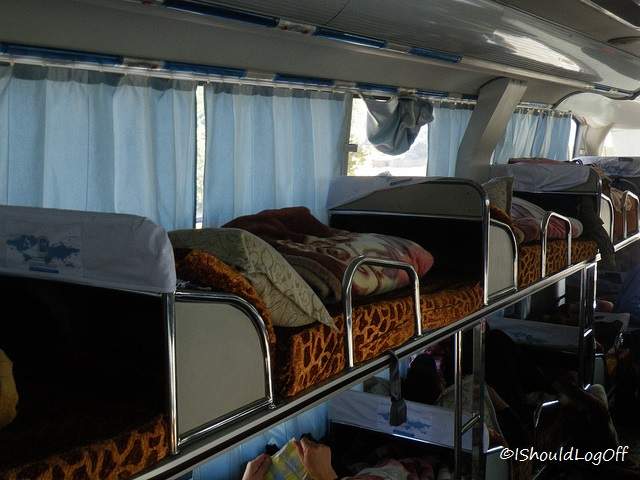 For most people coming to the region, Kazakhstan is their first port of call due to its global connections. You can enter Kazakhstan by several different methods:
Plane: There are direct daily flights into Kazakhstan from all over Europe, especially Germany.  Getting in and out by plane is not particularly difficult if you are coming from the West, as carriers like Lufthansa and British Airways have good connections, but is nearly impossible coming from within Central Asia, as local connections are not good.  We flew SKAT airlines from Yerevan, Armenia into Aktau, Kazakhstan and had true difficulty booking the ticket.
Road/Rail: Kazakhstan has several land border crossings with its neighbors.  Like most other countries, expect land borders to be busy and slow. You should confirm that secondary border crossings are open before planning to use them, especially those not on a major trade route or serviced by a train.  In our travels we never had a problem traveling across borders by train. The most common land border crossings are:
Kazakhstan-Russia: There are many crossings between Kazakhstan and Russia that are only open to Kazakh or Russian citizens.
These are open to foreigners:
Zhanaul: Busy rail and road crossing.  Many travelers report no problem at this crossing.
Mashtakov: Road only crossing from Uralsk to Samara.
Podgorodka: Major road crossing from Kostanay to Chelyabinsk. There is a railroad crossing open to foreigners on the Kostanay- Magnitogorsk line.
Roslavka: Major road and railroad crossing between Omsk and Petropavlovsk.  Open at night, but with limited transportation on either side of the border (shared taxi only).
Oktyabrskiy: Major road and rail border crossing between Pavlodar and Barnaul.  Good for going in and out of Astana.
Zhezkent: Rail and road crossing between Semey (Semipalatinsk) and Rubtsovsk.  This is a very busy crossing point and besides the potential for a long wait, you should have no problem pending your visas are in order.   A good alternative if you are looking for a less busy crossing is Shemonaika (between Ust and Rubtsovsk).
Kazakhstan–China: There are 7 land border crossings between Kazakhstan and China, but not are all operational and open to foreigners.  It is best to check with a local before proceeding to any of the land border crossings.
Khorgos – Khorgas: This is the most heavily used and common border crossing for traders, locals and tourists.   We had no problems crossing at this border besides long lines.  Be prepared for scrutiny on the Chinese side as there are not a lot of Western tourists that come through this area. This is the border crossing that the buses from Almaty to Urumqi take. As of summer 2012 cyclists are not allowed to cross on their own and may be required to pay bus fare across the border – this can and should be heavily negotiated with the bus driver.
Kazakhstan-Uzbekistan:
Chernayevka/Gisht-Kuprik/Zhibek-Joly (Shymkent/Tashkent): This is the main and most reliable crossing between Shymkent and Tashkent.  The border is open 24/7 to foreigners; however, transportation is most plentiful during the day.  You will need to transfer transport at the border- no buses or vans go cross-border so do not be fooled into purchasing a ticket.  Expect to see a lot of shared taxi's at the border.
Tajen (Beyenu- Kungrad):  Road and rail crossing that is fairly easy if your paperwork is in order. We passed via train without problem.
Kazakhstan– Kyrgyzstan:
Kordai: This is by far the busiest and "easiest" crossing between the two nations.  Be prepared for long waits on weekends as it is heavily used by traders.  Foreigners are allowed to skip in front of the traders, but you may be pushed back by locals.  There is plenty of transportation (buses and mashrutkas) on both sides of the border going to Almaty (KZ) and Bishkek and Dordoi (KY).   Some have reported a minivan service to Almaty, but this had not be confirmed as of the published date.
Note: There is no open border crossing between Kazakhstan and Mongolia at the time this article was published.  Click here for up-to-date reports on open border crossings.
Boat:  There are ferries from Aktau to/from Baku, Azerbaijan that leave frequently, approximately every week, sometimes more often in the summer.  It is best to go to the port directly to obtain a ticket information for the next ferry as according to several travelers the ticket office in Aktau seems to be changing addresses regularly.  You can also obtain ferry information from the numerous truck drivers that will be waiting on the road to the port.  You must have your Azerbaijani visa and Kazakhstan visas in order before you get on the boat.  These are meant to be cargo ferries, but all reports are that they are safe and relatively comfortable. Your ticket will cover the cost of a berth, but it is advisable to bring food, water, and patience.  The ferries take cyclists.  Leave with plenty of patience at both ends as the port in Baku is often very busy, and some travelers have reported waiting a day or more to disembark in Azerbaijan.
Uzbekistan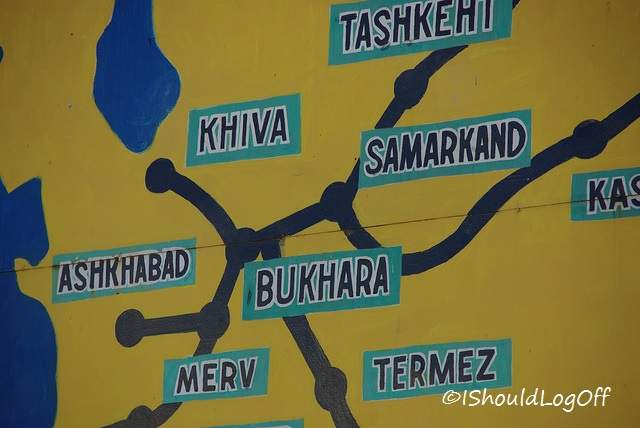 Definitely ask before you proceed to any border crossings with Kyrgyzstan and Tajikistan, even the major routes, as they close relatively frequently due to political strains.  Travelers report that it is best to stay away from the Afghanistan border crossings unless you are of the most adventurous and intrepid spirit.  Don't forget to register yourself upon arrival.  You will be asked to declare foreign money – this may or may not be counted upon your departure.  If you are found to have more foreign money on you than you declared upon entrance to Uzbekistan, you may be charged a fine.  Maintain all documentation you are provided at the border, no matter how trivial or minute it seems. We heard horror stories about travelers paying bribes and fines to get out of Uzbekistan without some of these seemingly insignificant papers.
Note: At the time of publishing, the U.S. Department of State was requesting that all U.S. citizens notify the embassy in Tashkent of their travel schedule in Uzbekistan.
Plane: Tashkent is the busiest airport in Uzbekistan and one of the largest in Central Asia.  There are regular connections throughout the former Soviet Union as well as to Istanbul, China, and Korea. Uzbekistan Airlines is considered safe and comfortable.
Land: Land border crossings are often only available to Uzbek's and citizens of the neighboring country, so it is best to confirm the availability of a border crossing with your embassy.  It is highly advisable if you plan to travel by land to consider a multiple-entry Uzbek visa as well as visas for neighboring countries, as sometimes travel between neighboring countries will require passage through a third.  For example, train travel between Kyrgyzstan and Uzbekistan passes through Kazakhstan.  The same goes for minibuses from Tashkent to Bishkek.
Uzbekistan-Kazakhstan:
 Chernayevka/Gisht-Kuprik/Zhibek-Joly: This is the busiest and main link between Shymkent and Tashkent. There are road and rail crossings. This crossing is probably easiest for travelers, as it has decent transportation connections on both ends, at least during the day.
Tajen (Beyneu – Kungrad): Road and Rail crossing.  We came through here without problem via train with the help of a conductor and his wife.  This is the main Western crossing between Uzbekistan and Kazakhstan.
Uzbekistan– Kyrgyzstan:
Dostyk/Dustlyk: Major road border crossing on the between Osh and Andijon. Transportation widely available.
Uzbekistan– Tajikistan:
Oybek: Busy and straightforward with plenty of transportation options.
Konibodom: Travelers report easy crossings here, with friendly staff.  Road crossing connecting Khujand to Konibodom.  Transportation on the Tajik side, but very limited transportation on the Uzbek side.
Uzbekistan- Turkmenistan:
Farap – Alat: Major crossing connecting Bokhara with Turkmenabad.  Shared taxis available on both sides.
Shavat – Dashoguz: Main crossing between Khiva/Urgench and Dashoguz. Shared taxis available.
Click here for up-to-date reports on open border crossings.
Getting around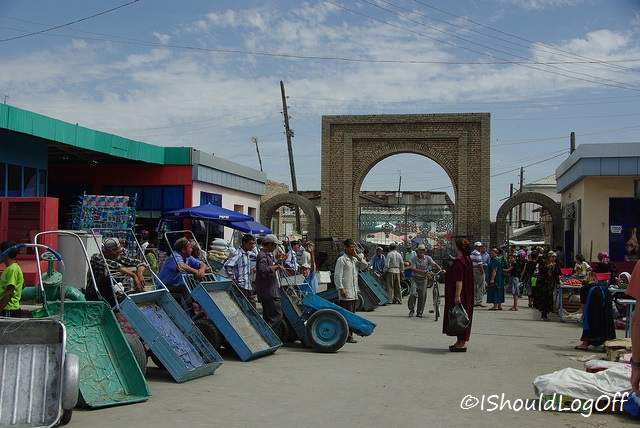 Transportation in Central Asia is surprisingly accessible and affordable.  Whether you choose to go by train, bus, minivan or shared taxi, traveling to areas far away from the main cities or truly off the beaten path can be lengthy and difficult, but often rewarding.
The following transportation options are ranked from most inexpensive to most expensive.
Bus: Unlike other places in the world, the bus is often the slowest and cheapest option.  Do not expect to find overnight buses if there is a train available.  It is advisable to book a seat in advance for cross-border buses (such as Almaty- Urumqi) as these routes do book up in advance.  Intercity buses stop frequently, and are in especially bad shape in Uzbekistan.   Expect frequent break downs in Uzbekistan and lengthy journeys. In turn, they are very cheap.  Most buses will allow bicycles, albeit for a fee to ride as cargo.
Minivans/Mashrutkas:  A step between bus travel and shared taxi, mashrutkas are a mainstay throughout Central Asia.  Most cities and towns will have a mashrutka station where you will need to walk around and find your destination.  Fares are often pre-set and you can expect a relatively well conditioned vehicle with significantly fewer break downs than the bus.  Look for a seat near a window.  This is the most common form of road transportation for most travelers.
Train: There is a surprisingly good network of trains in both countries.  Varying levels of speed and comfort are offered on the overnight trains, so you can book within your price range.  Bring food and water on board as some trains do not have a food car.  Expect to interact with everyone in your train car, they will want to shake your hand, meet you, and engage in conversation – even if there is no common language.  This can be one of the most enjoyable parts of traveling in the region.
Shared Taxi: Never shared a taxi with three strangers before?  You will in Central Asia.  Without fail you will find that shared taxi's go almost everywhere.  The cost is not always cheap, but shared taxis are generally reliable and fast.  Fares are about $5 per travel hour on average. Expect to pay based on your location- shared taxis are very expensive in remote areas, and you may need to wait several hours for the taxi to fill up or be asked to pay the entire fare.  Negotiate the fare.
Air: Not possible on $50 a day, but if you are looking for comfort or speed, there are good air connections within Kazakhstan.
Accommodation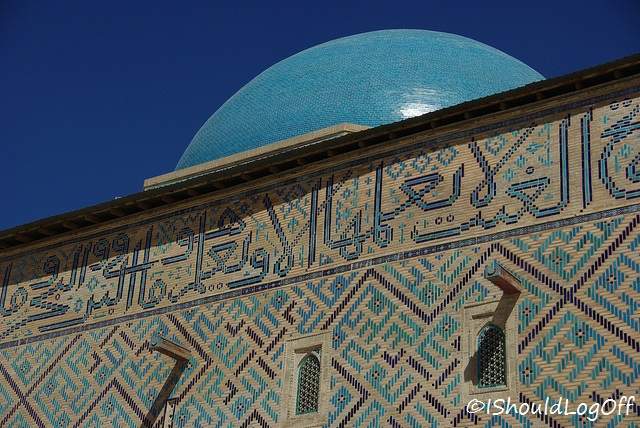 Kazakhstan
This is where things can get expensive in Kazakhstan.  While indie travel hasn't quite moved onto the main stage yet, business travel has – so you may experience sticker shock.  That being said, the room you'll get for $30 will be much nicer than any dormitory you've slept in during your travels in Europe.  Don't expect your dollar to go far booking accommodation in Kazakhstan.  Most decent (read: clean) rooms will go for between $30 -$50 per night outside of Almaty and Astana.  Do not expect to find dormitories even in large cities like Shymkent.  On the positive side, there is a significant Couchsurfing network in the major cities, and if you are interested in Couchsurfing you can save a lot of money that way.  Watch out for cheaper accommodation, which might lead you to a brothel.
$15–$35:  This budget will get you a single private room in a low end hotel.  Expect to share a bathroom and have noisy neighbors.
$40-$75:  With this budget you can expect a decent sized private room, probably your own bathroom, air-conditioning/heat, Wi-Fi, clean quarters, and decent service.
$75-$100:  When you are willing to spend more than $75, you can expect a jump in quality, especially in small cities like Shymkent.
$100+: Spending over $100 USD per night will get you the luxuries business travelers have come to expect, even in Astana and Almaty – breakfast, Wi-Fi, possibly a pool, and almost certainly a sauna.
Uzbekistan
Fortunately there is a wide range of accommodation in Uzbekistan, and it is for the most part very inexpensive.  We spent on average $20 a night staying in private rooms, most with private bathrooms and including breakfast.  From guesthouses to large business hotels in Tashkent, there is a wide variety of accommodation.  Most budget travelers will be very happy staying at guesthouses in the major tourist centers.
$10-$15: With this budget you can expect a dormitory in a guest house with shared bath.  Breakfast may be included as may be Wi-Fi.
$20-$30: Expect most private rooms in a guesthouse to go for this range, with en-suite bathroom and likely breakfast included.  Wi-Fi is regularly included in this price range.
$35-$60: Most tourist class hotels will be in this price range, but expect to run into tour groups. Breakfast is likely included and there may be an onsite restaurant.
$60+: Expect a jump in service and quality in this price range.  These accommodations will be geared towards business travelers, but can be quite comfortable for the budget traveler looking to splurge.  Expect to see these prices only in places like Nukus (off the beaten path), Samarkand and Tashkent.
Food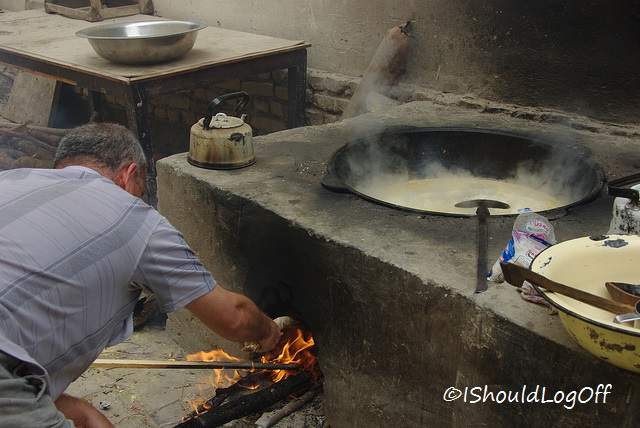 Eating street food in Kazakhstan or Uzbekistan is not as common as it is in the Americas or Southeast Asia.  Comprising mostly of shashlik – mutton grilled on open flames, and a variety of sesame encrusted bread, the street food is filling, but not the most delicious of Central Asian flavors.
Central Asia isn't known for it's cuisine, but meals generally include mutton, rice, potatoes, pasta and almost always bread. The cuisine is similar to Russia, so expect dishes that are heavy with meat and vegetables.  Vegetarians should be forewarned that most meals are made with meat broth even if meat is not included in the dish. The cuisine does not vary much between regions and is surprisngly affordable if you eat local, even in restaurants.
Expect to find Western cuisine in tourist destinations and major cities.  Bread is widely available and very inexpensive.  Markets are also plentiful. If you are on a tight budget, expect to spend at a $5 a day feeding yourself between street food and markets.  Like all countries, cleanliness of street food can be questionable, so it is best to ask for your meat to be added back to the fire before biting in.   Do not expect to find pork products or English menus outside of major cities and tourist centers.
Here are some typical dishes you should consider:
Plov may just be the national dish of Uzbekistan. A stew of rice, vegetables, and meat, you can't help but eat it if you are traveling through Uzbekistan, and in many regions it is quite tasty.  In some places dried fruits, like raisins and apricots, are added for additional flavor.
Laghman is a thick, sometimes well spiced noodle dish with meat, carrot, and onion, usually served as a soup.
Beshbarmak is a special occasion dish that you may be treated to in someone's home.  Restaurants often serve this dish "family style," so expect to go with a group if you are looking to try it at a restaurant.  Beshbarmak is a horse meat and pasta dish with potato and onion.   It is occasionally made with beef or lamb, but horse meat is traditional.
It is very easy to find alcohol and bars in Kazakhstan and Uzbekistan; the poison of choice is generally vodka or cognac, but plenty of wine and beer varieties are available.
Highlights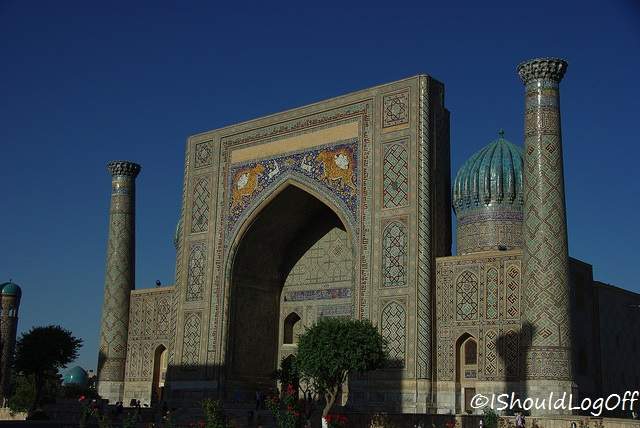 No matter where you go in this region you are going to feel like you are off the beaten path, and you will most likely have more than one Indiana Jones moment.  Be open to seeing places not listed here or in a guidebook, there are a number of fascinating culturally and historically significant ruins and sites dotted around the region, not to mention some seriously breathtaking scenery.
Kazakhstan
With its natural beauty and resources, Kazakhstan is becoming a popular destination for intrepid outdoor types.  Hiking, horseback riding, and adventures in yurt- life are popular stops in the mountains, while the Soviet Baikonur Cosmodrome is a popular stop for intrepid space lovers.
Astana.  The futuristic architecture and somewhat surreal feeling of this city draw many travelers who would otherwise skip the journey.   Don't miss The President's Museum of Kazakhstan, the Palace of Peace and Reconciliation, and the alarmingly accurate miniature Atameken Map of Kazakhstan.
Aral Sea.  Ever wondered what humanity does to an inland sea? The Aral Sea is one of Earth's most horrendous disaster zones. Caused by channels dug to feed nearby cotton fields, the sea started to shrink and recede in 1960. Almost completely dried up, you can now walk and camp along the bottom of the sea.  It is eerie yet beautiful and without a doubt fascinating.
Tian Shan Mountains. Great hiking opportunities just outside of Almaty.  Don't forget to take a map if you are going to go out for more than a few hours, it is very easy to get lost.  There are lots of astronomers living in these hills, some of whom may be willing to let you peak through their telescope.
Sauna complexes. Saunas are very popular in Kazakhstan and are a place to socialize and meet friends.  It is normal to have parties in these complexes, the most luxurious and popular of which are equipped with karaoke, pool halls, swimming pools, and lounges.
Uzbekistan
Nukus. A great jumping off point for visiting the Aral Sea Nukus isn't exactly a place you want to hang out for long, but the Savitzky gallery is worth a gander.  The gallery hosts the world's second largest collection of Russian avant garde art – if you are an artist or have an interest in art, it's worth a look.
Khiva. The old town of Khiva retains more than 50 historic monuments and 250 old houses surrounded by a large wall, complete with medieval looking gates.  A fascinating tour of Silk Road history and culture, the old town, despite its touristic leanings, remains quiet, and it's easy to feel a bit like Indiana Jones wandering through the small alleyways or on top of the city walls.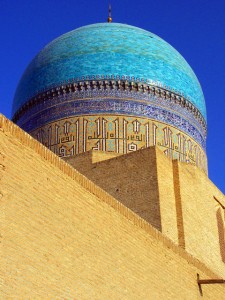 Bukhara. Historically one of the greatest commercial trading centers along the Silk Road, Bukhara was the cross roads for traders coming from India, Turkey, and China.  Today, the city is heavy with architectural monuments, mosques, and minarets that date back in some cases more than a thousand years.  Not as ornate in decoration as the monuments and buildings of Samarkand, Bukhara remains a charming place to spend several days soaking in the culture.  Bukhara is also home to Central Asia's dwindling Bukharan Jewish population, a fascinating group of Jews cut off from the rest of the Jewish world for more than 2,000 years.
Samarkand. If you've seen any pictures of Uzbekistan before researching it, this is probably where the photographs came from.  The most ornate architecture along the Silk Road remains in Samarkand, which was a busy hub of activity through the early 20th century.  Now the most popular destination for tourists, the architecture and cultural history are still remarkable as a study in cultural crossroads.  The old madrassa and market buildings are UNESCO World Heritage Sites.
Shakhrisabz.  A worthwhile day trip from Samarkand or worth a night or two itself, Shakhrisabz is the former home to the Timurid Dynasty.  Today all that remains are strikingly large monuments to Timur, including his tomb and Summer Palace.  The market is particularly lively and you'll get a sense of true Uzbek hospitality in Shakhrisabz that may be lacking for some travelers in Samarkand.
Adding Central Asia to your RTW trip
Central Asia isn't for everyone, but if you have an adventurous spirit and want to add it to your big trip, check out the following itinerary.
You can customize any trip you see on Indie, BootsnAll's multi-stop booking engine, by registering for a free account. Simply enter your destinations and dates and get an immediate, bookable price.
Check out the following articles and resources to help plan your trip:
Author bio: Jillian Tobias is an adventurer and a fun loving spirit. She'll do almost anything once for the experience – well within reason!  She spent 21 months traveling overland across the globe with her husband Danny, crossing from San Diego to Ushuaia; Capetown to Cairo; and Istanbul to Beijing. Her passion for travel comes from wanting to meet new people and share the experience of life.  She blogs about adventure travel at  I Should Log Off and can be reached on Facebook or Twitter. 

Photo credits: First photos courtesy of the author and may not be used without permission. Last by Fulvio