Welcome back.  This second week  for the 30 Days of Indie Travel Art Project, we moved away from asking questions about you, to asking you to tell us stories from your travels.  Starting with:
Day 8: What is the worst experience you've ever had?
@BootsnAll Well, the last hostel I stayed at not only had bedbugs, it gave me ringworm. That was pretty unplesant. #indie30

— Jess (@perma_frosting) April 9, 2014
@BootsnAll #indie30 A mastrubating, swearing in her sleep, Wicca roommate in a hostel. Hands down worst experience!

— dogsloveshushi (@MarjiStevens) April 9, 2014

(What?  Oh Marji, PLEASE elaborate!)
Day 9: What is your best travel experience?
We heard some really nice stories for this one.
Lois Middleton tweeted us this very optimistic outlook on the subject:
Day 9 #indie30 Best experience? Every trip I take has a "best" experience – too hard to choose just one.

— Lois Middleton (@loismiddleton) April 10, 2014
@BootsnAll #indie30 VERY 1st time overseas, suitcase broke (wheels AND handle!) and I had to carry it through rush-hour Tokyo station D:

— Slomads Travel (@slomadstravel) April 10, 2014

It may not sound like a "best experience" but really, if this happened to you, would you get upset, or just start laughing at the calamity of it all?  We'd go for option two too.
Day 10:  What is the strangest food you have eaten while traveling?
We loved this, because we knew it would bring in some funny responses.  And since we are from all over the world, somethings that may be strange to one of us, may be totally normal to another.
@bootsnall The strangest food we've ever eaten – Bundegi – Silk Worm Larva https://t.co/bc5N1XCXTl #indie30 pic.twitter.com/CynBsRnYTw

— Scott and Megan (@BoboandChichi) April 10, 2014
We also had a couple tweets of some strange foods like these:  
@BootsnAll Strangest food item: soup I had in Shenzen. The waiter later said, it had something to do with lizzards and snakes. #indie30

— Surbhi Arora (@surbhiarora330) April 10, 2014
@BootsnAll #travel #food #indie30 a Japanese drink I never adjusted to was Calpis (which we called CowPiss) – a milk based soft drink

— dogsloveshushi (@MarjiStevens) April 10, 2014
Day 11: Tell us about a time you did something, something you knew you probably shouldn't do, while traveling.
Some of you blatantly (and perhaps, smartly) refused to answer this question.  But others told us about a things they have done that fall under a variety of legal-ness.
#indie30 OMG My husband's LPO just texted him about this https://t.co/7WsuTTPcEa Could/should have used this instead: pic.twitter.com/BJmH7b1aMT

— Traveling Navy Wife (@PudgysHuman) April 12, 2014
What not to do when traveling? Stand up on a roof during sniper fire in Beirut. @BootsnAll #indie30 challenge Day 11 #travel #rtw

— Leyla Giray Alyanak (@womenontheroad) April 12, 2014

(We'd agree that is something you SHOULD NOT do when traveling!)
After asking you to admit your bad behavior, we decided to ask you about some good actions and asked:
Day 12: Have you ever been helped by, or helped, a total stranger when traveling?
Helped by a total stranger? Yess! Mozambican drove me to Zim border for free after I'd been robbed. Day 12 #Indie30 @BootsnAll challenge

— Leyla Giray Alyanak (@womenontheroad) April 13, 2014
Day 13: If you could wake up tomorrow knowing any one language (one you don't already know), what would it be and why?
We knew this would be a fun one, and it seems Spanish is the strong front-runner.
The only reason I want to learn spanish is so I can confess my eternal love for Messi, in his own language! @BootsnAll #indie30

— Surbhi Arora (@surbhiarora330) April 13, 2014
@BootsnAll: #Indie30 Day 13: Hindustani or Mandarin b/c they would be difficult to learn & are top spoken languages https://t.co/aa34PuXWw9

— meaghan kathleen (@MeMoVanT) April 13, 2014
Day 14: Write us a poem about a travel experience."
@BootsnAll suitcase in hand, camera over shoulder; Light in her eyes; She looks ahead, always to distant shores. #travel #poetry #indie30

— Mary Furness (@furnessmk) April 15, 2014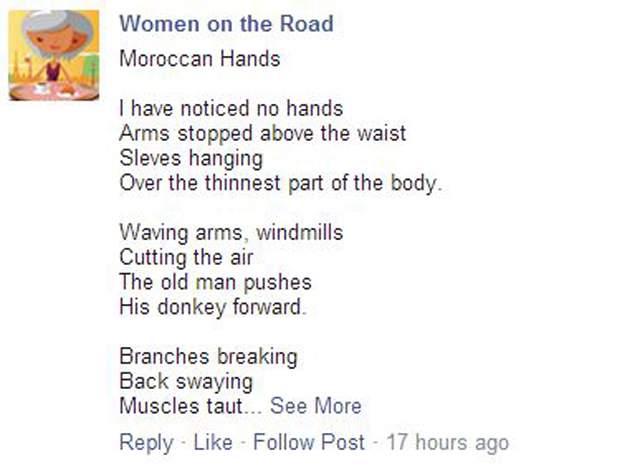 We asked you to do some creative things this week and answer some hard (ok, juicy) questions.  We love all the responses and can't wait to read all the ones for week 3!
It's never too late to join, so check out all prompts and how you can participate in our month-long community art project!
Photo credits: Problemkind