People love going on vacation to Italy. People also love island vacations. But, these two vacation ideas rarely intersect. Most think of Greece when they think of Mediterranean islands; and of course there is the Caribbean, and the South Pacific islands for those of us who don't mind spending roughly half of our allotted vacation time on an airplane.
Italy, you'll be thrilled to know, can give you the island experience you're looking for – and you can still swing by your favorite Italian destinations before you fly home. Whether you want to sit on a beach, go snorkeling and diving, visit ancient ruins or simply get away from it all, Italy's islands are worth considering for your next trip to il bel paese.
Sicilian Islands
Wait – isn't Sicily already an island? Yep, it sure is – but its regional borders include smaller island chains that should be on your "must do" list if you're headed down that way.
[social]
1 – The Aegadian Islands (Isole Egadi) – Favignana, Levanzo and Marettimo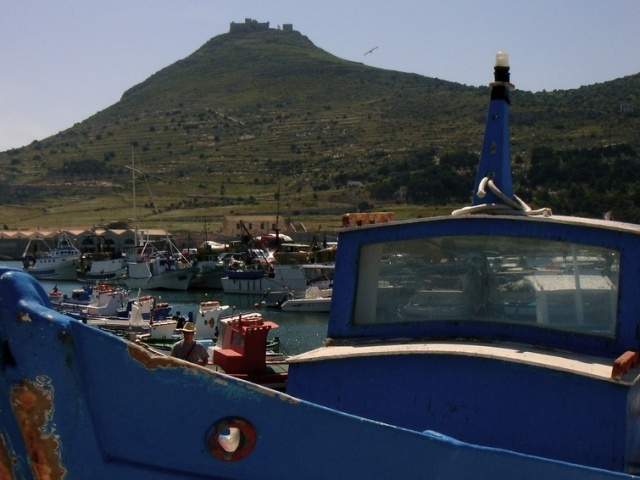 These three islands are off the northwestern coast of Sicily, and can be reached via boat from Trapani or Marsala for a wonderful day trip – although it's advisable to visit just one per day.
Check with Ustica Lines at the port for schedules and fares.
Depending on what your interest is, any one of the Aegadian Islands can turn out to be your favorite.
Favignana, the largest and with a little over 4,300 residents, has a great combination of lively piazze and lonesome, rustic roads with spectacular views.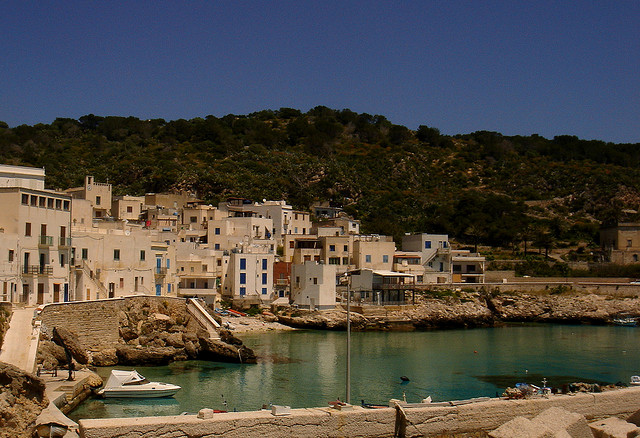 Levanzo has only a tenth of Favignana's population, and you can feel the difference from the moment you disembark. If you're there to visit the Paleolithic Grotta del Genovese, you'll go past the island's inhabited area before you blink.
If instead you prefer to sunbathe, there are all of two bars where you can wet your whistle. And if a nature walk is more your style, you'll be hard pressed to pass another human being for the better part of your stroll. Bliss!
Boaters, hikers, divers and other sporty types will want to head out to Marettimo, the farthest of the islands. The best way to see the island is by boat, and it's easy enough to rent one – with a captain – once you arrive. Otherwise, you can stroll around and enjoy the peace and quiet – where else can you go in Italy that has exactly one souvenir shop?
2 – The Aeolian Islands – Vulcano, Salina, Stromboli, Filicudi, Alicudi, Panarea and Basiluzzo
This island chain has roots as far back as 4000 BC and is still volcanically active. Hydrofoils can get you there from Milazzo in Sicily, as we as from Naples. These are the islands you want to go to if sitting on the beach is the only thing on your agenda.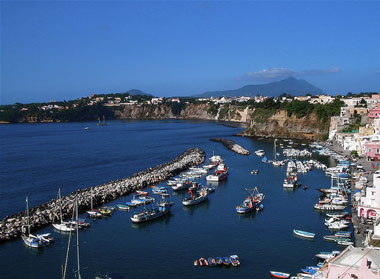 Lipari is the largest and has the most accommodation, so it makes a great base from which to discover the other islands.
Vulcano has sulfuric mud baths for those who want a spa experience – but be aware that they are natural baths, it's not exactly a five-star resort experience. For that you can head to Panarea, where the elite meet to luxuriate and dance the night away.
The rest of the islands in this chain are much less populated, much more rustic and good for hiking day trips or boat tours. Accommodation on these islands is mostly found in private homes, so it's best to stick to the larger islands if you're looking to spend more time in the area.
>>read about how to get from the mainland to Sicily and also about the Five favorite places to hike in Italy
The Tuscan Archipelago
Say Tuscany, and everyone swoons as they think of rolling hills and ancient vineyards. But Tuscany's western border is the Mediterranean, and taking the time to visit the islands of the Tuscan Archipelago can be a fun twist to the usual Tuscan itinerary.
3 – Elba
You may have heard of Elba, most famously as the exiled home of Napoleon Bonaparte, and in Portoferraio you can visit the house he lived in. There are plenty of hotels, restaurants and sights to see to make for a nice weekend break from your vacation routine. It's truly paradise.
4 – Capraia and Giglio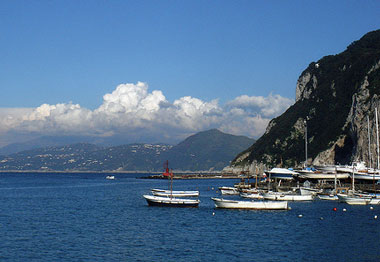 There are other islands in the archipelago, but these are the most inhabited ones (if you can call a few hundred residents each, "inhabited"). Interestingly, Gorgona, another island, is considered habitable – but it is home only to prisoners and access is severely restricted. Some people have all the luck!
Capraia and Giglio both offer hotels, restaurants, sandy beaches, world-class diving and incredible food – in fact, Giglio is considered the world capital of the anchovy industry!
>>read about the Nude beaches in Italy
Sardinia
When looking at a map of Mediterranean countries, many people are surprised to see not one but two large islands smack dab in the middle of the sea. The northern one is Corsica, under French ownership. The southern island is Sardinia, and it's a quick flight from Rome or overnight ferry from Civitavecchia, about an hour north of Rome.
5 – Sardinia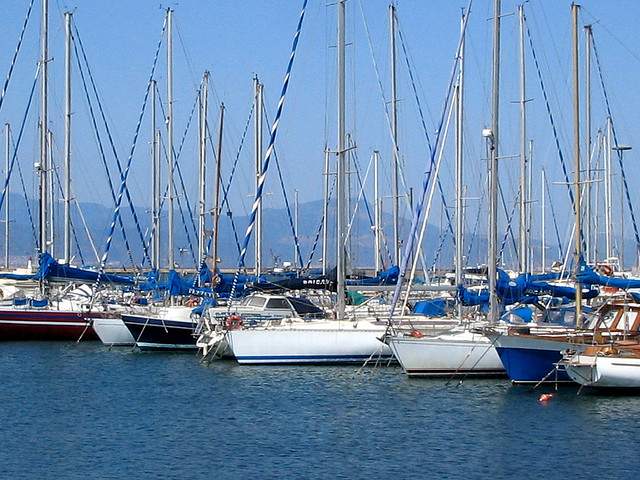 Sardinia is considered an autonomous Italian region – and boy, do Sardinians let you know it.
The truth is, though, they have every right to be as proud as can be of their beautiful island with its clean white-sand beaches, crystal clear waters and a culture filled with marvelous surprises for those used to the "mainland" of the Italian peninsula.
Cagliari, in the south, is its capital and definitely worth a visit. There are lots of historical sites, fun boating excursions and a great beach easily accessible from the city center. Their famous unleavened bread (pane carasau), seafood dishes and amazing desserts will keep you fully satisfied.
The northern "capital" would be Sassari, and is an interesting contrast to southern Cagliari because of its Corsican influences. Sassari is the perfect place from which to explore the Emerald Coast (Costa Smeralda), with its picture-perfect shoreline that brings sun worshippers from all over the world.
There are accommodations catering to every budget and desire, and plenty of things to do and see.
6 – Asinara, Sant'Antioco and La Maddalena
Just like Sicily, Sardinia has its own islands that are worth visiting for the pure fun of it. Up north off the Emerald Coast is the Maddalena Archipelago, with La Maddalena as its main island. Just a little more than a mile off the Sardinian coast, it's a popular beach destination for locals and tourists alike, in particular the Cala Francese and Bassa Trinita beaches.
Also off the northern coast is Asinara, which features Caribbean-blue waters and…albino donkeys! It's thought that these donkeys gave the island its name. Formerly home to maximum security prisons and small pox quarantine units, it's now a UNESCO World Heritage site and one of Italy's finest national parks.
Down south is Sant'Antioco, a perfect day trip from Cagliari and accessible by car. It is positively lousy with stunning beaches and reefs for snorkeling.
>>read about cycling in Sardinia and also about how to get from Italy to Sardinia
Bay of Naples
If you've taken advantage of your time in Naples to hop on a traghetto and head out to Capri, you don't need to be reminded how absolutely gorgeous it is. But, unless you went during a rainstorm, most likely you found yourself shuffling along with hundreds of other visitors – and that's not terribly satisfying, is it?
What many people don't know is that there are two other islands in the bay – and they both feature great walking, stunning views and delicious food, without the crush of yapping tourists fresh off the buses and cruise ships.
7 – Ischia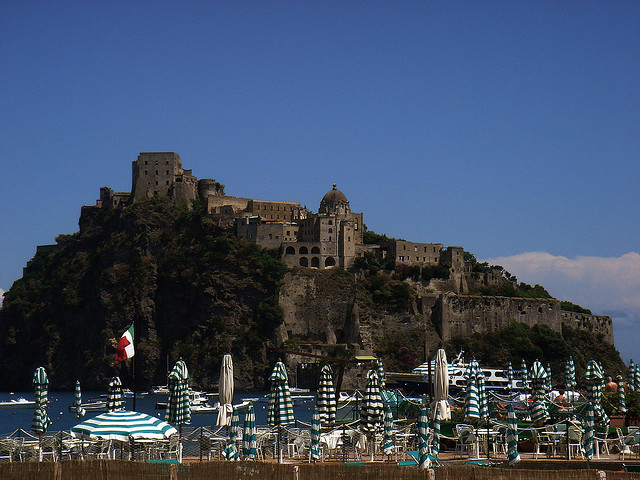 Ischia has all the beauty of Capri at about half the price. It has great beaches, friendly restaurants and thermal hot springs bubbling up from its volcanic core. For sightseers and photographers alike, the Aragonese Castle and the Gardens of La Martella are must-sees.
8 – Procida
Procida is the least touristy of the Naples Bay islands, and is the quintessential seaside village – chances are you've seen it already, featured in films such as Il Postino and The Talented Mr. Ripley. It's colorful, but not to the point of cutesiness; it's lively, but not to the point of over-saturation; and if you have lunch along the quai of the historic center, you'll hear nothing but gentle waves lapping the tiny fishing boats docked there.
>>book a flight to Italy and also consider agroturismo while you are here
More: Island Vacations
Read more about:
Photo credits: Sardinia by Effervescing Elephant on Flickr, All others by Christine Canterra on Flickr ,   main photo