The end of something usually brings the start of something else, and it's often more exciting to look ahead than to look back. As the end of 2011 gets closer, we wanted to look back over the past year (and beyond) in a way that was just as fun as looking forward to 2012. Toward that end, we're going to spend the month of November reminiscing about our travels, thinking about who we are and how indie travel has shaped us and how we experience the world.
And we're inviting you to play, too.
PROMPT #30 – 2012 TICKET
PROMPT #29 – ONE WORD
PROMPT #28 – GEAR
PROMPT #27 – WANDERLUST
PROMPT #26 – PHOTO
PROMPT #25 – FAMILY
PROMPT #24 – GIVING THANKS
PROMPT #23 – TECHNOLOGY
PROMPT #22 – TRANSIT
PROMPT #21 – LOVE AFFAIR
PROMPT #20 – DRINK
PROMPT #19 – SPIRIT
PROMPT #18 – BUDGET
PROMPT #17 – PASSION
PROMPT #16 – BAGGAGE
PROMPT #15 – CITY
PROMPT #14 – QUOTE
PROMPT #13 – HOME
PROMPT #12 – MEANINGFUL CONNECTIONS
PROMPT #11 – FEAST
PROMPT #10 – EARTH
PROMPT #9 – ONE DAY
PROMPT #8 – LOVE LEARNING
PROMPT #7 – CELEBRATE
PROMPT #6 – FEAR
PROMPT #5 – KINDNESS
PROMPT #4 – MISTAKES
PROMPT #3 – MUSIC
PROMPT #2 – EMBRACING CHANGE
PROMPT #1 –  GOALS
Starting November 1, we're launching a project called 30 Days of Indie Travel. We're inviting bloggers from around the world (including you!) to join us in a daily blogging effort reflecting on our past travel experiences.  Each day, we'll post a new prompt on BootsnAll articles. Bloggers can follow the prompts as strictly or loosely as they like, interpreting them in various ways and responding via text, photos or video posted on their own blogs.
Each day we'll re-tweet some of the submissions on Twitter or post them on our Facebook page, as well as highlight some of the best in a feature article at the end of the month. We hope you'll join us as we recap the last year and share some of our favorite travel stories!
Here's how to participate: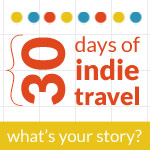 Sign up for the Daily Dose newsletter in the box above to get the prompts delivered by email every morning, or check BootsnAll articles or our Facebook page or Twitter feed to find out the day's prompt.
You can take that prompt as literally or figuratively as you want. We've left lots of room for you to interpret the prompt as you like. You can respond with a travel essay, a personal narrative, a how-to post, a photo, or a video. Be as creative as you like!
While the goal of the project is to blog each day, there is no requirement that you blog every day of the month or that you blog on the same day the prompt is chosen. We're challenging bloggers to participate as much or as little as you can. 
Put your post up on your own blog and link it to the page designated in that day's prompt.
Tweet your post with the hashtag #indie30 and follow the hashtag on Twitter to read what other people are posting.
Bookmark this article, because we'll be updating this page throughout the month with all the blogging prompts – if you miss one, check back here to get caught up.
[social]
At the end of the month, we'll post a roundup with links to some of the best content. Questions? Let us know in the comments, and if you plan to participate, please post a link to your site in the comments!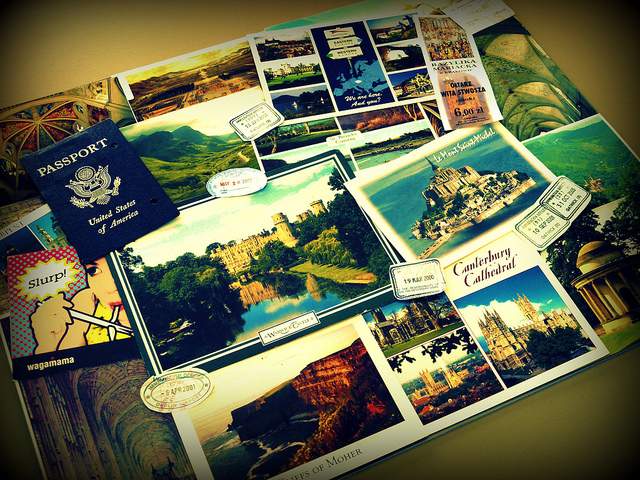 Photo by theroamincatholic