Straddling the equator, Kenya packs a lot into its borders: wildlife, tribal culture, beaches, mountains, and deserts. Lonely Planet calls it "Africa in microcosm," with a million different reasons to visit.
Karibu (welcome) and Hakuna Matata (no problem) are two expressions you will hear commonly in Kenya, and may come to define your time here.
Learn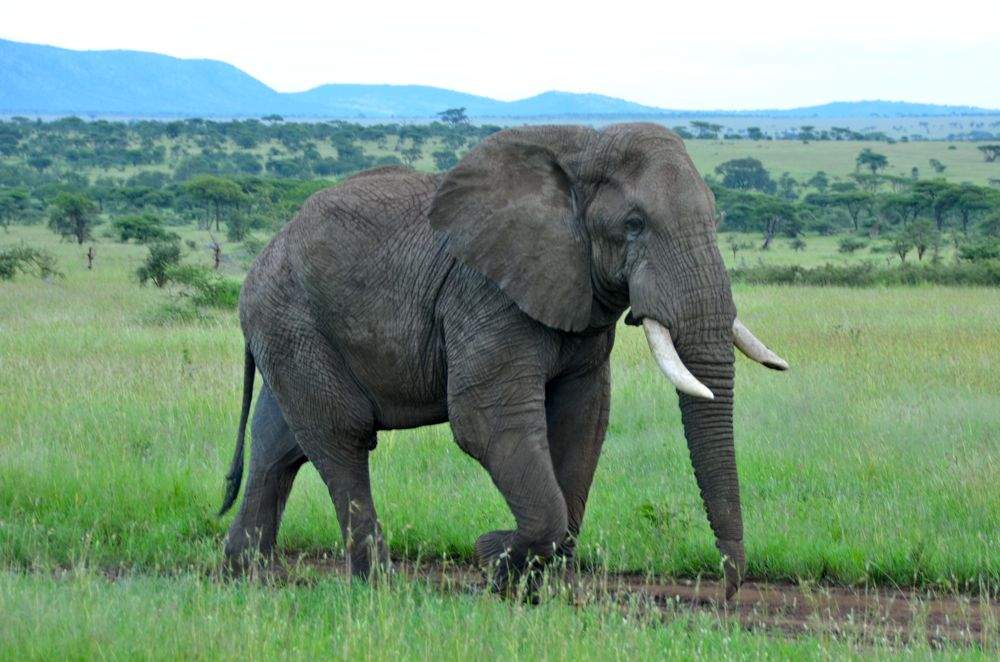 One of the best topics to immerse yourself in when traveling in Kenya is wildlife. From the grasslands of the Masai Mara, up the Great Rift Valley, and even in Nairobi itself, the country is home to many of the world's best national parks and game reserves.
Nairobi National Park is a unique ecosystem that is the only protected area in the world this close to a capital city, only seven kilometers from city center. If you don't have time (or the money) to go on safari in Aberdare National Park, consider the Masai Mara or Mount Kenya – this 117-square-kilometer park is home to lions, leopards, cheetah, giraffes, zebras, hyena, and even rhino, one of Africa's most endangered species. Another popular attraction in the Nairobi area is the David Sheldrick Wildlife Trust, focusing on endangered species such as elephants and the Black Rhino. Well-known for their elephant orphanage, this is a great place to really learn about these animals and the conservation efforts to protect them.
[social]
The National Museum is also a treasure. "Time spent at the well-done Nairobi National Museum towards the beginning of your trip to Kenya will greatly help you appreciate and understand your experience in the country," says Keith Hajovsky, my boyfriend who traveled with me to Kenya. "The highlights for me were the remains of some of the earliest known predecessors to homo-sapiens in the world, the largest gallery of birds I have ever seen in my life, and the colonial history section."
Explore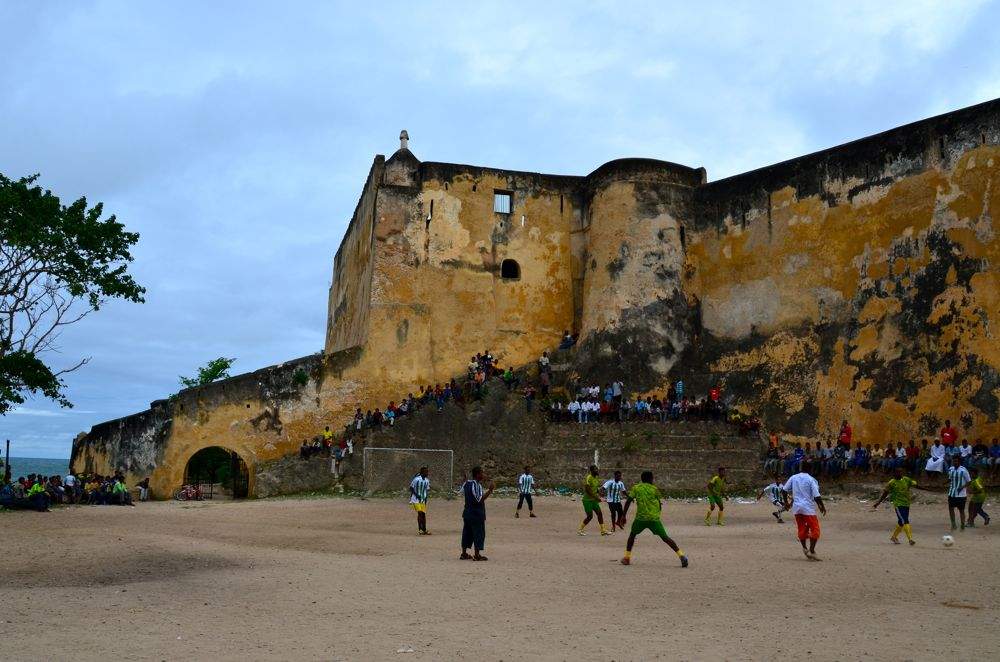 Once you've seen a bit of Nairobi, an epic adventure awaits: the famed overnight train from Nairobi to Mombasa, on the coast. The capital's railway station itself is worth seeing, built in 1899 at the height of the railway construction throughout the country. A small display case commemorates the dozens who were killed by lions during the endeavor. The train itself is a little worse for wear, still outfitted from mid-century with just a faded hint of its former grandeur — but that of course just lends to its charm. Waking up the next morning with the savannah stretched out before you, looking out the window and waving to village children who come to watch the thrice-weekly train go by, is worth the ride. Supposedly one can see wild game from the train at daybreak, but all I saw were camels.
In Mombasa, there's plenty to explore. It's quite a different city than Nairobi; still pushy and grimy but less so, and more tropical. Start at Fort Jesus, built by the Portuguese in 1593 and extremely well-preserved, with an interesting historical artifacts museum inside. The entire city is steeped in history from the 12th century and is a melting pot of African, Asian, and Middle Eastern influences. Wandering through the meandering lanes and shops of Old Town is a great way to soak this in.
Taking a day trip north from Mombasa, there is plenty to explore as well. I particularly liked the Gedi Ruins, the architectural remains of a 13th-to-17th century Swahili settlement. Excavations have uncovered trade items such as beads from Venice, Ming vases from China, and more. Ruins from several mosques, living quarters, and a palace make for an interesting exploration. The nearby beach town of Malindi is popular, although I personally didn't find much to recommend it. Head instead to Lamu, a sleepy World Heritage island town with the look and feel of another age; or spend some time in Watamu Marine National Park, with good snorkeling and diving.
Play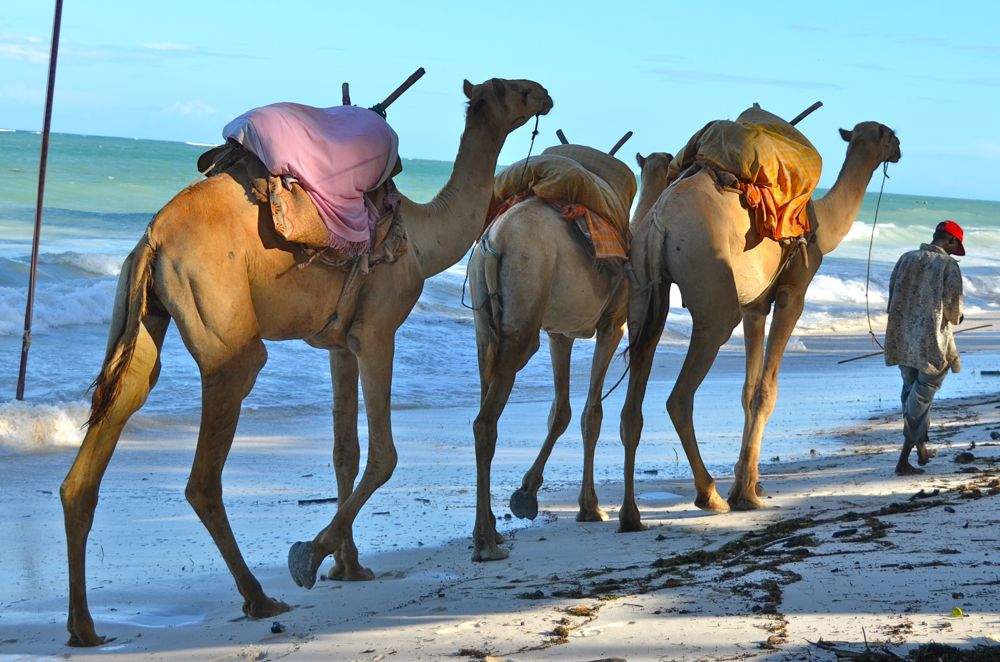 From Mombasa, take the Likoni ferry across the bay to visit some of the beaches south of Mombasa. Diani is the best of these, where an afternoon whiled away at Forty Thieves Beach Bar & Restaurant, enjoying cold beer while digging your toes into the sand is time well spent. Occasionally camels will be led along the beach (there for tourist rides, but whether you ride them or not it's an exotic sight). Just know that when you wander away from a resort or restaurant to stroll the beach, you will not be left in peace for long. As with virtually everywhere in Kenya, touts and vendors will besiege you pretty much constantly. Be firm, and don't engage in conversation if you aren't interested in being sold to.
There are also a number of beach resorts to the north of Mombasa; you can get to these by taxi or matatu. Riding in matatus, those ubiquitous vans that make up a large part of public transportation in the country, is an experience not to be missed. You can get a long way for a very small amount of money, and they are usually comfortable enough and quite interesting. At the bigger matatu staging areas; however, be warned that competition can get fierce, and again you will be besieged the minute you alight at one, and it can be overwhelming to have a dozen people crowded around you, all shouting at where you should go. This is one of the less fun aspects of public travel in Kenya, but if you're prepared enough to know where you're going ahead of time, it's not too difficult to figure out. One of the best aspects of a matatu comes after dark; suddenly the music starts blaring, and the interior is lit up with flashing, colored lights — effectively turning these classic vehicles into motorized discos.
Eat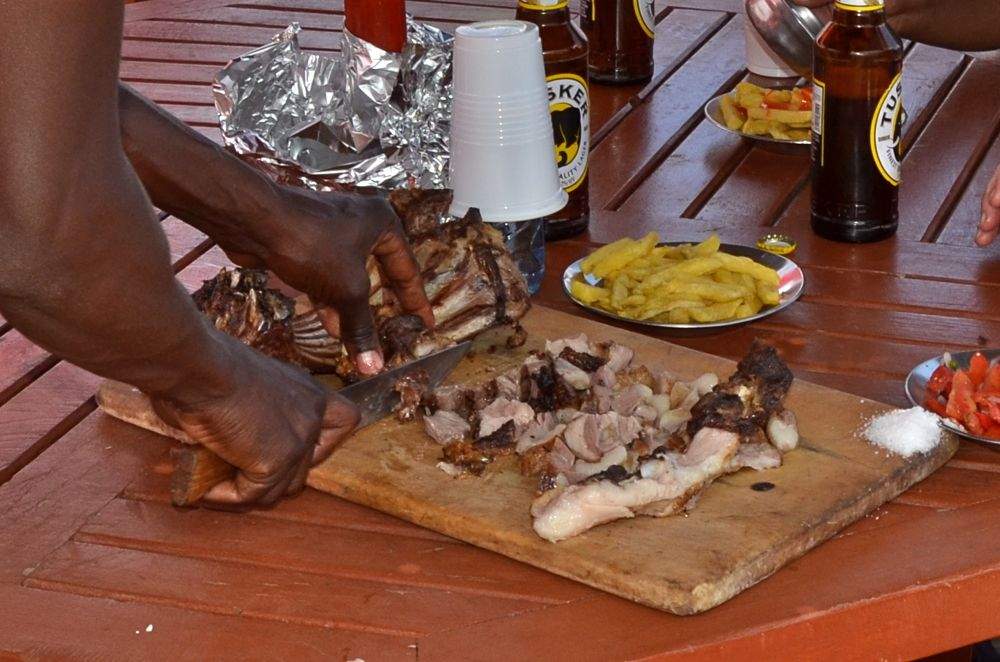 The national dish of Kenya seems to be nyama choma, which is basically huge slabs of roasted meat, usually goat. This is the ultimate Kenyan culinary experience, and there is no shortage of it in this meat-loving country that can pose a challenge to vegetarians. "Choma nights" are a big part of the social scene in Kenya, and they can last hours. Don't go to a choma restaurant when you are hungry; it can take a minimum of an hour, and sometimes closer to two, from the time you order to the time you get your food.
You also won't be able to escape ugali, the traditional side dish of corn meal that accompanies almost everything. Love it or hate it, alone ugali really has no taste and is far more palatable when combined with vegetables and sauce. Kenyan foods such as these are typically eaten with the hands, while forks and knives are generally used for eating European food.
Kenya is also a great place to get other ethnic foods, especially Ethiopian, Middle Eastern, and Indian. With its large influx of Indian settlers, Mombasa provided me with one of the best Indian meals I've had anywhere.

Stay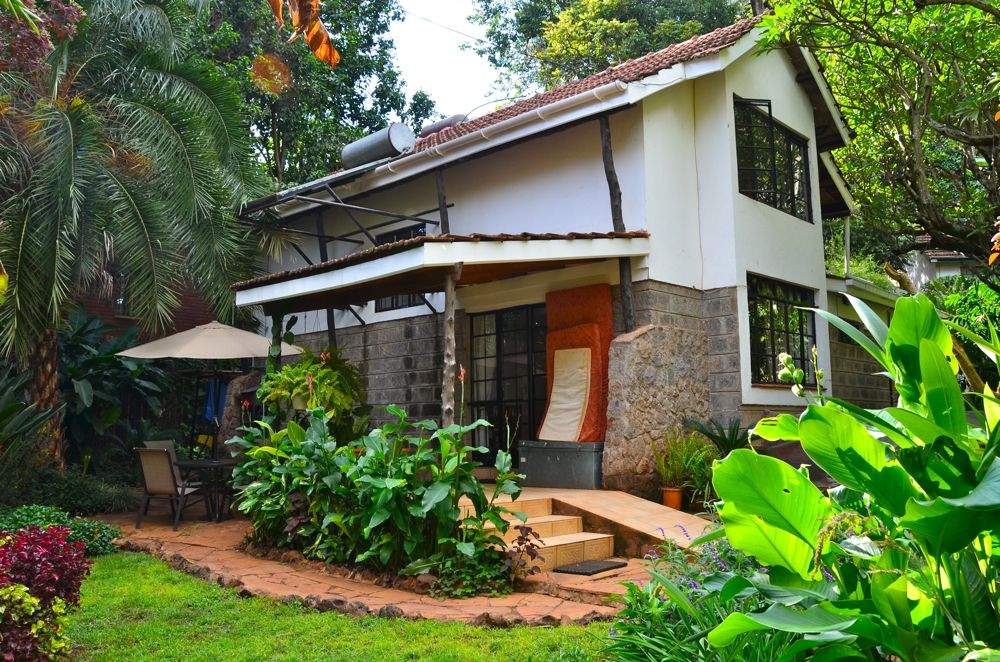 A large city like Nairobi is, of course, home to plenty of five-star hotels as well as more mid-range tourist places. There don't seem to be as many boutique hotels or homestays here, but I found a charming little guest house with four rooms, in the shady and more peaceful Westlands neighborhood. Miti Mingi, which means "many trees" in Kiswahili, is situated in a little oasis of a private garden, at the very end of a long residential road. The rooms are nice and comfortable, and you can sit at the lovely outdoor breakfast amidst 30 species of birds and gorgeous flowers. Modern amenities such as wi-fi are provided, there are a few restaurants within walking distance, and a taxi can easily take you to city center or nearby parts of Nairobi — while staying here keeps you out of the incredible traffic that permeates most areas of the city. ($42-120 per night)
In Mombasa, we stayed at the Lotus Hotel, which had rather basic rooms but a nice courtyard and decent food ($45-85 per night). There are cheaper places to stay, but my perception in Kenya is that guest houses or hostels under $40 per night rapidly decline in cleanliness and can even be somewhat sketchy. Of course, if you want the coastal experience, then head just outside the city limits to fairly economical beach resorts such as Bamburi Beach Hotel.
Help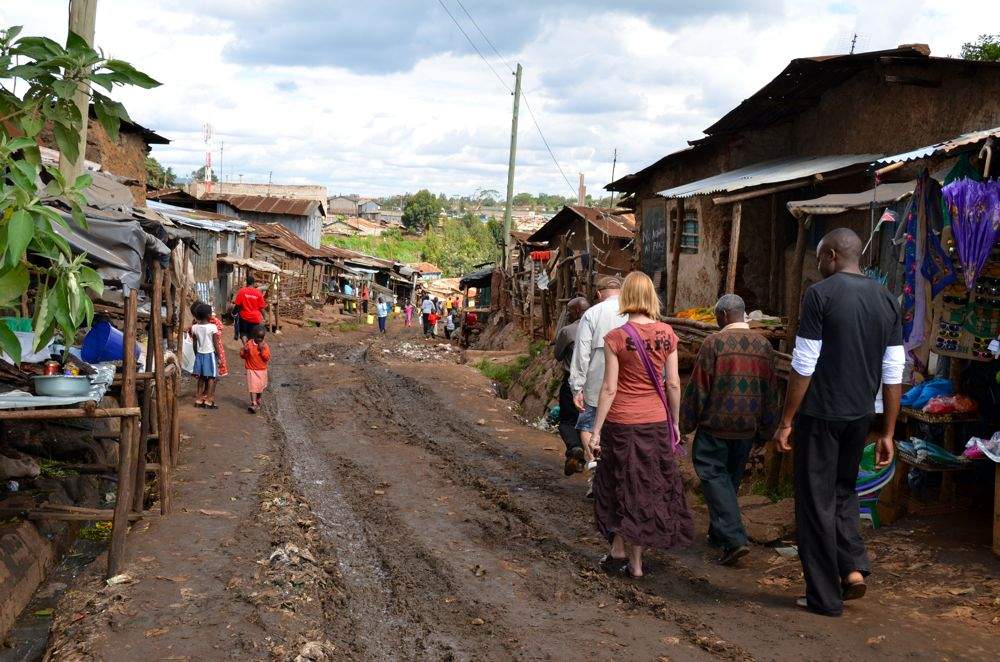 Chances are when you're in Nairobi, you will hear about the slums, the most "famous" of which is Kibera. It is the second largest slum in Africa and home to more than one million people, many of whom suffer from HIV/AIDS. In the midst of this incredibly sprawling, crowded, poor place sits the Havilla Children's Centre, run by Barnabas Mutua and assisted by a team of teachers, board members, and volunteers. Barnabas and the Havilla team focus on young children, with four classes that span from ages three to seven. The goal is that stable, steady early learning will set the stage for a full education; Havilla also provides two nourishing meals a day (often the only food for many of the students) and health care. Volunteers are always welcome, and needed, from teaching to simply playing with the children, or providing an outing or special event. Scholarships and donations of books and other supplies are always appreciated.
I can now stand before millions of people and shout to the whole world that despite all that I faced when I was young, I can as well make a big difference to many people who may feel as outcasts in this life.
About an hour north of Nairbobi is the St. Monica's Children Home, where 35 girls ranging from five years old to 17 live. These girls have no other home of their own, orphaned through death, abandonment, or poverty. Mrs. Gatome, the administrator of the home, sees to it that the girls of St. Monica's have a stable environment where their needs are met, and a quality education. When I volunteered for a week this year with Rocky Turner, who supports the home with her foundation Mothers Fighting for Others, I met a teenager named Sarah who impressed me greatly with her insight, intellect, and goals.
"At first I used to view this orphanage life as a punishment from God," Sarah told me. "I always felt isolated whenever I went to school where only one or two are orphans. Life to me was a real tragedy. But the MFFO volunteers add to us joy and happiness, and lay a bright ray of hope for us each time we get a chance to see them. I'm always very glad for anyone who lends a helping hand to people like orphans. I can now stand before millions of people and shout to the whole world that despite all that I faced when I was young, I can as well make a big difference to many people who may feel as outcasts in this life. I came to learn that we need not be satisfied with what we have since we were born to change our lives to be stars."
To read more from Shelley Seale, check out her author bio page.
Check out the following articles and resources for more about traveling to Kenya:

All photos are by Keith Hajovsky and may not be used without permission.