Wondering where to go in Provence France this summer?
If you've already considered popular vacation destinations such as Cannes, Nice or Marseille but are looking for more suggestions, how about a vacation in one of Provence's beautiful villages?
Below we have a round up of some of the most beautiful villages in Province to visit on day trips, or to spend a week-long vacation.
Moustiers Sainte Marie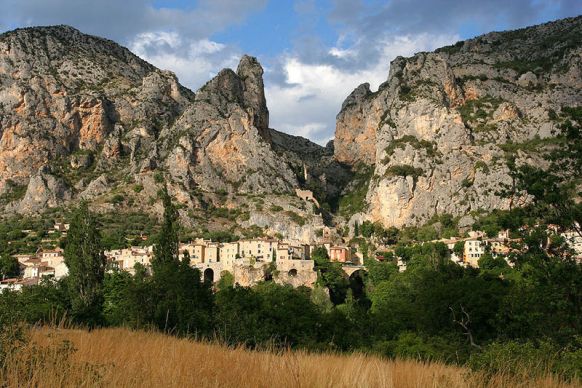 First on the list of most beautiful villages to visit in Provence France it is the village of Moustiers Sainte Marie.
Moustiers Sainte Marie, known for its pottery shops, it is only under two hours drive from the popular seaside town of Cannes along the stunning French Rivera (Cote d'Azur).
The beauty about Moustiers Sainte Marie, besides offering an excellent spot for a quite vacation retreat, is its beautiful location perched in the Verdon Canyons (Gorges du Verdon).
This makes Moustiers Sainte Marie an absolute haven for outdoors pursuits and recreational activities such as hiking and rock climbing.
The lakes nearby Moustiers Sainte Marie also offer a ton of water activities opportunities such as canoeing, swimming and surfing.
If you are not bringing your own gear, one of the best lakes to head for water activities is Sainte Croix Lake (Lac de Sainte-Croix) which is located 30 minutes drive south of Moustiers Sainte Marie.
Sainte Croix Lake is the largest lake in the area and boasts many rental facilities where you will be able to hire things like paddleboats and canoes.
Buis les Baronnies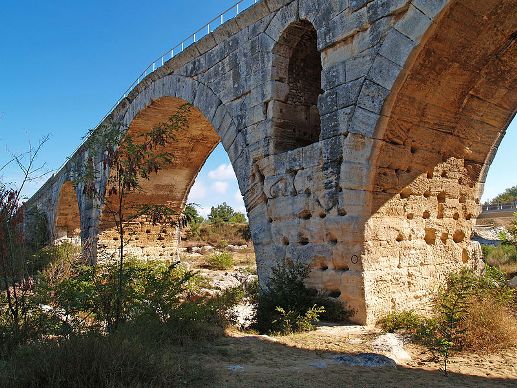 Buis les Baronnies is another stunning village to visit in Provence France that offers lots of things to see and do!
Buis les Baronnies is a lovely spot for a relaxing vacation and the best thing is that it is just a couple of hours drive from the major cities of Avignon and Montelimar.
The village of Buis les Baronnies is also located on a hill-top and boasts many sections of its medieval city walls intact, as well as tourist attractions such as the 17th century Roman Bridge, the former oil and water mills, the Ursuline Convent Hall and the Aromatic Garden House where you can purchase all kinds of herbs.
Besides exploring Buis les Baronnies, you will also be able to enjoy plenty of hiking opportunities from Buis les Baronnies, as well as adventurous sports such as mountain biking and climbing in nearby Rock St. Julien (Le Rocher Saint Julien).
Gordes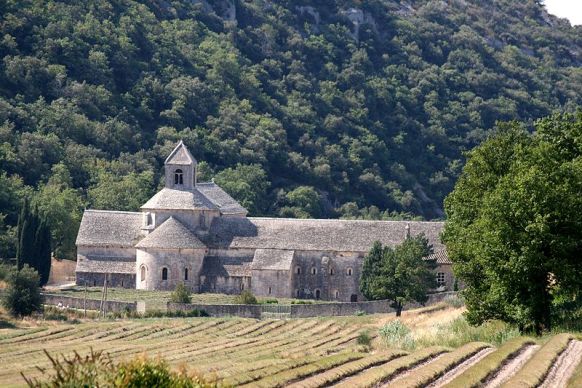 Gordes is without a doubt, one of the most beautiful villages to visit in Provence, and it's just under an hour's drive from Avignon.
The village of Gordes is located within the Luberon Mountains and it is known for its exceptionally beautiful and well preserved castle, which is home to the museum of Pol Mara.
The Pol Mara Museum is one of its kind, as it boasts Pol Mara's masterpieces such as Ovalifoliees and Alberto Libro.
While in Gordes, you also must visit the popular "Village de Bories", which is a village with a beautiful collection of dwellings built of stone; and Senanque Abbey which is a popular attraction in Gordes that you can't miss visiting as it is here where you can meet the popular Cistercian Monks who sell delicious lavender honey!
Fontaine de Vaucluse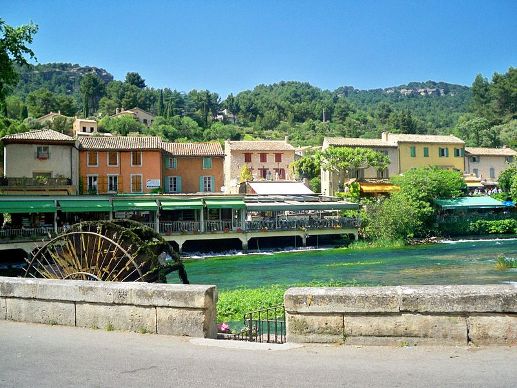 The village of Fontaine de Vaucluse is located twenty minutes drive west of Gordes and it's a must see if you're planning to be in the area.
Fontaine de Vaucluse is simply amazing as it is built around a spring, hence the name "Fontaine", which means natural spring in French.
Fontaine de Vaucluse boasts lots of points of interest such as a Roman canal, the castle ruins of Bishops of Cavaillon, the history museum and the blowing glass factory where you can see glass blowers at work using century-old glass blowing techniques.
Saint Paul de Vence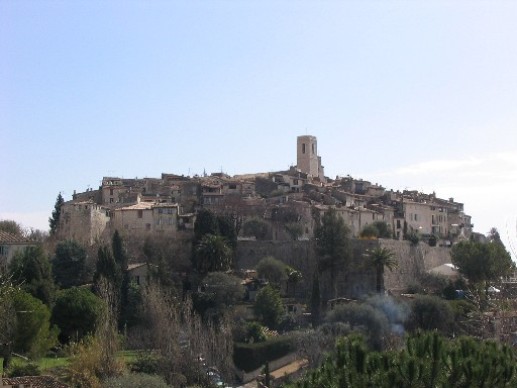 Saint Paul de Vence is located on the French Rivera and it is one of the oldest medieval villages you can visit in Provence France.
Saint Paul de Vence is truly a hidden gem in the region and being located a short drive from Nice and Cannes makes Saint Paul de Vence an ideal base for an inexpensive vacation in Cote d'Azur.
Saint Paul de Vence is surrounded by lovely scenery; while the village itself boasts narrow cobblestone streets, charming squares, ancient gateways and fountains, as well as a handful of interesting museums such as Fondation Maeght where you can see interesting contemporary artworks on display.
Bonnieux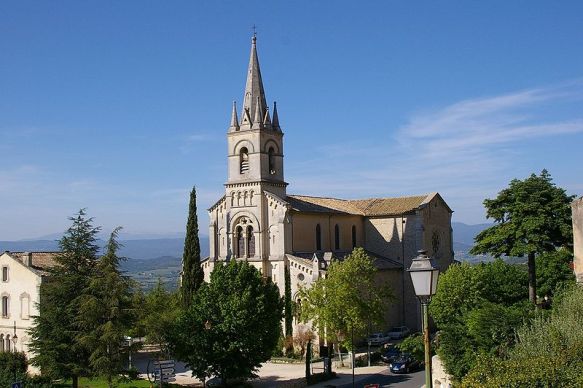 The village of Bonnieux is another gorgeous village to visit in Provence France located right in the heart of the Luberon valley, which boasts beautiful vast plains of country-side.
Bonnieux is located around thirty minutes drive from both Fontaine de Vaucluse and Gordes villages, and Bonnieux truly represents the quintessential of a French village.
Bonnieux is also perched atop a hill offering memorable views of the area around, as well as medieval streets and historic sites to visit such as the 15th century village church, and the Bakery Museum (Boulangerie Museum) where you can see the equipment and tools used for the production of bread and cereals back then.
Jodie Houston is a travel writer for MyTravelGuidePosts.com