I was serving as the volunteer president of Healing the Children when I first went to Nicaragua in November of 2000. I was invited to tour the northern part of the country with some medical people from the Organization of American States. In the organization's spirit of putting its money into taking care of children's needs rather than junkets for officers, I said I would go if I could pay my own way.
My life changes
Little did I know how cheap the trip would be, how much it would change my life, or what I would learn about opportunities in the country over a number of trips.
Having finished with meetings in Guatemala, I found the bus station in the capital and bought a ticket to "Nicaragua". No one seemed to know what route the bus would follow, or how far into the country I could go on the ticket. I wanted to go to Estelí, where I had a phone number and a contact, but I also knew some other people from the U.S. who had been invited on the trip, and who were staying at the Mercedes, across from the airport in Managua.
My ticket via El Salvador and Honduras on some nice buses (the first one equipped with a kitchen, as well as toilet and offering roomy seats with lots of leg room), was about $90.00, including a night in a decent hotel in San Salvador. The one negative was having to get up at 4:30 a.m. for the second leg of the journey. I did not need a wakeup call as diesel engines, a loud radio nearby and people talking had me up a few minutes early.
I was one of thirteen passengers that morning. Two minutes after we left the terminal, two attendants came on board with coffee and breakfast for everyone. With stops at the borders where we could change money, and slowed by the damage caused by Hurricane Mitch, it took ten hours and fifteen minutes to reach Managua. I was tired; I took a taxi to the Mercedes, where I found some of the rest of our small group.
That evening I met Janet Ray Weininger, who had organized the trip, Michael Marko, a freelance photographer, a doctor from Fergus Falls, Minnesota, who spoke Spanish well, and another medical mission organizer, as well as Nicaraguans trying to help the country get back on its feet.
With an early start the next morning, we drove up the Pan American Highway, which has been kept in pristine condition, to Sébaco, where we began to see Nicaraguan roads the way they really are. Breakfast was in Matagalpa. Although Janet had told us the road would get worse going further, we found most of it paved to San José de Bocay, where we stopped at the Five Star accommodation.
The Mercedes in Managua had been a Best Western costing about $65.00 for a room with the usual trimmings. The Five Star was a collection of rooms with walls about seven feet tall, stopping a couple of feet below the roof, one outdoor shower with no shower head and bitterly cold water, a sink with no mirror for shaving (but there was a mirror with no sink in my room). There were a few chairs in the courtyard, although none had four legs. We propped them up against trees and made do. All this for $2.00 per person a night, whether we had a single room or slept six to a room.
The weather was gorgeous; this was coffee and banana country. We needed no heat and no air conditioning, although when it rained, a couple of drops gave us the three-second warning that a deluge was coming. The town looked like the U.S. West in the 1870s; it offered one restaurant which had a reliable supply of gallo pinto, which we ate for breakfast lunch and dinner. They found a way to add eggs for breakfast, something else for lunch, and chicken for dinner, even though we had to supply the chicken fresh from a neighboring ranch.
We met the alcalde, combination mayor and administrator. We toured the hospital (no beds for patients or refrigeration for medicines). We talked with the doctors newly out of medical school serving their time in the rural areas. Then we drove to San Juan Awaswas. I saw the village name spelled three different ways on three signs. We toured the two-room school; the upper grades were in session in the afternoon.
Many local children could not attend school. There is no tuition, but children are "required" to wear uniforms, which cost about $3.00 in materials, if homemade. There is also a $2.00 charge per child per month for parents to handle. That is a tall order in a village where a family might eek out an income of a few dollars per day for a couple and a number of children. We handed out soaps, shampoo and school supplies. We wondered how much help these children get in such a remote area; where they can shop for things even if they had money.
I found out that a truck came through once a week to provide public transportation. Amazingly, the village had a health clinic; people for miles around had worked together to come up with $8,000.00 to buy land and build a building. The people were desperately poor, but willing to help themselves. The teacher was paid $31.00 a month; the salary often months late. Five years later, the pay tripled for some. Janet estimated that a class of forty children who could not afford the expense could be kept in school for $600.00 a year.
In Wiwilí, a bigger town, we sat over a lunch of beef, salsa, rice, fries and salad (soaked in iodized water for twenty minutes to kill the bacteria), and a Rojito, a red soda. We discussed such health problems as venereal diseases, vitamin deficiencies and diarrhea.
Several days later I was back in the U.S., not quite sure what to do next and soon distracted by other projects. However, I mulled over the problems for three years. As an individual I could do two things: put books into the hands of the people (for I had seen none in the homes, and only one title in the schools, a book on "moral government"), and start a sister school organization.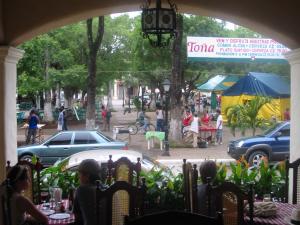 I began talking with friends in Santa Clarita. In January 2003, with the chair of the Modern Languages Department at a local college, and a student from the same school who spoke Spanish fluently, I flew to Managua. The next morning we relaxed in rocking chairs on the verandah of the Alhambra, on the main square of Granada.
Claudia, the professor, had called and e-mailed several people in the Ministry of Education. They lent us two trucks and two drivers provided that we pay for the drivers' expenses and fuel. We ordered bookcases and shopped for books. Soon we had a truckload of books (things were improving). While looking for places to distribute the books, we visited a fair, saw a bit of Granada, and a little of the depressing capital, Managua; it had been largely destroyed in a 1972 earthquake. The center of the city was a clearing – no "there".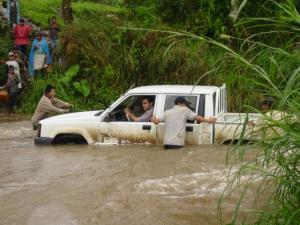 I wanted to take the group to San José de Bocay and San Juan Awaswas. The government did not know much about the area and the drivers had never been there. Nor did we make it on this trip. Our first truck got stuck in the Rio Cua. Although we managed to get it out with the help of a lot of Nicaraguans who happened to be there (our books and luggage were in the second truck), we knew that going further would not work – too much rain.
We spent a couple of days looking for situations where books would help. We found people interested in giving us pointers, including a future Minister of Culture. Yet some of our books wound up in Salinas de Nagualapa, which looked relatively rich to me. They had a school with twelve teachers and an adult literacy rate of 20%. The monthly budget for the school was well under $2,000.00; emphasis was on getting students to finish sixth grade.
While there, we visited Rancho Santana, a retirement touted in International Living. They were offering beautiful houses on the Pacific Ocean, with title insurance from U.S. firms for a pittance. The construction standards were high, but the roads were bad and the nearest medical care was an hour away in Rivas. I knew that with road improvement cutting the time for the eighteen-mile trip to town, the value of these houses would go higher. In the meantime, people living there would want their drivers to run most of the errands and take the cooks shopping.
Later in the year I was to return twice on medical missions. I found that for less than $400.00, a couple could hire a book, a maid, a gardener and a driver; the latter a man who would take care of all sorts of problems. I was told that a house and an income of $1,700.00 a month would allow a high standard of living.
The people had had enough of civil war. Children were being taught character building in the lower grades. Liberals and the Sandinistas agreed that retirees were welcome and could bring down their cars and belongings duty-free.
I had been responsible for an open-heart surgery mission to Ecuador (as a retired history and government teacher, I took care of the doctors and nurses while they saved children's lives). I used what knowledge I had putting together an eye surgery team – a piece of cake. I asked the best and they said yes. All I had to do was raise about $4,000.00 for the mission; included airfares, accommodation, meals, some local transportation and anesthesia. The government provided an operating room; two anesthesiologists worked with the primitive equipment available.
Our U.S.-Nicaraguan team did twenty or more cataract surgeries, some cornea transplants; at a cost of $150.00 to $180.00 per surgery. The children and the adults we treated had no money; helping them have a normal life was a privilege.
As the missions continued, we decided to go down early to see more of the country. One time we spent two nights at Montelimar, which had been Somoza's home on the Pacific until he was deposed. My single room, all inclusive (meals, drinks, entertainment, pool and beach), cost $73.00 a night. It was not as fancy as some of the Mexican resorts where we had family reunions, but less than half the cost. For those sharing, it was $46.00 a night per person in 2005.
Granada: by 2006 it was restored, offering people fine hospitality at a modest cost
Later I was to become better acquainted with Granada, and I could see noticeable improvements every time I went to visit; new accommodations and restaurants opening regularly. In 2006 I enjoyed the height of luxury at La Gran Francia at a corner of the plaza, a small accommodation where a room for one cost me $68.00; a fine meal $20.00 or less, including beverages. Two and a half blocks from city hall in the direction of the lake on the right hand side was the Cocibolca, a lovely place where a double room was $39.00.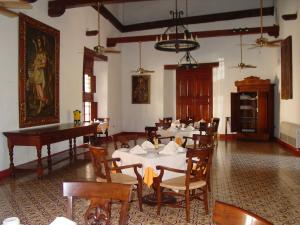 As we became more familiar with Nicaragua, we made many friends, people who were kind to us and very helpful to our patients. There is a vast social gap between the rich and the poor, but some of the rich really care about people.
In Sepember 2006, my eighth time in the country in six years, I felt we had really learned how to do a sister school program. We were given a list of poor schools by the Ministry of Education. We visited two of them, concentrating our efforts on Mombacho School near Granada. Frankly, I wanted to be able to put first timers to Nicaragua in a nice place, and show them the real third world an hour away.
Mombacho School was built a few years before by a Dutch student who organized a group of students to put up the buildings and start the school. It is a typical blue and white structure; four walls, a sink roof with great cross ventilation (no windows, just ornamental iron or brick work). There is no water on campus. Students wear shoes to avoid parasites. Food is cooked outside and served once a day – usually rice and beans.
The teachers do their lessons on white boards; the students write in their notebooks, which they furnish, along with pencils and pens. We provide books, materials for uniforms and treats. The law requires the children to wear uniforms, however, teachers do not enforce the rule, concentrating more on their education..
We found good contacts with a hospital, and followed up on recommendations from the Ministry of Education.
It will be places like Mombacho School and Estelí that will keep me coming back. If the rain is not too great, or a couple of bridges get built, I'll return to San José de Bocay and San Juan Awaswas. I long to sit under a tree on a three-legged plastic chair, and walk down the street for another meal of gallo pinto.