Founded in the early nineteenth century and running almost continuously ever since, the annual Oktoberfest in Munich is a glorious celebration of Germany's cherished beer culture. And what a culture it is. The southern German state of Bavaria is home to some of the finest lager known to man. Family-owned breweries have been making the good stuff here for hundreds of years, affording them plenty of time to perfect the recipe. Each year Oktoberfest is an opportunity to showcase their product to the world. It's the largest event of its kind anywhere on Earth, and every self-respecting beer lover is obliged to make the sacred pilgrimage at least once in their lifetime.
The only downside to this booze-fueled extravaganza is the price. For the unsuspecting tourist, a visit to Oktoberfest can easily turn in to a very expensive venture. Inflated prices for accommodation and food will take a large chunk out of your finances, and that's before you even factor your beer budget into the equation.
Hard up for cash and yearning to visit Beer Mecca? Don't despair. Take heed of these tips and tricks for doing Oktoberfest on the cheap, and you'll stretch your precious Euro that much further.
#1: Don't stay in Munich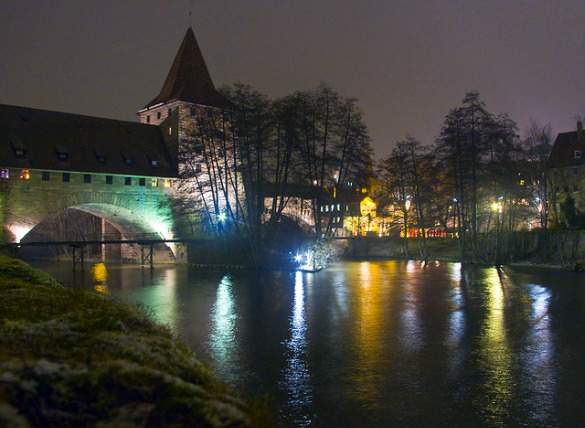 The ritzy Bavarian capital is the most expensive city in Germany at the best of times, and prices for everything skyrocket even further during Oktoberfest. There's a huge amount of money to be saved by staying in a cheaper nearby town and commuting to Oktoberfest and back each day. Germany has an excellent rail network and Munich can be reached from most nearby towns and cities in an hour or two. Some good places to consider are:
Nuremberg. Bavaria's second city, in the northern Franconia region, is a picturesque       metropolis situated along the Pegnitz river. It's a tourist attraction in its own right and there's    plenty to see and do here, especially if you're into castles and WW2 history. Nuremberg has a good selection of backpacker hostels.
Erlangen. Just north of Nuremberg, Erlangen is a lovely university town and a great place to experience a bit of student culture. It's also a major beer-producing area and hosts a "fest" of its own. There is a YHA hostel here.
Regensburg. One of the few German cities to survive the ravages of war intact, Regensburg     boasts a stunning medieval centre, now declared a UNESCO world heritage site. An ideal place to wander around for a day or two if you need a break from all that drinking.
Salzburg. Just over the border in next door Austria is another medieval eye-pleaser.    Surrounded by snowy peaks, Salzburg is a gateway to the Austrian Alps. Perfect if you're planning to hang around for the ski season.
#2: Travel on group train tickets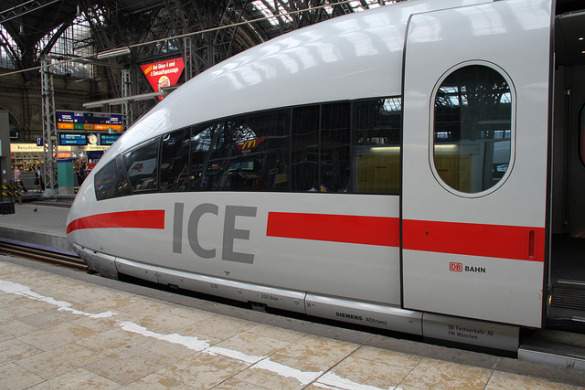 If you've opted to stay outside Munich and you're traveling with a friend or three, investigate the group train tickets offered by Deutsche Bahn (German Railways). There is a standard Bavaria Daily Ticket, for travel anywhere within the state for up to five people, which can be very economical if you split the cost. Even if you're not with a group of people, ask around at the train station and you'll likely find someone looking to share a ticket. Deutsche Bahn is always offering various specials and promotion tickets, so check out the website before you make your travel plans.
#3: Sleep at the station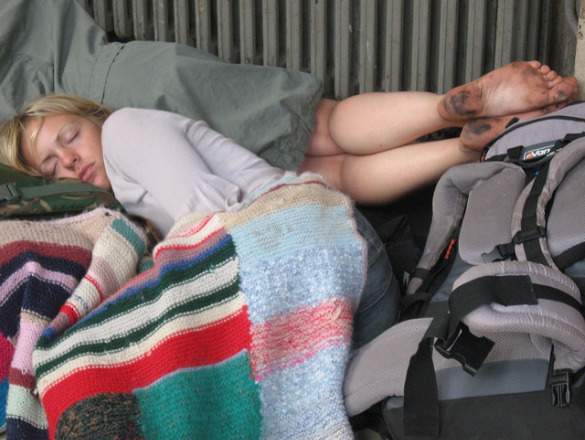 For the hardcore penny pincher, sleeping at the Munich central train station is a legitimate option. The station is walking distance (read: stumbling distance) from Oktoberfest. It's clean, safe and sleepers are tolerated by the security staff.  You won't be alone either. In fact if you arrive too late at night you'll be struggling to find an available floor space in amongst all the comatose bodies.
You'll be infinitely more comfortable if you have a few essentials like sleeping bag and mat, a toothbrush and a change of clothing. There are plenty of lockers at the station where you can stash all your gear during the day while you're at the festival. They aren't free unfortunately, but the few Euro they cost per day is a small fraction of the price of a Munich hostel bed.
#4: Bring your own food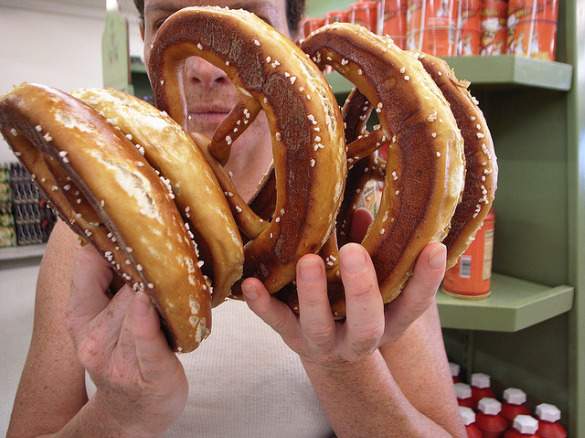 Oktoberfest is as much about the food as it is about the beer, and the experience isn't complete without sampling the hearty German fare on offer. There's nothing like tucking into a monstrously large plate of schnitzel or pork shoulder with mashed potatoes when you've got eight litres of beer inside you. However meals at the festival are not cheap at all, and you'll save a lot of money by stashing some snacks in your backpack and limiting the amount of food you purchase in the tents.
Bread and starchy carb-loaded foods are recommended for soaking up the excess booze in your gut and preventing and early departure from the festivities. If you are looking for a quick and inexpensive bite inside the festival, the Bretzeln (huge German pretzels) are always a winner.
#5: Have a few pre-drinks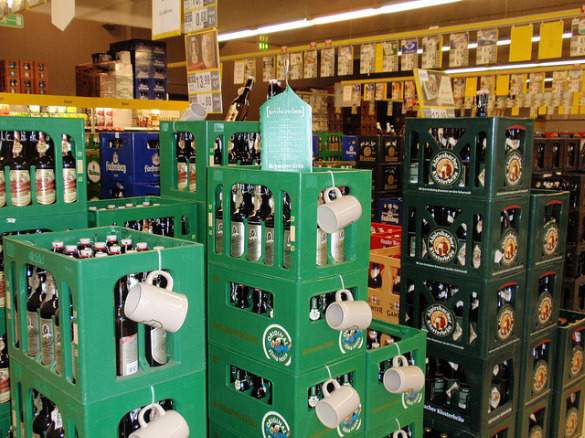 Germany is deservedly notorious for its liberal drinking laws, or rather, lack of drinking laws. Booze is sold and consumed just about everywhere, without any of the inane legal restrictions that blight most western countries. Drinking in public places is accepted and it's perfectly legal to loiter on the street with an open beer in hand. While a one litre mug of lager inside Oktoberfest costs around 8 euro, a half litre bottle of the same beer is only 60 or 70 cents in the supermarket. To save some cash and get the party spirit into full swing, grab a few travelers en route and have a little pre-Oktoberfest party outside the festival grounds. There'll be plenty of budget-conscious revelers hanging around doing the same thing and you'll probably make some new friends.
Things to remember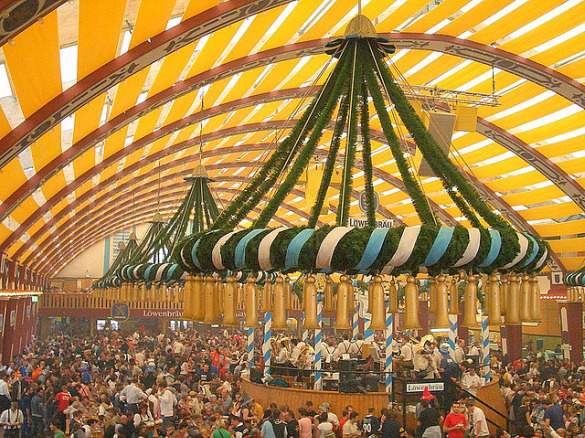 You need to arrive at Oktoberfest early. You will only be served beer if you have a seat inside one of the tents, and they are often completely full by 10a.m. Unfortunately if you're staying outside Munich this will probably mean getting up at the crack of dawn. Sleep on the train.
It's quieter on weekdays. If you're not a fan of insane bustling crowds and long, long lines for everything including toilets, definitely avoid Oktoberfest on the weekend if you can. It's still a rocking party from Monday to Friday with less hassle and better service.
Arrange a meeting place. There's scant mobile phone coverage inside the festival grounds,  and it's usually too loud to have a conversation anyway. Be sure to arrange a time and place to reunite in case you get separated from your friends in a drunken haze (and you probably will, at least once).
Some cheaper alternatives to Oktoberfest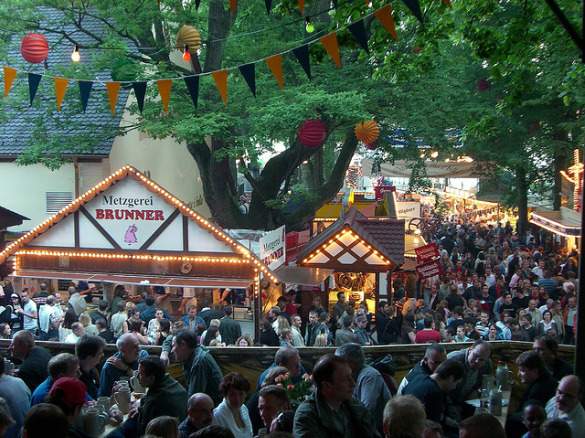 While Oktoberfest is the best known and most heavily-touristed Bavarian beer festival, (consequently also the most expensive), there are many similar events held in different parts of Bavaria throughout the year. Someone looking for a cheaper and more authentic experience might consider one of these festivals instead.
Bergkirchweih. Held in Erlangen every June, "Berg" briefly triples the population of this sleepy town and creates the biggest outdoor beer garden in Europe. It's like a smaller Oktoberfest in a much prettier setting, and the summer weather is a huge bonus. Once the festival finishes for the day, Erlangen's pubs and nightclubs kick on late into the night.
Gäubodenvolksfest. The second largest event on the Bavarian beer calendar, Gäuboden is a family-friendly affair with lots of rides for the kiddies and various cultural events. But there's still copious amounts of beer consumed, with breweries from the region presenting exclusive varieties that are not available commercially. This fest takes place in Straubing in August.
Annafest. Kicks off in late July in Forchheim, a quaint Franconian town near the Nuremberg  metropolitan area. In a similar vein to Berg, Annafest is a scenic outdoor beer festival which attracts huge numbers of visitors and transforms the host town for a couple of weeks. Highly recommended.
Photos by:  Michael Dawes, JuntoWorldwide, Kate B Dixon, Julian Bleeker, Velo abzug, StrudelMonkey, rcolonna