Canada's Cold War Secret
Buried beneath a quiet suburb of Ottawa, Ontario lies a relic of the Cold War. Until recently the town of Carp had a top-secret military base whose true purpose Canadians could only speculate about. With the end of the Cold War, the base was decommissioned in 1994 and the truth can now be told.
Carp's underground secret is the world's second largest bomb shelter: the Diefenbunker. (The largest bunker is in Cheyenne Mountain, Colorado.) Named after Prime Minister Diefenbaker, who commissioned it in 1959, the bunker was to serve as the official shelter of the Canadian government and key military and civil service personnel.
Okay, I know you're wondering why would Canada need a nuclear shelter? Well aside from the obvious reason that if the Americans have one, so should we, there's the fact that as a NATO member Canadian locations were targeted by the Soviets.
Fortunately, the Diefenbunker was never used for its purpose. Operational from 1961 to 1994, it is now maintained as a museum of the Cold War. The Diefenbunker is one of the only high-level shelters in the world that is open to the public to tour.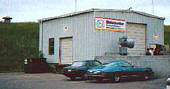 Seemingly, the Diefenbunker looks like a blasé parking lot and a garage (that's exactly what they wanted the Ruskies to think). But once inside it's anything but blasé.



In the event of a nuclear war the Prime Minister and key cabinet ministers would maintain the Canadian government from this location. Five hundred plus people could stay there for 30 days. Oddly enough, of that 500 none of them were family members. Even the Prime Minister could not bring his/her family. Presumably Canada's first family would just fry!
The bunker is four stories deep and 100,000 square feet. It cost at least a hundred million to build and maintain. The place really is an engineering marvel. On the tour they share a lot of the pioneering technology that made the bunker possible, but to be honest it was a lot of technical talk that at the time was interesting but later on I cannot remember. Seriously, it's cool how they built it and how it works!
Here's what I consider the main points of the tour:
BLAST TUNNEL
You descend to the bunker via the blast tunnel. The dark, damp tunnel provides an eerie start to the tour. Opening at both ends, it was designed to redirect the pressure of a blast away from the bunker itself.
DECONTAMINATION CHAMBER
In the event that a key someone did not make it into the bunker in time but survived the blast (yeah right!) this is where they scrubbed clean of any nuclear contamination.


WAR CABINET ROOM
Here's where the bigwigs (like me) would plan the next step for Canada post-apocalypse.



FEDERAL WARNING CENTRE
This is where all top-level communications would have been. If there was imminent bombings, they sounded sirens all across Canada. Sources both military and civilian from all over Canada and the world (including Cheyenne Mountain) would plot the destruction. They had some mock-up maps of Canada with fallout paths. I noted that Ontario had a lot of red lines over it, while Saskatchewan had almost none – so there is at least one good reason to live there!
CBC RADIO STUDIO
God forbid, that in the event of a nuclear war, Canada go without our beloved CBC (Canada's Broadcast Corporation). How would we survive without "Hockey Night in Canada"? Seriously, it would have been the only communication link for surviving Canadians.
LOCKDOWN ROOM
If anyone got a case of "cabin fever" and tried to pull a Shining, they were sent to this tiny prison to spend the remainder of their stay at the bunker. I would have just voted them off the bunker, like the Survivor bunch does.
BANK OF CANADA GOLD VAULT
A secret underground railway in Ottawa would bring Canada's gold stash from its vault at the Bank of Canada to the Diefenbunker. But if they were to protect what was of the most value to Canadians, it would be a big stash of Tim Horton's batter and the recipes to make more donuts!
PRIME MINISTER'S QUARTERS


Prime Minister's Quarters – it reminds me of my university dorm



Quite a contrast from the splendour of 24 Sussex, the Prime Minister would have to make do with very spartan quarters and a cot for a bed. The Prime Minister was one of only 2 people to merit a private bathroom. I guess that even in a nuclear holocaust it would be too unseemly for the Prime Minister to share a bathroom. After all, the Prime Minister must inspire leadership, something difficult to do if everyone can hear his bathroom "rumblings".
GOVERNOR GENERAL'S QUARTERS
This begs the question: in the event of a nuclear war, why the hell do you even need to save the Governor General? Please email me any suggestions on this, as the only reason I can think of is that the resulting destruction would mean we'd have to build all new shopping centres and we'd definitely need a Governor General to christen them.
HOME SHELTERS
The Canadian government tried to encourage Canadians to build shelters in their basements and backyards. The Diefenbunker hosts an exhibit on the few that were actually built. Surprisingly, they also explain how most of them were ineffective and would not have survived an attack or would have asphyxiated their occupants. I never knew that people actually built these until I met my wife's family. Her aunt has a bomb shelter in her basement. The only shelter it has actually given is to lawn furniture and other wayward junk.
REQUIEM
While the Diefenbunker remains as a folly of the Cold War, we in Canada are fortunate to have never experienced the horrors of nuclear warfare. However, an exhibit on the bombings of Hiroshima and Nagasaki shows quite powerfully that this was real.


Even if he wasn't allowed in, my father-in-law had to explore every nook and cranny, even though this almost got him kicked out!


The tour is fascinating and is one of the most enjoyable "historical" tours I've been on anywhere in the world. First, there's the great fun of exploring creepy subterranean mysteries. Secondly, the Diefenbunker provides an interesting glimpse into the hysteria of the Cold War in a contextual setting that really delivers the message.
Speaking of messages, back in the 1960's the locals of Carp had some idea what the location was for and they were not impressed. A local parson wrote a song of protest and I've included the final two verses.
So
when the time comes for World War Number Three
What a wonderful day in the Carp that will be;
We'll wave as our leaders drive in round the bend,
Then down to their Beautyrest beds they'll descend.

And
when the war's over and nobody's won,
And all the great cities are leveled and done,
The doors of the hole up in Carp will swing wide,
And out step the boys who went in there to hide
At 1,068sq. km, Ontario is Canada's second largest province. Our northern tip is parallel to Sweden, while our southern tip is parallel to California.
Ontario is 1,600 km east to west, half the span of the United States. So needless to say, seeing all of the province can take a lifetime.
Northern Ontario comprises most of the province and is, for the most part, wilderness. In summer, this means some of the best camping in the world. In winter, I wouldn't even think of going there.
Southern Ontario is where most people live. It's the industrial and financial heartland of the province (and Canada). Much of the cultural attractions are in this area.
Ottawa is the national capital and as such is the centre of Canada's political and cultural scene.
Toronto, the provincial capital, is North America's fourth largest city. With over 100 different ethnic groups, it is considered the world's most multicultural city.
Summer Drama Festivals
There's some great drama festivals running all summer, each with their unique spin. Toronto has Soulpepper performing classic theatre.
Stratford Festival presents predominantly Shakespeare, while Niagara-on-the-Lake has The Shaw Festival featuring the works of George Bernard Shaw and contemporaries.
The Blyth Festival in Blyth is the premiere festival for Canadian plays.
Here's a sample of some of the festivals occurring soon
Fergus
Highland Games and Scottish Festival – One of Canada's largest Scottish celebration. Features log tossing, highland fling, an evening tattoo, piping, Celtic music concerts and more. (Aug. 11-13)
Hamilton
Festival of Friends – Normally, I'd never recommend anyone go to hellhole Hamilton, but this is billed as the largest free showcase of all Canadian music and crafts. Sounds kickass! (Aug. 11-13).
Toronto
Altamira Free Opera Concert – the Canadian Opera Company offers a sample of their best talent and coming season's lineup. Presented in a fun and accessible manner, it really is a good show. (Aug. 15-17)
White River
Winnie's Hometown Festival
– Did you know Winnie the Pooh is Canadian? It's true. Originally, the bear was the mascot of a Canadian military troupe, the rest is a long story. Anyway this town now celebrates their Winnie connection with a family fun festival. (Aug.15-20)
Leamington

Tomato Festival – I just got back from a few days in Leamington. It really is the tomato capital of Canada. (Aug. 18-20)
Sudbury
Garlic Festival – If there's a tomato festival, why not a garlic festival? Though I have no idea what the connection is between this mining city and garlic? (Aug. 25-27)
---
Ontarians obsess over the weather. Come share our obsession and find out the climate of places like Wawa and Moosonee.
---
About Me
I suffer from a fatal case of wanderlust. I currently live in Toronto, but I am from Guelph, ON. I have also lived in Ottawa, Key West, Florida, and Stuttgart, Germany.
I also write travel articles for Canadian Geographic Online, plus keeping a day job as a web developer. See my portfolio for a good laugh.
---
Check out my past articles for some further weirdness…