For many people, visiting Thailand is a rite of passage. Slightly exotic, mostly comfortable, great weather, food, and friendly people – the perfect spot to dip your toe in the water on your first independent backpacking trip. For one reason or another, we'd never made the trip… until now. Tucked away down south we found some of the most beautiful beaches in the world.
Part of the reason we hadn't been was the reputation that as a tourist destination, the country was past its peak. A lot of islands and beach destinations that are currently promoted as 'undiscovered' (probably much to the amusement of the people living there) are described as "Thailand in the 70's" or "Koh Samui 20 years ago". The implication is that those once-pristine Thai islands are no longer worth the visit.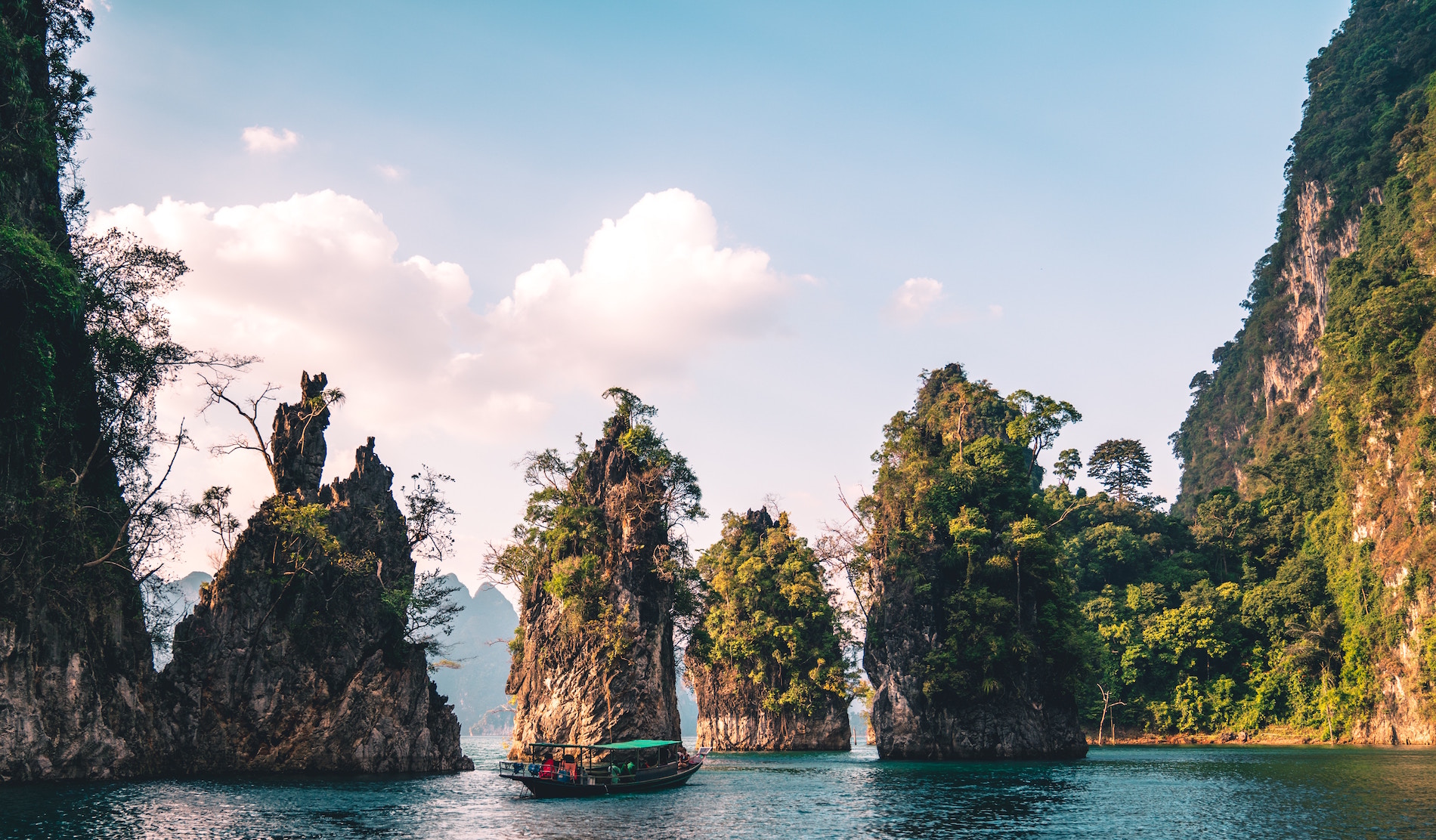 Photo by Colton Duke on Unsplash
Indeed, Maya Bay near Koh Phi Phi is the butt of many jokes that point out that the setting of the idyllic, isolated paradise escape in "The Beach" is now so overrun with tourists in speedboats brandishing selfie-sticks that they have to close the cove to let it recover from pollution and overuse.
Fortunately, Thailand is a huge, diverse country with a wide enough variety of attractions to interest just about anyone – it really depends on what you're looking for. As first-time visitors, we wanted to experience Thailand's famous beaches, warm turquoise water, laid-back hospitality and delicious food. At the same time, we wanted to avoid overdeveloped, seedy towns and beaches crowded with touts, jetskis and gacked teens slurping from buckets.
Just slightly further south of the main tourist trail, our expectations were blown away. For those looking for a low-key island holiday featuring some of the most gorgeous beaches on the planet, Thailand still packs a punch. This is the story of our journey and a guide to a couple of our new favorite places.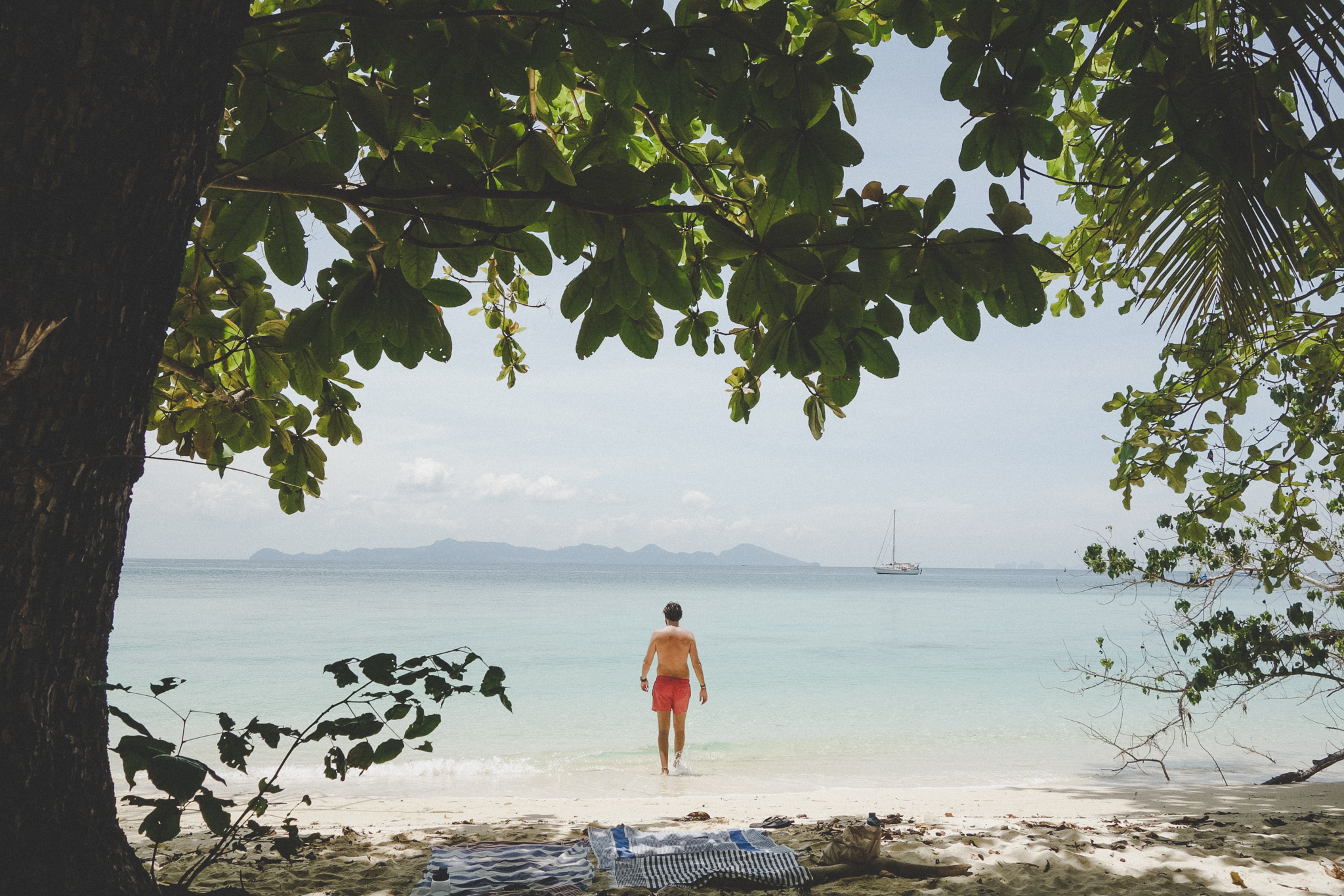 We narrowed down our search for an island to the Andaman Sea, which is known for warm, calm water that glitters in a range of colors from deep blue turquoise to bright emerald green. The Andaman Sea is home to some of Thailand's best-known beach destinations including Phuket, Koh Phi Phi, Krabi and Koh Lipe, but we decided to check out Koh Muk and Koh Kradan, as well as the southern tip of Koh Lanta.
Our journey started in Trang, a hot dusty town famous for its night markets and roast pork. There are regular domestic flights to Trang from Bangkok, as well as international flights into nearby Krabi airport. We opted for the overnight train from Bangkok, which delivered us into town shortly after eight in the morning. After a quick breakfast, we hopped on a van that took us to a jetty around an hour and a half away, where we transferred onto a local longtail boat for the final leg to the island.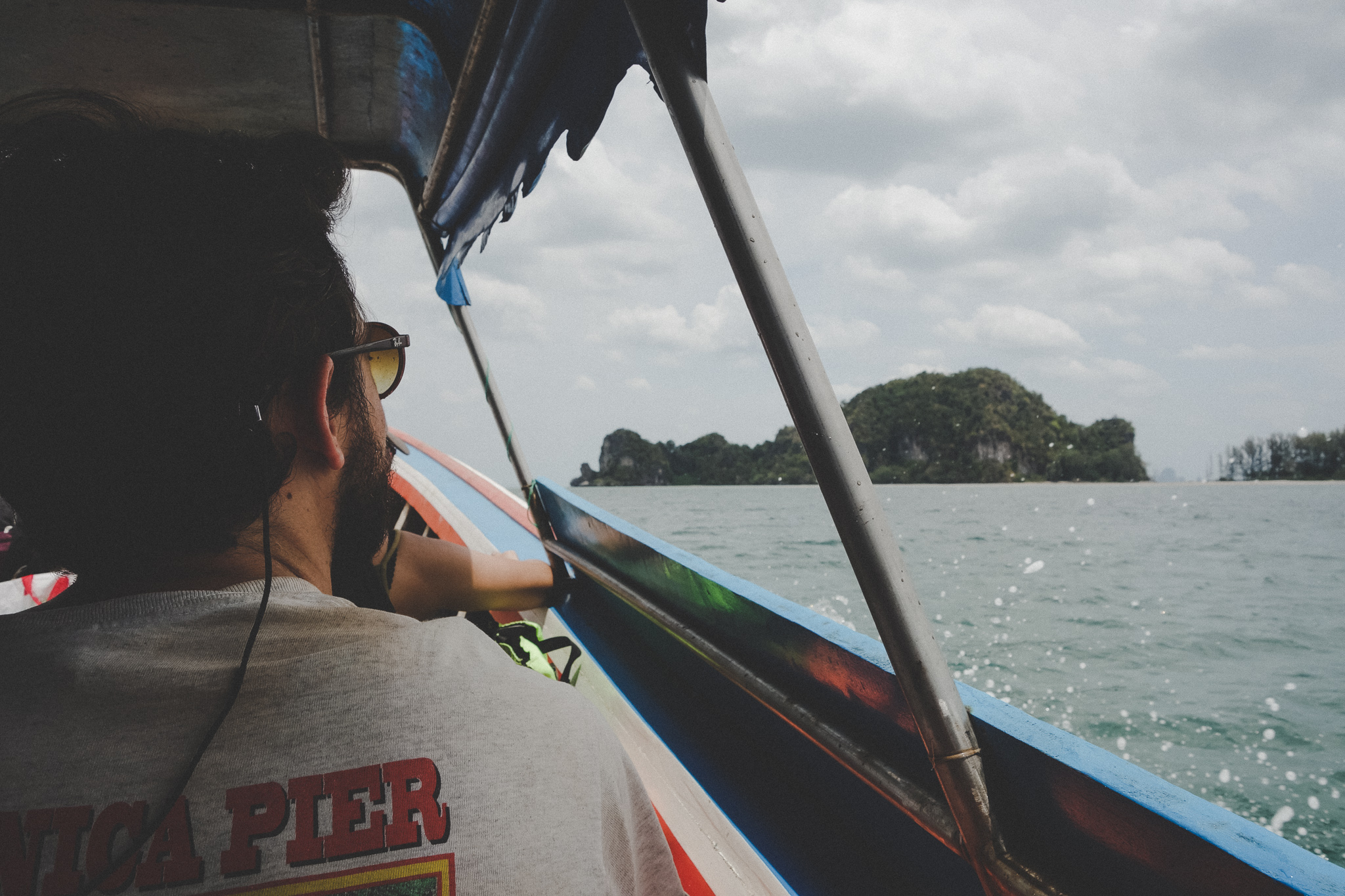 Koh Muk (also called Ko Mook) is a relatively small island that hosts a mostly Muslim population who aside from tourism, are primarily engaged with fishing activities and rubber plantations. There are no large vehicles on the island; its single paved road is used by motorbikes and 'rot saelang' (motorbikes with home-made sidecars). There are no ATM's on the island, and although it now enjoys 24-hour electricity, blackouts are common. It takes about 45 minutes to walk to the 2km route from one coast to the other.
There're a number of small, local restaurants that serve up Southern Thailand's famously spicy cuisine, as well as a handful of hotels that offer decent western fare. There are also a couple of quirky jungle bars, though most of the drinking gets done watching the mesmerizing sunsets over the beach.
It was Hannah's birthday so we splashed out a little and stayed at the immaculate Mook Lamai Resort. Located a short walk from the main village, they are highly rated for their impeccable service and friendly staff. We opted for a raised bungalow overlooking the jungle, a perfect little tree house with a huge comfy bed and outdoor shower. It is one of the best rooms we've ever stayed in, and from breakfast in bed to a big birthday cake, the staff made it an unforgettable experience.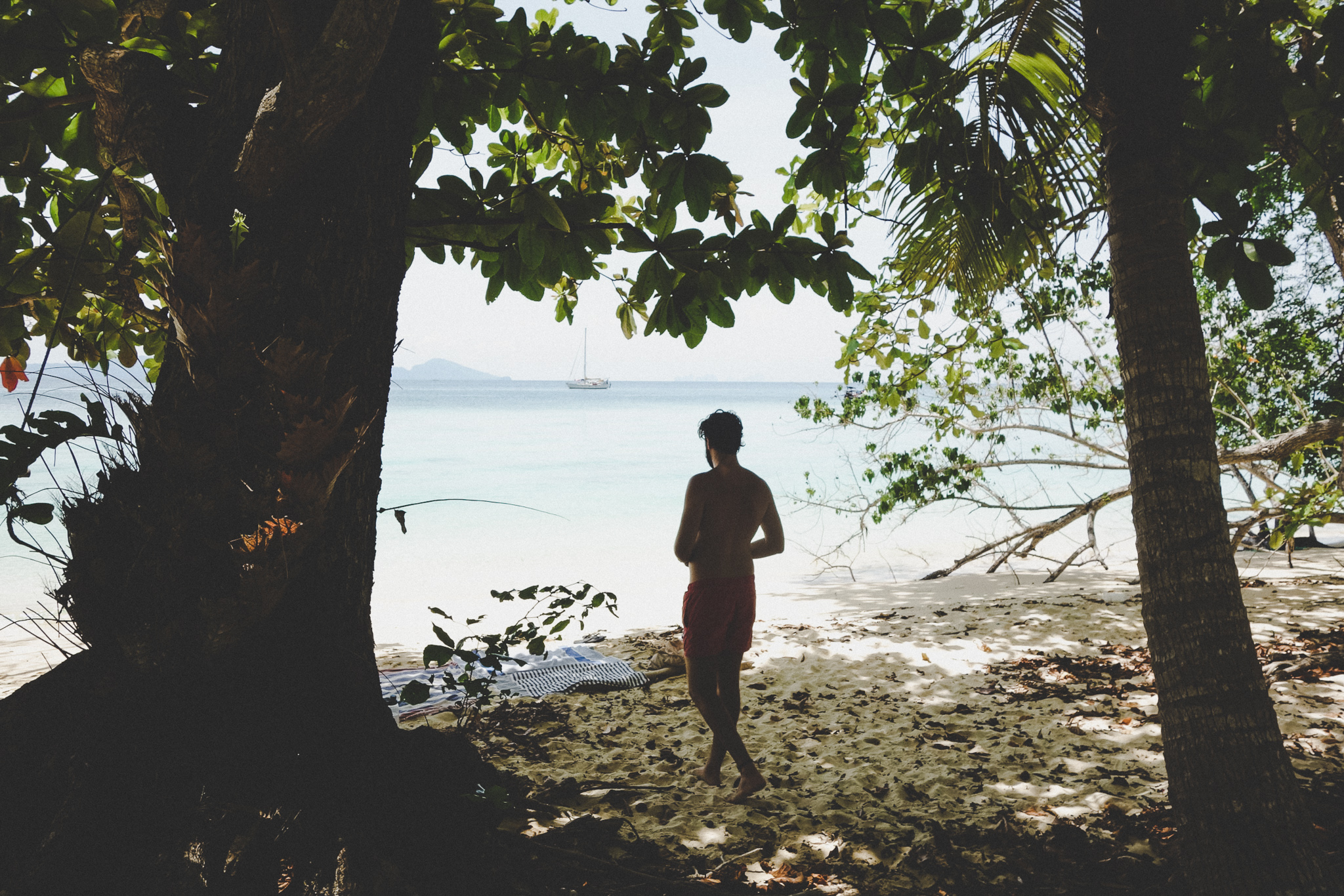 Koh Muk is best-known for Tham Morakot, a hidden beach only accessible via water through a long, dark cave concealed at the bottom of a massive limestone karst jutting out from the ocean. Also known as Emerald Cave, legend has it that it was once used by pirates to hide treasure. Frequented by day-trippers between the hours of 9 and 3, one of the advantages of staying on Koh Muk is being able to experience the wonder of this majestic place in peace and quiet.
We rented a kayak from the beach and paddled out to the cave entrance ourselves, a fairly easy 30-minute journey running perpendicular to Haad Farang (aka Sunset Beach). We set off at about 3 pm and reached the mouth of the cave, a small opening in the cliff about six feet high. We put on our headlamps and nervously nosed the kayak into the dark. We paddled for about 100m in pitch-blackness before coming across a bright beam of sunlight that signaled the exit.
We emerged into one of the most spectacular places I've ever had the privilege of visiting. Surrounded on all sides by 50m high cliffs were a small beach, lagoon, and patch of jungle no bigger than a football field. It was a beach sanctuary hidden in an island, a snug slice of paradise so spectacular that superlatives are rendered useless and inadequate.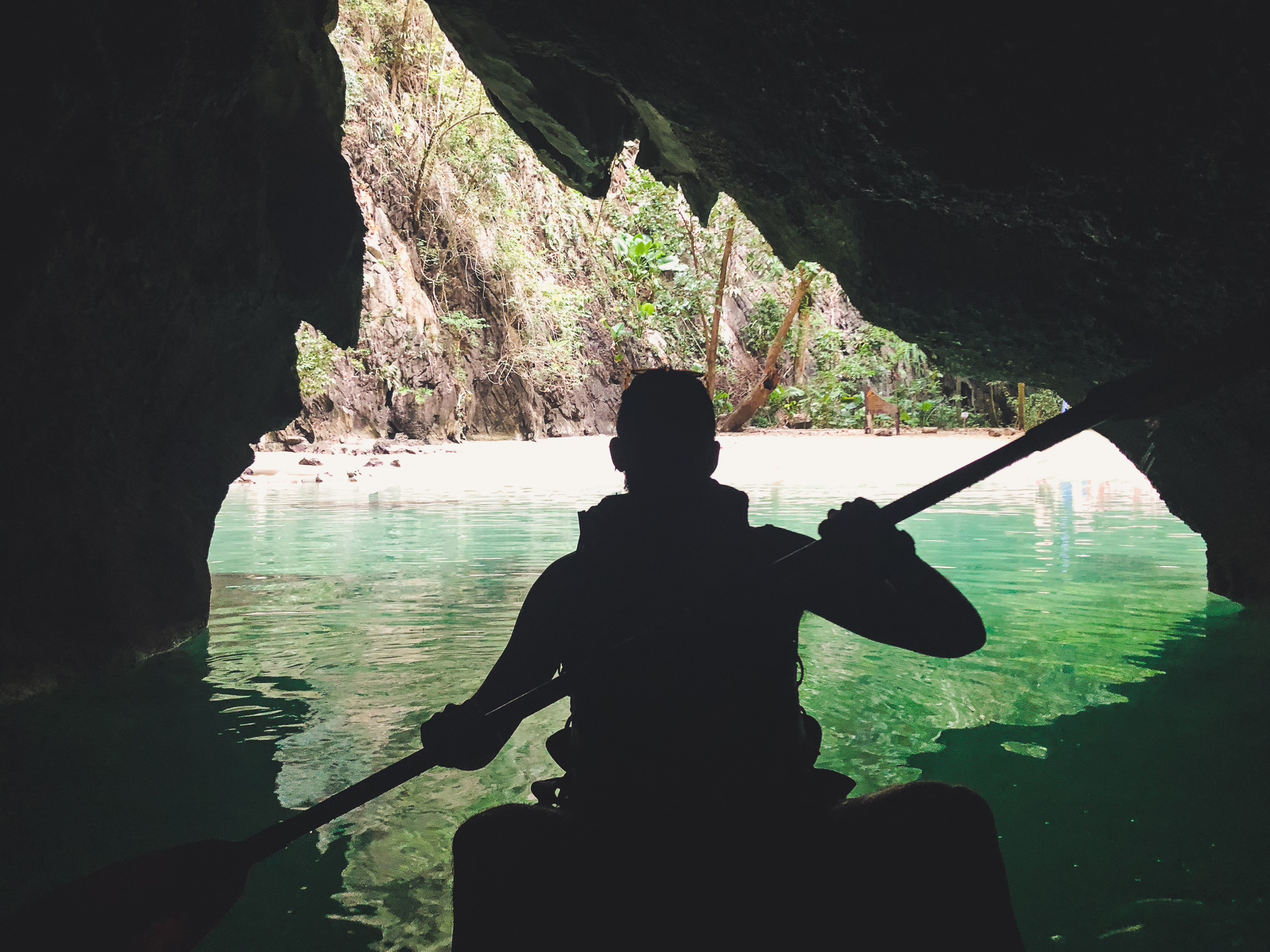 We spent an hour there bathing in the clear water, listening to the sounds of waves pounding against the thick rock walls on the other side of the cave. There were just a handful of other people coming and going in reverent awe as if any sudden movement might burst the oasis and snap us all back to reality. For a while, we had the cave to ourselves and could hear or see nothing of the outside world.
The kayak trip back to shore was a little more difficult as we were paddling into the wind, so we enjoyed a well-earned beer on the beach as we watched the sunset over the water and giddily discussed the Emerald Cave.
The next night we waited until it got dark and at about 7 pm hopped onto a small fishing boat. We exchanged nervous glances as we putted off into the darkness; the sea was calm but the sky was not, and it looked like we were the only boat on the water as lightning flashed and thunder boomed across the sky. It was just us on the boat with a couple of crew, none of whom spoke English, and it was so dark that from our seats at the front all we could see of the captain were the ruby glowing embers of his self-rolled cigarette.
After 40 minutes of puttering through the storm, we arrived once again at the entrance to Emerald Cave, the gaping black hole looking significantly more menacing in the dark. We put on life jackets and followed our young guide overboard and into the inky night ocean. He had the only torch and we quickly lost sight of the boat as the three of us swam toward the opening in the cliff. We immediately noticed the most magical thing; the water around us lit up with every movement we made. It was absolutely full of iridescent plankton, the famed bioluminescence that lights up the pitch-black water.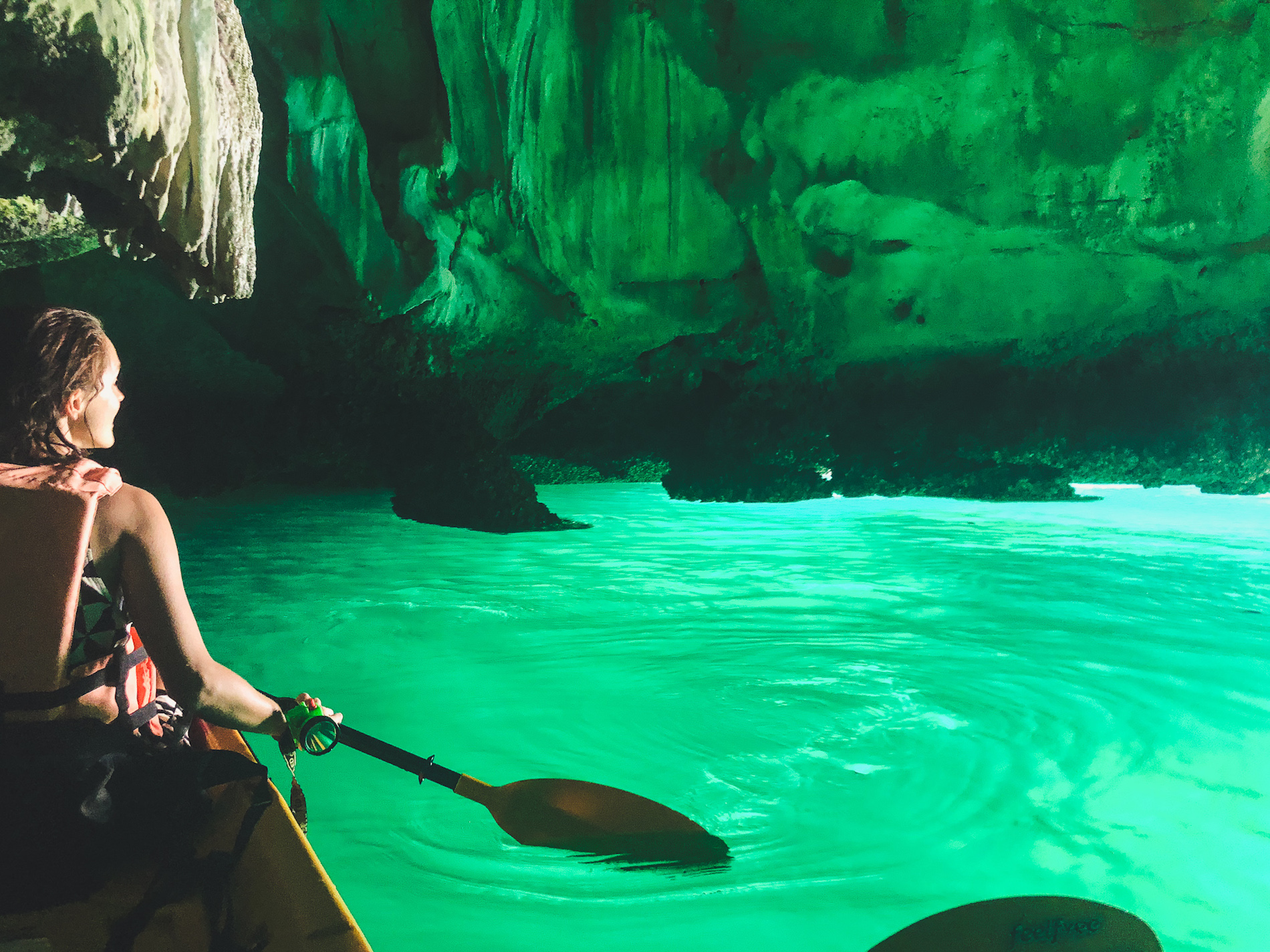 Every stroke we swam produced a kaleidoscopic explosion of light, like a thousand shooting stars beneath the surface of the sea. We splashed delightedly while trying not to lose sight of our guide. The effect was magnified as we entered the murky cave. Deprived of all other senses and sources of light, we felt alone in an enchanted alien world; an underwater solar system. After what seemed like hours but was in truth only minutes, we emerged into the deserted beach lagoon. Tham Morakot is even more extraordinary at night and we couldn't believe that we had it all to ourselves – a magical, surreal experience that will stay with us forever.
After a few dreamlike days on Koh Muk, we made the move a few kilometers across the water to the even smaller island of Koh Kradan. This island has even less infrastructure, no roads and only a handful of resorts and guesthouses. It attracts hundreds of day-trippers to its superb coral reefs; the advantage of staying on the island is that they are almost deserted in the mornings and afternoons.
We stayed at a ramshackle old jungle compound known as "Paradise Lost", just a short walk over the hill from sunset beach. It was made up of tiny wooden bungalows, a single dorm and shared bathrooms. They had a generator but no Wi-Fi and no phone reception. It was a great place to unwind and disconnect from the world. The days spent on Koh Kradan all blur into a languid haze of swinging hammocks, delicious Thai curries, and ice-cold Chang beers.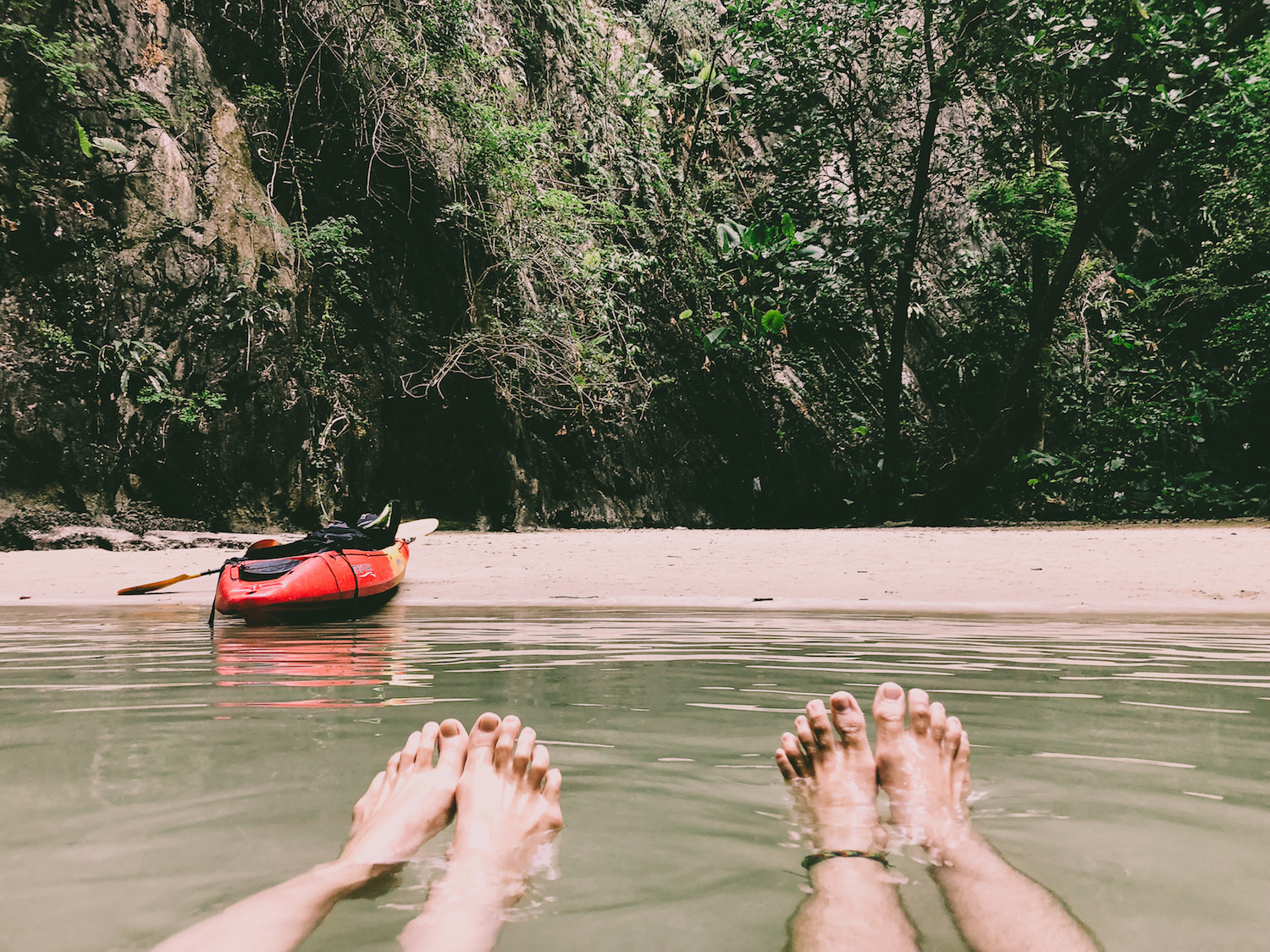 We would snorkel the reef in the morning and escape to a deserted beach when the day-trippers arrived. There were kilometers of coral to explore; the reef seemed relatively healthy and teeming with life. We would read an entire book in a day. We strolled around the island following the sun and inevitably ended up watching the sun go down at sunset beach with the twenty or so other travelers staying across the island. After dinner, we'd walk back across the dunes to the now empty sunset beach and go skinny-dipping the dark, ecstatic to find that the luminous plankton were present here too and that it still seemed to be a secret.
A week went by and we eventually ran out of cash – there were no ATM's here either and the lack of hard currency prevented us from staying any longer. We reluctantly packed up our bags and trudged back through the jungle to the main beach, where a boat would pull up in the sand and whisk us back to civilization.
We ended up on Koh Lanta where we stocked up on cash and then headed for the southern tip of the island to a little spot named Ao Mai Pai (aka Bamboo Bay). We eased ourselves back into reality here on another magnificent beach surrounded by steep cliffs and jungle. We stayed in a nice rustic cabin overlooking the ocean at Baan Phu Lae, this one with a private bathroom and hammock on the balcony. The food was excellent and I ate my bodyweight in Massaman curry over the next week. While in Sri Lanka we'd heard gushing tales of Thailand's beautiful north, so we eventually tore ourselves away from the beach for a flight to Chiang Mai, but not before falling head over heels in love with what is still a spellbinding part of the world.
Maybe it was slightly tempered expectations or the fact that we traveled in April when the crowds have dispersed but the weather was still phenomenal, or that we just lucked out and found a couple of perfect spots. Whatever it was, Thailand's Trang peninsula absolutely blew us away, and I was so grateful to finally experience the magic that inspired Alex Garland and millions of other disciples of the sand, the sun and the sea. The idea of the perfect beach may not exist in any single location, but it certainly can be captured in a particular place, at a particular moment in time… you'll know it when you find it, sitting under the palm trees, at peace with the world.