Traveling to Paris?
It's been labelled the most beautiful, romantic, fashionable, cultural, artistic, delicious, and expensive city in the world. Where do you start? For a city that's been stereotyped so much over time, it really is about throwing yourself right in, being willing to walk (a lot!), and being open to everything from the mundane baguette shopping each morning, to discovering a new perspective to the Louvre, to getting into a secret dinner or wine cave. That's the best way to experience a city like this, and to let it change something inside of you forever.
Paris Seasons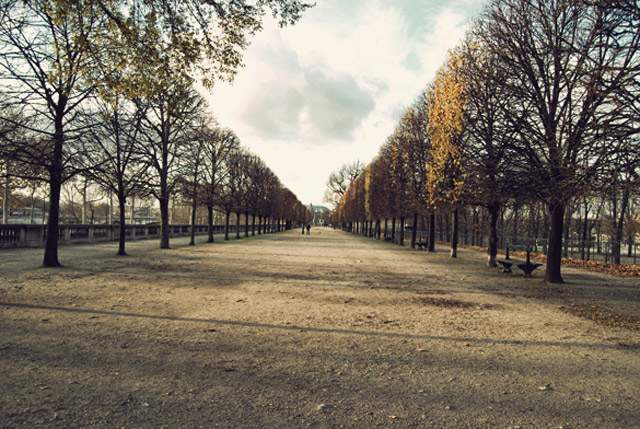 Mild and moderately wet, Paris' yearly average temperature is just under 55F (12 C), going below 32F (0C) in winter and over 85F (30C) in the summer.
Spring (Mar- May) is when Paris is beautifully colourful and alive, but expensive and crowded.
Summer (Jun-Aug) is when locals leave the city for visitors, encouraging festivals, events, and a hike in prices.
Fall (Sept- Nov) is when prices dip, locals return to business, but outdoor activities draw to a close as the nights turn dark and cold.
Winter (Dec- Feb) is perpetually rainy and cold with short days, but it's also a magical time as Paris lights up beautifully for the festivities and prices remain low.
Accommodation in Paris
Where to stay in Paris really depends on your budget and interests. The city is divided into arrondissements that spiral outwards, numbered 1 through 20, 1 being the richest and oldest and 20 being the cheapest and newest. This also means most attractions, monuments, museums, etc. are in the center, and a bohemian melting pot of new age culture at the fringes. Paris is just full of accommodation options from the bare-boned to the ultra luxe. For the indie traveler, there are a host of budget options depending on your budget and the kind of experience you want.
[social]
Hostels– The cheapest option (as low as 17 Euros), hostels are a great pick if you're all about sharing space and staying out for most of the day. Pick from dorms or private rooms, but chip in at the communal kitchens. You get to meet some cool fellow backpackers and travelers, swap travel stories and recommendations, enjoy cultural exchanges, but it also means you have to put up with the not so cool ones as well.
Boutique hotels– Pricier than hostels, (start at 45 Euros) but you get to enjoy the luxuries of a hotel without the big prices or frills. Some of them are even housed in quaint century buildings. (Visit Boutique Hotels in Paris and My Boutique Hotel)
Apartments– More appropriate for long stays, rentals are usually priced by the week or month. You end up making great savings, enjoy a large space with all the amenities, and get a real sense of feeling like a local with Parisian neighbours, bakers, and grocers to interact with.
Getting around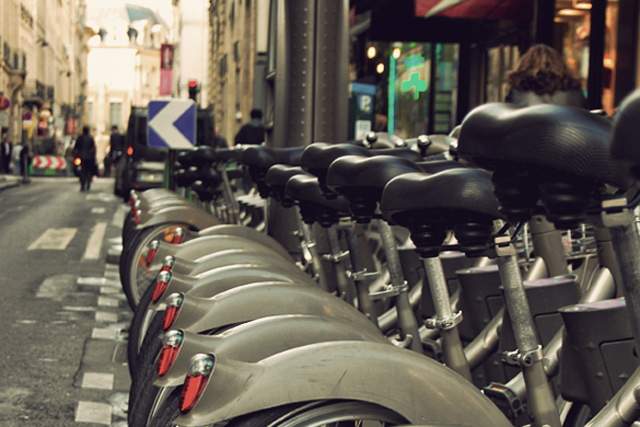 Paris is surprisingly easy for an outsider to get around. There are options to suit every budget. All you have to do is read this and you're set!
The Metro network is very well connected, and you're never more than a couple of blocks away from a station. Detailed route maps all over the station help you find your train/direction very easily. Pick from a single ticket (valid for one journey), Carnet (booklet of 10 tickets), Day ticket (unlimited rides for a day), Carte Visite (Valid for 1, 2, 3, 5 days for different zones) and the Pass Navigo Decouverte (unlimited 7 day validity card, can be recharged) Depending on how long you're staying, I'd recommend the Pass Navigo Decouverte for long stays, and the Carnet for shorter stays.
The RER are faster trains with fewer stops that go further outside of the city. Great for going to places like the CDG Airport amd Disneyland. Ticket Mobilis, Carte Paris Visite, and Pass Navigo Decouverte are valid on the RER depending on the zone fares paid.
The bus service that runs from 5:30am to midnight is a brilliantly scenic way to see Paris, especially for making unscheduled stops on the way since you can hop on and off. There's also a night bus called the Noctilien that is a must- do, cheaper version to a bus tour.
Find detailed information on the Metro, RER and the Bus on Parisbytrain and on the RATP site.
Batobus is a slow paced way to get around that still oozes a certain old world charm. Since the Seine pretty much runs through the centre of Paris, the river is a great way to get across the city without traffic. With 8 stops along its length, the boat timings and frequencies change with the season. There are a wide range of passes available for 1, 2, 5 days and a year. Try and do at least a day, to get a riverway perspective on the city.
Velibs truly make Paris a cyclist's city. With bikes available on rent at docking stations across the city, all you have to do is get a card, and once you swipe it, the bike is released. With the first 30 minutes free, an additional 15 minutes if the docking station is full, it's a quick, cheap, and energy efficient way to get around. (If you can cycle, know your way around and can handle Parisian traffic, that is.)
Taxis in Paris are slightly expensive, but the drivers are always polite, the ride always comfortable, just beware of rush hour traffic though. The starting charge is 2.40Euro and the minimum taxi fare is 6.40, after which each km costs from 0.96 to 1.47 depending on the zone and time of day.
Itineraries and budgets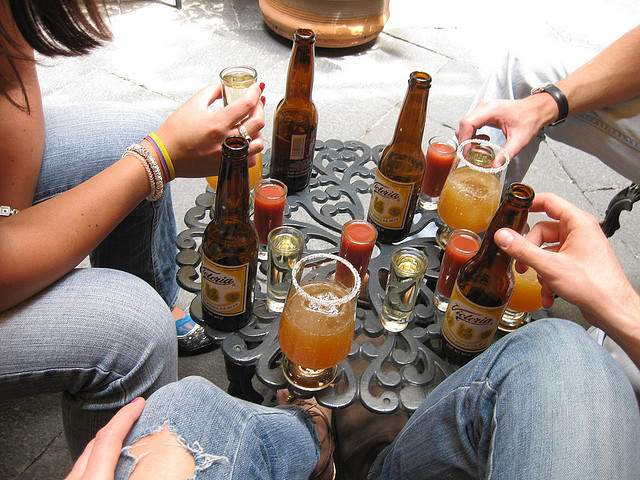 Paris is undoubtedly expensive, but you can make your budget do more with a few smart decisions.
The Paris Museum Pass is a great idea if you are planning to visit a whole lot of museums in a short span of time. The pass, available for 2, 4, or 6 consecutive days, turns out cheaper than paying the entry price at each museum and also saves you from standing in long queues at most museums.
The Paris Pass, however; isn't such a great idea for an indie traveler because it's more of a sightseeing package with museums, attractions, bus tours, guidebooks, and more thrown in. You end up just "doing" the major sights on a tight schedule as opposed to actually taking it all in and spending more time wherever you want to.
While planning out your itinerary, it's important to find out which days museums and other attractions are shut or which days they're free. The free days usually mean long lines, and you need to get there really early or not at all. Keep a back-up of where you can go if something doesn't work out, be realistic about the number of things you can do in a day, remember, while it's great to walk around Paris, you can get sidetracked very often, so even if places you want to visit are really close to each other, it doesn't necessarily mean you can visit them all in a day.
Food in Paris can seem gourmet even if it's the cheapest.  Pop into a bakery and grab a baguette and some cold cuts for a quick snack or lunch. Stand at the cafe counter and have your coffee for cheaper than you would at a table.
Paris attractions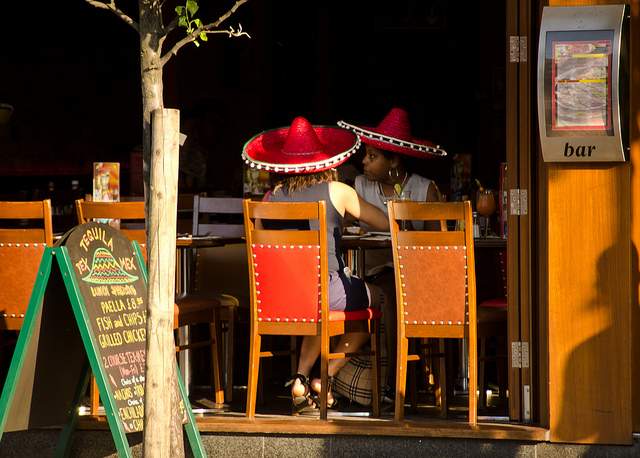 Museums that house some of the most celebrated alongside some of the most secret begin with the grand Louvre (skip the crowd around the Mona Lisa, just turn your back and admire the gigantic yet detailed Wedding at Cana instead), Musee d'Orsay, Centre Pompidou, Musee Rodin, Musée National du Moyen Âge (Thermes & Hotel de Cluny), Sainte-Chapelle, Panthéon to only name a few.
Monuments range from the iconic Eiffel tower (especially at night when it's illuminated and twinkling every hour), the Notre Dame Cathedral, Hotel de Ville, Bastille Column, Arc de Triomphe, and so many more.
Parks and Gardens like the Park André Citroën, Jardin des Tuileries, Jardin du Luxembourg, Parc Monceau, Square Willette (in front of Sacre-Coeur), and Jardin des Plantes, and Parc des Buttes Chaumont are a must visit. Buy some cuts and baguettes from a neighboring Boulangerie and have a picnic.
Cemeteries in Paris are popular attractions too, what with world famous celebrities like Oscar Wilde and Jim Morrison buried at the Pere Lachaise, Edgar Degas and Francois Truffaut at the Montmartre Cemetery, and Jean Paul Sartre and Andre Citroen at the Montparnasse Cemetery.
Homes and workspaces of great contributors are veritable monuments as well. Crawl through Maison de Balzac, Maison de Victor Hugo, and Musee Curie. Alternately, you could attend a book reading or just sit and read at Shakespeare & Co. or attend a free seminar at the College de France.
Learn cooking from the best at one of Paris' gourmet schools where you can even do a one day course. Check out Le Cordon Bleuhere and also check out Le Notre and La Cuisine.
Day trips from Paris are worth the distance to ogle at the opulent Chateau de Versailles, or if there's a kid somewhere within you, Euro Disney's the way to go.
Things to do for free in Paris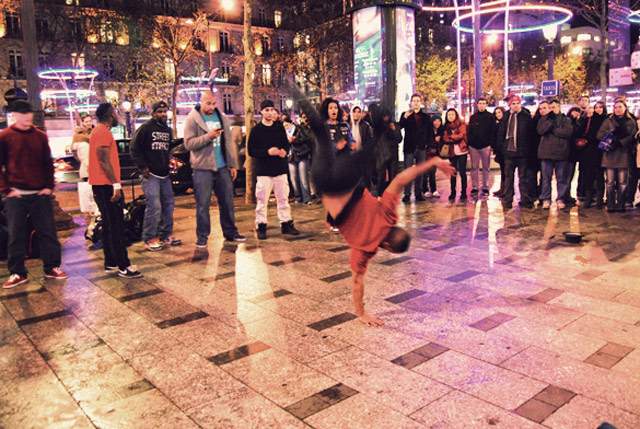 For a city with some of the most decadent experiences on offer, not all of them cost a small fortune.  In fact, so many of them are absolutely free. These are just the top picks.
Free festival celebrations from the hundreds of Christmas Markets to Paris Plage- a faux beach created at the peak of summer, the Harvest Festival of Montmartre or even Pari Roller, a weekly event when Paris gets taken over by roller skaters.
Free performances by street musicians, dancers, and entertainers at Place de la Concorde and Champs Elysees. Also not to be missed are the free concerts held at churches and free dance floors like the one at Quai Saint Bernard. Browse for listings in a current issue of Pariscope from a newsstand or visit the Tourist Information Center.
Free tours are offered by the locals through Discoverwalks, Sandman's, Paris Greeters, and Meet the Parisians at Work. (where you can see a butcher, baker, candle, or even perfume maker in action)
Wandering around Paris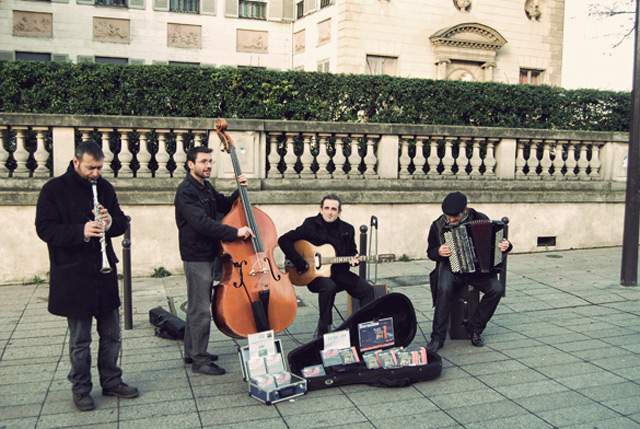 The best way to see the city is by walking and sometimes letting yourself get lost. Interesting routes and other offbeat things covered here.
Place du Tertre, a square near the Sacre Coeur Basilica has a great ambience scattered with artists making portraits among other souvenir art pieces to sell.
Walk along the Seine, crisscrossing over the 40 beautiful bridges like the 400 year old Pont Neuf and the newer steel Simone de Beauvoir. Lock your love on a padlock with your names scrawled on them on the Pont des Arts (to ensure you'll return to Paris) and check out the lovely old booksellers and souvenirs along both banks of the river.
The Marais is a lively, young, hip, and bohemian area with lots to be discovered down every street. Dearest to our hearts is the oldest square in Paris – Place des Vosges, with its manicured bushes, stone structures, and gorgeous galleries. Another one we loved was Village Saint Paul, a lovely Jewish village that's right in the heart of Paris! Some curious stores, with antiques, strange museums, and other shops and friendly people made us trawl the area in great detail.
Eating and drinking in Paris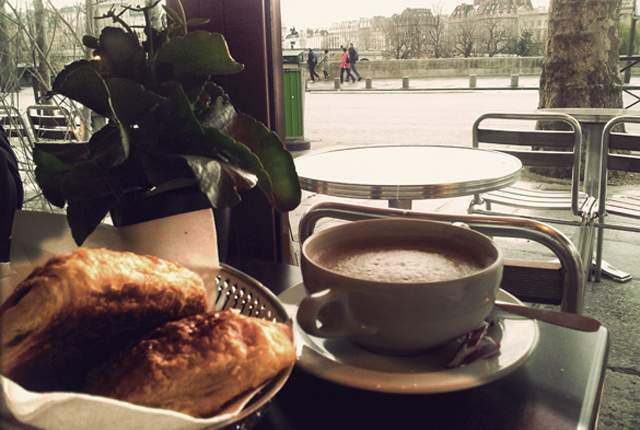 Like Hemingway said, Paris is a moveable feast. So make sure you get to sink your teeth into some of the most gluttony-inducing foods in the world.
Croissants– Quintessentially Parisian, the Croissant or the Pain au Chocolat are puff pastries, with butter or bits of chocolate hidden in them. Best enjoyed as breakfast with a coffee as you sit at any cafe watching the world go by.
Crepes– Of all the street foods in Paris, this is the original. Stalls on the roads, with friendly cooks who whip up a variety of ultra thin pancakes with Nutella, Cream, Berries, Fromage, Jambon (Ham) and a host of other equally delicious options. Bite into a piping hot one as you stroll down the street at the foot of the Eiffel Tower.
Macarons– Sophisticated, complicated and delicately airy cookies sandwiched with a bit of cream, macarons were invented at the la-di-da tea house Laduree. But they're well worth the pretty penny at Pierre Hermes, where you'll find variations to the classics raspberry and chocolate to foie gras and olive flavors as well.
Frites– Batons of deep fried potatoes, these are the original French fries and are served as an accompaniment to almost every meal –  from steaks to lamb to chicken – you'll have them coming out of your ears by the time you're done with about 4 meals in Paris.
Restaurants and cafes are on every corner, but my personal picks are definitely worth seeking out.

The restaurant at the Musee d'Orsay has mediocre food but a great art nouveau ambience (for a very reasonable price).
Any of the casual restaurants along the young and lively Rue de la Huchette
For fabulous pizzas visit Le Tribeca on Rue Cler, fabulous burgers and location check out Au Bouquet Saint Paul, Tex-Mex at Indiana at the Bastille, and traditional French cuisine at Chez Janou, a very old establishment a short walk from Place des Vosges.

Wine Caves, or Cave a Manger, is one of the latest trends to hit Parisian streets. Wine shops, most of them old and established, double up as restaurants offering some bespoke culinary experiences, most of which are very difficult to book. Take your pick from these.
Drinking in Paris is best explored through wine. Wine tastings abound, and most cafes serve a house pitcher that's usually really good and really cheap.  Buying wine at the grocers and taking it to go is a good idea as well. Absinthe is also served widely, as well as some great beers. Check out l'Academie de la Biere at Port Royal.
Check out the following articles and resources for traveling to Paris:

All photos courtesy of the author and may not be used without permission.