Every region, state, and city in the United States seems to have a particular dish that is an integral part of who they are. These items are the must-haves while visiting since it gives us a glimpse at life wherever it is. Each dish tells a story – whether it's the history of those who immigrated there, what crops thrive in the region's climates, and of course, it tells us about the people that call that place home.
Here are six of my favorite regional foods from around the United States:
Chicago hot dog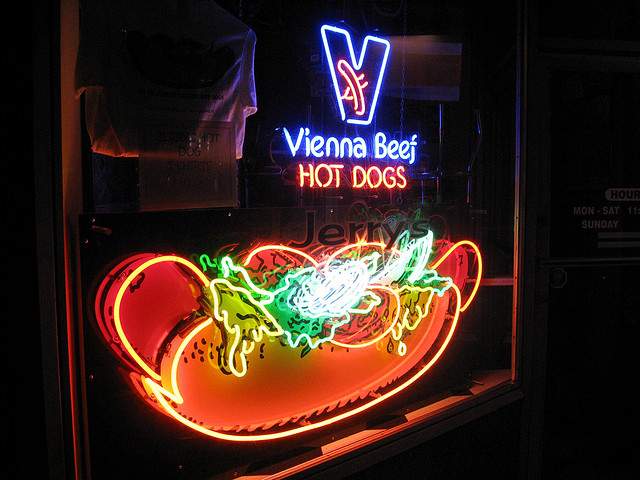 Once you witness the plethora of colorful ingredients piled onto a traditional Chicago-style hot dog, you'll understand why the common phrase "run it through the garden" is appropriate to use while ordering. An all beef hot dog is steamed then topped with yellow mustard, bright green sweet pickle relish, tomatoes, cucumber, chopped white onions, a crunchy pickle spear, spicy sport peppers, and finished with a dash of celery salt. All of this magnificence  fits into a soft poppy seed bun.
The array of toppings is believed to be influenced by the eclectic variety of immigrants that settled in Chicago. Germans are said to have contributed the mustard, Italians the tomatoes, and the all beef was initiated by Jewish settlers. Just about the only topping you won't find is ketchup. Chicagoans are stern about ketchup ruining the hot dog, and some vendors allow their Chicago attitude to shine through by even refusing to serve it or only offer packets so they don't have to put it on the dog themselves.
Where to find it: It's not hard to find a great dog throughout the city since there are reportedly 1,800 hot dog stands here. For a classic and staple, travel to Chicago's north side for the Superdawg Drive-In located in Norwood Park. Featured on countless travel and food shows, this iconic stand has been around since 1948. Order in your car for the old-time feel or head up to the window to get an up close look at the business. For something different, you can try Avondale hot spot Hot Doug's (which is closing later in 2014 unfortunately, so try it now while you can!). The traditional hot dog proudly sits amongst gourmet sausage such as rabbit, elk, and duck fat fries.
Check out our Chicago Indie Travel Guide
Kansas City BBQ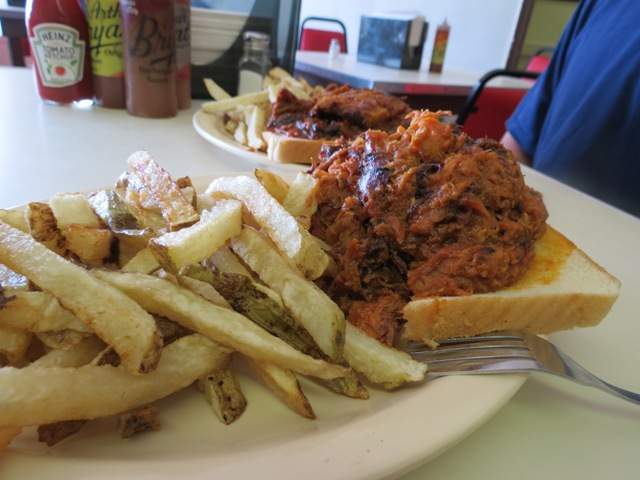 America has four main barbeque styles that vary by region. Texas is primarily beef, Carolina barbeque is known for their love of pork, and Memphis cranks out all-star ribs. But Kansas City is unique because what differentiates them is not the meat as it is with the other regions; it's the sauce.
Other regions often frown upon sauce with the mentality that it takes away from the natural flavor of the smoked meat. However, Kansas City, which has been referred to as the barbeque capital of the world, prides themselves on the thick sauce smothering their meat. The sauce is tomato based and often sweetened by molasses with a touch of tanginess. Throughout the city, you'll see bottles of sauces at the table to pour over your burnt ends, a popular choice among Kansas City barbeque lovers.
Where to find it: With more than 100 barbecue restaurants in the city, you have your choice of barbeque. When I experienced KC BBQ, I ate at legendary Arthur Bryant's BBQ and was not disappointed. The smell of the smoker led me from the express way to the parking lot. Other well-known barbeque spots include Oklahoma Joe's, Gates & Sons, Fiorella's, and KC Masterpiece, which might sound familiar to you since it stocks its sauce on grocery store shelves across the country.
Cincinnati Chili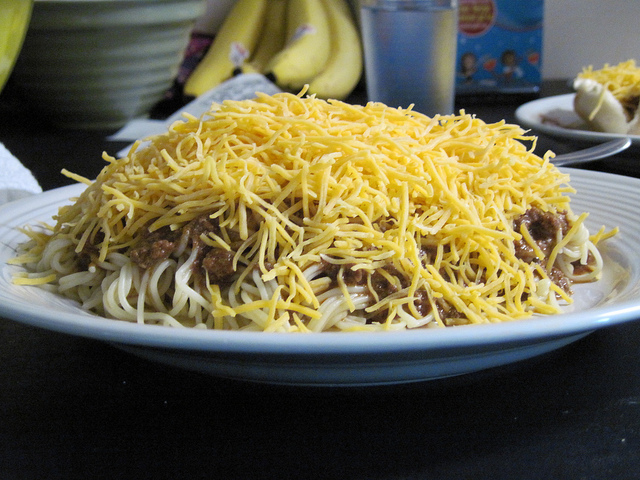 When you take a bite of Cincinnati style Chili, you are tasting a bite of history. This specific style of chili was brought to America by Greek immigrants who settled in Ohio. Unlike other types of chili in the country, Cincinnati style is a thinner consistency, almost like a sauce rather than a chili. Its roots influenced the flavor, and the somewhat unusual spices include a touch of cinnamon. The chili is often served over a heaping bed of spaghetti and covered with bright orange, shredded cheese. If you order it "four-way," you can also expect to find chopped, crunchy white onions on top and beans mixed throughout.
Where to find it: Throughout Cincinnati, you can find this unique regional chili not just on pasta, but on its own or covering nachos or hot dogs. Possibly the most well-known of the chili establishments is Skyline Chili. The popular chain started with Greek brothers venturing to Cincinnati and has been serving their distinct and secret recipe since 1949.
New York pizza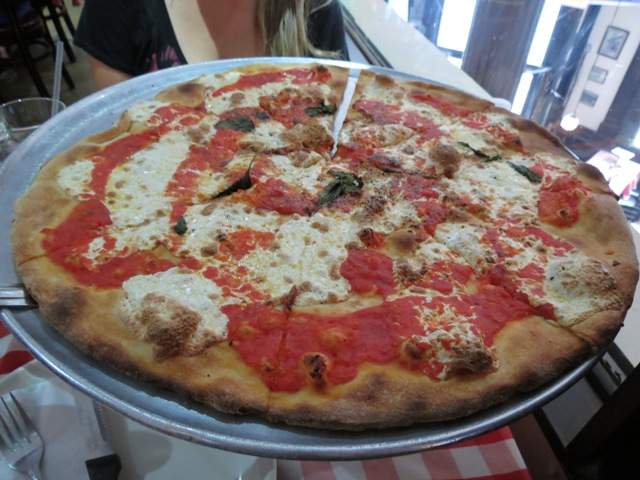 For visitors all over the world, the list of New York City must see destinations include the Statue of Liberty, the Brooklyn Bridge, and of course having an authentic slice of New York Pizza. This thin pizza was brought to Manhattan's Little Italy by Italian immigrants in the early 1900s. Since then, pizza has become a staple in New Yorker's diets, often eaten as a street food, folded and on the go. New Yorkers have gone to bat arguing their pizza is the best against Chicagoans for decades. Many say the crust is unbeatable, and even believe that the minerals in New York City water attribute its unique taste.
Where to find it: It's hard not to find a pizza place throughout New York since there are multiple restaurants serving up a slice or an entire pie on every block. If someone tells you to try the famous Original Ray's, you better ask them to be specific since there are literally dozens of World Famous Original Ray's Pizza, Ray's Original Pizza, and Famous Ray's Pizza throughout the city. If you're in Brooklyn and don't mind a wait, try the famous Grimaldi's Pizza. Or if one place isn't enough, take a pizza tour with Scott's Pizza Tour where you can pick from multiple pizza-tasting experiences.
Read our New York Indie Travel Guide and Six Little Italy Neighborhoods Across the United States
Maine lobster roll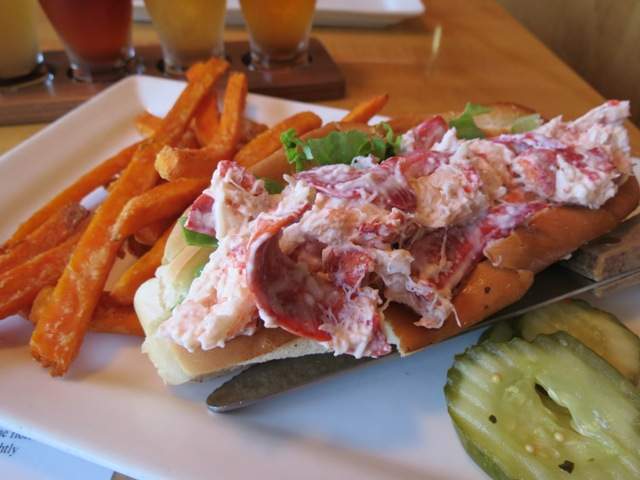 Spring throughout the east coast means one thing: lobster. And for travelers and locals alike, that means lobster rolls. Since lobsters are prominent on the coast, lobster shacks and restaurants are able to catch fresh lobster from their backyard to serve their hungry patrons. These tiny but still pricey sandwiches are served on a New England style hot dog bun. What goes into the bun is locally debated. If you're in Connecticut, you may very well be eating your lobster roll smothered in butter. But in Maine, it's traditional to have them with a light mayo. Some places prefer to just serve lobster and a touch of mayo so you are getting the true taste of the lobster. But some add celery for a crunch and spices.
Where to find it: Lobster shacks are prominent along the coast, and lobster rolls are the most popular item. If you're in the southern tourist destination of Kennebunkport, Maine, you can settle a long standing dispute about who served the best lobster rolls. Both Alisson's Restaurant and The Clam Shack have claimed to have the best lobster roll. The two distinctively different places even got the chance to compete against each other on Travel Channel's Food Wars.
Wisconsin cheese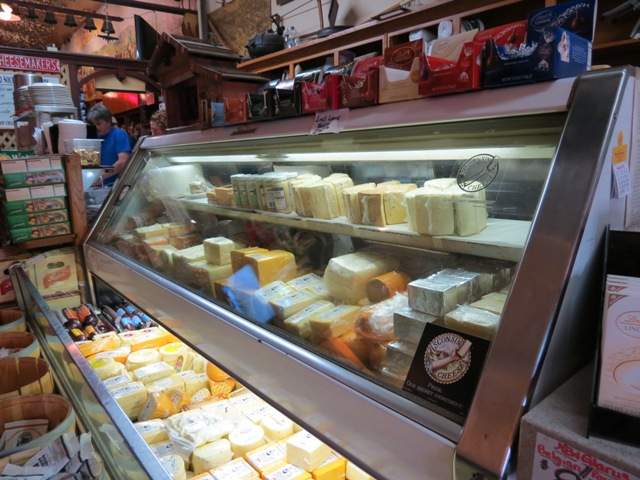 If you've ever watched a Green Bay Packer game, Wisconsinites' love for cheese is evident. Fans, appropriately nicknamed "Cheese Heads," literally wear large, orange-yellow, foam cheese hats to show their devotion to their home state. Cheese being a part of their culture happened long before the Packers though.
When European immigrants settled in Wisconsin in the 1800s, they soon realized that the climate and land would make the perfect conditions for dairy farming. And with dairy farming came the production of cheese. Today 12,000 dairy farms in the state produce 2.6 billion pounds of cheese every year.  There are 1,200 cheese makers that make more than 600 different tasty varieties. One of those types of cheese produced in the city of Monroe is Limburger cheese, and it is the only place in America that produces the unique cheese. As a cheese lover, I was eager to try this cheese, which is infamous for an off-putting scent and taste. The term "stinky cheese" doesn't quite do the smell justice, seeing that bacterium used to ferment this cheese is the same that produces foot and body odor.
Where to find it: Cheese isn't too difficult to find anywhere in America, but good cheese can be a challenge – except in Wisconsin.  Whether atop a burger in a pub or at a specialty cheese store, local artisan cheeses are featured. The Wisconsin Milk Marketing Board makes it even easier by supplying visitors a cheese map of the city which shows cheese makers, excellent cheese stores, and dairy farmers that are open to the public. Many farmer's markets will sell cheese curds, and if you haven't had an authentic Wisconsin curd, you'll instantly tell the difference since these ultra fresh bites are actually squeaky.
If you like traveling for food, check out the following stories:

Photo credits:  SpecialKRB, Mini D, all others courtesy of the author and may not be used without permission.