When people call Amsterdam the "Bike Capital of the World", they aren't joking. With almost every resident owning a bike, and many people owning more than one, bicycles are definitely the most popular form of transportation around the city and can be a great way for visitors to get around quickly. People bike in Amsterdam year round – come sun, wind, or rain.
The small streets and canals of Amsterdam aren't really suited for cars, but are perfect for bicycles and pedestrians, making Amsterdam a great city to explore by foot or by bike. If you are interested in sightseeing by bike, Rick Steves' guide, Amsterdam, Bruges, and Brussels, has some great bike tour suggestions, or check out this website, which has several routes listed which it claims are not the "standard tourist routes." If you decide to explore the city by foot, be sure to watch out for people on two wheels – they have the right of way, and the Dutch have been known to ride aggressively, so keep your eyes open and be prepared to jump out of the path of an oncoming bike.
[social]
Renting a bike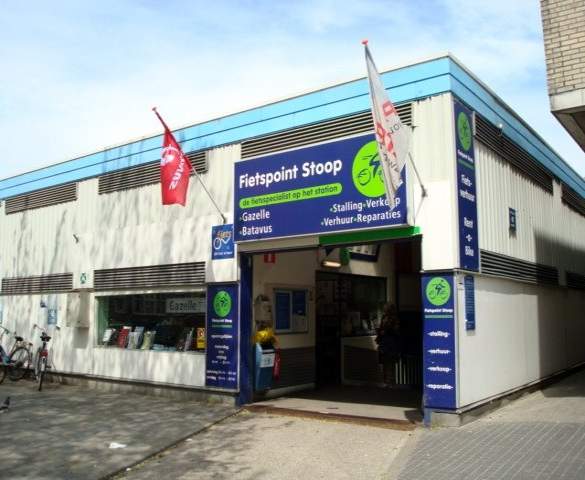 If you are ready to rent a bike in Amsterdam, it is pretty easy to find a bike shop – look for a store with the word "fiet" (bike) in the title. There are several located near the Central Station, the Leidseplein and Dam Square. Bike shops will rent bikes for as few as 3 hours, although the most common rental is for the day. Average prices are around €8-10 for the day (if you'll be staying for a week or more, consider buying a used bike). Many of the locals' bikes have baskets, but I found that it was easiest to just carry my belongings in my backpack.
When you rent a bike, you will put down a deposit, and you can purchase optional insurance, which will cover the cost of the bike if it is stolen and you follow a certain procedure. Most bike shops require that if the bike is stolen, you have filed a police report, and you must return the keys to the lock to prove you actually locked it up. If you do not have insurance and/or do not return the keys, you will have to pay the cost of the bicycle. Given the high rates of bike thefts each year, it's better to pay a bit more for the extra insurance.
If it's been a while since you've been on a bike, or if you're too nervous to start in the the busy city of Amsterdam, you can always rent one while visiting a smaller town outside of Amsterdam. Alkmaar is a a good choice, and has a bike shop, Fietspoint Stoop, right outside the train station. This particular shop also repairs and sells bicycles, as well as provides a bicycling parking garage.
When I rented at Fietspoint Stopp, I gave my name, passport number, €7.50 for the rental, and €20 for a deposit, and in return was given a key and a number, and directed to go find my bike upstairs. After a bit of searching (it didn't appear that the bikes were in numerical order), I found #80, unlocked it and was ready to go. I rode all around town and when I was finished I returned my bike to the rack, got my €20 deposit and felt great about getting a bit of exercise while exploring the town.
>> Read more about biking around Europe
Keeping yourself (and your bike!) safe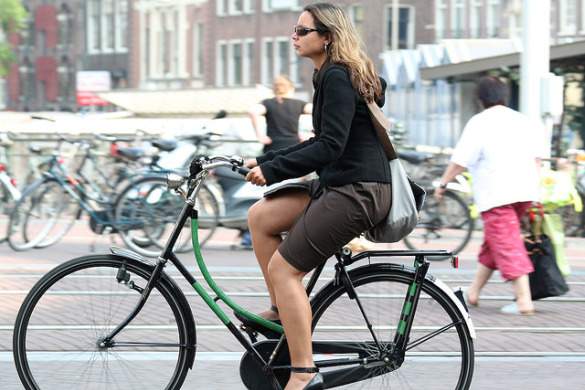 Riding a bike in Holland is very different than riding a bike in the United States. Because it is so mainstream, cars and people know to look out for bikes, and even give them the right of way. There are roads, bike paths, and sidewalks with each group (cars, bikes, pedestrians) staying in its respective area, but you'll still need to be careful.
Cyclists do not wear helmets, so be sure to signal your turns, and adhere to traffic lights and signs to reduce your risk of an accident. Stay on your designated path. If there is a sign on your path that says "fietspad" or shows a picture of a bicycle, then you are in the right place. If you are in a pedestrian area, get off of your bike and walk it. The same goes for when you need to figure out where you are or confirm your route. Get off your bike and get out of traffic before you bury your face in the map. In Amsterdam, the police will give you a ticket for breaking traffic laws, so be aware of where you are riding. Most bike signals are universal, so just stick out your arm in the direction you are turning and you should be fine.
Make sure to not only look both ways before crossing tram tracks, but also keep your wheels perpendicular to the tracks so that you do not getting your tire stuck in a rut.  If you do get a flat tire, take your bike to any bike shop (fietsenmaker) or ask another cyclist for a bicycle pump (fietspomp).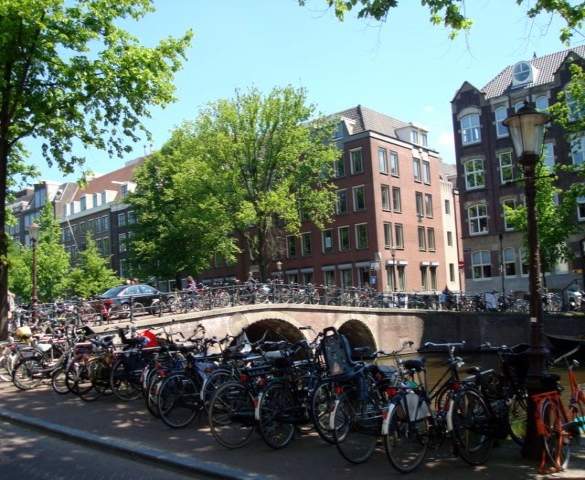 Always lock your bike! Bikes get stolen all the time, so be sure to lock it up in a designated area. Rental bikes come with a lock that is permanently attached. Besides the bike lock, you might want to rent a bicycle from one of the shops that specifically rent out inconspicuous bikes. Mine was bright orange, which would surely mean "rental bike" to any potential thief. Luckily I didn't have any problems, but I have heard that getting a bike that is black, blue, or red is a good idea. Look around before you park your bike. If there are no other bikes in the area, it may be an illegal or unsafe place to lock up, and your bike may not be there when you return.
Tours and bike rental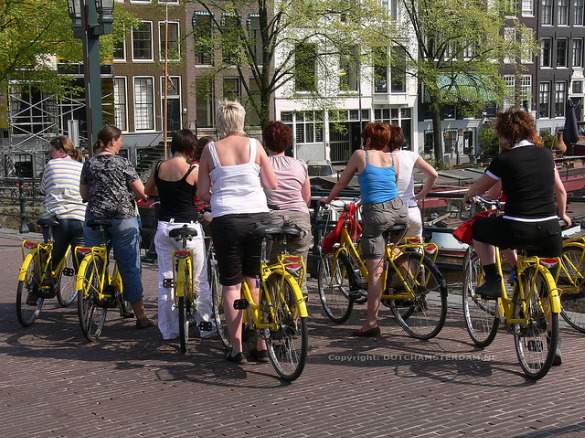 Many bike rental shops offer cycling tours of the city, which can be a good choice for someone who wants to rent a bicycle and sightsee, but may be a little nervous about setting off on their own. A good list of tours can be found on the Iamsterdam website.
If you are confident in your cycling skills and ready for a biking adventure around Amsterdam, check out one of these bike rental shops.
MacBike – The largest bike rental chain in Amsterdam, the main MacBike shop can be found near the Central Station (Stationsplein 5) and there are also two smaller shops near Leidseplein (Weteringschans 2) and Waterlooplein (Nieuwe Uilenburgerstraat 116). They are open 7 days a week, and rental prices for a basic bike are €7 for 3 hours, €9.50 for 24 hours, and get cheaper if rented for more than one day. The deposit is €50, and insurance is also available.
Rent A Bike Amsterdam – Located just outside of Dam Square (Damstraat 20-22), this is another good shop for renting a bike, and if you visit their website, you can get a coupon for 10% off. Also open 7 days a week, rental prices for a basic bike are €6.50 for 3 hours, €9.50 for 24 hours, and up, with the option for insurance for an additional fee.
Bike City – Bike City is located in the popular Amsterdam neighborhood of Jordaan, at Bloemgracht 70. They strive to be environmentally friendly and are open 7 days a week. They rent out "inconspicuous" bikes to deter thieves for €10 for 4 hours, €13.50 for 24 hours, and up. They also provide optional insurance for an additional fee. The deposit is €50.
If you're planning a trip to Amsterdam, check out our WhyGo Amsterdam site, where you can find information on accommodation in Amsterdam, airfare to Amsterdam, and things to do and see in the city.
Abbie Mood was provided the opportunity to visit Amsterdam courtesy of Hotel Novotel Amsterdam City.
Photos: 2- mayhem, 4 –  dutchamsterdam.nl, all other photos provided by the author and may not be used without permission.