I first visited Iran in 2012, on a 9,000-mile drive from Istanbul to Calcutta. I've been longing to return ever since. Road trips – self-driven, long and arduous – are my mode of travel, my husband Bernard at the wheel while I manage the maps, GPS, and snacks. One of the unexpected pleasures of road trips is that we can reach and then linger in places others would bypass. The speed of car travel suits me, which is a good thing since we've driven through countries on four of the five continents, covering nearly 100,000 miles along the way.
Under our own power we wander at will, a method of travel with innuendos of early explorers for whom the getting there was as much the point of an expedition as the ultimate discovery they sought.
Recently, we were in Iran again, this time for two weeks, driving from north to south in our Land Rover.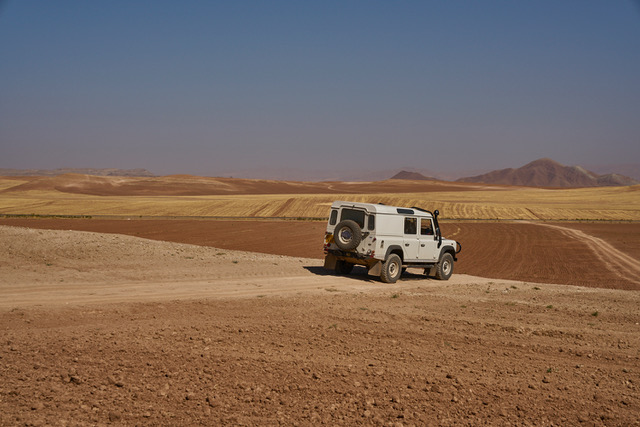 Though Iran is in the news most days, when I'm in a country I get to focus on the people rather than the newspaper reports. For instance, published statistics say unemployment in Iran is 12%. Here's the thing though: our acquaintances on the street said it's more like 50% and I believe them. Iran has, no secret here, been hard hit by decades of sanctions. Most to all commerce stems in one way or another from the government, as there's little trade to nourish entrepreneurship. Since the largesse of said government shifts with the whim of each new president, it's tough if not impossible to build a reliable business of anything.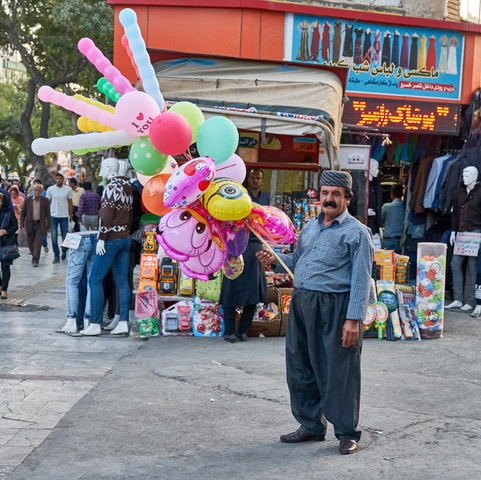 All kids love balloons
What with Persia being such an exquisite empire, there are huge numbers of antiquities to be inspected, found in all tourist guides. Ruins, however, weren't on our agenda. We wanted to get a personal feel for Iran today, so we purposely chose roads that took us through a broad swath of the Zagros Mountains forming Iran's western border with Iraq, where tourists do not flock. This is rugged terrain, vertiginous brown and barren, cobbled by rock, pebbles, boulders,—jump right in with every word for "hard, unbreakable substance" that you can imagine.
The land we drove through struck me as so hostile to people—though sheep and goats looked cheerful—that I have no idea why ancient emperors would expend human lives to hold onto it.
Then again, Iran is so strategically placed, providing access to the Indian Ocean from the Caspian Sea, and needing to be traversed by any trader from the Far East who wished to reach the Adriatic, that scenic prettiness may not have been part of the decision matrix when in 331BC Darius III mused "Keep it?  Or see if that upstart Alexander the Great wants it?" I speculate that perhaps the generous nature of the Iranian people is in direct proportion to the ungenerous land where they live.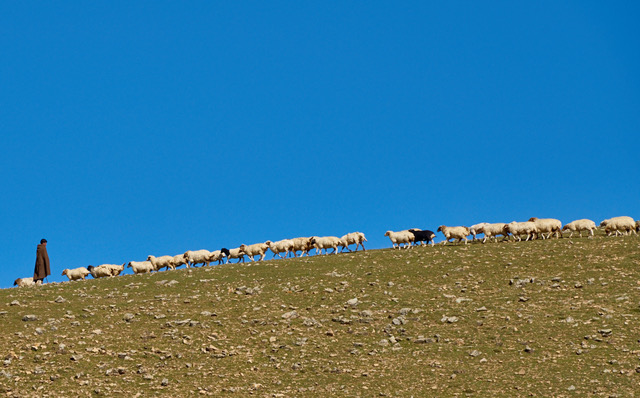 Shepherd in the hills of Iranian Kurdistan.
Yet the country bustles. Roads are being built everywhere, with concomitant gravel pits also found everywhere. Hundreds of square miles of gently rolling ground below those haggard mountains are plowed chocolatey earth or harvested golden stubble, despite the near total absence of any visible tractors or combines. Cars, many of them seemingly French, zip heedlessly along the highways between cities, causing 800+ deaths a month. Iranian drivers are by far the worst we've ever had the honor to drive among. And they admit it! No, they laugh about it! Were those real Peugeots and Renaults? NO! They were fakes: a genuine Peugeot carapace over a Chinese interior and engine. As our Iranian acquaintances said, it's easy to tell the ersatz from the authentic: the former break down irretrievably after a few thousand miles.
On this road trip we drove nearly eight hours a day, traversing Iran from Dogubayazit, its northern-most border with Turkey, to its southern port of Bandar Abbas on the Strait of Hormuz.
Despite our long days in the car, we had memorable interludes, such as our favorite road snack of freshly barbecued lamb heart kebab at ubiquitous roadside grills, or strong black tea with sliced apples from a nearby orchard. At day's end, we'd head straight for a stroll through the main bazaar. Consider these the equivalent of a shopping mall, a sequence of interwoven arched stone alleys selling everything from children's shoes to kitchenware to the fall harvest of melons, squashes, tomatoes and everywhere, pomegranates.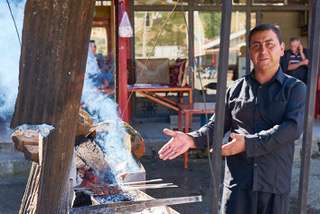 Grilled lamb kebabs, a roadside treat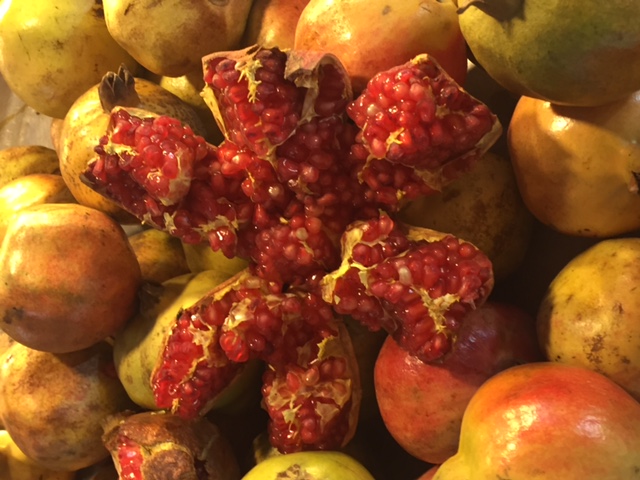 October is pomegranate season in Iran
We met extraordinarily open and generous people simply by sitting in a café or strolling slowly down the street to give anyone who wished the opportunity to join us. Many did. University students, a city clerk, a software entrepreneur from Tehran, a civil servant, a combine driver and his entire family, a woman hurrying home as the sun rose, who tore off a hunk from the freshly baked sangak (flatbread) she'd just collected at the bakery, when she noticed us ogling it. That bread was delicious, by the way!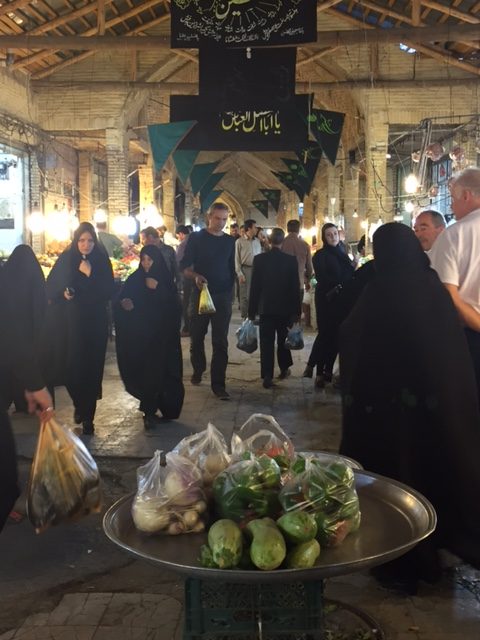 Out shopping at the mall, which happens to be centuries-old
Whether in a bazaar or on the street a young man or two would sidle up to ask with a gracious smile, "Hello, how are you?" followed  by "May I walk with you?" From this would ensue an hour or two of interesting conversation as we ambled the market, then stopped for tea at the ubiquitous cafes.
I absolutely cherished these encounters for the unorchestrated contact they offered with Iranians. And each one resulted in a invitation, whether "my parents would be honored if you would have dinner with us," or "please come and stay in our village home for a few days," packed with both a longing to engage with foreigners and a deeply felt strain of hospitality that would not let said foreigner escape without giving him or her something of oneself. I felt like the pound puppy of the day, so fervent were the entreaties we received and so desirable did it make me feel.
We were in Iran during the month of Muharram, the second holiest month after Ramadan.
One particular day marked the festival of Ashura, when fountains run red to mimic the blood of the martyr, and entire villages are blocked by men in slow procession, dressed in black and smeared with mud, a mordant banging of drums competing with blaring chants. I found it all vaguely threatening, though in fact, it was a day of remembrance and sadness. Then we pulled to the roadside for a car repair on the outskirts of one such town. While we fussed with tools and mechanical problems no fewer than four cars stopped, every one of which gave us food or invited us to their home, or both.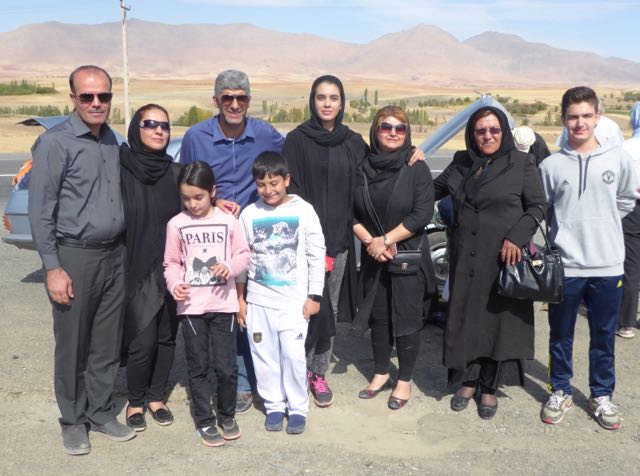 This family stopped while we fiddled with our car on the roadside, to bring us food and invite us to stay with them in their village
In the old village of Ghalad, just north of Shiraz, we walked up cobbled lanes, past a private yard whose shallow canals were choked with yellow leaves. An old woman scratched at the leaves with her cane. Seeing us, she apologized for having nothing to offer us in her home, then picked a handful of small apples and a pomegranate for us instead.
And then we found Shahpur, cafe owner and opium addict. His premises deserted, he invited us to his home for tea, taught us the truly proper way to smoke a qaylan (hookah), declaimed the poetry of Hafez, sang raunchy village ballads, and shared his utterly delicious, intensely savory pot of dizi (lamb stew) with us. Because of Shahpur, I learned that opium is measured in reference to the weight of a chickpea and that smoking it three times a day, as an addict will, wreaks havoc on your teeth.
Driving through a country gives me an unparalleled view of ordinary life.
We maneuver around the same potholes, wait for ages at the same railway crossing, have our flat tire fixed at the same repair stall, buy our fruits from the same street vendor, and drink from the same kettle of tea as the locals.
If there's a primary trait of Iranian people, I would say it's intelligent curiosity. And hospitality. And warmth. And culture. OK, that's four. You get my point. And if you don't, let me make it explicit: Iranians are an unusually erudite and big-hearted people. Would that we were all so.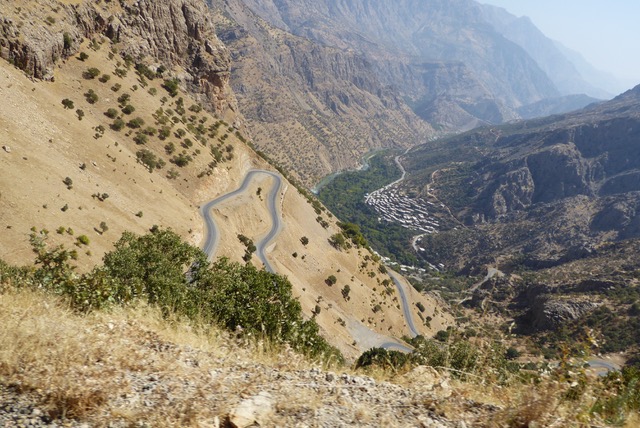 Gorgeous rough mountains in Kermanshah Province, heading toward Nowsud
IF YOU GO…..
You will need a visa, which is not hard to get but takes 6 or more weeks.
Basically, US citizens must travel under the auspices of an Iranian-based agency or registered guide as 'minder,' while citizens of other countries may be able to get a visa on arrival at Tehran airport. For US citizens, the Iranian agency applies to the Foreign Ministry in Tehran for the visa (this is routine); the Foreign Ministry itself sends the approval number to the Iranian Interests Section at the Embassy of Pakistan in Washington, D.C. (Iran has no embassy in the US), which simply stamps the visa into your passport. For this last part, I submit my passport via a visa service, for the extra assurance that my passport will not be misplaced by a busy embassy. I have always used Travisa.