Planning a round the world trip can be a long and often difficult process. Trying to decide where to go and when is like putting together a massive puzzle or fitting a round peg in a square hole. Many travelers ultimately decide to plan their trip around a theme. If food is something you're looking forward to on your trip, then consider these culinary destinations as a backbone of your trip.
If the trip above is something you're interested in, register for a free account on Indie to build, price, and book your multi-stop trip, all with a few clicks.
Paris, France
When to go: Paris is ideal during spring. The city is reborn after the harsh winter. As the flowers begin to bloom and the city's landscape comes to life, the people follow suit. Unfortunately, this is no secret. Air and train fares rise during this time, making it necessary to book far in advance. If you're on a budget, I would suggest you opt for the fall. The Montmartre Wine Harvest brings the city to life for a week, despite the chilly temperatures. I love an excuse to warm myself with a cup of velvety rich hot chocolate.
Dining tips:
Reservations are strongly suggested. Some restaurants are booked up to three months in advance. After you book your trip, begin thinking about which restaurants you'd like to try. I suggest reserving a table up to three weeks in advance.
Refrain from requesting a change to your dish. The chef has meticulously crafted the menu. Each ingredient is essential to the desired flavor of the dish. Subtracting or adding another ingredient would spoil this symbiosis.
A spectacular view doesn't guarantee quality food. Don't be fooled by charming bistros with a backdrop of the Eiffel Tower. I always leave disappointed by mediocre food and outrageous prices. The best bistro is a hidden gem tucked away in the nook of a lesser-known neighborhood.
In the spring, pack a picnic and head to Champs de Mars at dusk to await the hourly light show. Picnics are a great way to save money. After a long day of sightseeing, and by sightseeing I mean window-shopping for the perfect pastry, relax on the lawn with a bottle of Bordeaux, black truffle brie, a baguette, and choux a la crème for dessert. Bon appétit mon amie!
French cuisine
Le haute cuisine is among the most elaborate and sophisticated, and for haute virgins, an intimidating French dining experience. Elaborate may even be an understatement. Your table is set with enough silverware to send a small army into battle.  Gourmet restaurants serving le haute cuisine celebrate dining as an art form, as it rightfully should be. The chef is the artist, the dish is the artist's canvas, and the presentation is equally important as taste. Needless to say, this four-hour three-figure meal is not for those in a hurry or on a budget. A prix fixe menu offering 5 courses is typically 50 Euros in Paris. Most Parisian fine dining restaurants offer between 2 and 3 prix fixe menus to choose from.
We have over 70 articles about food around the world. Check them all out on our Food Page.
Traditional dishes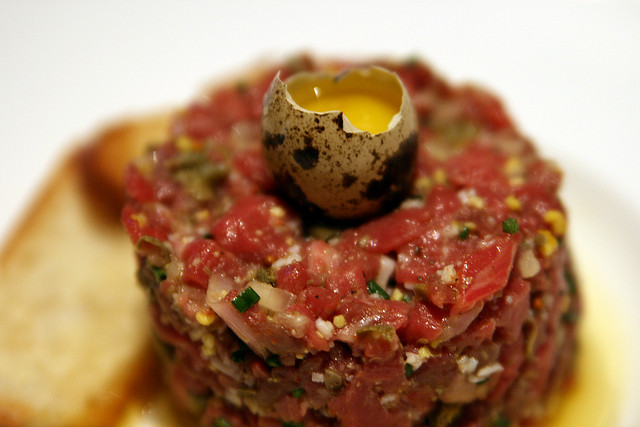 Steak tartare is a Parisian staple. If approached with an open mind, it can be highly addictive. Some restaurants serving tartare note the name of the supplier. If you see Hugo on the menu, you can't go wrong. Hugo Desnoyer is the most celebrated butcher in Paris. If you need to ease yourself into raw minced beef I would suggest starting with tartare aller-retour, which is lightly seared before serving.  Try this restaurant:
Chez Dumonet: 117 Rue du Cherche-Midi
Specialty Shops
Parisians are well known for their specialty shops. The streets of Paris are lined with shops specializing in artisanal cheeses, jams, decadent chocolate, Dijon mustard, chocolate mousse, and much more. Spend the day gathering supplies for an evening picnic. Sure, the supermarket is convenient, but the chase is half the fun.
Chocolat Chapon: 69 Rue du bac
Fromagerie Secrétan: 27 Avenue Secrétan
Marie-Anne Cantin Fromagerie: 12 Rue Champ de Mars
John-Charles Rochoux: 16 Rue d'Assas
Ladurée: Fabricant de Douceurs & Gourmandises: 75 Champs-Elysées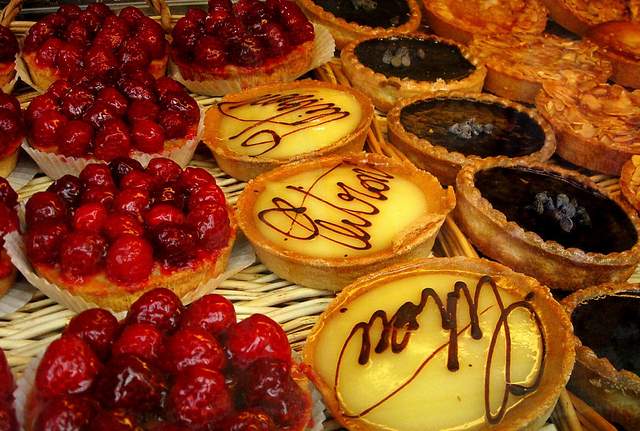 L'heure de l'apero
Travelers often get caught up in their itineraries and become frustrated when they realize they've stretched themselves too thin, not leaving sufficient time to see the Louvre, or whatever other famous sites tickle your fancy. Devote a day in your calendar to experience Parisian culture.  Get lost – let your scent guide you until you've tired, and rest to enjoy l'heure de l'apero – the French equivalent of the cocktail hour. Here are a few suggestions:
Le Baron Rouge: 1 Rue Théophile Roussel
Le Verre Volé: 67 Rue de Lancry
Recommendations  
Le Bistrot du Peintre: 116 Avenue Ledru-Rollin
Robert et Louise: 64 Rue Vieille du Temple, 3 eme
Au Passage: 1b Passage Saint-Sébastian
Frenchie Restaurant & Wine Bar: 5-6 Rue du Nil
Le Chateubriand & Le Dolphin wine bar: 125 Rue Tocqueville
Chez L'ami Jean: 27 Rue Malar
Le Baratin: 3 Rue Jouye-Rouve
Le Comptoir du Relais: 9 Carrefour de l'Odéon
Find out why you should add Paris to your indie trip and read our in depth article about getting off the beaten path in Paris.
Florence, Italy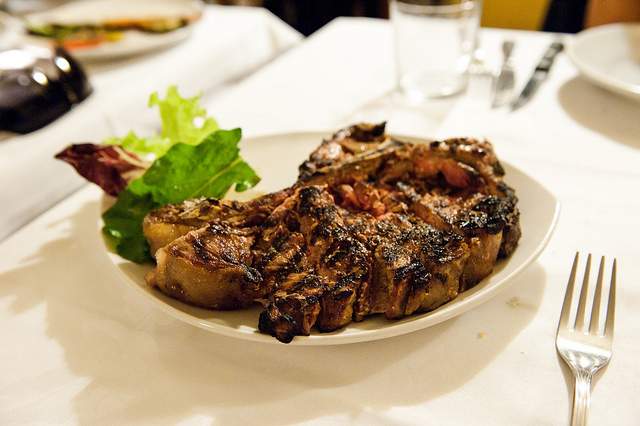 When to visit: The weather in Florence is finest in the spring, but Florentine cooking is best enjoyed in the fall. Not to mention truffles and porcini mushrooms are in season. Tuscans take their fresh produce very seriously. If it's not in season don't expect it to be served. I'd pass up the fresh spring air any day to enjoy pasta al tartufo. Think about taking a weekend trip to the hilltops of San Miniate in November to check out the white truffle festival. November is also recognized as the beginning of hunting season on cinghiale or wild boar. Perfect time of year to enjoy a heart bowl of wild boar stew
[social]
Dining tips: Finding an authentic meal in Florence is harder than you'd think. The city is teeming with tourist traps serving inauthentic food at inflated prices. Take the road less traveled by tourists. Local hotspots aren't found in a large piazza, they're usually tucked away in a side street. Ask locals for recommendations. Be sure to reserve a table in advance.
The art of Florentine cooking: The saying goes, in paradiso ci si canta e ci si suona e di mangiare non se ne ragiona – in paradise we play and sing and think not about eating. This traditional saying embodies the art of Florentine cooking. Food is beyond reason and without need for thought. The origins of Florentine classics such as ribollita can be traced back to the Etruscans. Recipes have been handed down for centuries with only moderate change. Why fix what's not broken? After all, Grandma made it best.
Traditional dishes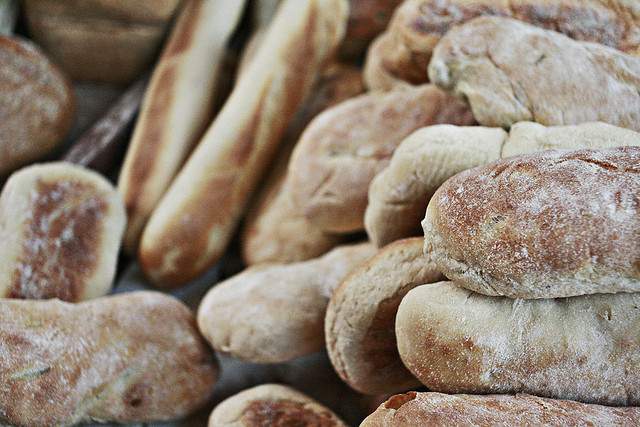 The defining ingredient in any Tuscan kitchen is pane toscano. What makes this bland and stale bread special is the magic that happens with the leftovers. While other breads turn to mush when cooked, pane toscano can hold up in ribollita and pappa al pomodoro. At first bite, you may be disheartened after almost chipping a tooth on this stale bread as you wait for your secondo piato. Try ordering the sugo al cinghiale or trippa alla fiorentina. You'll be ready to lick the sauce off the plate, until you realize there is no better accompaniment than pane toscano to soak up all the juices.
Bistecca alla Fiorentina, or more simply known as a fiorentina in Florence is a meat lovers' dream come true. The meat is so tender it practically melts in your mouth. It is traditionally served very rare. Don't insult the chef by asking your meat to be prepared well done. My favorite spot for fiorentina is Osteria dei Benci. If there's a long wait ask the cameriero for a bottle of wine, take a seat outside, and experience slow food at its finest.
Markets and street food
To avoid packing on the pounds, pack a pair of elastic pants or simply enjoy a meal on the go. My favorite on the go snacks are lampredotto and tripe panini. Lampredotto is typical cucina povera (poor man food). It may not look pleasant, but it is truly a delight. Lampredotto food vans are found throughout the city. I like to head to the Sant'Ambrogio markets to grab a lambredotto on the go while I shop for fresh produce. If you visit the antique market at Santo Spirito be sure to try necci, chestnut crepes filled with fresh sheep's milk, benissimo!
Sant' Abrogio: open daily except Sunday
Santo Spirito: quaint produce market open every morning, antique market open every second Sunday; organic market open every third Sunday.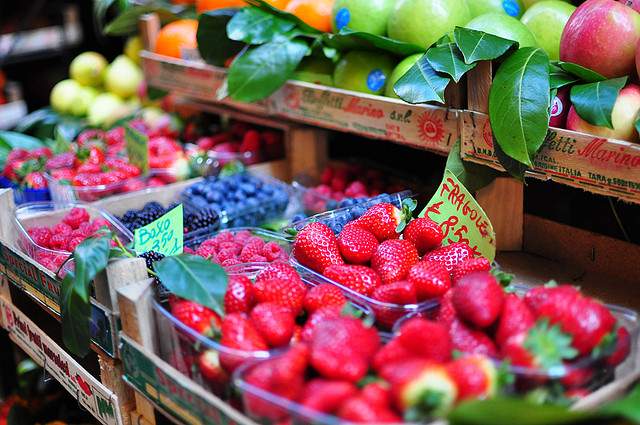 Vino bianco o vino rosso?
A bottle of white or a bottle of red?  Perhaps you should stick to what Tuscany does best, because Tuscan whites are mediocre at best. Stick to the reds. I would suggest a glass of Tuscany's Chianti Classico or Brunello di Montalcino paired with a bistecca alla fiorentina or pappardelle al cinghiale. Power is the first word that comes to mind when I think of a glass of Brunello. However, power comes with a price, and a bottle of Brunello is sure to put a dent in your wallet. My favorite wine bar is Le Volpi e L'uva. Not only do they offer an extensive selection of Italy's finest lesser-known wines, but also their selection of cheeses and crostini are out of this world.
Recommendations
Le Volpi e l'uva: Piazza dei Rossi 1
Vestri: Borgo degli Albizi 11, +39 055 2340374
I Fratellini: Via dei Cimatori 38r, +39 055 239 6096
Cibreino: Via Andrea del Verrochio 8r, +39 055 234 1100
La Casalinga: Via Michelozzi 9r, +39, 055
Il Latini: Via dei Palchetti 6r, +39 055 210 916
Osteria Antica Mescita San Niccolo: Via San Niccolo 60r, +39 055 234 2836
Trattoria Mario: Piazza Mercato Centrale, Via Rosina 2r, +39 055 218 550
Is Florence worth adding to a RTW trip? Find out by reading our one-page travel guide.
Istanbul, Turkey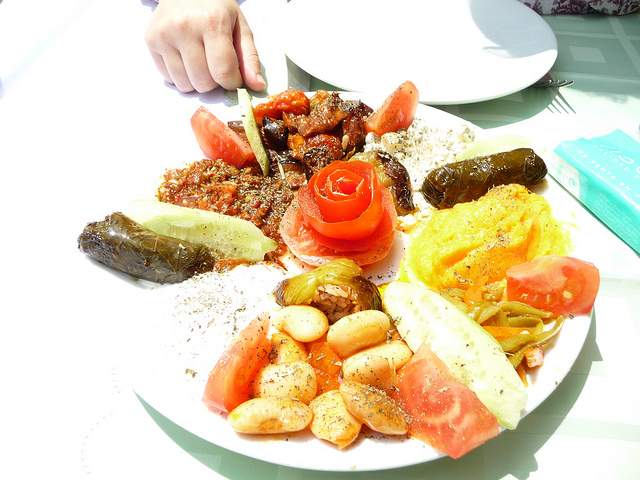 When to visit: The city is dreary and covered in snow throughout winter and well into March. Although this makes for a magical scene, it is better enjoyed from a postcard. I suggest visiting sometime in late April or early May. During the day it feels like you have the city all to yourself. Kids are in school and tourism hasn't peaked yet. Come June and July room rates skyrocket. If you visit in the summer, I suggest renting an apartment to save money.
Mezes
Food is served ready to order at many establishments in Istanbul. Mezes, ready to order food, are popular for the lunch crowd. These dishes are traditionally accompanied with Raki, the national drink. In Turkey it is common to see friends gathered around a bottle of Raki and a table full of meze. Return two hours later, and you're likely to find them still chatting with a half empty bottle.
Traditional dishes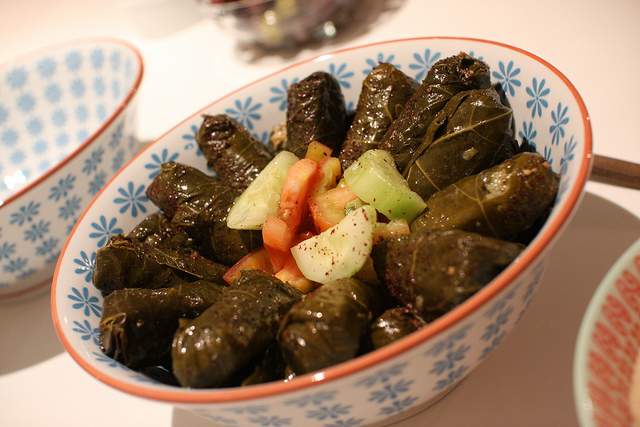 Kaymak is a popular breakfast dish served in little shops throughout the city. It is a clotted cream made from water buffalo milk and similar to the consistency of Greek yogurt. Kaymak tastes superb with honey drizzled on top. My favorite breakfast spot for kaymak is Besiktas Kaymakci.
Yaprak sarma are wrapped grape leaves filled with rice, onion, and spices such as mint, cinnamon, pepper, and currant.
Lahmacun is a Turkish pizza topped with meat, tomatoes, onions, peppers, spices, and served with a side of parsley. Squeeze some lemon on top to add a hint of freshness, roll it up, and you're ready to go. You can find lahmacun in street stalls and most restaurants throughout the city.
Kuru fasulye is a Turkish staple. These white beans make a refreshing salad called piyaz when drizzled with olive oil, vinegar, and tossed with onions, parsley, and chopped egg. My favorite way to enjoy fasulye is when stewed with lamb, tomatoes, onions, pepper, and butter. Directly across from the Suleymaniye Mosque is a restaurant called Ali Baba Kanaat Lokantasi, my favorite place to enjoy this dish for both the beans and scenery. I enjoy going to Ali Babba for lunch right before the call to prayer. If you sit outside you can see businessmen summoned by the muezzin sprint to mosque to line up for daily prayers. The hymn of the muezzin and tingling taste buds from this spicy dish never fail to give me goose pimples.
Turkish coffee
There is so much to see in Istanbul, and a week is not nearly enough time, but there is a solution to increasing productivity despite limited time. The solution is Turkish coffee. Turkish coffee refers to the method of preparation, not the type of coffee. It is strong and never served with cream, milk, or sugar. If you enjoy your coffee sweetened make sure to tell your server when you're ordering. The coffee is sweetened while it is being prepared. Awha sada means black coffee, ahwa ariha is lightly sweetened, ahwa mazboot is a medium amount of sugar, and ahwaziyada is very sweet. If you stir your coffee before drinking it, you'll end up with a mouth full of coffee grinds. Trust me, it's not pleasant.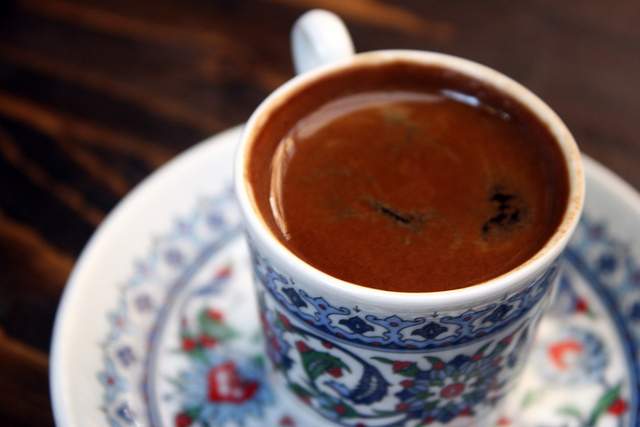 Recommendations
Ciya: Guneslibahce Sokak 43, Kadikoy
Anadolu Lokantasi: Kozyatağı Mh.
Kandilli Suna'nin Yeri: Kandilli Mh.  34684 Uskudar
Kosem Karadeniz Pide Salonu: Tutuncu Mehmet Efendi Cad. No: 10 D.5, Goztepe
Tarihi Subasi Lokantasi: Nuruosmaniye Cad No: 48, Carsikapi
Kantin: Akkavak sokak No. 30, Nisantasi
Read Eat Your Way Around Istanbul for a more in depth article about eating in this amazing city, and check out our tips for having an indie travel experience.
Bangkok, Thailand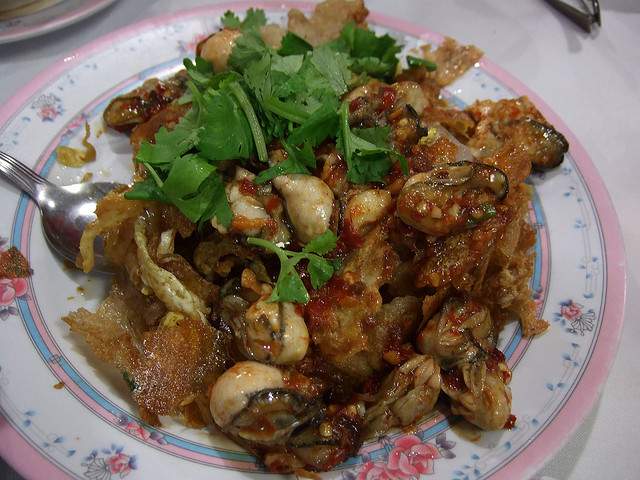 When to visit: A tropical climate keeps temperatures in Bangkok warm throughout the year. Your quest to find the city's best food stall will be difficult during monsoon season (May-October).
Dining tips:
It's about the dish, not the restaurant. It's difficult to find an all-around exceptional restaurant in Bangkok. Most of my favorite restaurants specialize in one or two dishes while the others are commonly unremarkable.
Don't be too quick to judge the quality of a restaurant based on its appearance. The overwhelming majority of Bangkok's culinary gems are served roadside from a smelly food stall.
Forget about five star restaurants. The price and quality of a restaurant seem to have an inverse relationship in Bangkok.
The city's hotspots are hidden gems infrequently visited by tourists. If you're traveling solo, don't speak the language, and haven't befriended a local, it takes commitment and perseverance to find them. Many Bangkok restaurants have no working phone. But don't let this intimidate you. Before embarking upon your street food hunt have your hotel write the address in Thai, and point you in the right direction.
Traditional Dishes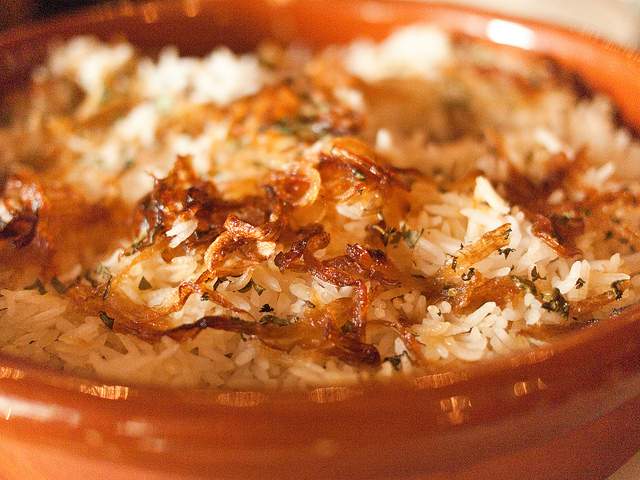 Goat Biryani is a Muslim-Thai favorite.  Biryani is offered at most Muslim restaurants, but rumor has it Naaz is incomparable. Although I can't account for the hundreds of other restaurants that serve goat biryani, I will say that the goat biryani at Naaz is a contender. The rice is soaked in curry, and topped with tender meat, cashews, raisins, and sprinkled with fried onions.
Naaz: 24/9 Soi Phutta Osot
The oyster omelet is commonly found in food stalls. It is cooked to a crisp in a seasoned iron pan and then topped with soft, fresh oysters. What makes this dish so tasty is the not so secret ingredient – pork fat.
Nay Mong: 539 Thanon Phlapplaachai 539
Street Food
Knowing where to eat, what to eat, and how to order it in Bangkok can be a daunting task. The city is teeming with food stalls specializing in pad thai, curries, grilled fish sausages, oyster omelets, smoked duck, pork blood soup, grilled bananas, fried insects, and much more that would take a lifetime to explore. If you're ambitious you can try all of the above without even putting a dent in your wallet. You can buy a bowl of noodles for well under a dollar. Chinatown, Nang Leong, Sukhumvit Soi 38, Phra Chang Pier, Pratanum, and the area formerly known as Bang Rak market are all great places to forage for delicious street food.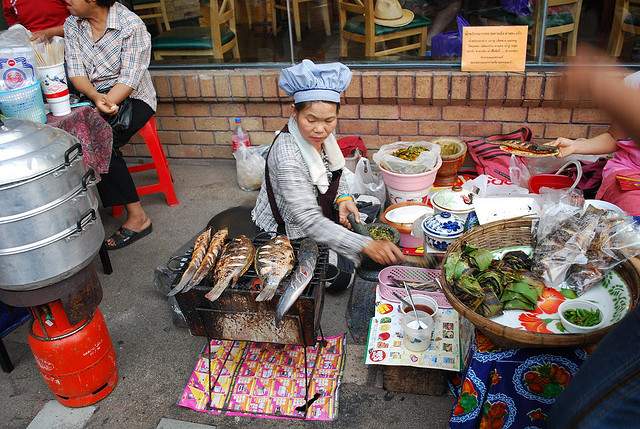 Old-School
Bangkok has become a gastronomic hodgepodge. Somewhere along the blending of Asiatic cultures authentic Thai food was buried under the hundreds of Chinese, Cantonese, and Indian shophouses that have come to dominate Bangkok. Old-school restaurants, also known as faithful Thai restaurants, are housed in the inner city. Restaurants such as Sanguan Sri are difficult to find, but well worth the hunt to sample authentic southern style Thai curries.
Sanguan Sri: 59/1 Witthayu Rd.
Recommendations
Chote Chitr: 146 Praeng Phuton Rd.
Yen Ta Fo: Sala Daeng Soi 2
Methavalai Sorndaeng: 78/2 Ratchadamnoen Klang Rd.
Khua Kling Pak Sod: 98/1 Thonglor Soi 5, Sukhumvit
Maan Mueng: 165/7 Sammakorn Soi 16, Ramkhamhaeng
Lookchin Anamai: 3 Soonvijai Soi 7
Yusup Phocana: Kaset-Navamin Highway
Check out our Bangkok Indie Travel Guide if you want to add Bangkok to your RTW trip and read Cheap Eats in Bangkok for more in depth information on the street food culture.
Buenos Aires, Argentina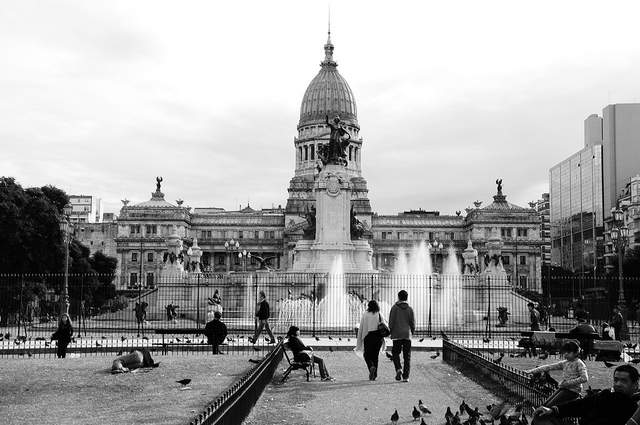 When to visit: High season runs from December to February, which is also the summer months, when the heat can be unbearable.
Dining Tips:
Palermo is BA's culinary hotspot and largest barrio. Here you'll find the best of the old and new – the most innovative fusion restaurants and my favorite parrillas.
Most eateries near El Caminito are Italian tourist traps serving overpriced pasta.
If you're a vegetarian I suggest modifying your itinerary.   It's possible to still be vegetarian in Buenos Aires, but it isn't easy.
Carnivores, here's a crash course guide to Argentine barbecue

Ordering a steak): cocida means well done, a punto means medium, and jugoso means medium rare.
Main cuts): a bife de chorizo is a sirloin, bife de lomo is tenderloin, entrana is skirt streak, vacio is flank steak, and asado de tira are ribs. If you're feeling brave or indecisive order a parrillada – a platter of meats including the exotic cuts such as intestines and blood sausage.  
Argentine barbecue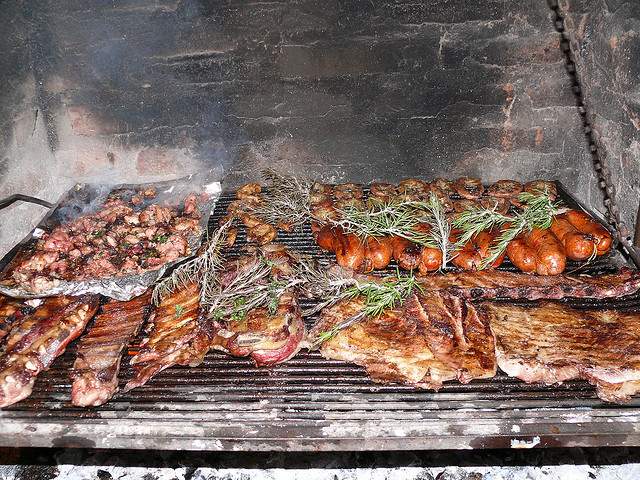 Everyone's dying to know where you can find the best steak in BA, but no one is ever happy with the answer. For locals, this question is oversimplified. You might as well ask an Italian where you can find the best pasta. Instead of asking where you can find the best steak, think about what kind of experience you're looking for. This will help narrow down your search.
Don Julio: Guatemala 4691 & Gurruchaga, Palermo Soho
 Rodi Bar: Vicente Lopez 1900 &Ayacucho, Recoleta
 La Rosalia: Scalabrini Ortiz 1538
Closed-door restaurants
For those suffering from a steak hangover, closed-door restaurants offer BA foodies hard to find cuisines such as Asian, French, and vegetarian dishes. These hidden restaurants are usually run out of the chef's home, making for a unique and intimate experience. The locations are undisclosed to the public domain and reservations are required.  Here are a few:
Street food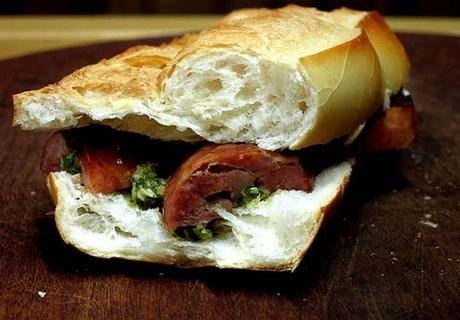 A trip to BA is incomplete without choripan, a chorizo sandwich topped with chimichurri, from the street vendors along the promenade at Costanera Sur.
Wine (Vino)
Malbec is Argentina's most widely known red wine. It is deep, full bodied, concentrated with raspberry and plum flavor and pairs well with grilled steak. If you prefer white wine, Torrontes is a dry, tangy white, and excellent as an aperitif.
Recommendations
Parrilla La Cabrera: Cabrera 5099 Palermo Viejo, C14BG
Reencuerto: Cabrera 4801 Palermo
Café de Garcia: Sanabria 3302
La Brigada: Estados Unidos 465 San Telmo

Photo credits:  quinn.anya, dewet, h3_6, Fabio,  Jeroen Moes, star5112, maria-c-o, arvindgrover, QuinnDombrowski, pelican, avlxyz, sherrattsam, Edsel L, IW Zaq Schlanger, dr_pablogonzalez, Vincent van der Pas, all others courtesy of the author and may not be used without permission