California's Route 1 north of Santa Barbara, sections of which have been designated a National Scenic Byway, is undeniably one of the most picturesque roads you'll ever traverse, primarily because it is largely a contiguous strip of undeveloped coastline with dramatically arresting and absolutely endless views.  Undeveloped, as in not much there other than the road on which you're driving. I've traveled around the periphery of most of the country and there isn't anything quite like it in any other state. Coastal property is big business; most of the country's new development is occurring in oceanfront communities. Yet, not here. Not now. Not ever.
You can drive days—seriously—and still all you'll see is raw, unadulterated wave bashed shoreline. There's a cottage here, a ranch there, a speck of a town every now and then. But, mostly, you'll see a whole lot of nadda standing between you and heaven.
Coastal Highway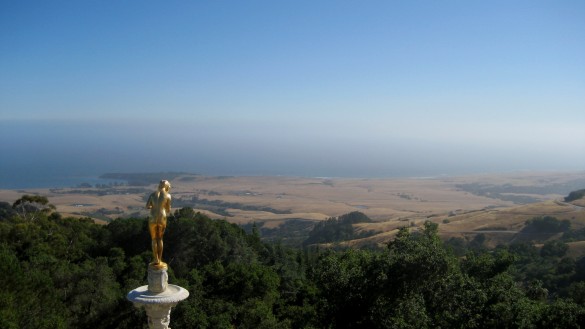 The Pacific Coastal Highway runs 9,446 miles, the entire length of the Americas. With more than 1,000 miles of coastline and with more residents than any other state in the country, the fact that at least half California's shores are preserved in perpetuity is beyond commendable.
The State of California had the foresight to preserve 280 miles along the Pacific Ocean in parkland, and the Feds from Point Reyes National Seashore to the Redwood National Park and Forest placed huge hunks of shoreline into conservation. With most of the vertical highways having been laid inland on the eastern side of the coastal mountain ranges that run parallel with the ocean, mile after sundrenched coastal mile has been left to this two lane shoulder-less winding road.
Construction of the now 655 mile California Route 1 not surprisingly started from San Simeon (read: "Hearst Castle") to Carmel in the early 1920's. Each segment from there forth served to link the rural crest top Castle with the metropolises both to the north and south. Although not the first or only castle to have been built along Route 1, it's certainly the most opulent. Nor was it the first time money begot money and spurred action in DC.
As I perched precariously on the edge of an un-barricaded cliff along the rugged coastline staring out towards Japan in hopes of spying a whale's blow spout, I felt a sense of rightness not afforded along just every stretch of highway, scenic or otherwise. Driving California's Coastal Highway is good for the soul.
Cliffside Camping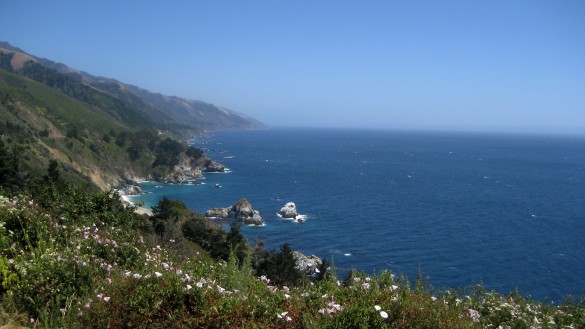 In the more populated southern section, Route 1 passes through a series of quaint and ultra distinctive towns from the border to Los Angles. Above that, from Moro Rock to the memorable Bixby Creek Bridge, beauty abounds in the form of uninterrupted expansive views of the soft golden rolling hills, then the tall conifer forests, across the rolling Pacific to the beryl-blue horizon. From Pismo Beach to Half Moon Bay, the road hugs the rippled shoreline in a long series of sharp curves and steep dips inches away from vertical drops hundreds of feet to the surging surf. Tsunami Evacuation signs are easy to ignore when each rise affords 180 degree pristine panoramas.
Honestly though, and this isn't an easy call as I have many favorite places along the central coast—including Moonstone Beach in Cambria just south of San Simeon, I prefer the coastline between San Francisco to Mendocino. Perhaps because it's where I finally found a State Park that wasn't booked to capacity, which is not a laughing matter when camping in California in the summertime.
Salt Point State Park with one of the first designated underwater preserves and 6 miles of coastline thick with bulk kelp forests was almost devoid of campers. I enjoyed a few days hiking through Douglas Firs and Redwoods down to the water's edge, walking the windswept ridges along the ocean among the century old surplus blocks quarried to cobble the streets of San Francisco, picnicking out on sea sprayed bluffs without sight of road, buildings, boats, airplanes or traffic. Undisturbed, I explored the Pygmy Forest and the adjacent Kruse Rhododendron State Reserve, which regrettably was just past blooming. This single park along Coastal Highway seemed to have been overlooked by the millions who visit the California Park System annually, luckily for me.
A Ranch by the Sea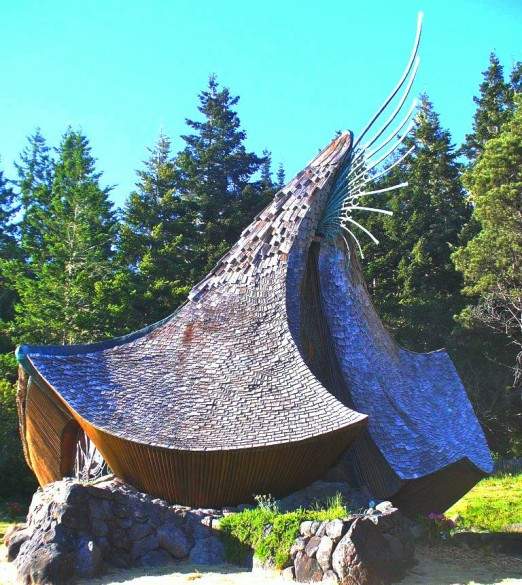 Half way between Point Reyes National Seashore and Fort Bragg, and just north of Salt Point, is a place called Sea Ranch, which played a large role in conserving California's shoreline and preserving its public accessibility. In 1968, when much of the coast was not publically accessible, a development was proposed at Sea Ranch that would have converted ten miles of formerly publicly accessible shoreline to a private beach. A few irate citizens spoke to a few others and before you knew it a new legislative "commission" had been established to regulate coastal development and ensure public access. Although local residents lost public access to their local shoreline, their legal resistance helped gain hundreds of miles elsewhere for public use thanks to the formation of the California Coastal Commission and its nonprofit spin off the Coastal Conservancy.
Sea Ranch is memorable for two other reasons, though. Firstly, because of the uniformly shingle clad unpainted clapboard cottages. Although only about 300 of the 1,800 homes built house fulltime residents, (the rest are vacation rentals) there is no perimeter fencing and no street lighting.  The grass level is maintained by a herd of sheep. If those features in themselves don't put Sea Ranch in a totally different category for oceanfront developments, then its non denominational Chapel will.
Hubbell's Chapel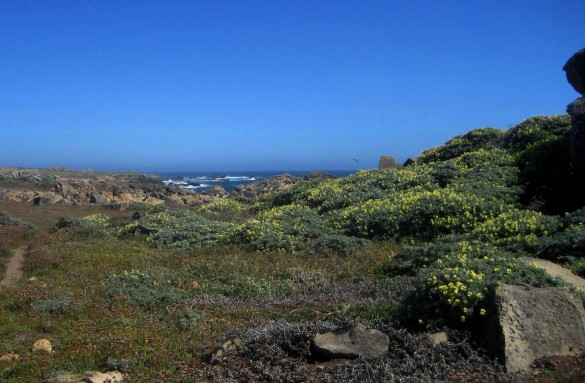 Enter stage right, the Buffams. More than a decade ago Robert and Betty, then residents of Sea Ranch, contracted internationally renowned San Diego Architect James Hubbell to design and oversee construction of the small structure intended to provide a space for spiritual contemplation for this small seaside community. Best part if not slightly ironic is that the Sea Ranch Chapel is the only publically accessible thing on the Ranch, made so from the onset by intentional endowment to its affiliated nonprofit.
The shape, very aptly evoking a cresting wave, consists of peaked shingled wings that emerge from a heavy stone foundation. The organic weathered materials and fluid shape integrate naturally into the hillside and surrounding meadows. As the sun beams brightly above, the waves slam into the crags below and the wind whips the wildflowers. Visitors slip inside like a hermit crab does into its shell seeking protection from the elements.
Although not large, the 360 foot Chapel provides a serene sanctuary as it was intended to do. The interior's polished wood work, as well as the foot thick flagstone floors and walls, yield a feeling of antiquity to the place, certainly a solid sense of belonging. A massive white plaster flower engulfing the peaked ceiling draws eyes upward and the stained glass windows beneath the petals infuse the sacred space with a sense of the ethereal.
It's not often that a structure was designed and built to be a work of art. Sea Ranch Chapel doesn't just exhibit artistic features; it is –as a whole—a functional sculpture. It was meant to BE art.
The number of special events held there every year would attest that I am hardly the only person with that impression. Considering the fact that most of Hubbell's works are private residences, publically accessible examples such as the Chapel at Sea Ranch and the Pacific Portal on Shelter Island across the San Diego Bay offer the rare opportunity to experience the magnificence of his craft.
It is a well kept secret tucked within a cloistered development along California's northern coastline. Although it IS just 120 miles from San Francisco, day trippers are forewarned. Given the precarious nature of this historic road, the going is slow—it's meant to be. Practice patience and imagine a time before the hordes arrived lured by gold. Surrender to the alluring seascape. No rush; no needs. Like Hubbell's Chapel, just BE.
Harmony is grossly under-rated.
Ruth Newell is freelance writer with a serious slant towards dharma-travel. She spent the last twenty-five years writing a wide variety of technical documents, marketing material and website content for Native American Tribes, government entities and corporations. Much of her professional writing has pertained to sustainable development (specializing in zero waste technologies), comprehensive and environmental planning, fundraising, as well as community and business development. She also taught creative writing in a private school for 16 years. For the last two years though, she's been traveling, house sitting, and writing about they places she visits, the people she meets and the food she eats. She's lived in many places over the years and when asked where she is "from" responds that her home is definitely where her heart is and where her heart lies is her secret. She does, however, currently call North San Diego County home "base"; yet, that could change at any moment…depending on which direction the wind blows.