Our "Sustainable Travel" series is sponsored by Global Basecamps.  Global Basecamps is specialty travel company that helps independent travelers research and book locally owned boutique hotels, off-the-beaten path lodges and multi-day excursions all over the world. Whether hiking the Inca Trail, experiencing a traditional Japanese Ryokan, or relaxing on the beaches of Thailand, Global Basecamps specializes in designing completely customized itineraries to meet each travelers specific priorities and match their travel style.
South America has long been a favorite on the backpacker trail, one of few travel destinations that offers everything from snowcapped summits to lush rainforest in an area that is both easily accessible and budget-friendly. Whether you dream of stumbling along the famed Inca Trail, discovering the vibrant cultures of indigenous communities, or gorging on red meat and fine wine, there's something to suit every taste. Not only that but the laid-back Latino lifestyle, endless stretches of wilderness, and locally-controlled tourism industry lend themselves to the kind of sustainable and eco-friendly travel that has become so appealing to those looking to travel responsibly.
[social]
From tree climbing in the Amazonian jungle or galloping on horseback across Uruguayan plains, to getting spiritual at an Argentine Yoga retreat or pedaling through the Atacama Desert, South America has no shortage of experiences that are both easy on the wallet and the conscience.
1.Go bird-watching in Ecuador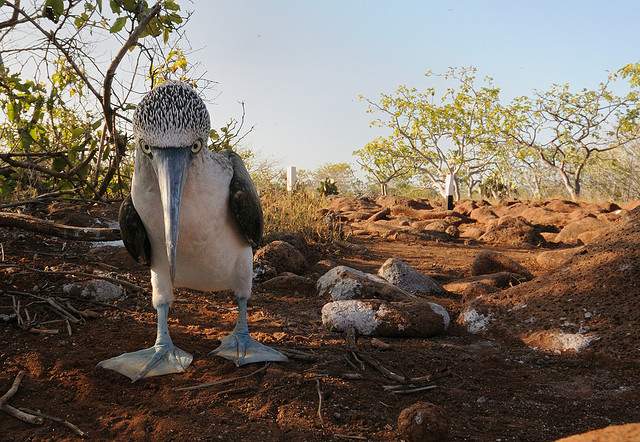 From lounging seal pups on the shore of the Galapagos islands to the varied fauna of the Amazon rainforest, Ecuador scores some major points when it comes to nature. Those looking for a slice of eco-action can head to the Ecuadorian Andes where the The Mindo Cloudforest Foundation (MCF)  works to preserve and restore bird habitats and runs a number of environmentally friendly wildlife sanctuaries. Visitors can get up close and personal with all things feathery at one of the organization's many bird sanctuaries, each designed to bring sustainable tourism into low-income rural communities and encourage locals to protect and preserve native ecosystems. Birding enthusiasts can hunt out exotic-sounding species like the Glistening-green Tanager and Long-wattled Umbrellabird at the bird sanctuary in the Chocó-Andean foothills or spy a Purple-chested Hummingbird or Double-banded Graytail at the nearby Rio Silanche bird sanctuary.
>>Find cheap flights to Ecuador and check out our Ecuador Travel Guide
2. Cycling the Atacama Desert, Chile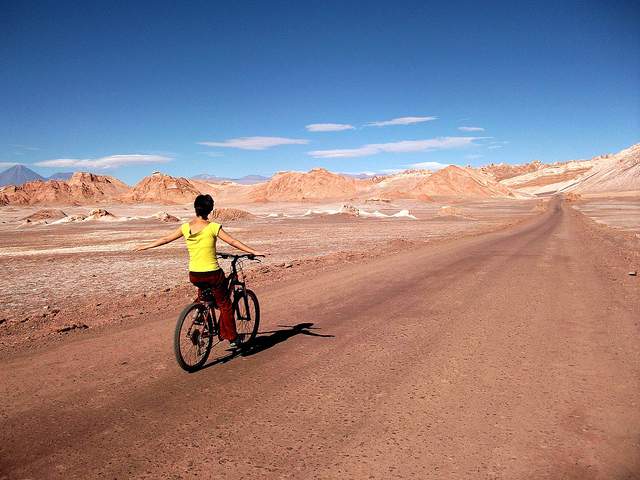 A trip to Chile would hardly be complete without tackling the arid plains of the Atacama Desert, some 600 miles of dry and dusty desert stretching between the Pacific Ocean and the Andes Mountains. Despite the sweaty days and endless stretches of shadeless terrain, cycling is actually a popular activity in these parts, and cheap bike rental is readily available from several places in San Pedro de Atacama, the desert's main gateway. Cyclists can explore the nearby lakes, the spectacular geysers of El Tatio, or the moonlike landscape of the aptly named Valle de la Luna (Valley of the Moon).
Things are a little backwards in the desert villages, so don't be surprised if your hire bike comes complete with a flat tire and a hand-scrawled route map. To avoid any mishaps, check your bike's brakes and tires beforehand, stock up on water supplies, and leave ample time for your journey. For the less adventurous, there are plenty of four-wheel drive tours available to show you the sights instead – just make sure you team up with other travelers to cut down your fuel usage.
>>Find flights to Chile or book a Chile adventure trip
3. Explore the Amazonian jungle in Colombia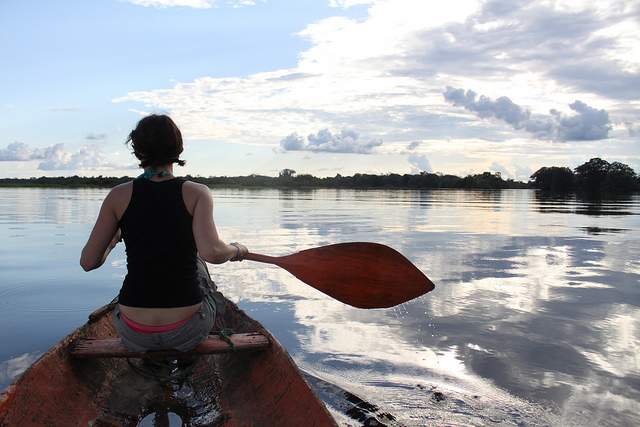 Brazil may be the go-to destination for Amazon explorers, but Colombia's less-visited shores offer ample options for those looking to get well off the tourist trail. Take a boat to the small village of Puerto Nariño on the shore of the Amazon River and step back in time to an era free from cars and pollution – the village is entirely pedestrian thanks to the rules of the ecological community of the Ticuna tribe. If you need a little more excitement, a mere twenty minute boat journey will land you at the Amacayacu National Park, where canopy walks, canoeing, and tree-climbing take place to a backdrop of lush jungle, gushing streams, and historical aboriginal territory. Global Basecamps offer tours that stop at Puerto Nariño.
>>Book a flight to Colombia and read Why You Should Ignore Everything You've Heard and Go to Colombia
4. Visit an eco-friendly horse ranch in Uruguay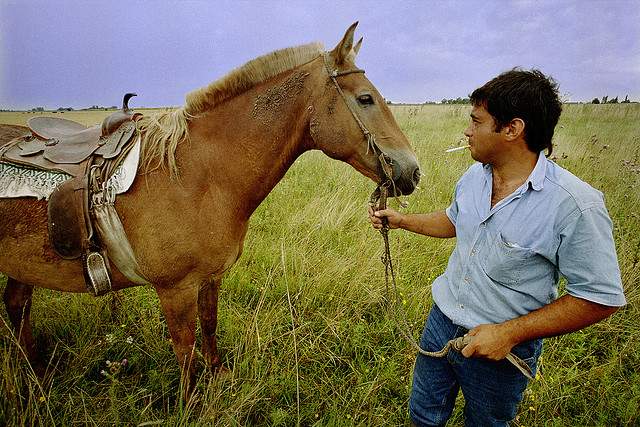 From Argentina's gauchos to Amazonian hunters, South America has a long history with the horse, and there are few better ways to experience ranch life than bedding down in a cattle and horse station in the Uruguayan countryside.  La Salamora, a working farm nestled in the hills just 70km from the beach resort of Punta del Este, offers travelers the chance to live amongst real Latino cowboys (that's "gauchos" to the locals) whilst tackling the hillside trails on horseback. There are a variety of horse treks on offer, everything from an hour's stroll to a multi-day adventure traversing creeks, valleys, historical Gaucho trails, and copper mines. Not only that, but the lodge itself is a haven of ecotourism, with back-to-nature activities like hiking and bird-watching, and a chance to help out with seasonal farm duties – rounding up cattle on horseback or sheep-shearing, for example. Don't worry though, it's not all work – the home cooked food and cellar chockfull of locally produced wines means you can let your hair down at the end of the day.
>>Read Uruguay: 7 Big Ways to Experience This Small Country and check out adventure trips in Uruguay
5. Llama trekking in Peru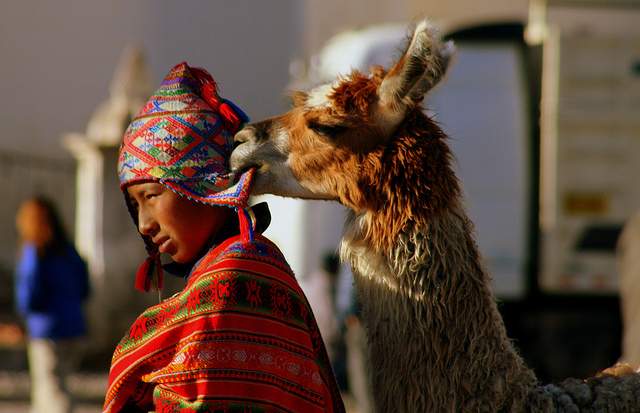 For those seeking an alternative (or addition) to the classic Inca trail, lesser-trampled Inca routes abound in the outskirts of Cuzco, and to spice things up even more, why not swap your porter for one of Peru's national animals – the llama. Yep, in this part of the world, packhorses and mules have been substituted for something fluffier and friendlier, giving local farmers the chance to make a few tourist dollars by hiring out their herd for the day. Several tour companies offer llama treks, where the animals are equipped with saddle-bags to haul your belongings and are either led by the hikers or an accompanying guide – just be careful to research their ethical practices beforehand to ensure the animals are well cared for and strict weight restrictions are implemented on their loads. Apumayo Expediciones is one local company bringing llama love to the masses and boasts some enviable eco-credentials to boot – the company runs a number of Andean community projects, river clean-ups, and offers tours and activities for people with disabilities.
>>Find a cheap flight to Cusco, Peru and check out our Peru Travel Guide
6. Yoga and Volunteering in Argentina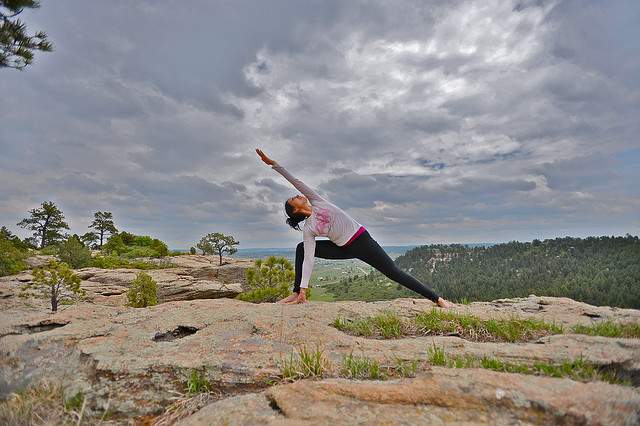 Argentina may be better renowned for its hearty steaks, sultry tango steps, and insatiable party scene, but there's plenty of calm and to be found away from the bustle of the capital.  Eco Yoga Park is situated in La Pampa, a rural area 60km outside of Buenos Aires, and is more than just a yoga retreat. A holistic community built and run on sustainable and eco-friendly principles, with a homegrown organic menu and an acclaimed Yoga and Meditation school, this is the place to stretch out both your mind and your limbs, amidst a backdrop of rolling fields and blushing sunsets. Those on a tighter budget can take advantage of the park's volunteer scheme, helping out for 4 hours a day in tasks like organic farming, eco-construction, or teaching English and Art, in exchange for unlimited access to the park's classes and activities.
>>Book a hostel in Argentina and check out these Argentina adventure trips
7. WWOOFing in Bolivia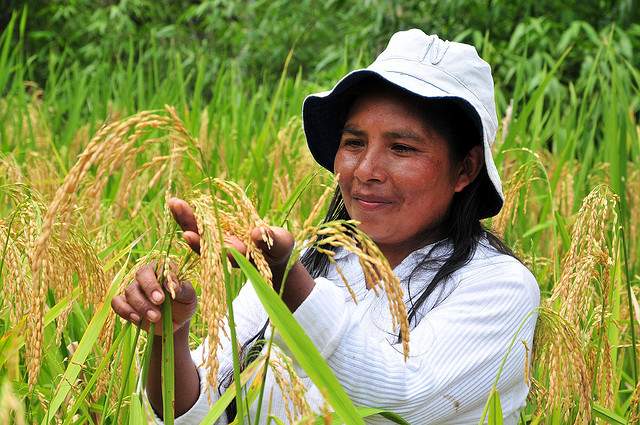 Working as a volunteer on an organic farm has become something of a right of passage for overseas backpackers and gap-year students, and it makes sense when you consider the money saved by putting in a few hours work for your keep. In addition, a farmstay offers the local interaction and language immersion that so many volunteer experiences lack. Picacho is one such place – a rustic family farm hidden away in the Bolivian Amazon – where volunteers will find themselves surrounded by cows, horses, pigs, and chickens, undertaking general farmwork, natural construction (using mud, palm leaves and wood), and tending to a varied orchard of bananas, plantains, grapefruits, and guavas, amongst others.  WWOOF members can check out around a dozen other opportunities for WWOOFing in Bolivia or search out working farms around the rest of South America.
>>Book a hostel in Bolivia and read Seven Experience Not to Miss in Bolivia
Read more about eco-friendly travel:
Global Basecamps specializes in designing custom South America itineraries that take travelers off the tourist track and immerse them into the country's colorful culture.   Global Basecamps' Ecuador tours, for example, combine history, interaction with indigenous cultures, lush tropical forests, and incredible wildlife.  All of Global Basecamps' custom tours help travelers give back to the destinations they visit. Their Inca Trail tours support local conservation efforts and ensure fair wages and ethical treatment of the porters.  Whether you want to explore the Amazon jungle in Colombia, cycle the Atacama Desert in Chile, or relax on a Galapagos cruise, Global Basecamps can help provide an authentic cultural experience that showcases the natural beauty of South America.

Photo credits:  Scott Ableman, dolce stil nuovo, eliduke, Dietmar Temps, whl.travel, BartmanSA, CIAT International Center for Tropical Agriculture