With thousands of fabulous vacation destinations around the world, narrowing down a list of top romantic getaways isn't easy. On this particular list, you'll find three classics for traditional romantics, two more out of the way for those looking for something a little different, and one that falls into the "best kept secret" category for couples who want their friends to be jealous. Read on.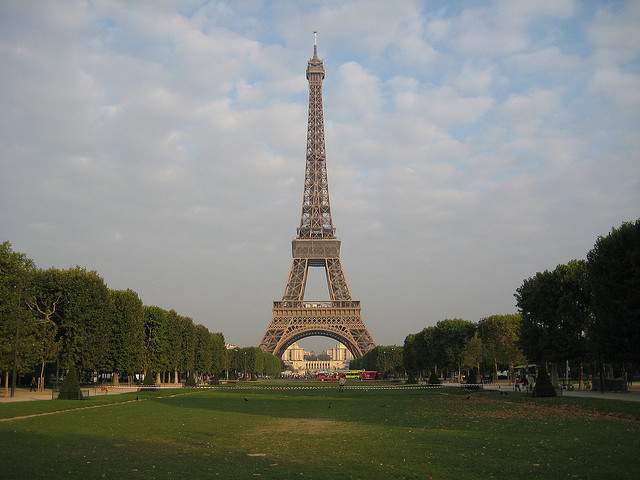 No list of romantic getaways would be complete without Paris. From snuggling on top of the Eiffel Tower or the Arc de Triomphe to casual, arm-linked strolls down the Champs-Elysées and coffee under the porticoes in Place des Vosges, the City of Lights is truly a city for lovers.
Although you may be tempted to stay indoors in the elegant cafes, shops, and luxury hotels in Paris, you'll have no trouble finding romantic excursions if you are so inclined. Take a cozy river boat ride down the Seine to the Cathedral of Notre Dame, have a picnic lunch of baguettes and your choice of French cheese in the Luxembourg Gardens or the Chateau de Versaille, roam the hallowed halls of The Louvre, and admire the view of the city at night from Montmarte Hill.
>>book Paris Airfare and read our Cheap Guide to Paris
[social]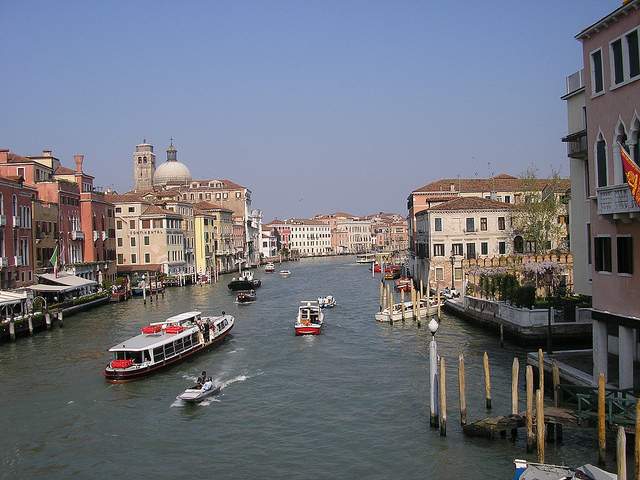 Venice is another European city that oozes romance. This magical, haunting place was built on small islands joined by bridges and often seems to be floating–with good reason since its streets are water. Accordingly, you don't have to worry about traffic (except from the vaporetti), but do bring good walking shoes.
You can take a gondola ride at sunset in the Grand Canal, hang out in Saint Mark's Square, and spend long, lingering mornings sipping cappuccino at one of the many sidewalk cafes, but one of the best ways to enjoy Venice is by getting lost–and by all accounts this is quite easy to do. Venice is a veritable maze of narrow side streets and alleys waiting for you to peek in, admire the ancient buildings, and every now and again, sneak kisses in hidden corners.
>>book a flight to Venice and read the things you should know about Venice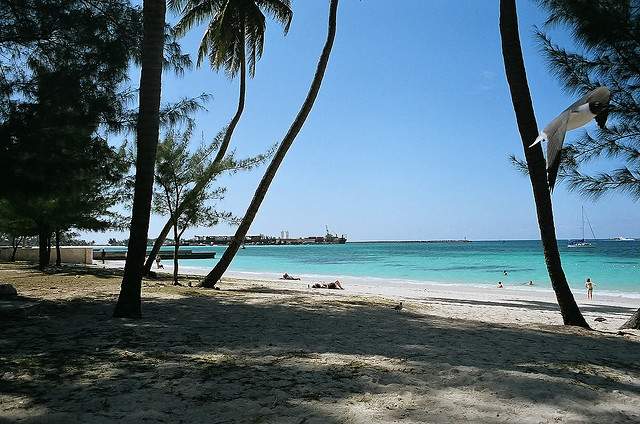 One of the most popular honeymoon and wedding destinations for Americans is the Caribbean islands. Each island has its own history and character, so no matter what you are looking for in a romantic getaway, you are sure to find it in the Caribbean.
For those looking for a quiet spot, check out St. John in the US Virgin Islands. Although the smallest of the Virgin Islands, two-thirds of St. John is designated as a national park, so there is plenty of room to explore. If you'd prefer a livelier spot with casinos and plenty of nightlife, French St. Martin's and Dutch St. Maartens, are good bets–and St. Maartens is also duty and tax free, offering great shopping opportunities. The most traditionally romantic island, though, just may be Santa Lucia in Anguilla with its fine beaches surrounded by gorgeous green mountains and several exclusive resorts.
>>book cheap flights to the Caribbean and read about the Top Honeymoon Destinations in the Caribbean
4 – Maldives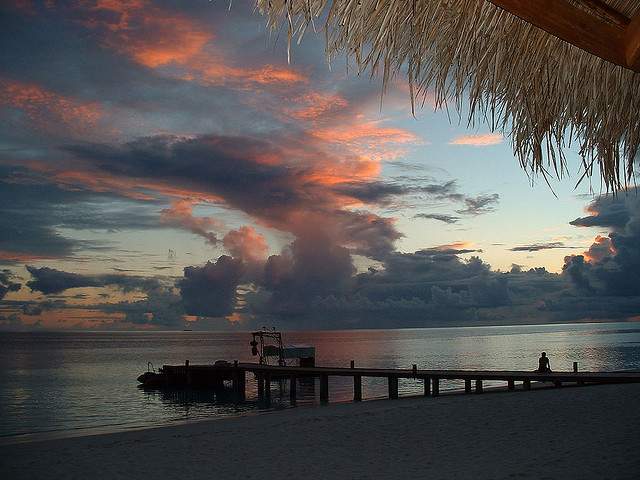 Although it's been inhabited for over 3000 years, the Maldives is a relatively new romantic destination for many. The group of over 1,000 coral islands is on the equator southwest of Sri Lanka, meaning the sun shines year round and puts average temperatures between 84° and 90°F (29° and 32°C).
Eighty-seven of the islands in the Maldives are exclusive resorts, so if that's your thing, you have quite a selection, and especially if you like over-water bungalows. Regarding activities, the Maldives is one of the prime diving and snorkeling spots in the world with an amazing level of visibility that sometimes exceeds 50 meters; underwater life is so varied and colorful that you are unlikely to have the same experience twice. You can also surf, fish, whale and dolphin watch, and even go underwater in a passenger submarine if you aren't the diving or snorkeling type.
>>book a flight to the Maldives and read our Maldives Travel Guide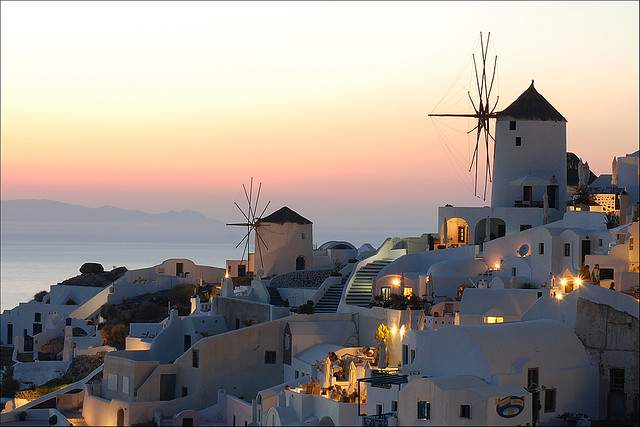 Greece's Santorini, an island north of Crete, is a picture-perfect paradise from its white-washed, cascading buildings in Oia to its crystal clear Aegean Sea–and the sunsets in Santorini are often said to be the best in the world.
Humans have been roaming Santorini for nearly 5,000 years, but its natural beauty has remained remarkably unspoiled. The Caldera, formed by a volcanic explosion 3,000 years ago is one of the most amazing sights, and from there you have breathtaking views of the nearby volcano and also neighboring islands. Red Beach, the ancient Minoan settlement of Akrotiri, and Skaros Rock shouldn't be missed, and also be sure to try Santorini cherry tomatoes, which are said to be some of the sweetest anywhere thanks to their volcanic soil beds.
>>book a ferry to Santorini and read our 14-Days Romantic Itinerary in Greece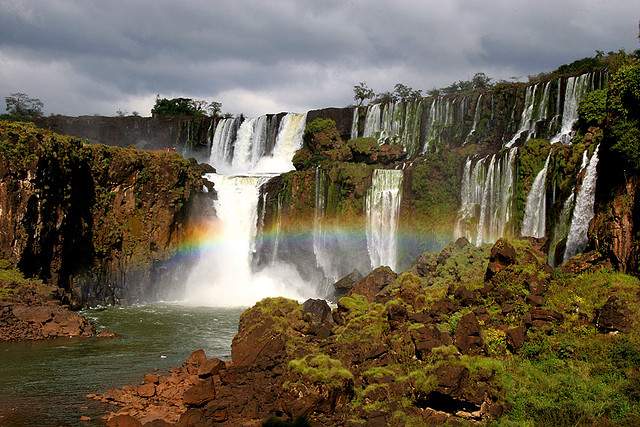 If you've never considered the enchanting Iguazú Falls in northern Argentina for a romantic getaway, it's time to add it to your list. Aside from being lush, gorgeous, and a hidden treasure, the falls located between Paraguay and Brazil even have a legend of young lovers attached.
As the tale goes, every year, the Guaraní people of the area would sacrifice a young virgin by throwing her into the waters to a waiting serpent, but when a young chieftain fell in love with one who was to be sacrificed, he stole away with her. The serpent smacked his tail on the water in anger, creating the falls. The man's spirit lives on in the trees surrounding the falls, and the young virgin's hair is represented by the cascading water. Aside from the falls, be sure to check out nearby San Ignacio Miní, the UNESCO-protected Jesuit mission.

>>book a flight to Argentina and read about the Things to do in Argentina


Read more about:
Additional photo credits: Paris by Terrazzo on Flickr , Venice by AndrewHavis on Flickr , Caribbean by dreamagicjp on Flickr, Maldives by Dave_I on Flickr, Santorini by MarcelGermain on Flickr , Iguazu Falls by ewanr on Flickr