Throughout my travels, one of the richest experiences is trying the local food. It tells the story of that place and the people who call it home. The ingredients, cooking methods, and entire dish as a whole tell us what crops and spices are readily available, what ethnicities dwell there, and about the rich customs of the culture. But even more interesting than a completely new food, is a food that is eaten all over the world in all different ways. That is exactly why I've decided to explore the foods that are part of our lives and see their similarities and differences all over the world.
Today we're exploring a dish that seems to pop up no matter where you live in the world – pizza. The simple dough, sauce, and cheese combination is approximately a $32 billion per year industry. More than 5 billion pizzas are sold worldwide each year, and an estimated 350 slices are eaten each second. While 3 billion of these pizzas are sold in America, there's still a lot of pizza being sold throughout the rest of the world. The toppings and history behind many of the countries give us a glimpse into that particular country.
Here are 16 unique pizzas from around the world. 
Australia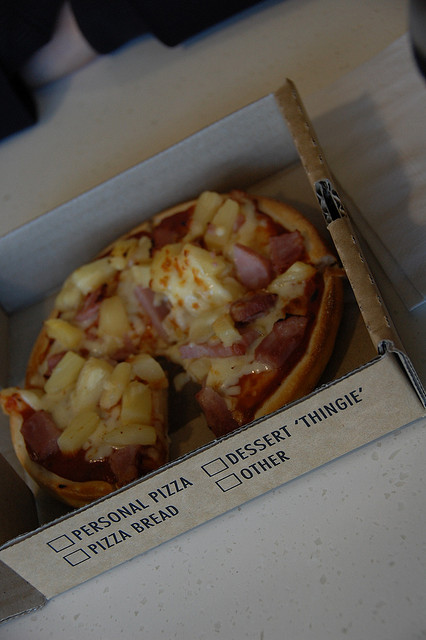 Italy and the United States might be the first countries that come to mind when thinking of pizza, but Aussies eat an estimated acre of pizza per day. In Australia, some of the common ingredients are seafood, especially prawns, plus chicken, ham, barbeque sauce, and pineapple. You'll even find exotic ingredients such as emu, crocodile, and kangaroo on some pies that you won't find anywhere else.
India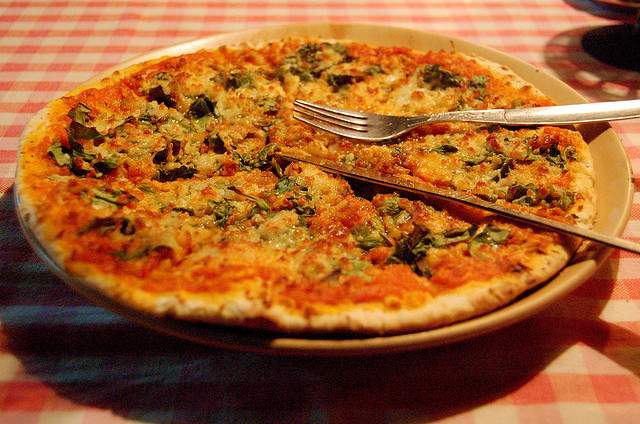 Just because there are Domino's and Pizza Hut chains continuously popping up throughout India, it definitely doesn't mean the country's bold, ethnic flavors were abandoned. Instead of an Italian cheese on top, it's common to use paneer, which is an Indian cheese similar to the texture and consistency of cottage cheese. Meats are prominent and include the same meats you find throughout other Indian dishes including minced mutton (sheep), and chicken tikka, which is chicken marinated in yogurt and a variety of spices.
[social]
Japan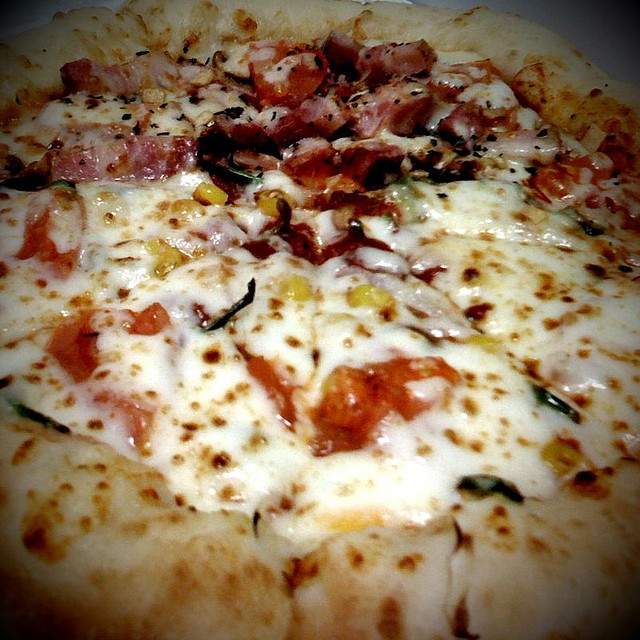 Pizza is generally a cheap snack or meal in the U.S., but it is actually more expensive in Japan. Besides the price difference, the ingredients you see throughout Japan, you won't see in the states. They slather on creamy mayo, pimiento, cooked potatoes, and bright yellow corn. But you can also find Americanized versions in the country as well, especially in franchises.
France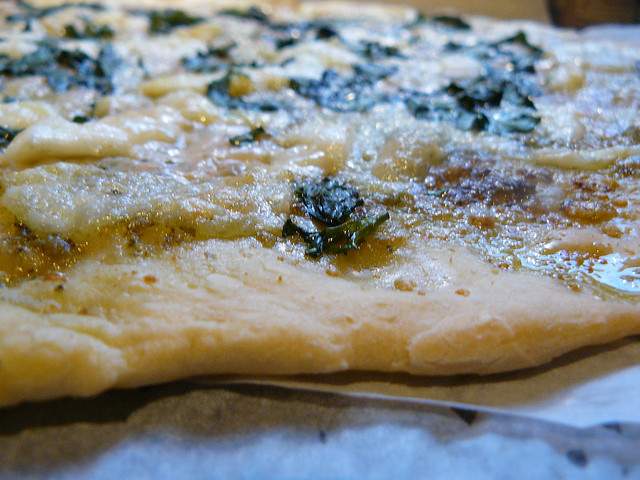 The best thing about pizza in France is, even though it varies by region, you can often find the beautiful, artisanal cheeses that the country is known for piled on top. The nutty, buttery, rich cheeses top the pizza that often has an ultra thin crust similar to a crepe, which isn't a shock from France. Fried egg, parsley, and garlic are unique ingredients found on pizzas throughout France.
Naples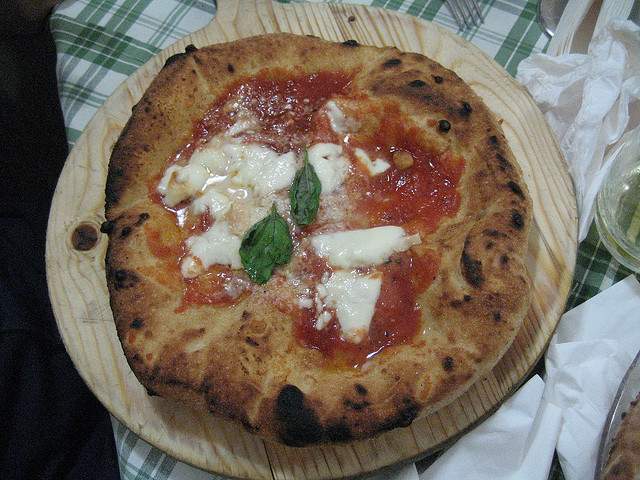 There are many theories on where pizza all began, but most believe it started in Italy's scenic Naples during the 16th century. Whether it was the birthplace or not, Naples is still creating pizza in the same simple, classic way it was prepared way back then. A light, crispy dough is topped with tomato sauce, basil, fresh mozzarella cheese and finished with a drizzle of olive oil, also known as pizza margherita. The mozzarella cheese is often made with the milk of a buffalo rather than a cow. Another version in Naples is pizza marinara, which is cheese-less and served with tomato, garlic, extra virgin olive oil, and oregano.
Russia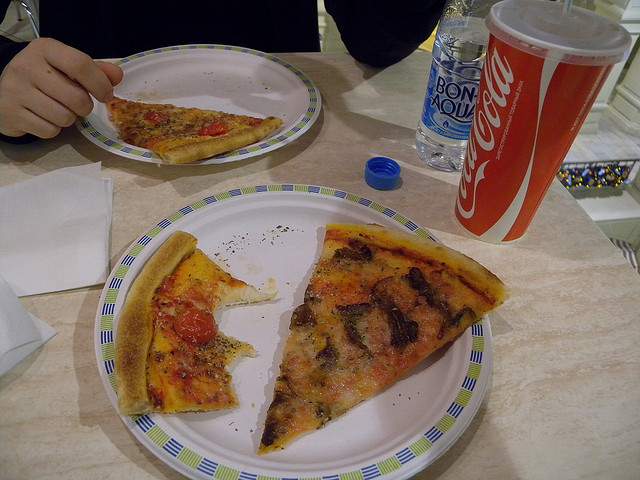 Russian pizza is heavily topped with seafood. Shredded tuna, mackerel, and salmon are just a few that you'll find. As far as veggies go, onions are a common choice.
Turkey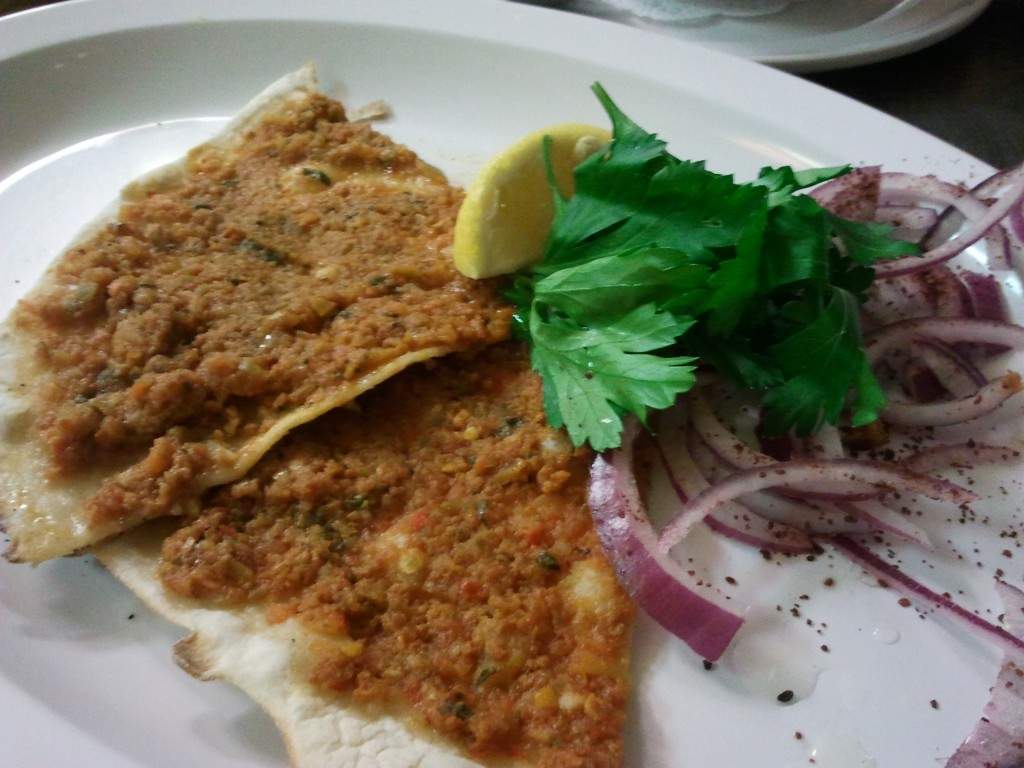 Lahmacun is Turkey's twist on pizza. Pungently seasoned ground beef, lamb, or a combination of both is thinly spread on a light, chewy dough. You won't find cheese, but you'll find a bright mixture of parsley and red onion. Traditionally, you roll it up with your hands and finish with a squeeze of lemon, which completely changes the flavor and makes it uniquely Turkish.
New York City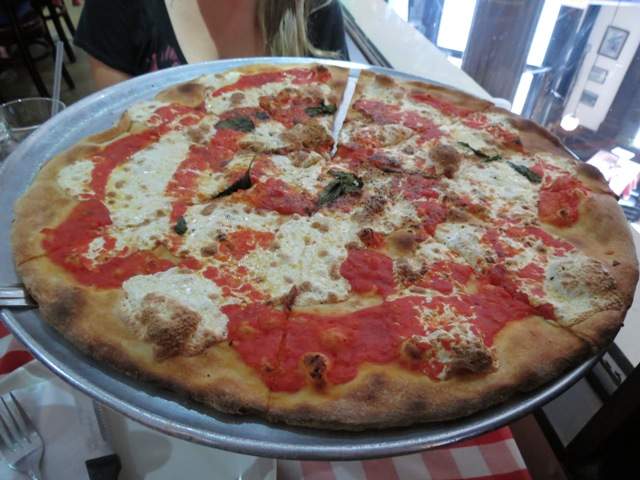 There is an estimated 1,600 pizza places throughout the city, including literally dozens of places claiming to be the "Original Ray's." Italian immigrants brought pizza to New York for the workers who craved something from back home. The pizza is just as popular now as it was back then. The pizza is iconically eaten as a snack on the go, folded up, suitable for the fast paced city. This thin pizza is even rumored to be influenced by the water in New York that is believed to add a rich flavor to the dough from minerals unique to the area.
Spain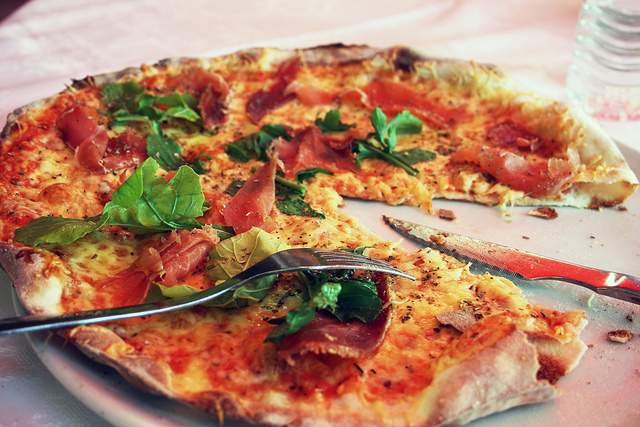 Spain's version of pizza is perfect for tapas. Coca are tiny and oval shaped and can be found with sweet toppings as well as savory. Candied fruits, pine nuts, Spanish sausage, caramelized onions, red peppers, a variety of vegetables, fish, sugar, citrus and anisette are all topped on the flat bread.
Sweden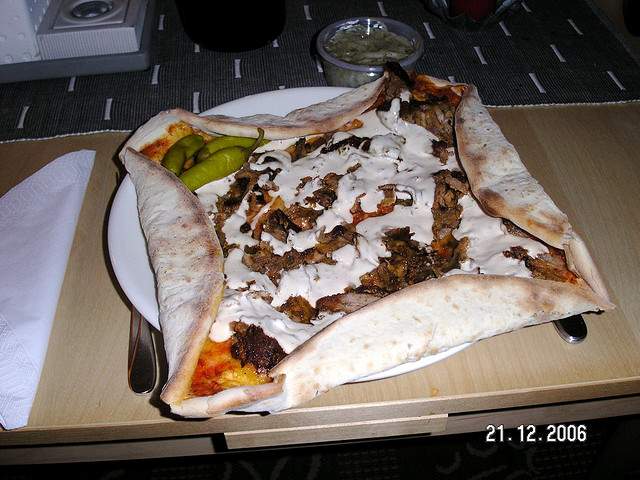 You might not be too surprised to find traditional Swedish meatballs on top of a pizza on Sweden, but there are plenty of other ingredients that will make you look twice. Any combination of items like peanuts, banana, chicken, curry powder, duck and black currants can be found. Instead of a traditional marinara sauce, béarnaise sauce is the popular foundation for the pizza.
Rome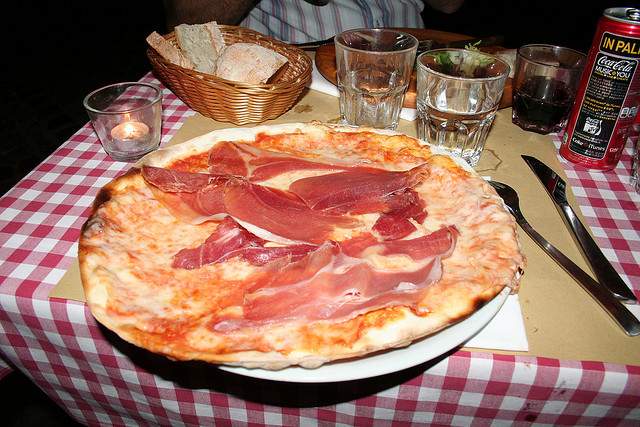 Rome has two unique styles of pizza. One is Rome's wafer thin crust that cooks on extremely high temperatures in a wood burning oven, omitting an alluring and unmistakable aroma. The crispy crust is topped with fresh ingredients and things you might expect from the typical Roman cuisine – prosciutto, artichokes, and olives. Another option in  Roma, and throughout other parts of Italy, is a thicker pizza cooked in a long, rectangular baking pan. Usually eaten as a snack, these pizzas can have fresh herbs, like basil or rosemary, a variety of cheeses like fontina, gorgonzola, mozzarella, and ricotta, and other common ingredients in Rome like anchovies, figs, tomatoes, and chopped garlic.
Lebanon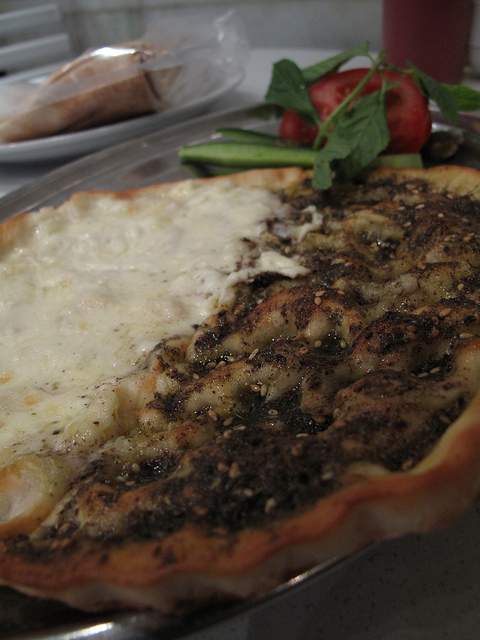 Throughout Lebanon and Syria you may not find pizza, per se, but you will find manakish, also known as mangish or manaeesh. Just like pizza in America, manakish is a popular dish and can be found as a street food or in a variety of types of restaurants. The dough is soft and chewy, like pizza in the states, but instead of mozzarella or provolone, you'll find kashkwan or akawi, both common cheeses in that region. For meat toppings, you'll generally find chicken or ground lamb. It's also topped with fresh thyme, onions, cumin, yogurt and olive oil.
Chicago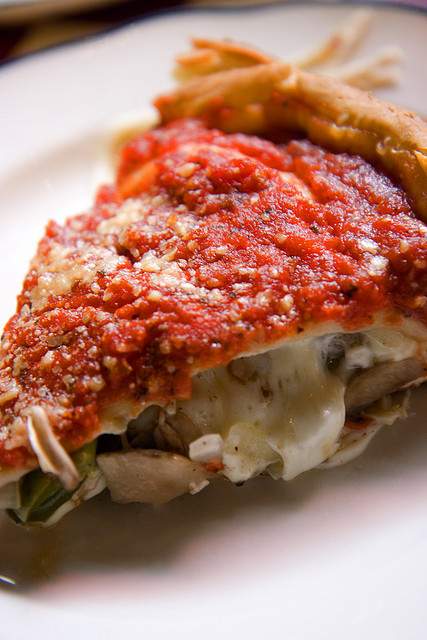 A knife and fork are usually in need if you're diving into a deep-dish or stuffed style pizza from Chicago. The Windy City serves up this massive meal that can easily measure four inches high, reversed with cheese on the inside and sauce on the outside. It can be filled with any typical American ingredients you'd like, but the most popular choices amongst both locals and visitors is chunks of juicy Italian sausage, green peppers and mushrooms. If you're looking to give it a whirl, you'll need to have some time put aside since when the pizza is made fresh, it can bake up to 45 minutes depending on the size.
China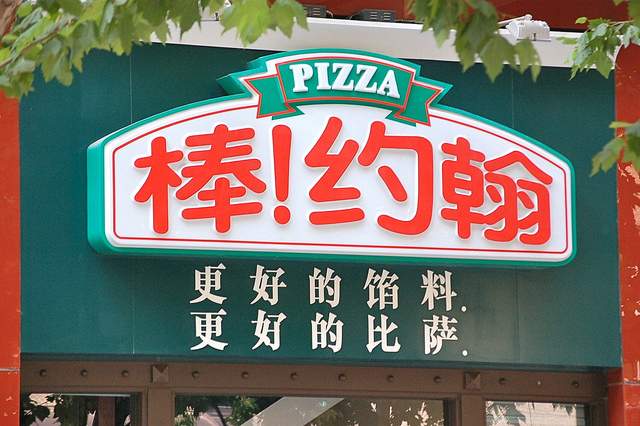 While Naples is often credited with the creation of pizza, some actually believe China to be the birthplace of the pizza. Rumor is that Marco Polo was compelled to bring the delectable dish to America. You'll find an abundance of familiar American pizza chains throughout the country, with both Americanized ingredients and more traditional Chinese ingredients like pea pods, water chestnuts, soy sauce, ginger, and onions. The original dish that is thought to inspired the creation of pizza is a scallion pancake.
New Haven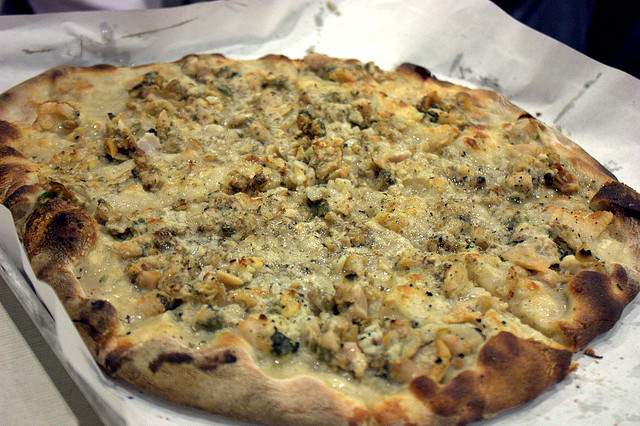 Less than a 2 hour drive from pizza obsessed New York is New Haven, Connecticut, which has a style all its own. The pizza is even thinner than New York City's pizza and is cooked at ultra high heat, making it crispy. Surprisingly, you won't find as much cheese here as you do in other areas in the country. You might have heard of the long debate over which has the better pizza out of New York City and Chicago, but there's a local debate in New Haven that has torn the entire city apart. The battle is between Frank's and Sally's, and both have extremely loyal customers who will not dine at the other establishment. Toppings on New Haven pizza are simple and typical of the rest of the country, except for their white clam pie. The pizza crust is drizzled with  olive oil, oregano, chopped garlic, juicy littleneck clams, and topped with grated cheese.
Where is your favorite pizza?

Photo credits: Chi (in Oz), ampersandyslexia, WanyBae, bloggyboulga, Context Travel, RonjaNilsson, niclindh, 35 Summers, felixtriller, Backpack Foodie, Phil Dragash, Susanne Davidson, 
goodiesfirst, all others courtesy of the author and may not be used without permission.