I'm a big proponent of walking where you need to go. Stamped with "made in New York" on the soles of my feet, I feel most comfortable exploring a city on two legs. You won't miss a beat, a sight, a sound, a smell by doing the one-foot-in-front-of-the-other dance for hours on end. But let's face it, even champion racewalkers get tired, and sometimes the distances are too great to cover with little kids or your wonky knee or in the heat or late at night.
Take the subway in South America!
The true meat of a city, where its smells ferment and its people show their true colors is in the subway (metro, subte, underground, etc). This is how you get under a city's skin. Stations are predictably where they appear on the map, no exact change is needed, and you can usually backtrack for free if you have a navigational snafu. Once above ground, if you stray too far from your destination, all you have to ask is "Where's the subway?" and you're back in business.
[social]
You might think your subway options are all in the United States and larger European cities. But a little research reveals that South America is peppered with them. Below are details of the large, medium and small metros in Latin America.
Some, like Sao Paulo's metro are tangly and broad, while others, like the one in Teresina, Brazil are diminutive, more like a kid's train set than a sprawling urban underground. Still, they give you the chance to observe the culture from up close. Do people cede seats to the pregnant and/or elderly? How easily can a person of your height grab the overhead handles? And most curiously, do passengers allow people do disembark before filing on, or do they just barrel through? Some metros have art or music in the stations, Wi-Fi, kiosks for your metro snack emergencies, and even libraries distributed throughout. So get out there, get underground and start exploring.
Sao Paulo, Brazil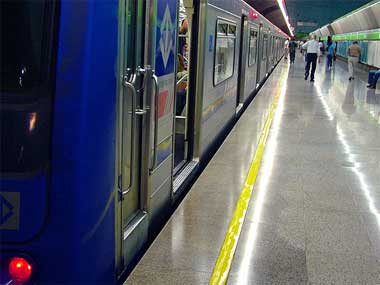 Sao Paulo lacks the splash and tourist appeal of Brazil's other major non-capital city, and a good part of this is probably due in part (in addition to the fact that it's not on the beach) to the fact that the city can be hard to get around. A complex system of buses or metro plus bus is how most non-driving Paulistas get around.
Sao Paulo's metro was, until recently, the largest of all the South American metros, with 71.3 km of track. It began service in 1974 and serves approximately 3 million passengers daily. However, even with this ridership, and despite the fact that its map looks like a sprawling medusa, in this megacity of 16 million inhabitants, its reach is actually not particularly extensive, and passengers must make connections with light-rails and busses to reach much of the city.
A $1.50 bilhete unico takes you downtown and into Pinheiros to the bohemian neighborhood of Vila Magdalena (mind the giant flight of stairs to get to the neighborhood proper), but other highly visitable neighborhoods such as posh Higienópolis are still waiting for (or dreading) their metro stop's opening.
Travelers will note that the Sao Paulo metro connects well to the long-distance bus terminals at Jabaquara and Tietê, and that many major museums are accessible by metro, but other areas, including Guarulhos airport can be harder to get to.
>> Book flights to Recife or learn about other places go in Brazil
Buenos Aires, Argentina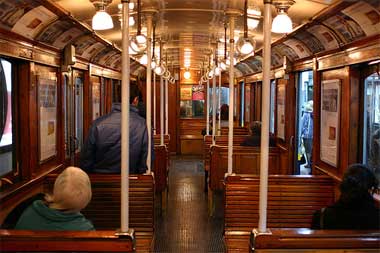 Buenos Aires, Latin America's fashion capital, home of the tiny empanada, mismatched milonga (tango) partners and late-night boliches (discos) is also home to the southern hemisphere's oldest metro. Construction on the Subte began in 1913, and about US$.30, you can while away the hours in the azulejo (ceramic tile)-lined metro stations, and even hop over to Linea A, where wooden cars bring you back to a time your grandparents might just remember.
Vendors mill about or camp out selling cigarettes of questionable provenance and pañuelos desechables (tissues). Although Wi-Fi is available in some areas, several friends narrowed their eyes and said you'd have to be crazy to try it out. The subte in Buenos Aires is not a place to rub elbows you're your wealthy neighbors, they intimated.
The subte covers 52 km of track, and carries 1.3 million people daily, on six lines. It's good to get you around during the day and maybe for going out, but forget about taking it home from your all-night danceamawhatsis, unless you're willing to stay out until five, as its doors shut at eleven PM.
The metro has fairly complete tourist coverage of BsAs, (as the locals abbreviate it), but you'll still find yourself walking long blocks if you want to cover all of the Palermos. Chin up though, Buenos Aires is a great walking city, provided you don't decide to go local and wear dress shoes. Those cobblestones could take out an ankle.
>> Find airfare to Buenos Aires or read about what to do in Buenos Aires all year round
Santiago, Chile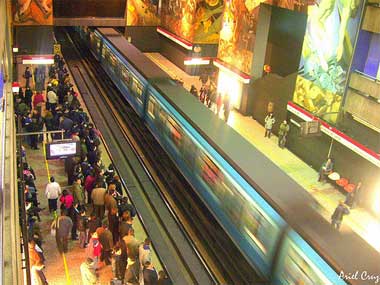 The metro in Santiago is considered the Cadillac of Latin American underground transportation. It has exhibition spaces, art along several walkways within the station, Wi-Fi (which people actually use), and even a subscription library, called Bibliometro, which also has a location parked outside of the national archives that's located inside an old-school railroad car.
News loops announce the country's goings-on on monitors in some stations, and sometimes music videos are also shown, though you'd be unlikely to catch the whole loop or hear the whole song before your train comes.
The Santiago metro been open since 1975, now boasts 85 kilometers of track and 95 stations. It also carries 2.5 million passengers daily in this city of 7 million. Since a recent transportation overhaul called TranSantiago, occasionally disdainfully referred to as "TranSanfiasco" (Transdisastiago), the crowds during rush hour can be downright stifling, and it's standing-room-only most of the day. Also, long distances between train lines (underground) and multiple sets of stairs, make this modern system fairly handicapped inaccessible, though elevators do exist.
The metro is constantly being expanded, with plans to reach Maipú, a district of Santiago (which was originally a satellite city) in the works. Santiago's metro price varies by the time of the day, but never exceeds about US$.80. When using a bip (smart) card, a free transfer to the bus is included in the price.
>> Find flights to Santiago or read our Chile travel guide
Caracas, Venezuela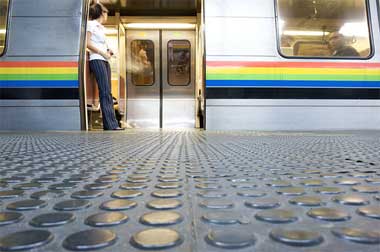 Caracas is Venezuela's capital city, and also the nations' most populous, with 4 million Caraqueños that call it home. Caracas has had metro service since 1983, with the planning phases going back another thirty years. The metro consists of 3 lines serving 44 stations.
The Caracas metro is a source of city pride, and its stations are considered architectural landmarks. It's one of the sponsors of the Orquestas Infantiles y Juveniles de Venezuela (Children and Young People's Orchestras of Venezuela), who can sometimes be heard playing in dedicated public spaces designed for this purpose. For less than a quarter, the metro (and the impromptu concerts) are practically free, and tickets can be bought at a slight discount from ticket middlemen outside of the stations, at news kiosks
A planned extension to the metro will add 7.5 kilometers to the total distance served, and plans for metrocables (cable-car extensions to the metro) are in the works. For the time being, if the metro doesn't get you where you need to go, the public transportation system has further reach through a feeder system called Metrobús.
>> Book a hostel in Caracas or find flights to Caracas
Rio de Janeiro, Brazil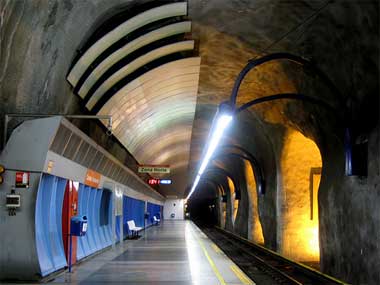 Though the Metrô Rio first started serving passengers in 1979 in this giant, dream-inducing city of white-on-New-Year's-Eve and sambadrome fame, travelers should keep in mind that it is not a mass-transit system in the sense of largesse. It carries just half a million passengers daily on its two routes, with 32 stations comprising 42 kilometers and a single transfer point, Estácio, which brings Cariocas and interested travelers to the central business district in Rio.
The metro route skirts touristy Copacabana, but you'll have to hoof it or take a bus or taxi to get deeper into Ipanema and Leblón. It also goes to undervisited, middle-class Botafogo, which is a great place to stay if the beachier, more touristy areas are not your cup of tea.
The most interesting station in the Rio Metro, according to world.nycsubway.org is the Cardeal Arcoverde stop, which has been dynamited out of the São João mountain, with several sections of the mountain still in place to support the station's roof, which can be seen from within the station.
But certainly the main tourist attraction rail-wise in Rio is the laboriously slow cable car (bonde) with its roll-down plastic windows that takes residents to up the hill into artsy Santa Teresa, but this operates independently of the metro system.
>> Find cheap hotels in Rio
Brasilia, Brazil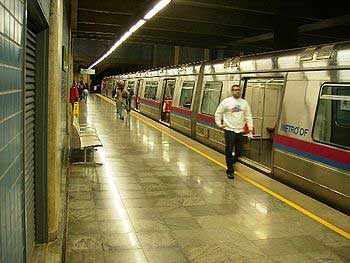 Brasilia is Brasil's planned capital, and a source of national pride for its orderliness, clean lines and modern architecture, and the city looks particularly stunning when lit up at night. The metropolis itself was designed by urbanist Lúcio Costa, and several buildings were designed by architect Oscar Niemeyer, and Brasilia was declared a UNESCO World Heritage Site in 1987.
The city has been the capital of this giant among nations in South America since 1960, when Rio was stripped of this honor in an attempt to redistribute power between the coast and the interior of Brazil. However, despite Brasilia's organizational bent and reputation for modernity, it lags a bit in public transportation.
The city's metro was delayed two years from its intended opening date in 1999 to when it actually started running, in 2001. The Brasilia metro has just two lines and 24 stations which cover 42 km of track, and whose colors, strangely are green and orange, not green and yellow, Brazil's national soccer team's colors.
The metro's main purpose is to connect satellite cities such as Ceilândia and Taguatinga to the center of Brasilia for commuters, and service to the area called Aguas Claras has been a major contributor to that sector's growth in recent years. Travelers will find that because the focus is on commuters, the metro does not bring passengers close to many areas of historical and political importance in the city. But fares start at less than a dollar, so it's still worth a look.
>> Book a flight to Brasilia
Medellín, Colombia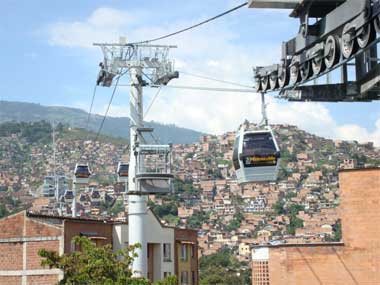 Medellín, Colombia is smaller than the capital city of Bogotá, with just 2.2 million inhabitants. Bogotá may overshadow Medellín in nightlife and gastronomy, and Medellín may have had a shady reputation throughout the later part of the 1990s but on at least one level, Medellín can stick out its proverbial tongue at Bogotá, because Medellín has a metro, while Bogotá does not.
Medellín's metro may be somewhat diminutive, and a bit of a newbie, having started service in 1995, but it's still Colombia's first metro. And what it lacks in ridership, with just 400,000 passengers riding daily, it more than makes up for with the chance to become, terribly, vertiginously petrified of heights in one of the three metrocables that link up to the metros.
The regular metro rail lines consist of two lines, which serve 25 stations, and then connect to three metrocables (each of which has just two stops). The metrocables lower passengers down into the city and hoist them back up into the hills and offer expansive views of the city en route. The metrocables have shortened some commutes from two hours to just thirty minutes, and newer cable lines such as the one planned to reach El Tambo near Guarne is being built specifically to promote tourism in the area near the lake of the same name.
>> Book a flight to Medillin and read about reasons to visit Colombia
The smaller ones
After the behemoths, and the midsized metros, there are the wee ones, the metros that are either new, haven't caught on, or which serve the needs of the locals just the size they are. These include Los Teques and Maracaíbo in Venezuela, which each currently has only two stations, in Los Teques' case, connecting to the metro in Caracas, and in the case of Maracaíbo's metro which is just beginning, but is planned to eventually cover 60 km of rail.
Also in Venezuela is Valencia's brand new metro, which opened in 2006, and has one line with only seven stops, and abbreviated service hours, M-F from 6 AM to 8:30 PM (weekends until 7:30 PM). Construction on two more lines is underway, and a third new line is in the planning phases.
In Brazil (Recife, Belo Horizonte, Porto Alegre, Teresina)
Brazil has a giant metro in Sao Paulo, a few medium-sized ones and several smaller ones, listed below, and plans for opening metros in at least four more cities.
Of the small metros, Recife's is the most substantial, with two lines, twenty stations and color-coded and pictogram-keyed stations to assist passengers who don't read. Belo Horizonte, capital of the state Minas Gerais, is home to another petite metro, which started service in 1986. It consists of one line extending 28.2 km, which serves 20 stations and carries 140,000 passengers daily. And in southern Brazil, Porto Alegre's metro serves 130,000 passengers daily, who ride the 42 km of rails to its 17 stations.
But the tiniest-Brazilian metro award certainly goes to the one in Teresina, (population 752,200) which is capital of Piauí, Brazil's largest state. This metro opened in 1989 and serves just 8 stations on 12.5 km of track. It currently carries just 5,200 passengers per day, but expansion plans could soon double that number.
In Chile (Valparaíso-Viña del Mar)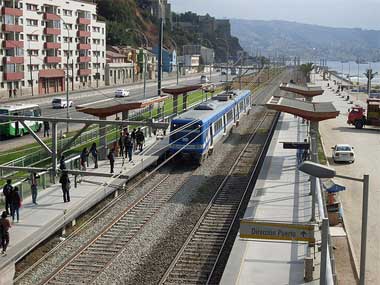 Another very tiny metro is a converted old-fashioned commuter train serving the coastal cities of Valparaíso, and Viña del Mar, Chile. Its 43 km of rails connect 20 stations along the coast and moving inland towards the town of Limache. It was inaugurated in 2005, and has a stretch that gives a clear view of the Pacific Ocean, which to my mind puts it in stiff competition with Medellín's metrocables for the best metro views in Latin America.
Unless you like to people watch. In which all bets are off.
Future planned metros in Brazil include the cities of Fortaleza, Salvador, Goiania and Natal, in Venezuela in Guarenas/Guatire and in Argentina, in Córdoba. For complete maps of metro systems in Latin America and around the world, see https://www.amadeus.net/home/subwaymaps/en/, or for more information about subways for your future traveling needs, visit subways.net.
Now get underground and get moving!
Read more about travel in South America:
Read about author Eileen Smith and check out her other Bootsnall articles.
Additional photo credits:
Sao Paolo by TchOla on Flickr, Buenos Aires by BuenosAiresPhotographer.com, Rio de Janeiro by kaunokainen on flickr, Caracas by gribiche on Flickr, Santiago by Empezar de Cero on Flickr