Editor's note: New Zealand, in our humble opinions, is one of the top indie travel destinations in the world. The beauty. The infrastructure. The people. The isolation. All combine to create a wonderland for independent travelers. If you're planning a long-term trip, I would highly suggest adding New Zealand to the itinerary.

Costs to get there can be high, and travel times long (for most travelers). So making it part of your big trip just makes sense. BootsnAll contributor Arundhati Sampath took a road and rail trip across New Zealand's North and South Islands with her family, and what follows is an alphabetically arranged account of New Zealand's many attractions and experiences. Enjoy!
Auckland
If you were perched somewhere in outer space peering down into New Zealand, you would see a sparsely populated land with a single dense cluster of people. That cluster is Auckland, New Zealand's largest city, which single-handedly accounts for about one-third of New Zealand's 4 million people.
Auckland's human melting pot includes not only native New Zealanders (European and Maori) but also significant populations of Asian and Fijian immigrants. From your vantage point in space, you might see the Inner & Outer Loop buses circling the city, much favored by students and backpackers.
That really tall building rising up into the sky is the Sky Tower, and adjacent to it is a bustling downtown. Across town, the suburbs are quieter and more spacious. Parnell, the suburb I stayed in, has homes built on cliffs overlooking the sea, upscale shopping malls, and children walking to school on their own. For the indie traveler, Auckland is an excellent place to start a road, rail, or bus trip across New Zealand.
Book a cheap flight to Auckland
Bungee Jumping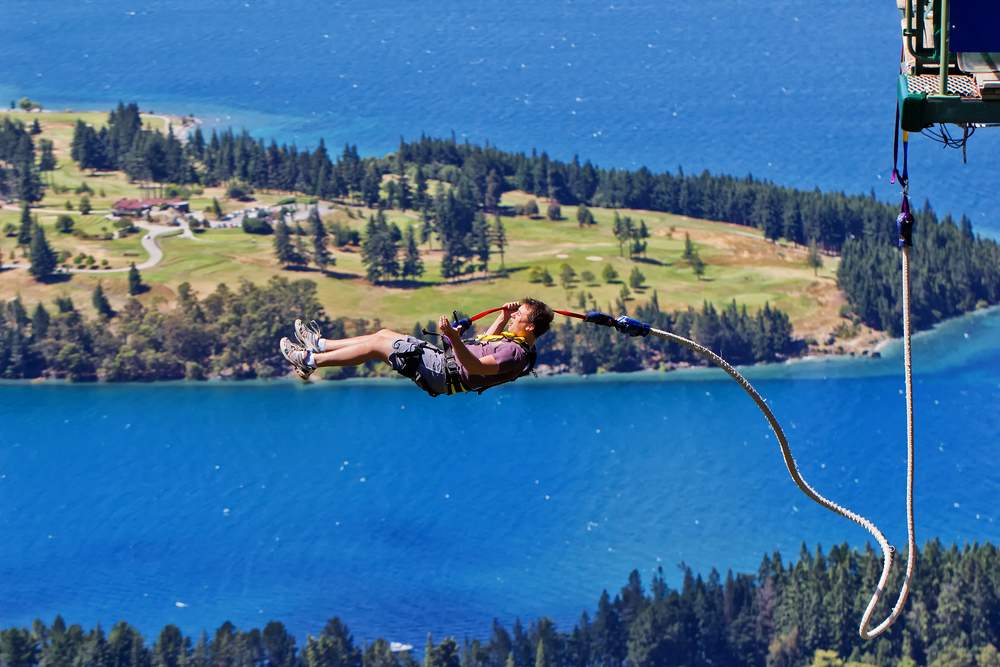 For those foolhardy enough to enjoy being thrown from great heights with only a rope anchoring their feet, New Zealand offers excellent opportunities for bungee jumping.  One of the most popular spots to bungee jump is the Skyline Gondola at Queenstown. The scenery is pretty spectacular, but I seriously doubt that anyone watches the view while being thrown down from 1000 feet.
To keep things interesting, there is also the option to be suspended on a swing over Queenstown. Given that I have convinced myself that I am afflicted with vertigo, I watched other people bungee jump while congratulating myself on my good sense. No, this isn't one of those stories where the intrepid traveler conquers her fears and attains nirvana. I was perfectly content nursing my fears and watching other people overcome theirs.

Christchurch
Christchurch is the largest city in the South Island. Surrounded by the farms of Canterbury province, it is considered a genteel garden city. A series of earthquakes has hit this city over the years, causing residents serious hardship. On my brief stopover at Christchurch, there are still earthquake damaged buildings in various states of rehabilitation, and I was impressed by the people determined to rebuild their city and move on with their lives.
Visit the container mall, downtown, that is one of the first, best examples of after-quake resiliency and an attempt to bring vibrancy back to the downtown in spite of the damage and ongoing reconstruction. The Sunday farmer's market is also well worth a visit.

Crown Mountains
As you drive south from Greymouth or Fox Glacier down to Queenstown, you will pass Lake Wanaka and then arrive at an important crossroads. One picturesque road will take you to Queenstown, via Cromwell, and the State Highway 6. Another road will take you to Queenstown, but it zig-zags its way through the Crown Range, which also happens to be the highest road in New Zealand.
The decision is not hard. Pick the road through the Crown Range. If there are two of you driving, make sure to be in the passenger seat at this time, because the driver is going to have to concentrate very hard on the zig-zags, but the passenger can sit back and appreciate the green rolling valleys beneath and the wild purple flowers on the sides of the road. If any view deserves the overused adjective panoramic, it is the one from the Crown Range.
Doubtful Sound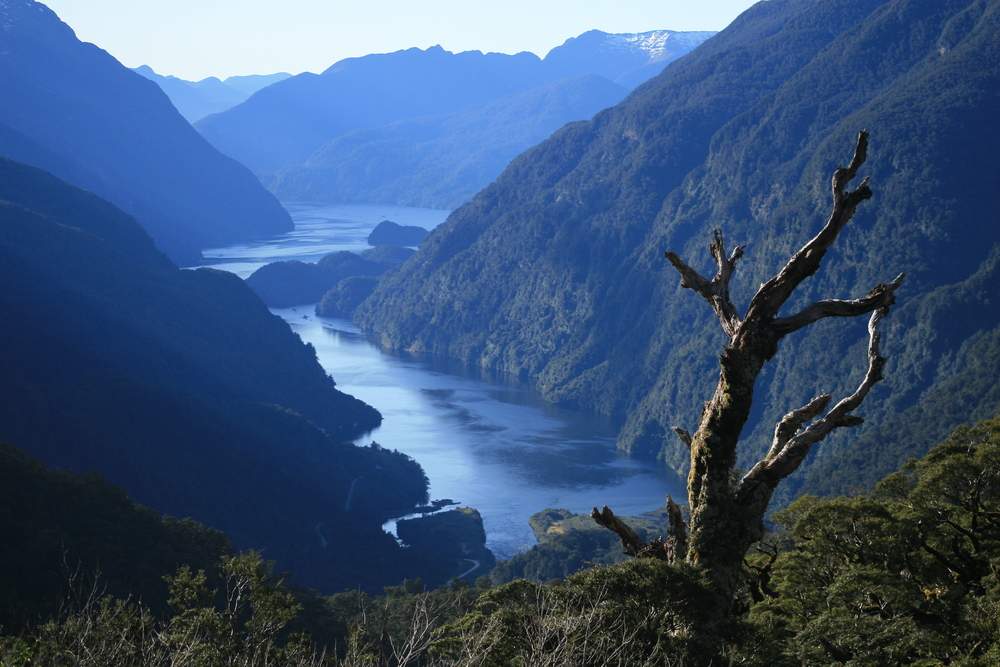 This the lesser known of the South Island fjords and generally tends to be overshadowed by its high profile sibling Milford. But Doubtful is less crowded and offers the possibility of watching dolphins, seals, and penguins. There are just a couple of companies offering cruises on Doubtful Sound, so it does cost a bit more than it would to cruise Milford, but if you're doing it as a day trip from Te Anau, Doubtful Sound is much closer and thus, a faster trip.
Check out hostels in Te Anau
Extinction
New Zealand has some very unique biodiversity on account of its being isolated for very long periods of time. I was astonished to learn that about 80% of its flora and fauna are not found anywhere else on the planet. Which is why when the Maori arrived 800 years ago, followed by Europeans several centuries later, several species that had evolved in an environment without humans, such as the giant Moa and the Haast eagle became extinct. In response, there are now massive conservation efforts underway to protect vulnerable species such as the kiwi.
Fox & Franz Josef glaciers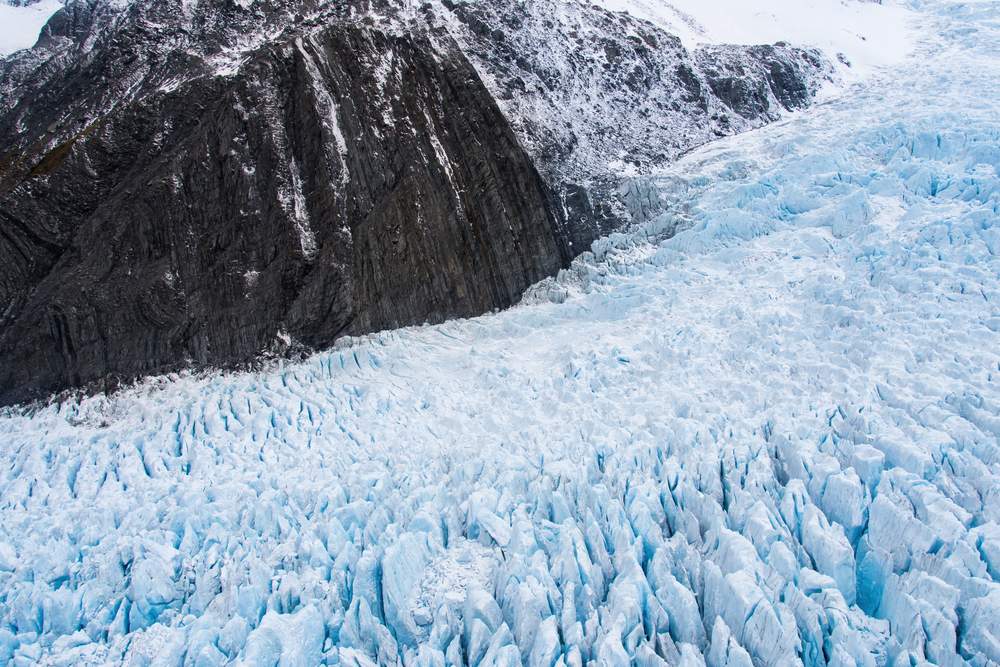 Fox and Franz Josef Glaciers are amongst the South Island's must-see destinations. Originating in the Southern Alps, they wind their way down to the Tasman Sea amongst rainforests. There are excellent activities available to do on the glaciers, such as half or full day hikes, ice-climbing, helicopter rides, and sky-diving.
Glowworm caves
Imagine pitch dark caves into which visitors are being rowed quietly on a boat with strict instructions to maintain absolute silence. As their eyes adjust to the darkness, they see hundreds of bluish yellow lights on the walls of the cave. These are the glowworms, the main act in New Zealand's celebrated glowworm caves. The most well-known of New Zealand's glowworm caves are in Waitomo in the North Island and Te Anau in the South Island. They can, however, be found in pockets all over New Zealand and if you ask the locals, they may be able to tell you where you can see them without paying a tourist fee.
Greymouth
If you were suddenly dropped off at Greymouth from the sky, you would be thoroughly disappointed. It is a nondescript, boring-looking town with seemingly nothing to commend it. But most travelers know to look beyond appearances.
Greymouth is a strategic point for those traveling in the South Island. Not only is it the final destination for the Tranzalpine train from Christchurch but it is also a good place from which to drive down to the glaciers and further on to Queenstown. Greymouth is within a stone's throw (or an afternoon's drive) to the Pancake rocks of Punakaiki, or the mining town of Hokitika.
Find a hostel in Greymouth
Haast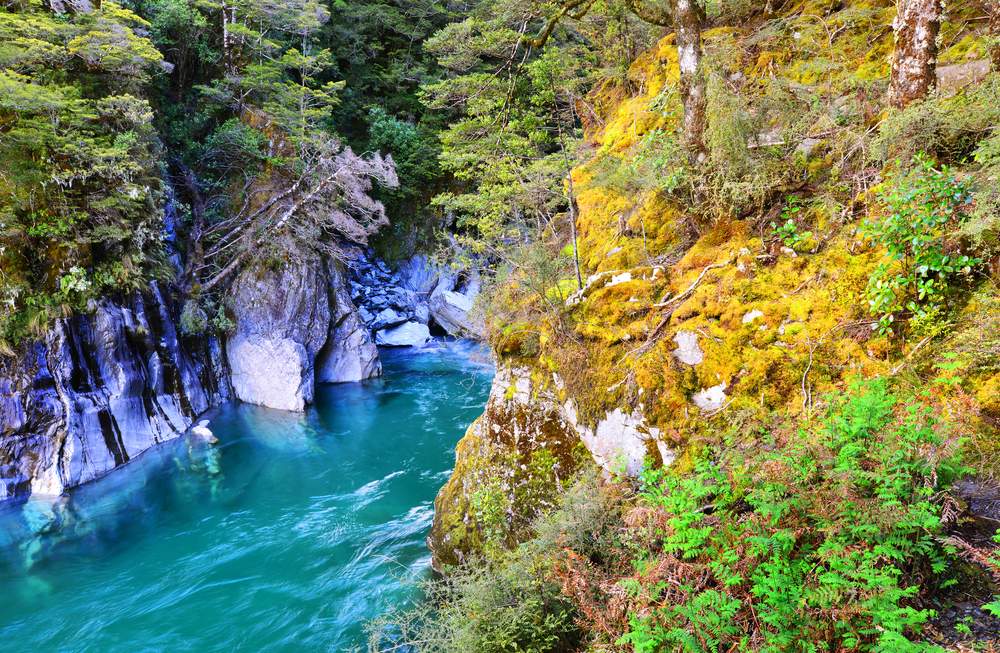 As you drive down on the West Coast to Queenstown (or up the coast from Queenstown), you drive through the Haast Pass and the township of Haast. For travelers in a hurry, it is a convenient stop for lunch and refueling. For those with more time, it is an excellent base for exploring New Zealand's wilderness and fauna.
i
The ubiquitous information booths ('i') available in every New Zealand township or location are a lifesaver for independent travelers. As soon as you arrive someplace, the sensible thing to do is to make a beeline to one of these to ask for advice, find places to stay, or check your itinerary.
Jet Boating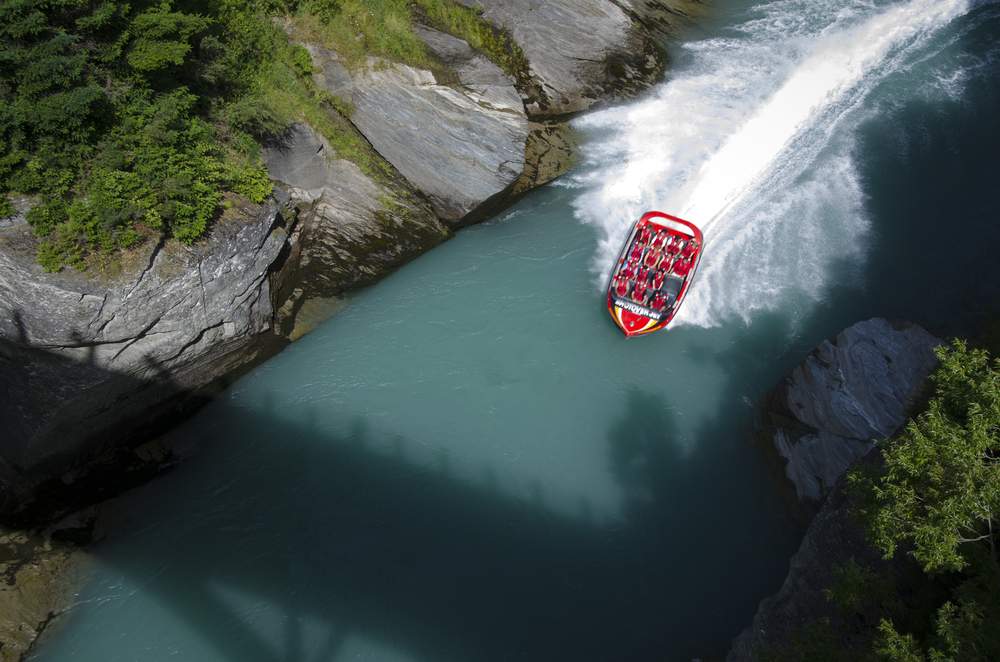 An excellent option for those who like to derive their adrenaline rush from aquatic activities. Of course, like for most adventure sports, Queenstown is a pretty phenomenal place for this sport, with jet boating experiences available on the Shotover, Kawarau, or Dart rivers.
Kiwi
Kiwis are uniquely a New Zealand phenomenon, one of the many species of animals and plants that are found only in this country and could only have survived here. They are small, about the size of a hen, flightless, and almost blind. Despite their diminutive size and retiring disposition, they have become an icon for all things New Zealand.
Kia Ora
The traditional Maori greeting for "Hello". It is now part of standard New Zealand terminology.
Lakes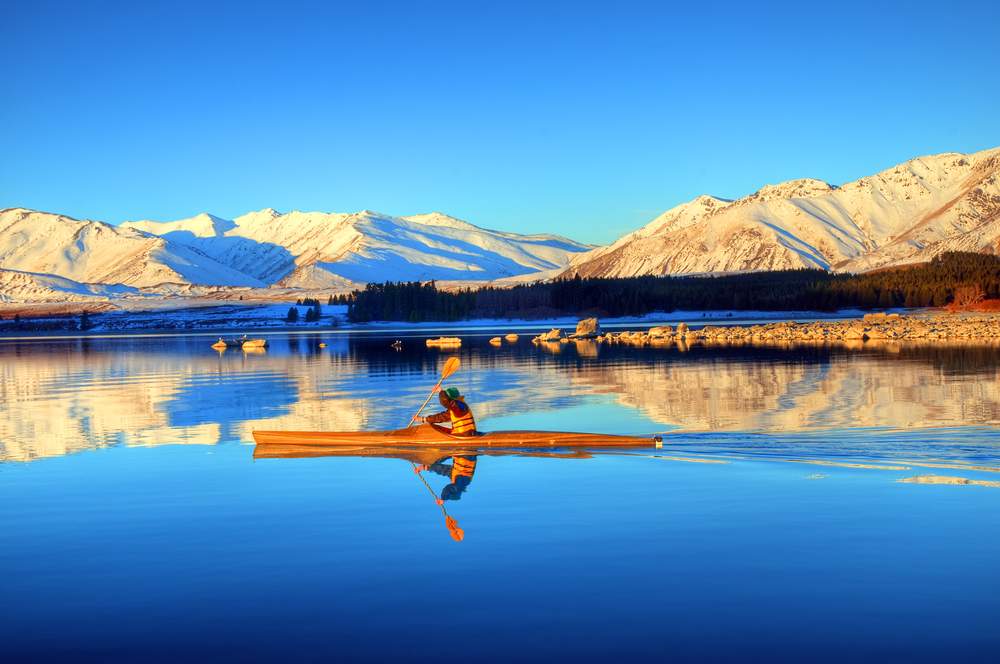 It is impossible to overlook New Zealand's lakes while driving, not that anyone would want to. Lakes are abundant in both the North and South Islands, though for different reasons.
The North Island's lakes are the result of volcanic activity, while in the South Island they happen to be the legacy of glaciers burrowing through land masses and leaving holes and basins that ended up becoming lakes. Of the thousands of lakes in New Zealand, I had the opportunity to visit Lakes Rotorua and Taupo in the North and Lakes Matheson, Wanaka, Te Anau, and Wakatipu in the South.
Milford Sound
The most popular of all the Sound siblings, Milford Sound is a compulsory destination on every traveler's South Island itinerary (I believe the authorities do not let you board a plane out of the country unless you can prove that you've been to Milford).
You can drive down on your own from Queenstown (this drive is simply the most beautiful I have ever seen) or you can stay the night in nearby Te Anau and use that as your base.  Alternately, there are buses and even flights to get you there. Most people take a cruise out on the fjord and some kayak on it. A cruise into Milford involves views of white clouds rising out of green hills, a ride past the Tasman Sea, waterfalls, and seal sightings.
Manuka Honey
Manuka honey is a distinctly New Zealand phenomenon. This honey is taken from a plant called (you guessed it) manuka. Not only does it make for delicious breakfast spread on one's toast, but is also said to have antiseptic properties that can heal bruises and cuts.
Tip: Do your wallet a favor and buy manuka honey from the local supermarkets instead of the souvenir shops.
North Island
The North Island accounts for the majority of New Zealand's population and its GDP, as well as two of its largest cities and a lot of sheep. It is home to unique landscapes such as the thermal region of Rotorua, Tongariro National Park, and many volcanic mountains, craters, and lakes. Independent travelers can travel across North Island via train, car, or camper van.
Overlander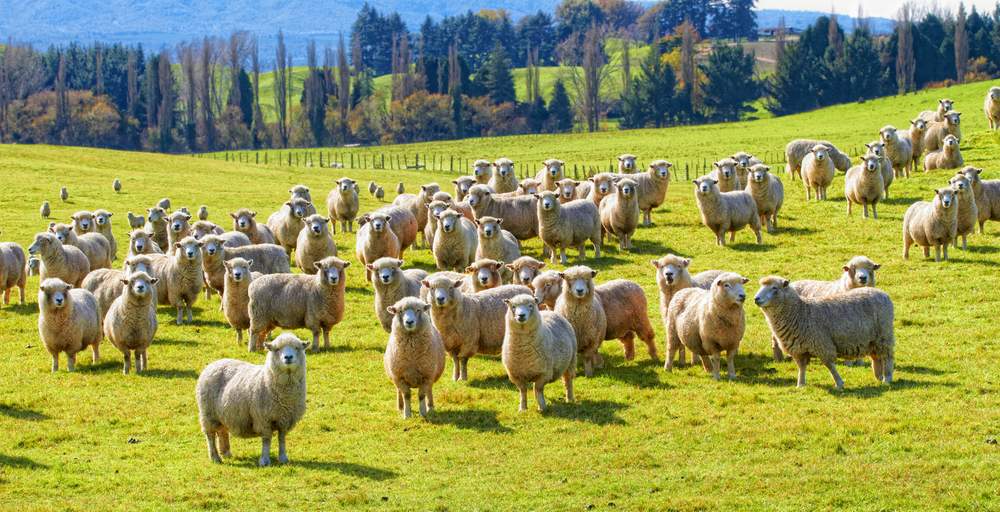 The Overlander train bisects the North Island length-wise and is a great way for the independent traveler to see the island. It is possible to purchase a multi-day pass (for 7 or 14 days) and travel from
Auckland
all the way down to Wellington on the southernmost tip of the North Island. The pass is also good for one ferry ride and for the Transzscenic and Tranzalpine trains on the South Island as long as you make these journeys within the stipulated time period.
Punakaiki Pancake Rocks
Punakaiki would have been worth visiting even if all it had on offer were steep rocks rising out of the greenish blue Tasman sea. But when these rocks happen to be a unique geological phenomenon and look like pancakes layered on top of each other, they become a destination you cannot miss, especially if you are on the West coast of the South Island.
Travelers in a hurry can do a 20 minute short hike to view the rocks. There are also longer hikes of 2-3 days for those with more time and stronger calf muscles. The icing on the cake: the 40 minute drive up from Greymouth to Punakaiki along the beach is pretty spectacular, too (yes, I realize that I am using the world spectacular way too often, but don't blame me, blame New Zealand).
Queenstown
I am apprehensive about calling Queenstown New Zealand's hippest city for fear that folks from Auckland, or Wellington, may take offense. But it is true. Queenstown is full of adventure addicts, glamorous moms pushing prams, and buff dudes living the active life. Visitors can take the gondola to the skyline and indulge in activities such as luging, bungee-jumping, or ziplining. Or if aquatically inclined, they can head to one of the rivers for rafting or jetboating. Queenstown is the ideal base to get to other key locations in the South Island such as Milford Sound, Te Anau, Glenorchy, or Lake Wanaka.
Find a flight to Queenstown 
Rotorua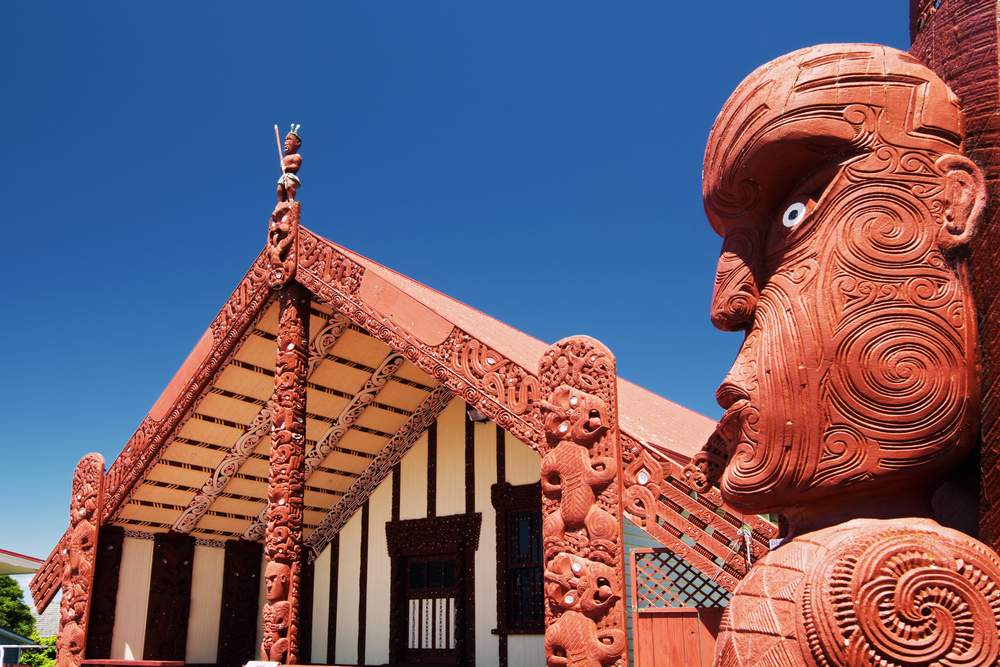 Volcanic crater, check. Geothermal activity, check. Geysers, check, Hot mud pools, check. Sulphuric, rotten egg 'aroma', check. Visitors can visit the Whakarewareva Thermal Reserve or take a guided tour of the geothermal attractions at Te Puia and round it off with a Maori cultural presentation and visits to the weaving and carving museums. By the way, the Maori skirts they showed us at the weaving museum have got to be the most uncomfortable skirts ever designed by man, but they sure look pretty.  There are many other interesting things to do in Rotorua, including driving up to other neighboring geysers, green sulfur pools, waterfalls, and lakes.
Book a hostel in Rotorua
Sheep
With more than 40 million sheep in a land of 4 million humans, one might be forgiven for thinking that the sheep own the country and are being nice enough to let the humans hang around. Sheep can be seen lolling about lazily on the sides of the rolling hills as you drive through the highways or look out of the window on the Overlander.
South Island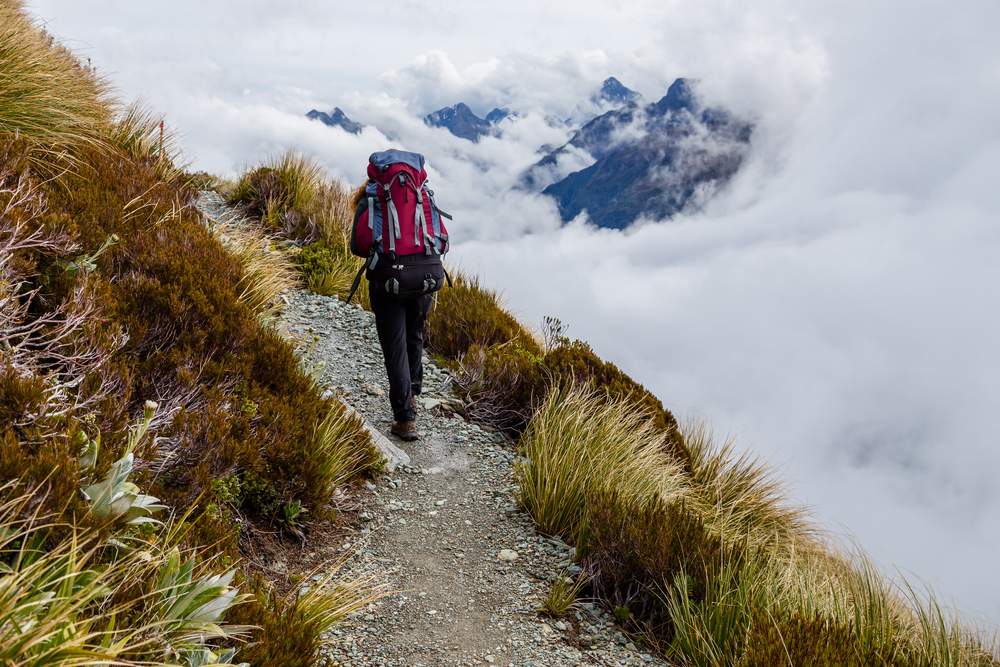 It is hard to talk about the South Island without hyperbole. This sparsely populated land has, probably, the most beautiful landscapes that I (or anyone else) have ever seen. New Zealand's tallest mountain, Mount Cook, is in the South Island, as are several glaciers, lakes, and fjords. In my experience it is better to drive in the direction of North to South, simply because the landscape keeps getting prettier and prettier. Every time you think that the last piece of territory was the loveliest you ever laid eyes on, you arrive at the next vista that manages to outdo the previous one. And so on.
Find a flight to Christchurch
Tranzalpine
The Tranzalpine, considered one of the world's best rail journeys, is undertaken from Christchurch to Greymouth (and back). Its journey covers very varied landscapes, starting with the pastoral scenes of Canterbury, and then across bridges on gorges, through the natural wilderness at Arthur's Pass, finally culminating in the rainforest region on the western coast at Greymouth. Not bad for a morning's ride.
Te Papa Tongarewa
The impressive Te Papa Tongarewa Museum in Wellington calls itself, "The Museum of New Zealand," documenting every aspect of the country and its people, including Maori history, the science, and geology of New Zealand's landscape, animals, and plants, the arrival and impact of the Europeans, as well as how New Zealand has become home to immigrants from all over the world looking for a better life.  It is, quite possibly, the coolest museum you'll ever visit.
Volcanic Mountains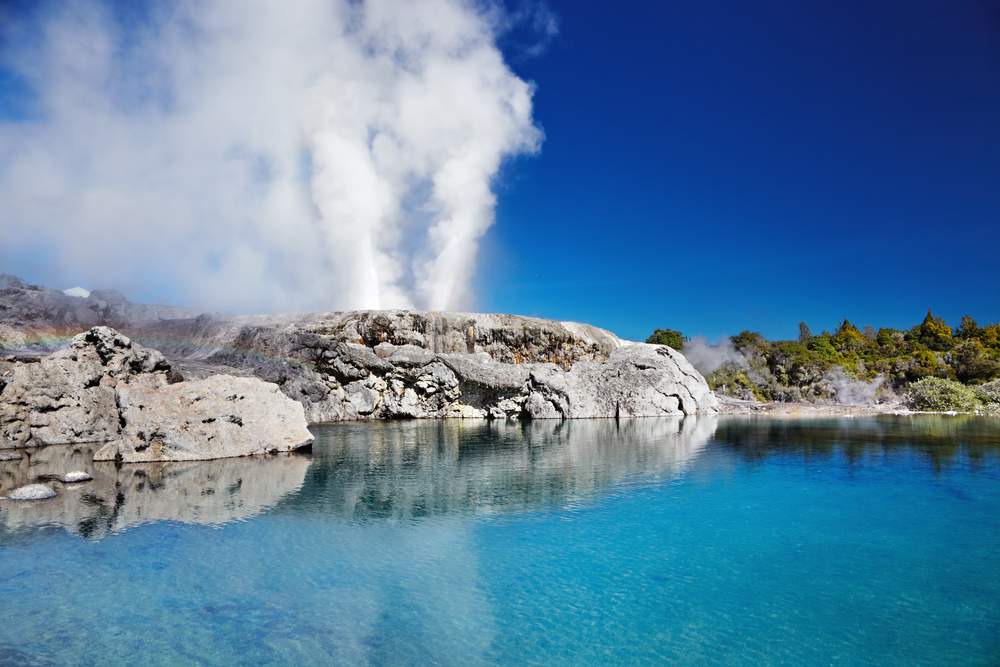 Right in the middle of the North Island are three active volcanic mountains: Ruapehu, Ngauruhoe, and Tongariro. Situated in Tongariro National Park, the volcanic mountains are visible from the Overlander train or while driving through the National Forest. Ruapehu is a pretty volatile mountain, with periodic eruptions, the most recent being in 2007. There are many activities to do in this area, including multi-day hiking around the mountains and to the summit, climbing Ruapehu's crater, and in the winter, skiing.
Wellington
Wellington is New Zealand's political and business capital. A very compact, self contained city, it easily combines the bustle and noise of any self-respecting business district with green, quiet spaces where one can enjoy the city's natural beauty.  Very close to the downtown area is the Botanical Garden, which can be accessed by Wellington's famous cable car. One can spend a delightful afternoon hiking inside the gardens, followed by a visit to the Beehive, New Zealand's parliament building.
Find a hostel in Wellington
[section]Read the following articles to find out more about traveling in New Zealand

Photo credits:   PomInOz , Steven J Taylor, xprecha ,  MJ Prototype , NZGMW , Dhoxax ,  Krishna.Wu , Photo Image , Evgeny Gorodetsky , Pichugin Dmitry , Ruth Lawton