Although Italy is famous for wine, many of its wine regions remain undiscovered, and these regions offer great wines and tastings for low prices. The trouble is knowing where to find the wineries and how to plan a tasting. Sure, you could just rent a car and head into the vines, hoping to come out with a buzz and several bottles of libation. However, it's better to plan a wine tasting trip the Italian way.
[social]
The following overviews of Italy's budget-friendly wine regions include all the pertinent details for planning a wine tasting adventure. Every winery featured below offers tastings for six euros or less, and most are free. These wineries don't want you to break the bank tasting their wines; they want you to take their wines home with you. It is a common misconception that U.S. travelers can fly home with only two bottles of wine; the U.S. Customs and Border Protection's website reads: "There is no federal limit on the amount of alcohol a traveler may import into the U.S. for personal use." Just pack it carefully.
The Chianti Classico Region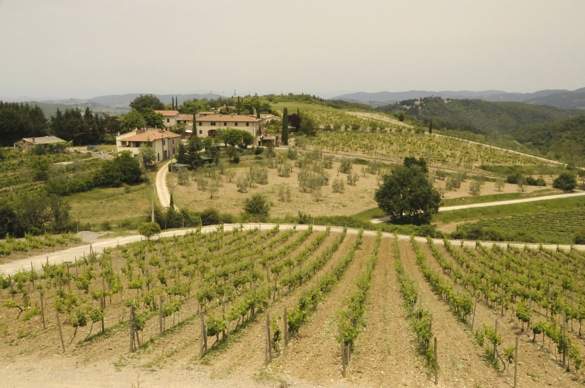 Forty-five minutes south of Florence, Tuscany's Chianti Classico region is the icon of the Italian wine industry. Surprisingly, many of its wineries still provide free tastings. The region is filled with medieval castles, churches, and hilltop towns, all wrapped up in vines. Its roads swerve, and the locals once joked that they were designed specifically for drunk driving. Nowadays, Italy's drinking and driving laws, which are very similar to those in the United States, are strongly enforced.
Of all Italian regions, Chianti Classico is the best equipped for wine tasting. The wineries are open regularly, and most do not require appointments. Almost every Tuscan winemaker makes the famous Chianti Classico, as well as the dessert wine Vin Santo. Chiantis are usually dry with high acidity and are known for aging well. If you don't like dry wines and would prefer something more California-esque, try the Super Tuscans. Super Tuscans feature international grapes, such as cabernet sauvignon and merlot, and tend to be more fruit forward. Wineries commonly offer olive oil and grappa tastings, too.
Tuscan town centers are usually pedestrian-only. Greve in Chianti, one of the first towns south of Florence, has a famous farmers market in its main piazza. Offerings include black truffles, fresh cheeses, boar salami, and even wine tastings. Wine tasting prices vary greatly throughout Chianti Classico; the following offer budget-friendly wine tastings: Fattoria Casaloste, Il Molino di Grace, Il Palagio, Campocorto (fee waved with wine purchase), Castello D'Albola, Vignamaggio, Volpaia, and Rocca delle Macìe (the on-site restaurant features a good selection of cheap pastas). Here is a complete lists of the wineries in Chianti Classico.
Where to Stay: Get unbelievable poolside views from this medieval hilltop village-cum-hotel. Riserva di Fizzano is owned by Rocca delle Macìe winery, and its apartments are a particularly good value.
Where to Eat: Pack a picnic! Procure delicacies at the farmers market in Greve.
Car Rental: Florence is a great place to acquire wheels. Most car rental agencies are found on Borgo Ognissanti. Expect to pay forty to fifty euros a day.
>> Get tips for visiting vineyards in Tuscany 
The Oltrepò Pavese Region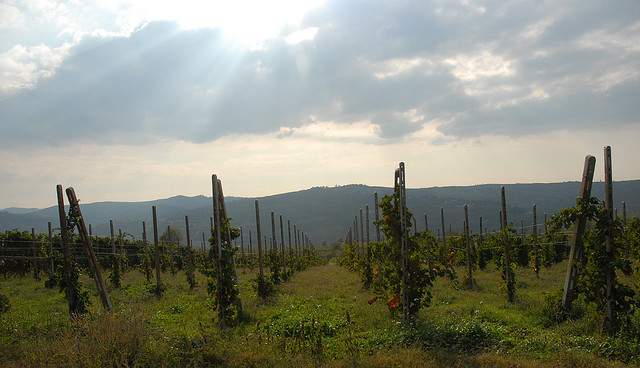 If you love pinot noir, this is your Italian wine region. Oltrepò Pavese used to be known for producing inexpensive, fizzy red wines featuring the bonarda grape, but things have changed: winemakers are creating exceptionally elegant pinot noirs (pinot nero in Italian) that are winning some of the most prestigious awards in the world. These pinots are just now hitting the international market, which means this is the time to go wine tasting in Oltrepò Pavese.
Oltrepò Pavese wine country, located about an hour from Milan, begins the moment you cross the Po River. The foothills of the Apennine Mountains kick up, covered in grapevines. It feels like a hidden Tuscany. Medieval cities and castles poke out of the vines, and the roads are ideal for cycling. Oltrepò Pavese doesn't have many sights, but it makes up for it with plenty of wineries and traditional restaurants.
Very few wineries charge for tastings, which is particularly surprising considering that the only two pinot noirs to win the prestigious Tre Bicchieri award in 2011 are from Oltrepò Pavese. The award-winning pinots were made by Mazzolino and Frecciarossa. Other budget-friendly wineriesin the region include: Monsupello, Cascina Gnocco, Castello di Cigognola, Tenuta Mazzolino, Conte Vistarino, Tenuta il Bosco, and Cá del Gé. Frecciarossa offers wine tastings for ten euros. Here is a complete list of the wineries in Oltrepò Pavese.
Most wineries in Oltrepò Pavese require visitors to make an appointment by e-mail or phone two or three days in advance; this is common throughout Italy.
Where to Stay: Agriturismo Torrazzetta offers good rates on rooms and apartments on a farm surrounded by vineyards.
Where to Eat: Enogastronomia sells picnic ingredients as well as steaming plates of pasta by the pound. Make sure to try robiola cheese and salame di Varzi, a young salami that is nearly raw.
Car Rental: Don't bother navigating Milan's hectic traffic: take a train to Pavia, where there are several good car rental agencies.
>> Learn how to read an Italian wine label 
The Montefalco and Bevagna Wine Towns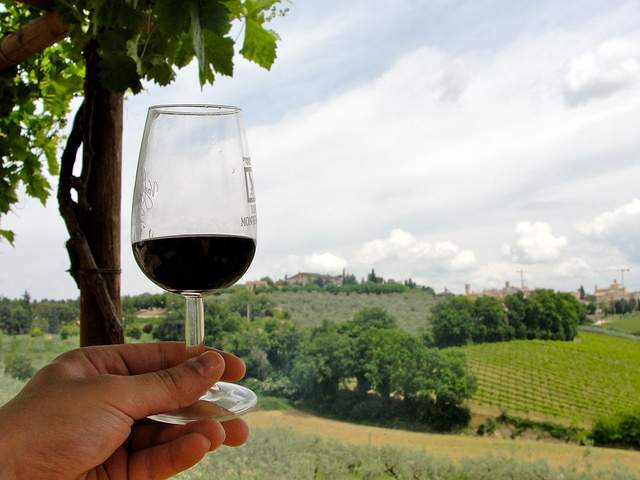 Of all Italy's wine regions, this region in Umbria might have the largest cult following thanks to the excellently ageable Sagrantino di Montefalco DOCG. With healthy acidity and good tannic structure, these red wines are just plain luxurious after five or more years, and they can be purchased on the cheap while still young. The towns of Montefalco and Bevagna are located roughly fifty minutes east of the university town of Perugia. The journey navigates the Tiber valley basin, famous for its highly manicured landscape of patchwork farmland and cypress trees.
Thanks to the region's increasing popularity, wine tasting here has never been easier. I recommend sticking to La Strada del Sagrantino, the "wine road" that runs between Montefalco and Bevagna. Maps of La Strada del Sagrantino, including winery locations, are displayed in the medieval town centers of Montefalco and Bevagna.
If you literally can't wait to drink Sagrantino di Montefalco DOCG, try the Montefalco Rosso DOC, which also features the sagrantino grape (usually blended with sangiovese). Montefalco Rosso wines are less expensive and typically ready to drink now. The region's grechetto wines are some of my favorite white wines in Italy. Local producers tend to age grechetto in new oak, giving it a touch of California toastiness.
Here is a list of budget-friendly wineries: Antonelli, Di Filippo, Tabarrini, Adanti, Arnaldo Caprai, and Raína. Here is a complete list of wineries on La Strada del Sagrantino. Make sure to make appointments if necessary.
Where to Stay: Agriturismo Belsito, located in Bevagna, offers agriturismo-style apartments, as well as inexpensive bungalows and camping. Horses, peacocks, and goats roam the grounds.
Where to Eat: Enoteca Federico II restaurant is located in central Montefalco and also offers a wine shop with tastings. Try Umbria's extra-salty prosciutto, young pecorino cheese, stringozzi pasta with boar sauce, and the famous, high-quality black truffle of Norcia.
Car Rental: Perugia is easy to access by train and has several car rental agencies, some charging as little as thirty euros a day.
>> Get car rental tips for Italy 
The Salento Peninsula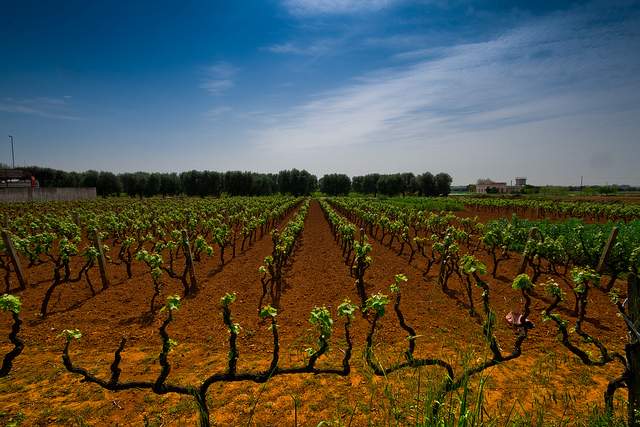 Comprising the southern portion of the Puglia region, the Salento peninsula is famous for its long stretches of sun. Puglia was once part of Ancient Greece, and today, it is home to whitewashed towns and white-sand beaches. This combination of sun and sea is not only good for tanning and swimming, it is also good for growing grapes.
Salento produces budget wines using the negroamaro and primitivo grapes. In the late 1990s, Puglia's primitivo was discovered to be identical to California's zinfandel. In style, Puglia's wines are more New World than Old World, with lots of dark fruit; they are typically drunk young. Pugliese wines rarely cost more than fifteen euros a bottle; in fact, some of my favorites cost five to eight euros.
The university town of Lecce is a great base for exploring the region. Lecce is famous for its Baroque architecture, and a Roman amphitheater from the fourth century AD takes up much of its main piazza. To taste wine, drive fourteen miles west to the town of Salice Salentino. Salice Salentino is home to the well-known Salice Salentino DOC wine, which features the negroamaro grape.
It is important to plan ahead when wine tasting in Puglia. Puglia's wine country is still getting ready for wine tourism, and most wineries require appointments. Further, most wineries only operate on weekdays. Don't let this dissuade you: you'll be rewarded with free wine tastings and reasonably priced wines. Here is a list of wineries that offer free tastings: De Falco, Apollonio, Taurino, Cantele, and Valle dell'Asso. Leone de Castris is a well-known winery in Salice Salentino that offers tastings for fifteen euros. Here is a complete list of the wineries in Puglia.
Where to Stay: Just a short walk from Lecce's town center, Eos Hotel provides modern amenities and professional service for around sixty-five euros a night.
Where to Eat: Le Zie is one of the most traditional and famous restaurants in Lecce (the dining room was once a living room), and it still serves food and wine at a good value.
Car Rental: One of the cheapest agencies in Lecce is the CTS office at Via Giuseppe Palmieri #89. Expect to pay around forty euros a day.
>> Find hostels in Lecce or book a wine tour in Italy 
Learn more about travel in Italy: 

Photos: Top photo courtesy of the author and may not be used without permission, Luigi Rosa, UmbriaLovers, zagher