In 2009, a group of about 100 travel bloggers gathered together to talk about the business, connect and learn from one another at the first Travel Blog Exchange Conference. In 2010, that number more than doubled, and it more than doubled again by 2011. This year, around 500 travel bloggers and 100 PR and industry professionals headed to Vancouver from June 9 – 12 in that hopes that attending would help us become better at what we do: writing about travel, running a blog, promoting our brand, and working with others in the travel industry.
Some of the attendees had been at the previous two events; others were new to the conference and very new to blogging. And it seems the goals for attending were equally diverse among the bloggers – from becoming a better writer to improving SEO, taking better photos, monetizing your blog, and working with PR people. Over three days, multiple session tracks, and thousands of dollars in bar tabs, we learned, we laughed, we made connections, we ate, we drank, and we often found ourselves shouting "Oh, hey! You're @__________!" as we connected our favorite Twitter friends to real live people.
The TBEX 2011 conference wasn't perfect, as any event of this size rarely is, but it was one of this year's best opportunities for bloggers in the travel sphere to learn and network with others. Nowhere else can you currently get access to this many like-minded people in one room. Despite some issues in organization, content, and execution, it's exciting and inspiring to meet so many talented bloggers in one weekend. Here are some of the highs and lows of TBEX 2011, along with suggestions on how to make next year better.
The venue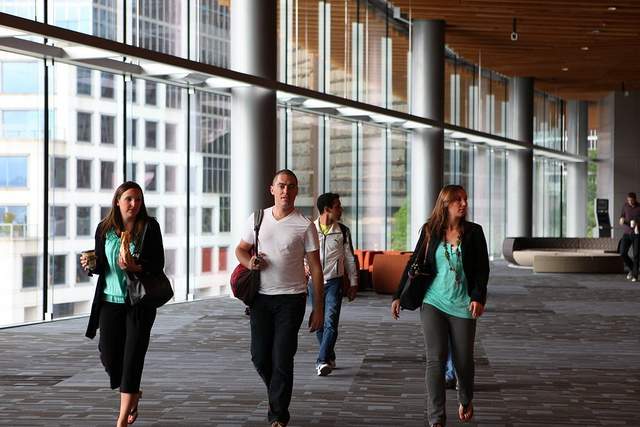 No doubt about it, Vancouver is one beautiful city, and the tourism board welcomed TBEX attendees with open arms. Attendees who acted quickly were able to book free city tours on Friday, and those who were invited on the AMResorts Sunday night cruise were treated to lovely views of the city, Granville Island and Stanley Park. The Convention Centre itself was a gorgeous, modern venue with floor-to-ceiling views of the mountains and water. Unlike last year's dark, windowless room on the second floor of the Cantor Center in NYC, the Convention Centre's light-filled and airy lobby spaces helped keep energy high even into the end of the second day.
Wi-fi issues and technical glitches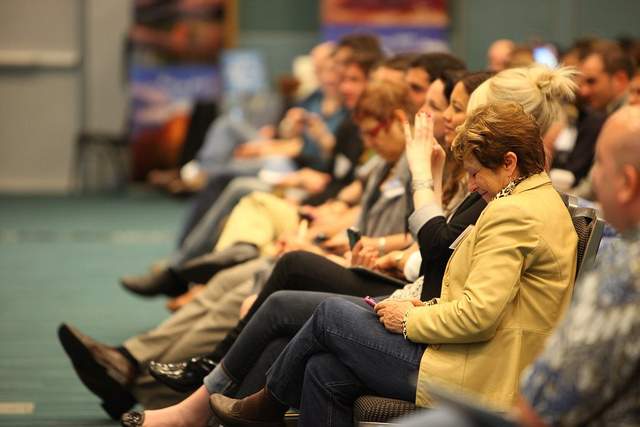 The venue was far from perfect though, and there were some problems with microphones not working, unavailable wi-fi and videos playing with no sound. But at a conference such as this, something is always going to go wrong, and it's usually in the form of a technology glitch. Having a staff member in each session room could have helped issues get resolved more quickly.
Session hits and misses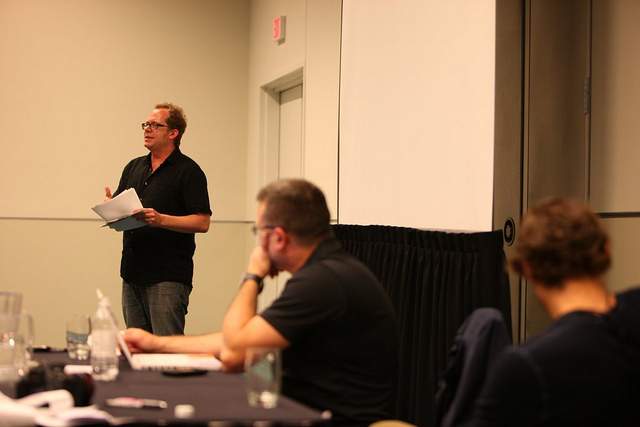 A nice venue and working technology are important for any conference, but attendees come to learn. And in the most important category, TBEX both succeeded and disappointed. A few of the sessions were phenomenal; I particularly loved the narrative session with Don George, Spud Hilton and David Farley, and appreciated the opportunity to come back on day two and apply what we had learned on day one, pitching a story idea and lede. I also found Robert Reid's presentation to be both informative and entertaining as he explained why bloggers need to do a better job of researching and adding quotes and facts to their personal stories. Evelyn Hannon's story of how Journeywoman evolved was inspirational (but would have been a better uplifting close to the conference) and Gary Arndt's "State of the Travel Blogging Union" was a great way to get bloggers talking and thinking about where we are and where we should be going (and therefore would have much better served the audience had it been the opening session).
Other sessions were far too basic and seemed geared towards complete novices. At many conferences I've seen "101" sessions held the day before the conference, for a small extra fee, to get total newbies up to speed so that they can ask more informed questions and that sessions can start off a notch above the basics, and I think TBEX could benefit from doing something similar. I'd also like to see "Beginner" and "Advanced" tracks for breakout sessions so that new bloggers aren't overwhelmed and those who are more experienced are still able to learn from experts. The surprise WordPress session was better suited to earlier in the day; by 4pm on day two I think people were too tired to focus on tech.
The "Keep It Churning" session couldn't be saved even by the skillful moderating of Jen Leo, and a great opportunity was missed as the panelists spent most of the time talking about how busy they are. I would have liked more take-away tips on managing time and avoiding burnout from the great collective brainpower than was on that panel. And while I appreciated the spirit of the "Jam Session" that allowed bloggers to pitch directly to potential sponsors, I think a session on how to pitch would have been much more helpful to those with dreams of sponsorship.
Networking opportunities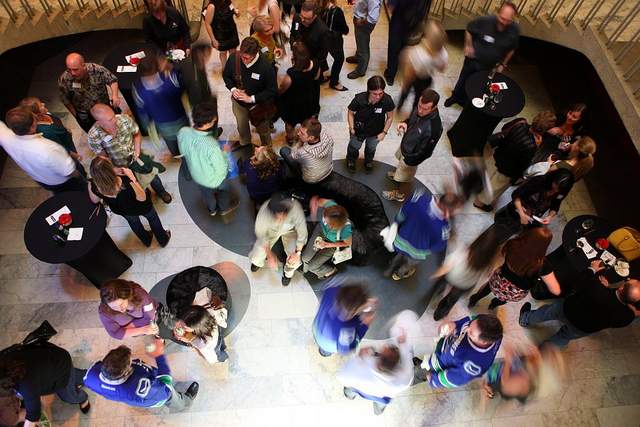 Aside from the educational sessions, the big draw for most people was the networking opportunities, and there were many. From the "PreBEX Mashup" up Thursday night to the AMResorts cruise on Sunday night, the weekend was jam-packed with dinners, happy hours and parties. As with last year I've heard complaints that there was too big of a focus on partying, and a quick glance on Twitter at the #TBEX stream confirms that many of the attendees really tied one on throughout the conference. But many of the attendees chose not to party the night away and were still able to make meaningful connections by reaching out to people on Twitter and through blogs prior to the conference and setting up more intimate meetups.
After a long day at the conference, I appreciated the opportunity to relax and unwind each night, but I did feel that some of the parties were more my style than others. I was eager to kick things off with the Friday night welcome party, but found it to be a bit too loud for proper networking. The AMResorts cruise, on the other hand, my was favorite event of the weekend – chill, relaxing and with a low enough sound level that I wasn't always straining to hear the person I was chatting with. I did appreciate that there was a spectrum of events for different interests, but I don't think that the invitation-only events should have been listed on the schedule as official events, as I think it led to people feeling excluded from what should be a welcoming group.
One oft-repeated suggestion from last year was "more quiet networking opportunities" and it seems the request was heard by conference organizers, as this year small group discussion time was built into the schedule. I think it was a huge step in the right direction, but the execution could be improved for next year. The topics and locations should have been posted on a paper schedule or put on the PowerPoint in the main hall (many people missed the announcement) and each group should have had a small sign. Holding this small group session earlier in the conference would also give first-time attendees the chance to find "their people" sooner.
Logistical disorganization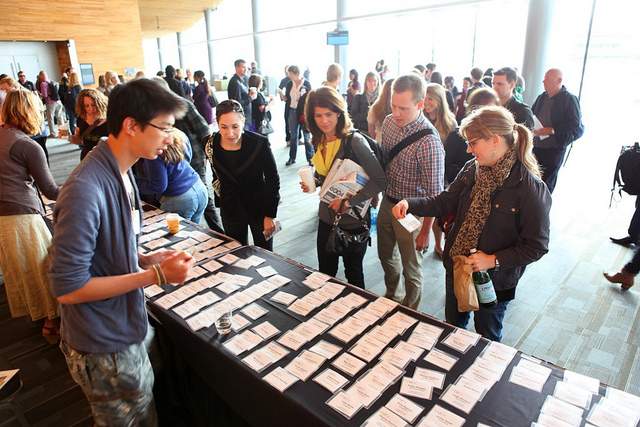 The complaint I heard most often was about the logistical disorganization of the conference. Each issue on it's own was quite minor, but collectively they added up to frustrate many of the attendees. Though there was a hospitality suite with coffee, few attendees knew about it, a problem that could have easily been remedied with signage. A printed schedule should also have been posted outside the main hall; those without wi-fi couldn't access the online schedule of rooms and often had to wander the halls until they found the right one. Luckily, these are very easy fixes for next year.
Speakers reported issues with the AV – not being able to upload their PowerPoints right before the sessions – and many of the sessions didn't start on time, resulting in some being cut short. These are more easy fixes. Speakers should have a deadline for turning their slides in so that they can all be loaded on the computers in advance, and there should be one staff person or volunteer assigned to each room to address any last minute issues and make sure each session begins and ends on time.
Suggestions for next year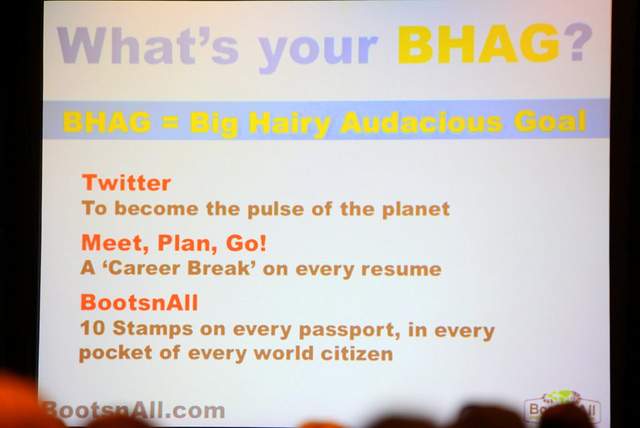 Prior to to 2009, there was no event designed specifically for travel bloggers. That first event in Chicago was free and though it suffered some issues (the livestream didn't work, the room was packed and hot), it seemed everyone who attended was just thrilled that the event had even happened at all, that finally there was a place for travel bloggers to connect and work with one another. At TBEX 2010, there were more growing pains and complaints (no wi-fi, not enough quiet networking, last-minute schedule changes, and a desire for pick-and-choose session tracks), many of which were improved this year. In it's third year of existence, the TBEX conference still isn't perfect, but I've been impressed by the fact that it continues to change and evolve, to improve and respond to the needs and wants of the attendees.
TBEX organizers – Kim Mance, Joey Hernandez, and Courtney McGann – deserve huge praise for what they pulled off with a staff of just three people. They deserve thanks for their hard work organizing and executing a conference that brings together so many travel bloggers from around the world. But they also deserve constructive criticism on what went wrong and suggestions on how the conference can improve. This is a quickly expanding conference bound to have some growing pains as it finds its footing alongside the industry it represents. Most of the on-site issues were – in my opinion – minor, because in the end, what I'll walk away with is not the memory of going without coffee Saturday morning but of the things I learned and the many wonderful people I met, which I do not think would have been possible without TBEX.
I have high hopes that the issues encountered this year will be addressed in some way for next year and that BootsnAll will again be a part of the event. We love meeting independent bloggers, freelance writers, photographers, podcasters, videographers, public relations reps and other industry professionals, trading ideas and sharing a coffee or beer as we get to know one another offline. Our lives may be built around technology and online connections, but there's still no better way to connect than face to face. So if you're ever in Portland or Chicago, let us know. We'd love to meet up and we hope to see you in Colorado in 2012!
Were you at TBEX this year? Share your thoughts in the comments, and let us know if you'll be attending next year at Keystone, Colorado! Read more on TBEX:
All photos courtesy of ©KirstenAlanaPhotography/Galavanting. BootsnAll was a sponsor of this year's TBEX event; the opinions stated are those of editor Katie Hammel, and not necessarily those of other BootsnAll staff.