'Homemade coconut ice cream?' said a Thai woman, giving me a friendly smile.
'Hmmm, sounds nice. What's this?' I asked, pointing at some sauce.
'That's pumpkin in syrup. You can choose from all these delicious toppings. We have coconut milk mixed with red beans 'loosen,' jack fruit, corn, sugar palm, and peanuts. You can also mix it with potato or sticky rice or milk, or all together if you like.'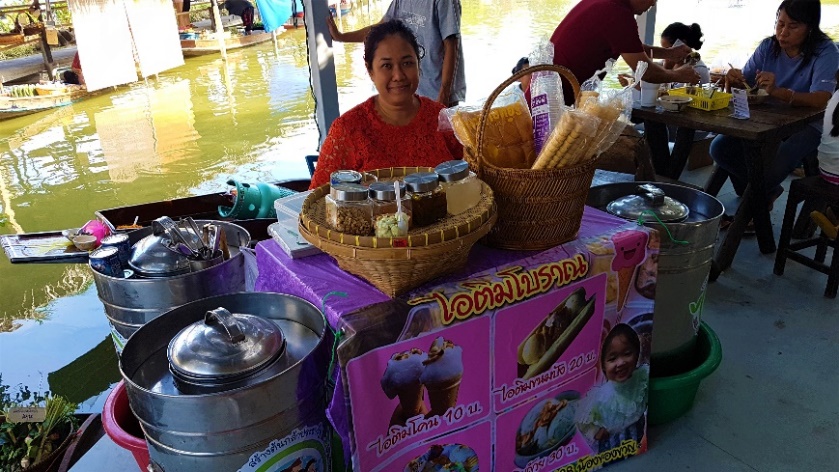 (Nong Khongkwan – on par with Italian ice cream)
I usually don't associate Thailand with yummy ice cream and didn't know what she meant by 'loosen,' but 'homemade' and 'coconut-flavored'… I couldn't help trying it out.
'Give me a scoop with kanoon (jack fruit), corn, sugar palm, and peanuts.'
No sooner had I arrived at the floating market 'Lad Mayom' just outside Bangkok than I knew I was in for a treat. Italians may be known for producing the daintiest ice cream in the world, but this was something else! To say it was aroi mak mak (very scrumptious) would be an understatement. I bought it for a paltry 30 baht (73 pence) at Nong Khongkwan in the market's Zone 1, very close to the entrance just after the walkway.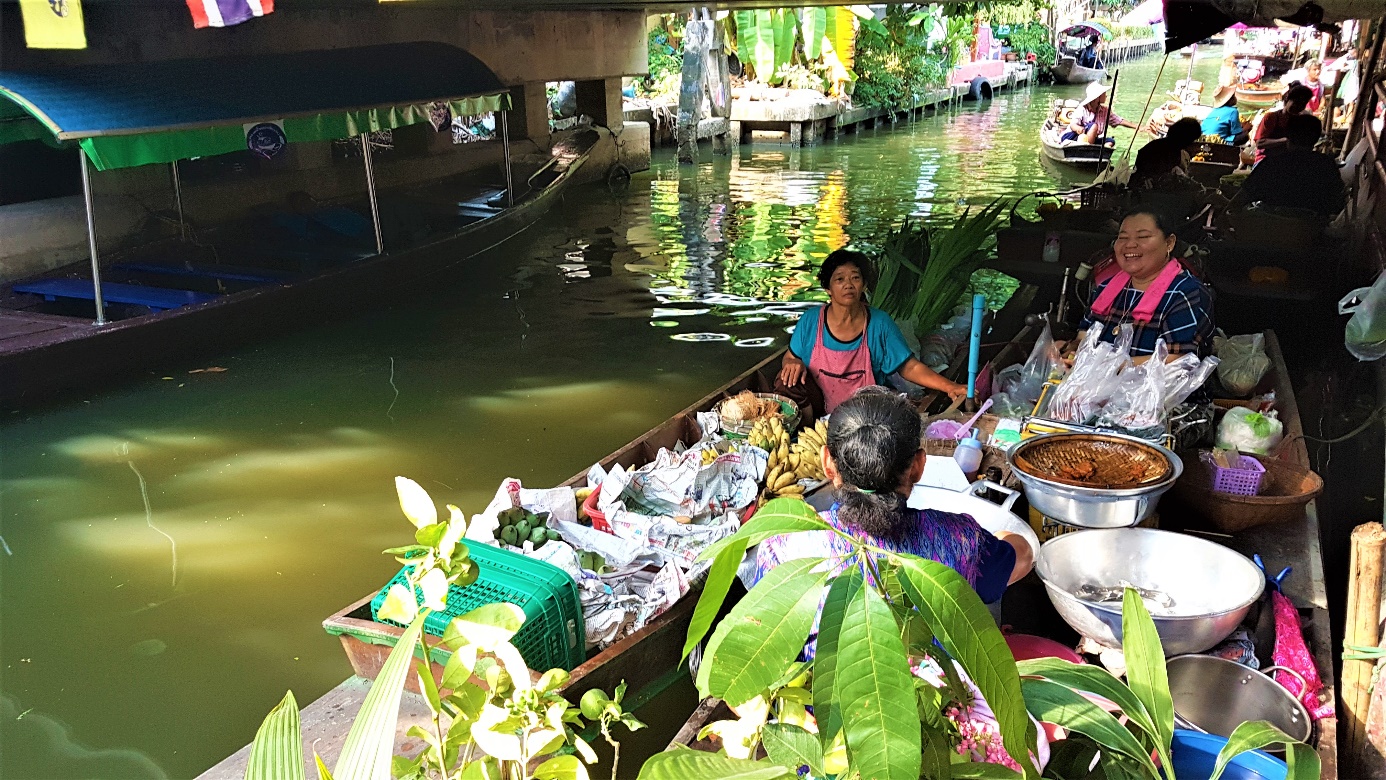 I probably would've gone to Taling Chan first if it hadn't been for my friend Bee, a Bangkokian in her thirties. She'd told me it was a boring floating market because there wasn't enough food. Taling Chan is just a stone's throw from Talad Khlong Lad Mayom, but the ice cream alone was worth giving the former a miss for now.
If you're keen to explore a genuine floating market without tourists jostling you, then don't look further than Lad Mayom.
This is the place to have an authentic experience.
Talad Khlong (Floating Market) Lad Mayom – An Overview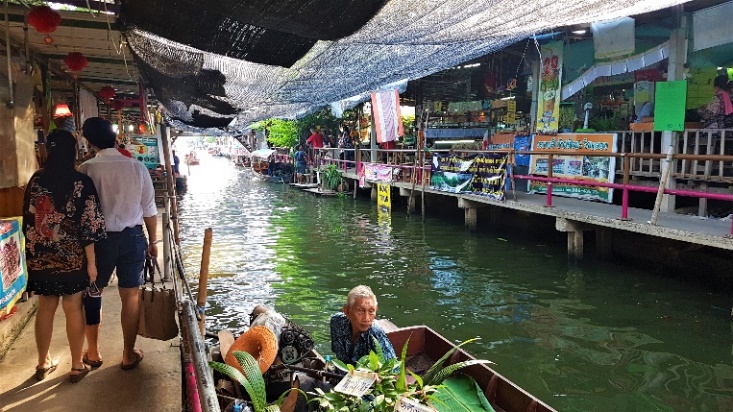 Speaking of authenticity, relaxing Thai music would've been way more suitable to welcome guests than Mafia Farm / Jockey Nature's cheesy love and country songs. But Mafia Farm – located by the floating market's entrance – is probably not part of the Talad Khlong. I guess it's some agriculture company.
Be that as it may, Stevie Wonder's 'I just called to say I love you' and John Denver's 'Take me home, country roads' were not quite what I had expected at a market that is so visually Thai.
You don't have to get up early in the morning to make it here on time, and there's really no need to book a tour, thank heavens.
Lad Mayom is roughly 15 kilometers away from Bangkok and is one of the four main floating markets near the city.
Having been disappointed by Amphawa, considered by many to be an original and real floating market, I thought the nine boats by Lad Mayom's entrance near Zone 1 were all that was floating at this market. In other words, I anticipated that I'd again fail to dive into a world where water transport played an important part in daily life.
Far from it! This floating market has kept its authenticity.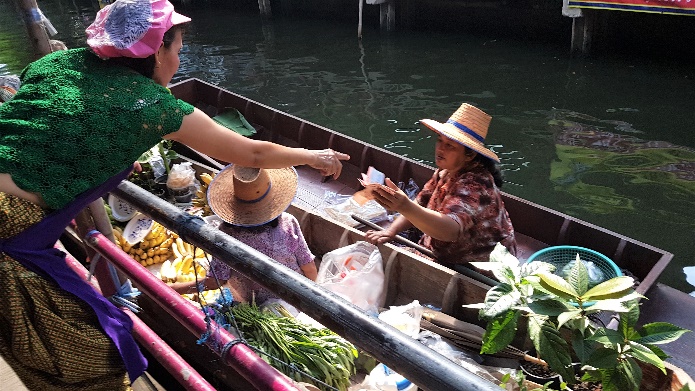 Lat Mayom's main point is not to serve as a tourist attraction, but to cater to local appetites.
Lad Mayom is divided into seven zones. The main section of the market is on firm ground in a hall-like building, but you'll find boats on the pond near Zone 1, at the narrow canal, and underneath a very low bridge. I'm not exaggerating – if you want to walk from Zones 4-6 to the other side, the subway is so low you're going to bend. It's a bit like walking in a cave.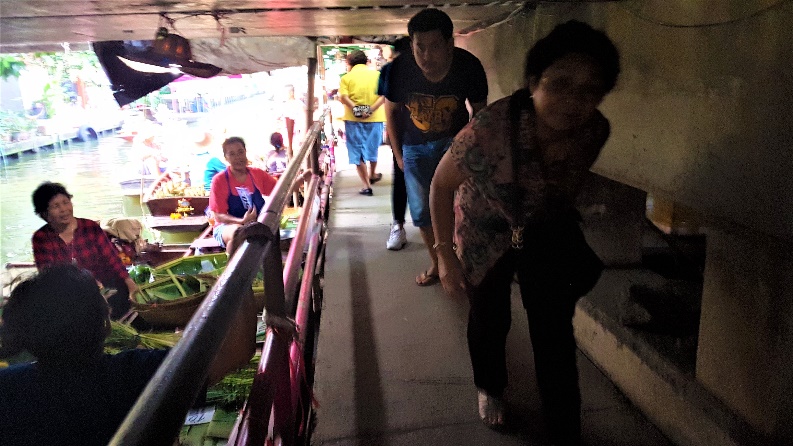 If you're into sweets, snacks, or cooked food, head for Zones 4-6. If you're after veggies and tropical fruits, go to the other side. I didn't find out if this was Zone 2, 3, or 7, but you can't miss it.
The Genuine Experience
As I was walking over the passage towards Zone 1, trying to block out the cacophony mentioned earlier, I caught the scent of mouthwatering sweets. My sweet tooth was begging me like a child, but I told it to shut its trap for a moment and opted for fresh sweet potatoes to start with.
'Ghin dai mai kap?' (Can I eat them?) I asked, motioning to the vendor that I wasn't sure whether the potatoes would have to be peeled or not.
'Ghin dai kaa!' (You can eat them!) she replied reassuringly.
The sweet potatoes didn't look as healthy as they tasted, but tucking into the soft flesh with my bare hands did make me feel good.
Apart from the occasional sounds of rickety longtail-boats rattling past, it wasn't noisy in the various zones. No yackety-yak, no tourists drowning each other out. The vibe was cozy, and visitors were accommodating. They helped me instantly when I was at my wit's end with my smattering of Thai and translated into English as best as they could. Sellers weren't pushy, they just smiled and were able to read my thoughts, sensing when I fancied something.
'Ao mai?' (Do you want some?) an elderly Thai woman asked, pointing at her yellow mangos.
'Ao kap,' (I want) I answered, and asked, 'waan mai kap?' (are they sweet?)
Hearing this, she was abuzz with joy. Speaking some Thai certainly does wonders. Instead of confirming their sweetness, she peeled one, cut it in cubes, and offered me some.
'Nam Dok Mai,' she said, promoting it in a likable way. Nam Dok Mai is the most popular kind of mango, with good reason. It tastes just out of this world.
I touched some, feeling for firmness and told her which two mangos I wanted. 'Haa-sib, dai mai kap?' (50 okay?)
She weighed them and replied, 'dai kaa,' (okay).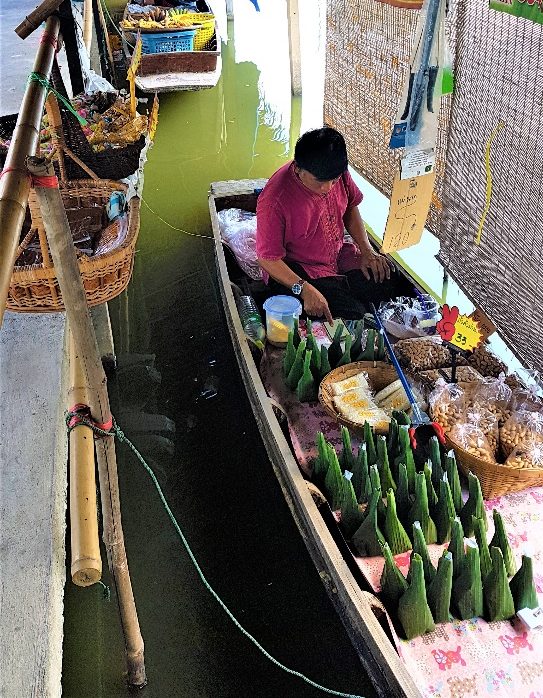 Vendors waiting by the walkway near Zone 1
Strolling along the riverbank and watching people slurp their hot noodle soups, I was thinking about what I should have next. My craving for sweets was about to get the better of me when suddenly, around twenty Thai girls interrupted my train of thought. They were sitting on low stools, chomping farang (here, it means guava) with chili sugar, giggling as I walked by. They looked as if they were really enjoying their food, and it made me feel even hungrier.
I walked on and found deep-fried banana in honey and coconut butter, and 'spotted babylon.' I'd never realized before that babylon is a kind of snail.
What to Eat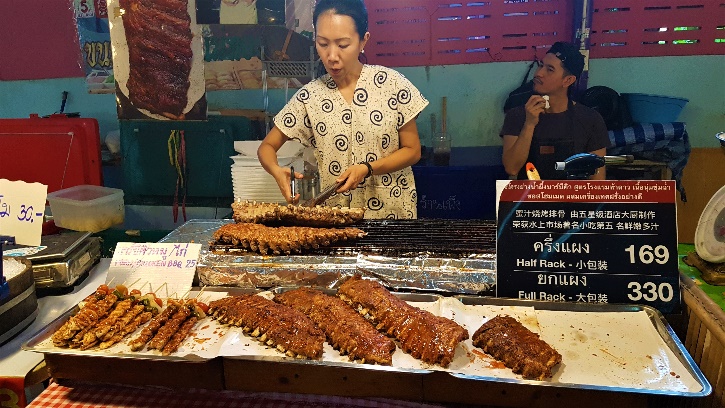 At the other side with the cooked food, snacks, and sweets (you'll find sweets on both sides actually), the air was filled with tantalizing aromas of sticky calorie bombs, succulent meat, and fresh shrimp.
I have to admit, Thais know darned well how to come up with adventurous concoctions.
Here's a list of some food you can find on the side with the cooked stuff:
Hoi-Chel-Chid (baked scallops with cheese)
Crispy baby pork
Dates
Deep-fried sausages and crabs
Fried mushrooms
Duck eggs
Ham steak/beef
Pla-Mhuek-Haeng (dried squid)
Crab sticks with cheese
Cheese sausages
Pork neck
Streaky pork
Calf with chicken
Pancakes
Sweet fermented rice
Rice flour paste
Dried squid
กุ้งแม่น้ำ Kung-Mae-Nam (river shrimp)
Orinji mushrooms
Pandan custard bread
Pisang Awak and Cavendish bananas
Kha-Nhom-Bueang-Yuan-Mae-Taew (Vietnamese stuffed crispy omelet – pastry recipe)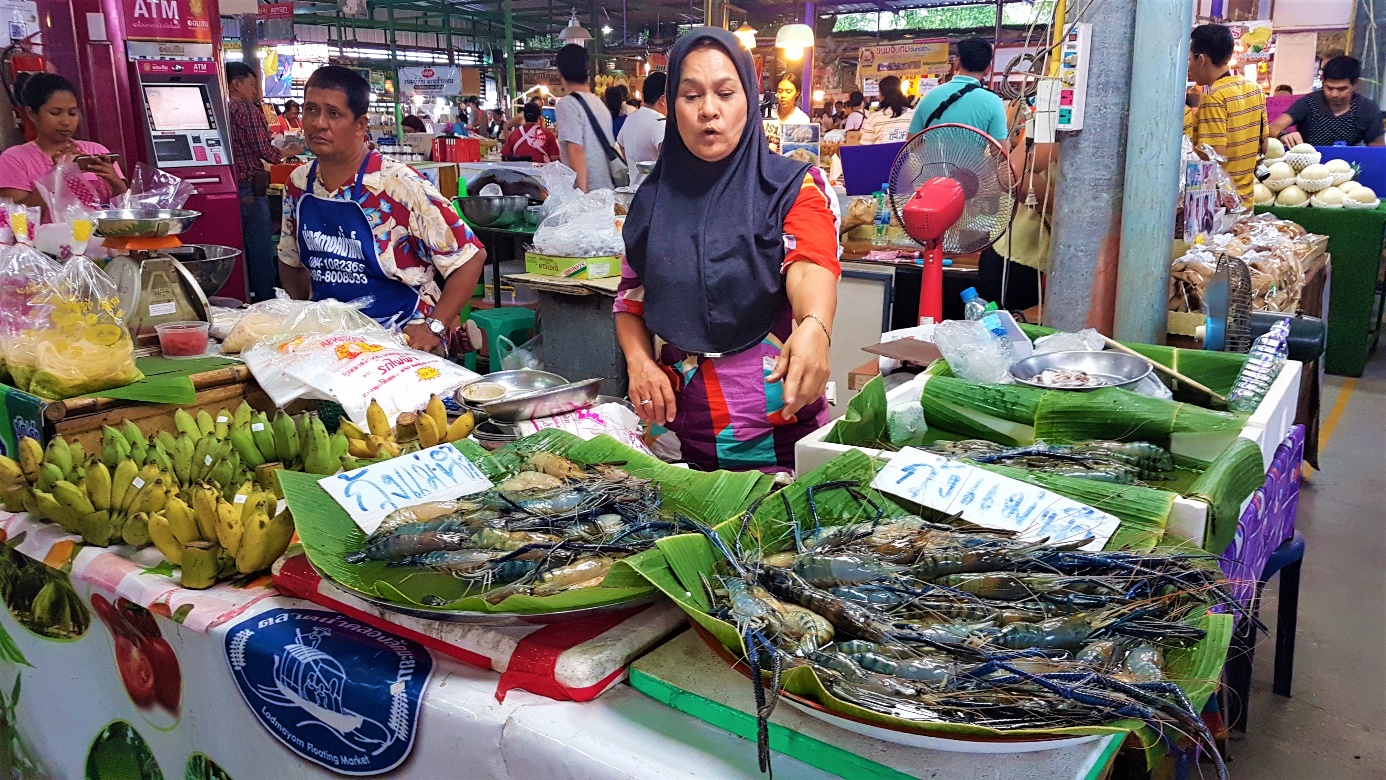 And this is what you'll find at and near Zone 1 by the entrance:
Sweets in banana leaves/sweets made with banana
Pork sago sweet pudding
Boiled Thai desserts
Scrambled mangos and roasted nuts
Pickled bamboo shoots
Purple sticky rice with guava and chili sugar
Limes
Roselle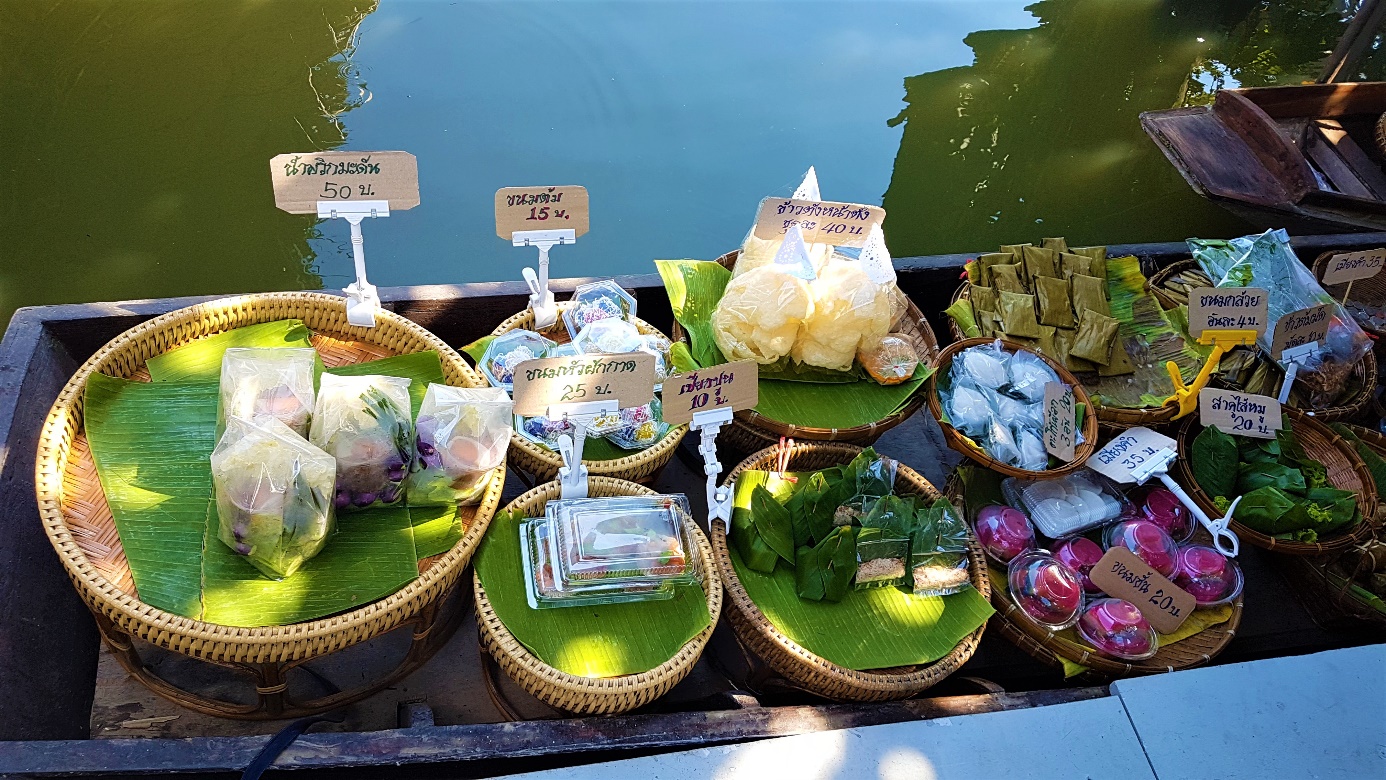 Kha-Nhom-Kluay (banana sweets), Miang-Kham (food wrapped in banana leaves), Sa-Khu-Sai-Mhu (pork sago pudding), boiled desserts and many other sweets.
This is what you can get at the fresh market:
Exotic fruits (sapodilla, custard apple, rose apple, mango, durian, jack fruit, etc.)
Boiled potatoes and figs
Grilled squid on sticks
Roasted shrimp
Snails
Mussels with cheese
Thai oyster salad dressing
All kinds of vegetables, such as bitter cucumber
Stirred beans
Bai-Toei-Hom (Pandan leaves)
Taro lotus
Lotus stem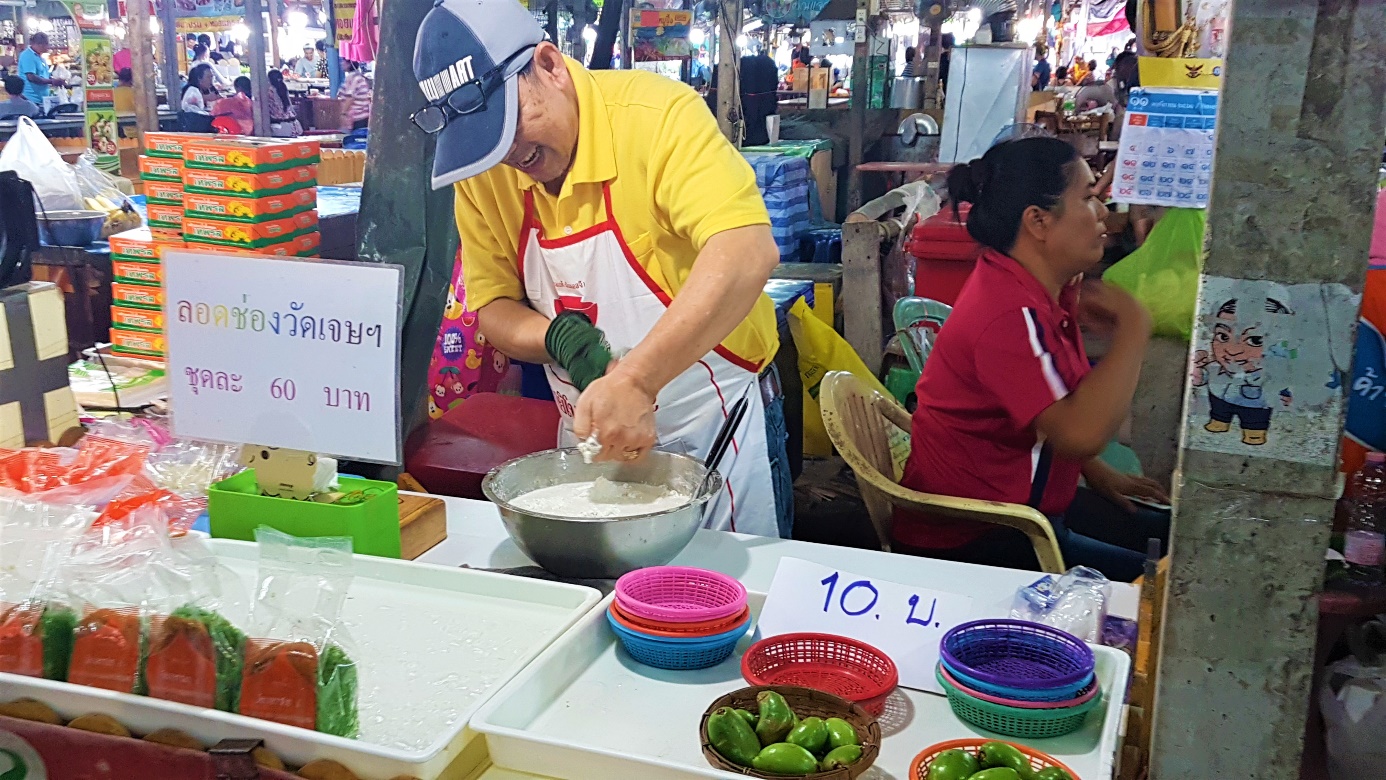 A vendor mixing rice noodles with coconut butter.
I was spoiled for choice and eventually wolfed down a Sichuan pepper beef with chili sauce, which was juicy and tender. One stick cost only 10 baht. For dessert, I devoured sticky rice wrapped in banana leaves for 20 baht and deep-fried banana in honey and coconut butter for 35 baht. The latter was exceptionally sweet, even for me. I realized that I had to stop or else I'd be at risk of vomiting up my last course, and I knew that wouldn't taste so nice.
Across the river, you can buy unique handmade tie-dye t-shirts, herbal medicine, soaps, and various accessories.
What to Do and Discover Around the Market
At the fresh market's very end, you'll find private 1.5-hour boat tours for only 100 baht per person – even kon diao (alone). This includes 2 stops of 20 minutes each.
Riding down the canal, you can visit the orchid garden or make merit at Wat Sapan, a temple where Thais worship Luangpor Dum, an important monk.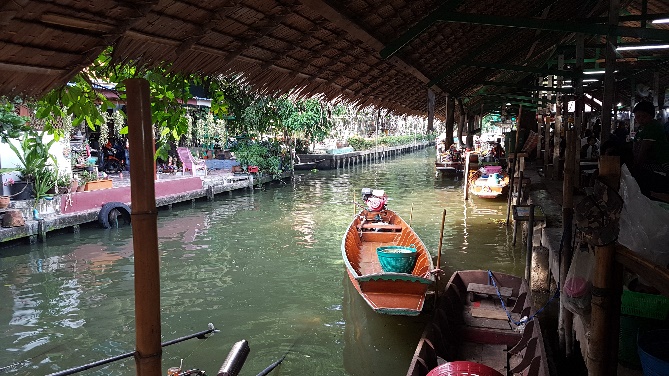 Should you have fledglings who couldn't care less about floating markets, a pony ride at the ranch just down the road will make their faces light up again.
If you've got raeng (energy), paddle a kayak to the lotus pond or operate the pedals of a 'water bike', as the Thais call pedalboats. It costs you as little as 50 baht (1.22 GBP), quite a fair price for a wearying workout around the floating market.
If you're anything like me, you can't resist feasting on Thai desserts and might then worry about spare tires around your waist. Hence, burning calories via paddle boating is not a bad idea. It's particularly effective for tall people who pedal from a reclining position, leaning back above the seat of the boat, drenched in sweat.
Getting There
Take the BTS Sky Train on the Silom Line and get off at Bang Wa – the final station. Regardless of the starting point, 59 Baht is the maximum fare for a single journey ticket. As an aside, a one-day ticket costs 140 baht only, so planning ahead might save you a few baht.
The quickest way to get to the market from Bang Wa is to grab a bike with an app called 'Grab'. It'll cost you about 130 baht. You can also hail a cab using this app but expect a considerable delay in Bangkok's notorious traffic. Be sure to check that your current location really is where the app says it is. Many a time I had to study the map and walk to my 'current' location where Grab had set my pick-up point.
Opening Hours
Saturdays, Sundays, and public holidays from 8am to 5pm.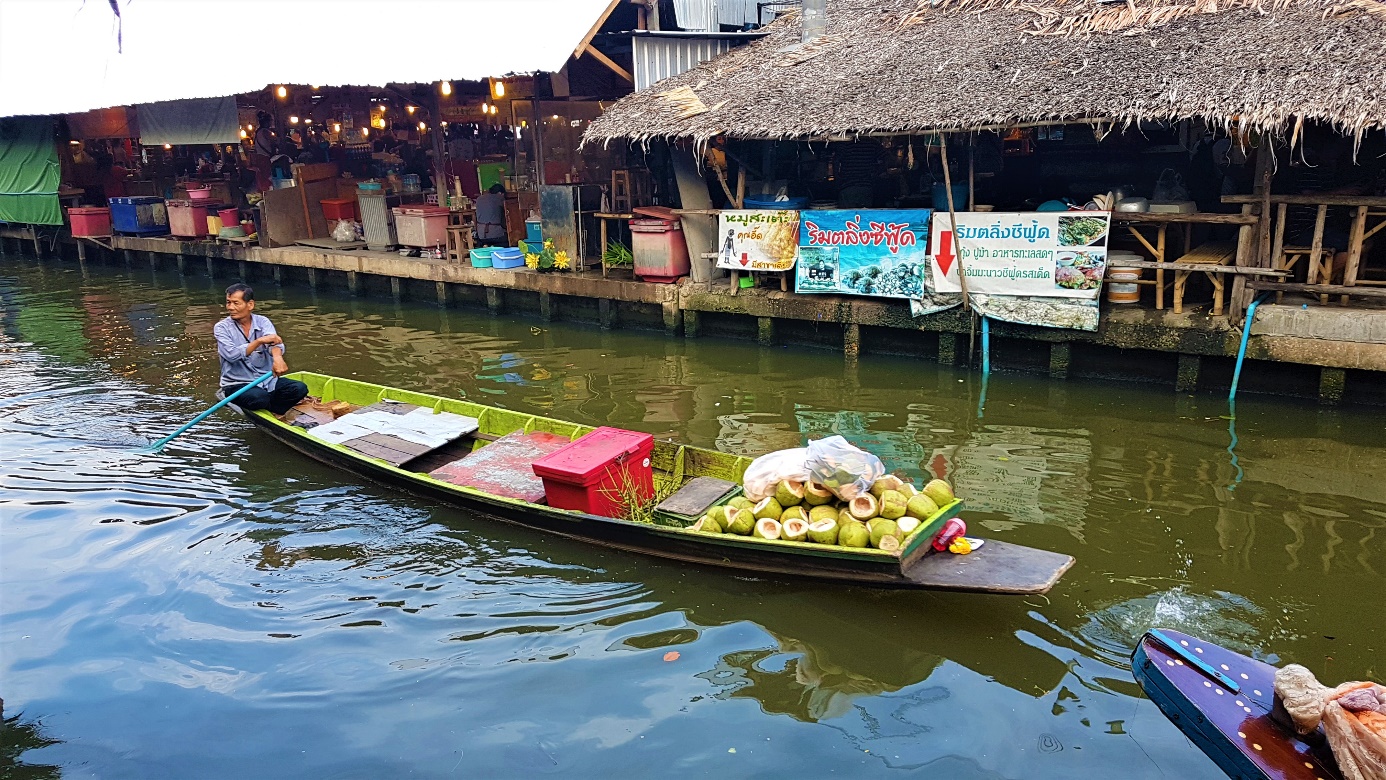 TL;DR
Don't bother going to Amphawa, a jam-packed riverside market for holidaymakers with selfie-sticks. I can't recommend Taling Chan either. Over the course of many visits to Bangkok, I wanted to see for myself if Bee's lack of enthusiasm was justified. I went and had to admit that it was nothing to write home about. Ear-splitting live music – although Thai – failed to make up for the meager variety of food. Not what I'd been looking for. And as for the floating market in Damnoen Saduak, I strongly advise against setting the alarm clock. Sleep in and avoid another tourist magnet – it's just not worth it.
If you're eager to get a glimpse of Thai culture and days gone by, make a beeline for Talad Khlong Lad Mayom, where time stands still. All your senses will thank you.