Curry isn't one particular dish, contrary to what the Indian Restaurant in your city may tell you. There are literally hundreds of types of curries that have no similarity to each other whatsoever. India is several countries within a country, culturally speaking, and with that comes a melting pot of several cuisines, variations, and fusions. And that's what the cuisine of Mumbai is. Food is everything to the Mumbaikar. From socializing, to festivals to even journeys, our days just revolve around food. Just like anything Mumbai offers, even the food can be a sensory overload. You just don't know where to begin. So here's a list of the top Mumbai foods that you simply must sample to say you've truly tasted Mumbai with more than just a spoon. You might want to put on a bib before you continue reading!
1. Chaat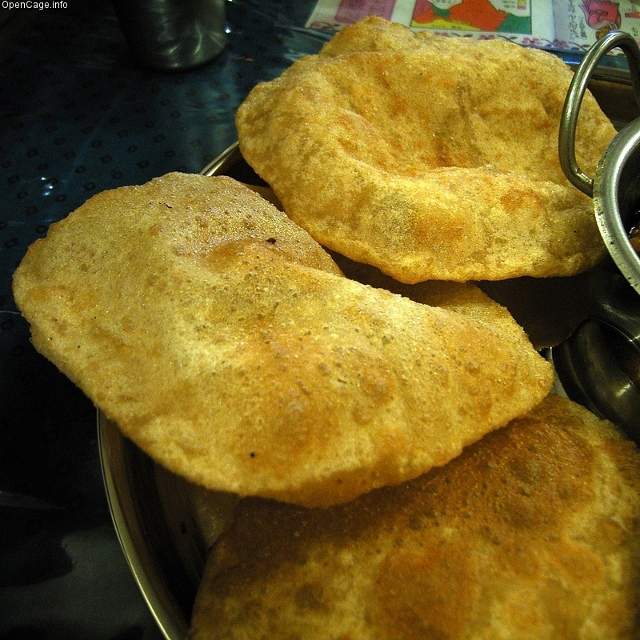 The essential street food, you're sure to find a chaat (the chaa is pronounced as it is in char and not chat) seller with his wheeled stall, carrying his wares on a single stool, or with a strapped on tray standing at every street corner. Chaat is a collection of snacks made from fried small puris (like a tiny deep fried, puffed tortilla), mashed potatoes, raw onions, tomato, coriander, mint chutney, tamarind chutney, and a few spice powders. It's fresh and a favorite on-the-go snack.
Paani Puri: Hollow fried puris, stuffed with mashed potatoes, boiled lentils, and a spicy mint water. Stand at the stall and hold out the small bowl he gives you, and have them one by one, as he serves them up. (A plate usually comprises 6 pieces) Pop an entire one into your mouth in one go, and enjoy the crunch of the puri as your mouth fills with a gush of spicy water.
Sev Puri: A flat fried puri (like a savory biscuit) topped with little mountains of boiled lentils, mashed potatoes, chopped onions, tomatoes, and topped with a sprinkling of sev, mint chutney, tamarind chutney, spices, and coriander leaves. Again, pop them in your mouth whole.
Bhel Puri: A plateful of puffed rice, mixed with tomatoes, chopped onions, peanuts, raw mango, sev, and the chutneys. A lip smacking dish, served in a large paper cone, with a puri for a spoon, gobble it up quickly before the paper disintegrates.
For a super safe hygienic restaurant experience: Swati Snacks, Trupti, Punjab Sweet House, Elco.  For an authentic roadside experience: Marine Drive Chowpatty or Juhu Chowpatty
2. Thaalis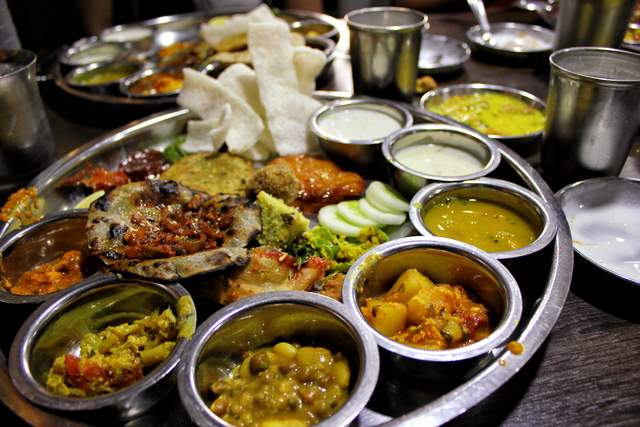 "Atithi Devo Bhava" – an Indian saying that means the guest is a form of God. Treated like Gods you will be, especially when it comes to being served a Thaali. A Thaali is an all you can eat buffet that's served to you right at your table. And nobody does it better than the Gujaratis and Rajasthanis. As the tagline of the most popular thali joint goes "We serve as long as you can eat."
[social]
These all you can eat joints serve you like you're family, with love, insisting you eat more (even if you're already full). Typically, you choose from one of the thali options ( a regular, or a special). The difference normally being dessert or pricier seasonal produce. And as you sit at your table, liveried, turban wearing men in charge of different courses keep coming and serving up to a variety of 3 amuse bouches, 4 kinds of breads, 4 vegetables, 2 lentils, 5 relishes, a couple of different kinds of crisps, 3 kinds of rice, 4 kinds of yogurt, and of course, large spoonfuls of clarified butter.
Golden Star Thali is undoubtedly the best. Others worth mentioning are Chetana, Shree Thakker Bhojanalay, and Friends Union Joshi Club.
3. Dhaabas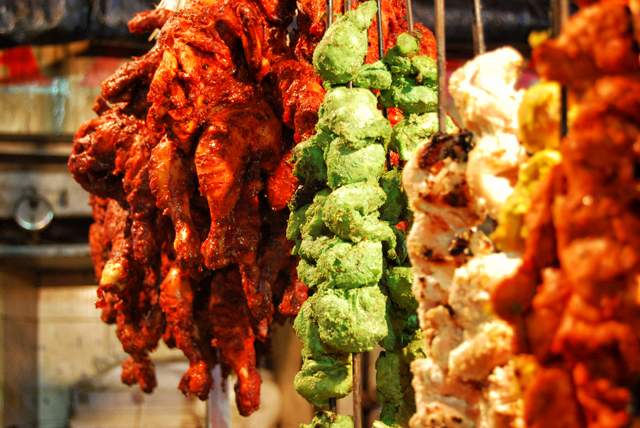 Originally the rustic highway restaurants in North India that catered to big eater truckers, Dhabas have developed their own cuisine that comprises hardcore meat and super hot spice. Normally open air restaurants with Tandoors (extra large coal barbeques) and low seating on bamboo cots, dhabas are where you go dressed down and eat with your hands. Enjoy wholesome Punjabi dishes like Makke di Roti (Flat cornbread), Sarson da Saag (Mustard leaves and lentils) Chicken Tandoori (which needs no introduction), and tall glasses of a heavy yogurt smoothie called Lassi.
Experience this from the comfort of a nice restaurant that's recreated the Dhaba theme at Papa Pancho's or Pritam da Dhaba. Or step out of the city and visit a real one on the Western Express highway like Dara da Dhaba, but cover up and bring the mosquito repellant.
4. Irani Cafes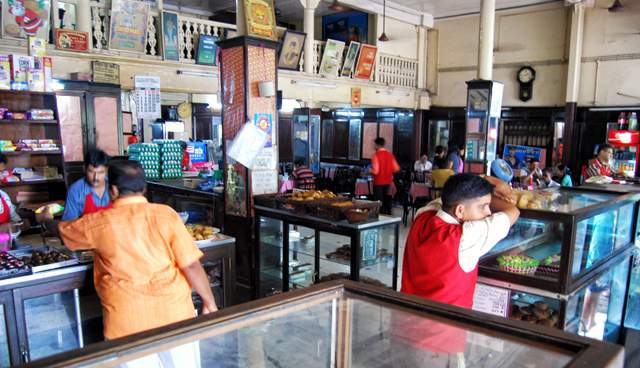 A fast disappearing breed of the most charming cafes Mumbai and Bombay has ever seen, Irani cafes are over 100 years old. What started as a way for immigrant Iranians to bond over tea turned into a great place for cheap eats. Most Irani joints are still stuck in time, and you're sure to find old timers sitting at their usual tables. You'll feel like time has stopped for you, too, when you sit on those vintage wood and cane chairs, propping your arm on those same glass topped tables that have been sitting there for years.
By the speed at which the waiters work, you will have reason to believe they've been around just as long. Try the signature favorite: Bun Maska Chai – Buttered bread, dipped in immensely sweet Irani tea. Try Akuri – spicy scrambled eggs with freshly baked bread. Another great dish to try is the Kheema Pav – Spicy minced meat served with bread.
Visit the iconic centenarian Kyani & Co. or Good Luck.
5. Parsi Bhonu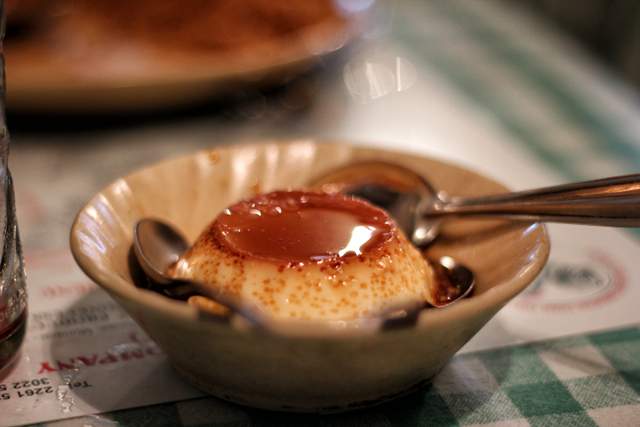 Not to be confused with the Irani's, the Parsis are the second batch of immigrants – Persians. There's a nuance of a difference in the Bhonu (food), while the atmosphere and ambience at a Parsi restaurant is pretty much indistinguishable from that of an Irani Cafe. Fondly referred to as Bawas, the Parsis are a loud, eccentric, and friendly bunch, and if the owner's at the cash desk as usual, he's sure to chatter away with you.
The best Parsi dishes to try are Dhansak Rice ( a mutton-lentil curry), Patra ni Macchi (Banana leaf fish) and Lagan nu Custard (caramel custard!). Accompany these lip smacking eats with a bottle of Duke's Raspberry Soda (strangely only available at Parsi joints and Parsi weddings).
Mumbai's favourite Parsi restaurants are Jimmy Boy and Britannia & Co..
6. Mughlai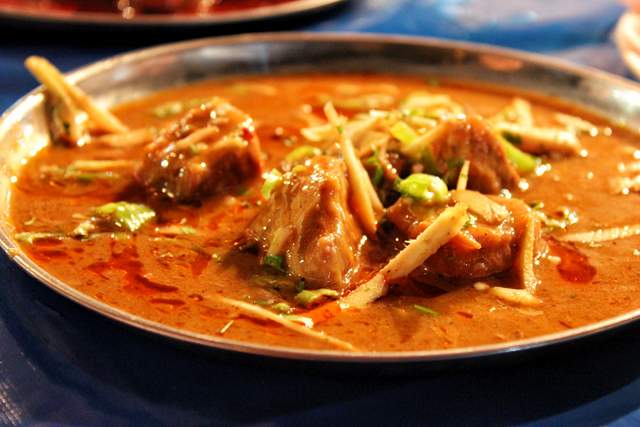 Mughlai is the delectable cuisine left behind by the Mughal empire in Hyderabad, Delhi, and Pakistan. The food is rich, meaty, elaborate, and flavored with an array of spices. The first dish to sample is the Mutton Biryani. A rich saffron and milk tinged rice cooked over a coal fire in gigantic pots with intense spices and large pieces of mutton. The lid is sealed shut with dough as it cooks, preserving the aroma that you can smell from a mile away. A sign of a good Biryani is when the meat falls of the bone, the bone is almost edible, and the spices and onion have caught to the bottom of the vessel till almost burnt. Other favorites include Haleem (A thick lentil soup where the beef has practically melted). An array of kebabs (small hors d'oeuvre sized pieces of meat) are a great starter to be eaten with mint chutney. The sweets, most of which are deep fried, are extra heavy with sugar syrup, rose water, spices, milk, and eggs. Try a small bite of the heart attack inducing Malpua.
The mecca for Mughlai cuisine is a pop-up food street that occurs during Ramazan every year at Mohammad Ali Road. But if you aren't lucky enough to be in Mumbai then, schedule a meal at Lucky's, Kareem's, or Jaffer Bhai's. You won't be disappointed.
7. Coastal Cuisine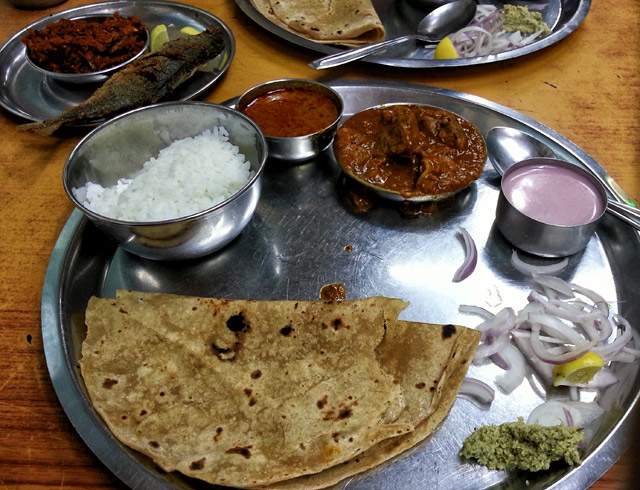 Mumbai's coastal cuisine is actually three different types of cuisine from Mangalore, Goa, and  Maalwan. All three are distinctly varied, but have one commonality – fresh seafood. We love the Mangalorean Crab Gassi. A thick curry with crab in the shell that's super messy, but equally delicious to eat. Try Appams – delicate crepes made with fermented rice flour. Goan food has undertones of Portuguese influence, an unmissable base of palm vinegar. The iconic Goa Pork Sausages (sausages pickled in a Vindaloo/ Sorpotel), Fried Fish in Rechad Masala, and Fish Curry Rice are all dishes to try at a Goan restaurant.
Up next is sadly the last thing you'll find on any Mumbai food list, just because it's been a pretty well kept secret. Originating from the Maalwan coast in Maharashtra  is another spicy kind of seafood, where the meal begins with a sour-spicy coconut milk based drink to prepare your stomach. Choose from light, moist, and crispy Fried Bombay Duck (that's actually a fish) and Teesrya (Clams) or a dish that looks like scrambled eggs but is actually tiny nail sized prawns.
Our picks for the best Mangalorean food is Excellensea, best Goan at New Martins, and the best Maalwani at Highway Gomantak.
8. Udipis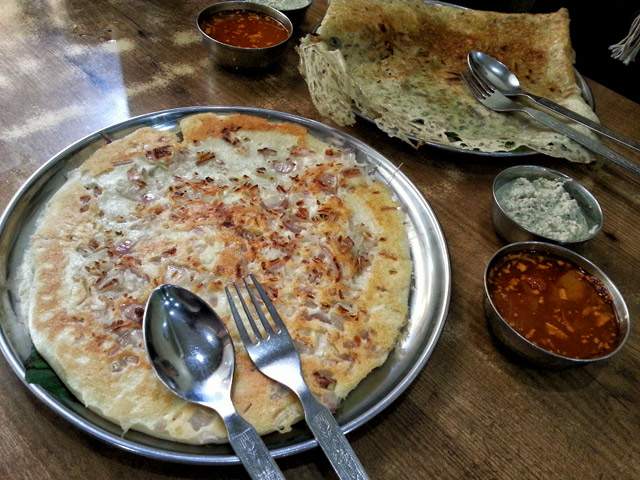 Udipi cuisine, originating from Udipi in South India, is what we call Saatvik (Pure). No onions, no garlic, no meats, or seafood. The limited food groups make for some extremely innovative cuisine, and coming from a hardcore meat eater, I assure you, it tastes great! And you'll always walk away feeling healthy. Try the Mysore Masala Dosa, rice flour crepes spread with a spicy chutney and then wrapped around spiced potatoes. You eat it with your hands, dipping little bits of it in a spicy sambar soup and some coconut chutney. Another dish worth tasting is the Idli Vada Sambar. Steamed buns and fried fritters made of fermented rice flour, dipped in sambar and chutney, is a breakfast staple for many.
Head to Shetty's on Grant Road, or try any outlet of the Shiv Sagar chain. For a slight variation in style, try the iconic Madras Cafe as well.
9. Indian Chinese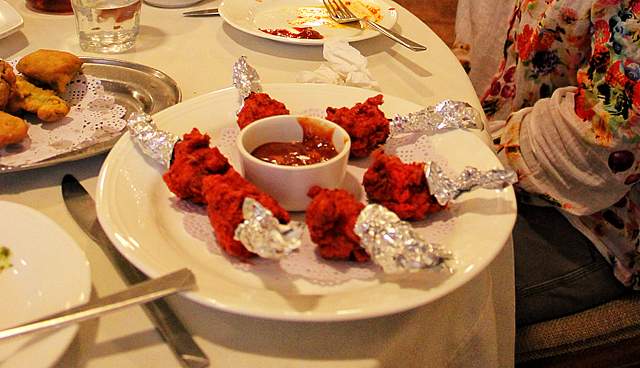 Chinese food available in India is almost unrecognizable to anyone who's familiar with authentic chinese food. Mumbai has spiced it up and created all sorts of innovative fusion dishes right on the streets. You're sure to pass by the brightly painted carts, woks ablaze, Chinese looking men who aren't actually from China, whipping up never heard of dishes like Triple Schezwan, Chinese Bhel (crispy fried noodles in a spicy schezuan paste), and Chicken Lollipops (Scarlet coloured batter fried chicken legs), to name a few. Manchurian (Salty and Brown) and Szechuan (Spicy and Red) are the two primary flavors, and everything (from Chicken to Rice to Noodles) comes in those two flavors. I must warn you, it's a heart attack on a plate, but innovative and lip-smacking nonetheless.
You're sure to come across several stalls on the roads. Most of these stalls open as late at 8pm and operate up to 11 pm.
10. Indianized global chains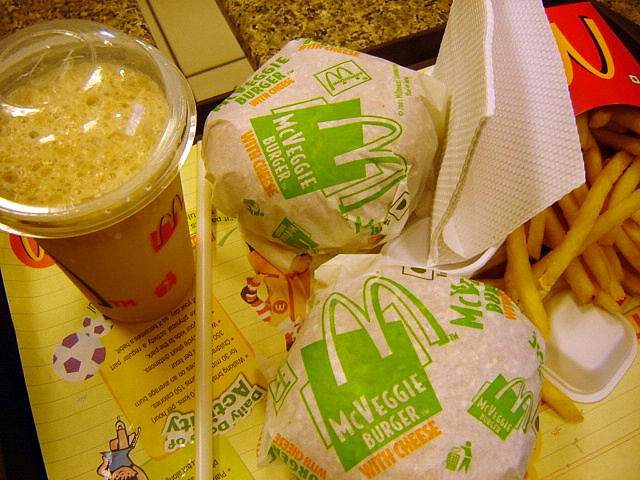 Picture this, you're walking down the street in Mumbai, and you spot a logo. A familiar logo that instantly transports you home. You may never have thought much of it back home, but here, miles away, it's familiar and comforting. Before you run into a McDonald's or KFC, read on. Most Indian's need their spice, and most Indian's would never eat beef. Welcome to a beef-free McDonalds, where you'll find Masala Tikka Wraps with lots of onion and Indian veggies. You'll get chicken, you'll get fish, but that's about it. In short, all the global standard food has been tweaked for Indian consumers, and now even your Starbucks serves up an Indian Espresso Roast.
Try the Indian take on McDonald's, KFC, Subway, Quiznos, Baskin Robbins, Pizza Hut, Starbucks etc.
11. The global palate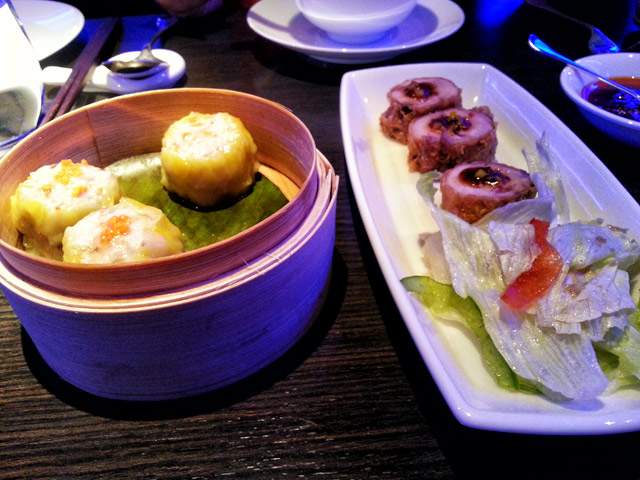 Mumbaikars love their food, but they've started enjoying the food of others as well. And you can now find some pretty good international cuisines in Mumbai. So if you're craving a nice gourmet experience or want a place to celebrate while on your travels, try one of these.
Poco Loco for the Tapas, Salt Water Cafe for Carpaccio, Hakkasan or Yauatcha for Michelin Starred Chinese, Ziya for preplated Michelin Starred Indian, Indigo, Moshes, EscoBar or any of the restaurants at five star hotels.
A word of caution on Bombay belly
Now that I've tempted you to go get an upset tummy, let me tell you how not to let it get in the way of these amazing experiences. Avoid the water and try bottled drinks instead. In the cheaper joints, that also means you might want to avoid using the glasses and drink straight out of a bottle. Avoid it even if they say they have filtered water. Carry wet tissues to wipe your hands before eating. And don't overdo it no matter how much your taste buds love it. Most restaurants serve a tummy cooler (a milk or yogurt based drink like sol kadi or chaas) to temper the spicy food.
Need help planning your trip to India?  Check out the following articles and resources:
Revati & Charles Victor have their hands full plotting their next trip, cooking up a storm in the kitchen, packing their bags, learning a new cuisine, fiddling with their camera and finding new ways to travel slow and closer to the ground. While doing all of this simultaneously, they also write at Different Doors.

Photo credits: OpenCage, Os Rupias, all other photos courtesy of the authors and may not be used without permission.