The Languedoc-Roussillon region—just west of Provence—has an abundance of rugged countryside, idyllic cities, and famed cuisine packed into an often-forgotten corner of southern France.  You'll hear more French in the streets here than English, which is refreshing in the world's most-visited country.  When I told a Parisian that I was en route to Languedoc, she smiled and said wistfully, "Ah, la belle vie."
It truly is the beautiful life in Languedoc: the region is home to long afternoon lunches, mountain walks with awe-inspiring vistas, well-preserved history from the Romans to Napoleon, luxurious Mediterranean beaches, and more wine produced than any other area of the world.  Just four hours by train from Paris and three from Nice, a trip to France would be remiss without including Languedoc on the itinerary. Here are five off-the-beaten-path spots that can help you uncover another side of the French Mediterranean.
Montpellier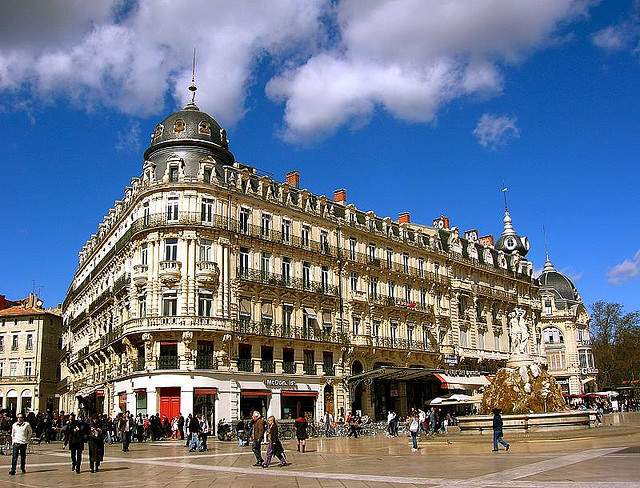 While Montpellier is the easiest gateway through which to access the rest of Languedoc, this French university city is also an exciting destination itself.  The lively atmosphere isn't just due to students, though: there's a market nearly every day, and the central square is continually taken over by festivals.  At Les Estivals, a wine-tasting festival held each Friday in the summer, you can try three glasses of local wine for only 4€.
The old neighborhood, surrounded by the remnants of medieval walls, is a winding maze of pale limestone with colorful shutters and storefronts.  The tiny cobblestone streets give way to cafés in public squares, particularly Place Saint Roch, off which you can find the delicious Petite Crèpierie (half-priced crèpes from 7-8pm on Thursdays and Fridays).  The Parc du Peyrou has gorgeous architecture from medieval times to the eighteenth-century, and is the perfect place to observe some of Montpellier's more eccentric population while basking in the Mediterranean sun.  Speaking of which, Montpellier is only a twenty-minute bus ride to the beach (2.50€ round trip).
In the evenings, join the rest of the city at one of the outdoor cafés in Place Jean Jaurès for an apéritif.  Pastis, a yellow, sugary, licorice-flavored drink, is traditional of the region—but definitely an acquired taste!  To watch rugby or football (both types), head to O'Carolan's on Rue Petit Siècle to experience the international side of Montpellier and root for your favorite team.
The easiest way to get to Montpellier is by train, with fast connections from Paris, Nice, and any of France's other major cities.  One-way tickets are about 40€ from Paris, and half that for those who carry a French student card.  Montpellier is also serviced by a small airport, a 5€ bus ride from the city center, with connections to Paris (a one hour flight) and several other European cities by budget airlines.
>> Find hotels in Montpellier or read our Montpellier travel guide
Cathars Castles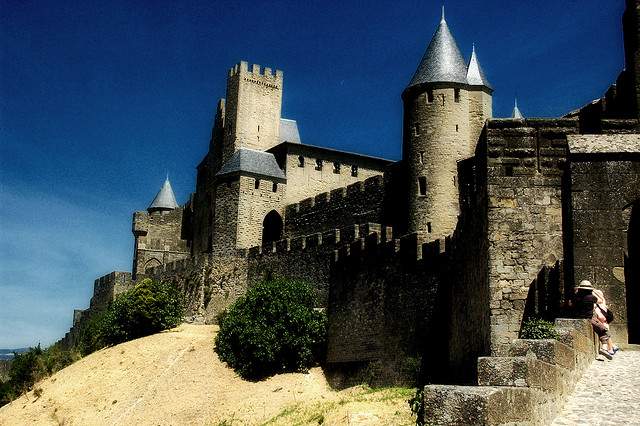 The western Languedoc countryside is littered with castles left over from the days when the Cathars, a Catholic religious sect, dominated the area that stretched from Montpellier to Spain.  They're best reached by train to Carcassonne and then by car; as you drive through the countryside, the remains of the Cathars' glory days are scattered south towards Perpignan.
Carcassonne, for example, is about an hour and a half by train southwest from Montpellier, and is also accessible from Paris to the north and Toulouse to the northwest.  A small airport also has budget flights from Brussels, Paris, and the British Isles.  Although one of the more touristy sites on this list, the fairy-tale splendor of La Cité is completely worth it: if you only see one French castle, make it the walled city of Carcassonne.  True, it's been restored beyond perfection and stuffed with restaurants and historical signposts, but that doesn't take away from the visions of knights in shining armor and damsels in distress that you'll see in every tower, spiral staircase, and trap door.  Be sure to wade through the tourist-trap shops on the main street to find some wild boar stew and potatoes, the local dish of the Cathars region.
Lastours, a short, meandering drive north, is a collection of four towers crowning the Languedoc hilltops.  Despite being only 14km away from Carcassonne, the castle seems completely isolated from everything but a small town at the bottom of the hill.  Built on a rock-faced hilltop in the thirteenth century, these rugged châteaux provide stunning views of the Pyrénées and Cévennes mountains.  Where Carcassonne is immaculate, Lastours is crumbling; when you approach the towers after steep upward hike, this abandoned castle evokes the feeling of discovering a forgotten treasure.
>> Find a hostel in Carcassonne or read more about visiting Carcassonne
Nîmes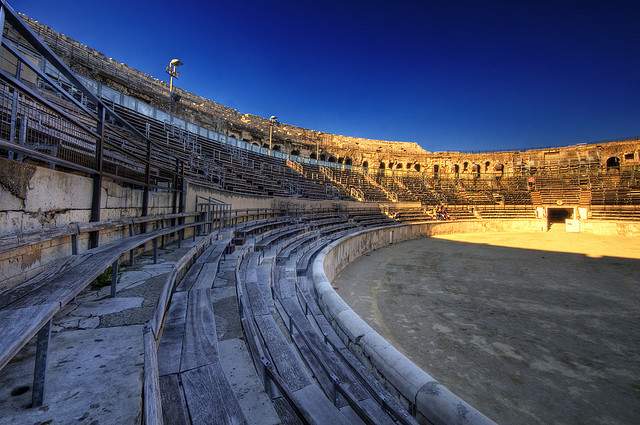 For Roman history, Nîmes is almost as good as Rome itself.  This small city is home to the best-preserved Roman Arena in the world, which is central to the massive bull fighting festival hosted here every May.  The Féria celebrates Pentecost, paella, dancing, and the merging of French and Spanish tradition; it's perfect for families during the day and for partygoers from evening until dawn.
The eclectic mix of Roman, Spanish, and French flavors are apparent in the city's architecture, especially in the heart of town.  And since it's the home of denim, you're sure to see more than a few pairs of jeans hanging on laundry lines: denim comes from the phrase, de Nîmes, meaning 'of Nîmes.'  Maison Carrée—a temple dating back over a thousand years—in the center square houses an ancient history museum surrounded by charming cafés and bistros.  Nearby, an impressive modern art museum, Carré d'art, is impossible to miss with its contemporary glass exterior juxtaposing the centuries-old limestone.  If you follow the palm tree-lined canals leading out of the city center, you'll reach the eighteenth-century Jardins de la Fontaine, or Fountain Gardens, which are surprisingly quiet despite making France's list of "remarkable gardens."  They're home to the spring that was once the city's main water source, and have a classical layout with shady benches, hidden grottos, and sweeping staircases that lead up to a medieval tower and a view of the red rooftops of Nîmes.
Nîmes is just twenty minutes by train from Montpellier and under four hours from Paris, with connections running at every hour.  Again, Nîmes has a small airport accessible by budget airlines, but train is your best bet if you're traveling within France.  The extra time on the train is worth it for views through the Central Massif vineyards and farmland when traveling from northern France or Mediterranean vistas when traveling from Nice.
>> Find budget accommodation in Nimes or read about other Roman ruins outside of Rome
Sète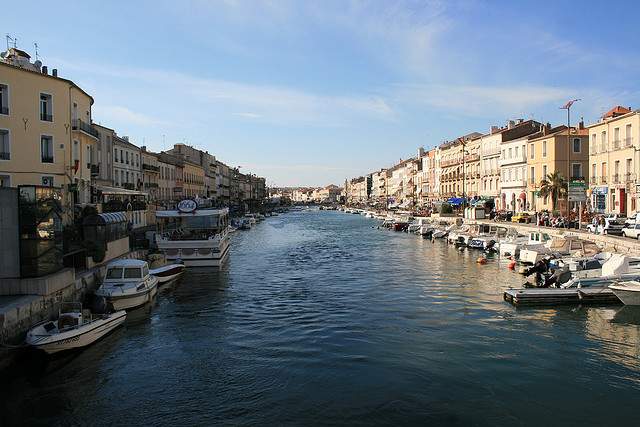 This seaside fishing town has a Mediterranean beach and a different attitude than a traditional Riviera coastal town.  Locals call it "Little Venice" for the canals that line the main streets, and mussels cling to the docks along bright blue water.  Sète doesn't try to dress itself up: you can watch fishermen bringing in the catch of the day or walk along the Promenade Maréchal LeClerc, where you'll glimpse ferries departing for Morocco or Algeria.
Quai General Durand, which runs along the Grand Canal, is filled with seafood restaurants serving tempting prix-fixe menus.  Be careful, though, because the enticing scenery and outdoor seating can lead to awfully over-salted and over-priced meals.  Head a few blocks inland instead to get your fix of moules frites (mussels and fries) or bouillabaisse (fish stew).  The best thing to do in Sète is to work off your meal by walking up Mont St. Clair: you can find it by heading uphill on any of the many chemin—staircases—leading out of the harbor part of town.  A long, fairly strenuous climb will take you to a hilltop esplanade overlooking the water, windmills, and surrounding vineyards.  Of course, you can always drive up instead, like most of the French do—but that wouldn't be nearly as fun.
Sète is roughly 30 kilometers south of Montpellier, about halfway along the coast towards Béziers.  Trains and buses run at least hourly from Montpellier and any of the surrounding towns, and there are (expensive) ferries from Northern Africa several times a week.
>> Read about other "fake Venices" around the world
Saint-Guilhem-le-Désert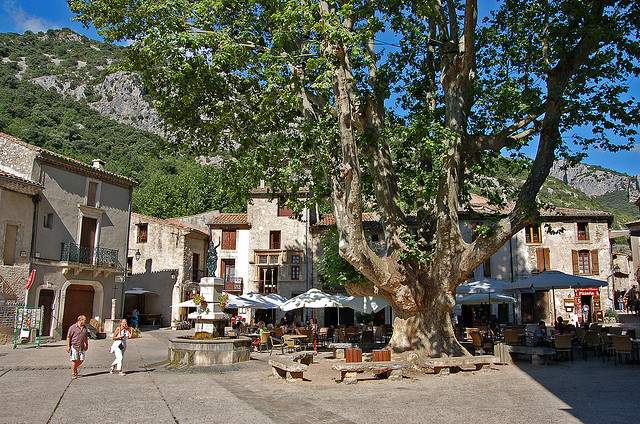 This (very!) tiny village squeezed into the Hérault river valley in the Cévennes Mountains is a picture perfect escape for artists, hikers, and medieval history buffs.  If you've ever seen Beauty and the Beast, Saint-Guilhem looks exactly like the town that Belle comes from.  The village grew around a monastery built by a knight-turned-saint in the ninth century, and has been a pilgrimage stop ever since.  Part of the monastery is now in the Cloisters museum in New York City, but Saint-Guilhem has a piece of New York, too: a statue in the main square is said to be a model for the Statue of Liberty.
Saint-Guilhem is one of many romantic small towns in the Languedoc countryside, but it is unique for its accessibility to a wide variety of activities within minutes of the monastery.  You can take several hikes that lead right out from the town or head down to kayak in the nearby river.  Art galleries, clothing boutiques, and créperies line pedestrians-only streets and around every vine-covered corner is a drinking fountain that leads to the stream that winds its way down the main road.  Don't miss the cloister at the north end of town, but also be sure to wander down the tiny alleyways on your way back down towards the visitor's center at the bottom on the hill.
For those traveling by car, Saint-Guilhem is about 45 minutes northwest of Montpellier and you can park in a lot on the north end of town.  Although not accessible by train, Hérault public transportation runs bus 308 (more often during the summer months) out of Montpellier or Clermont l'Hérault for €3 round trip.
Ready to go? Book flights to France, read about train travel in France or discover 7 secrets about the south of France.
Photos by: Chez Julius Livre 1, malavoda, Wolfgang Staudt, Roberto Gauvin,  Gerard Feron