In the middle of February I attended a particle physics conference in Banff, Alberta, to present the results of the work I had done towards my Masters degree. However, no one is really kidding themselves about the real reason that they are going to in Banff in the middle of winter. Banff was founded within the towering Canadian Rockies where TransCanada railway workers could stop off to enjoy the natural springs, but nowadays, during the colder months, Banff becomes a bustling winter sports mecca.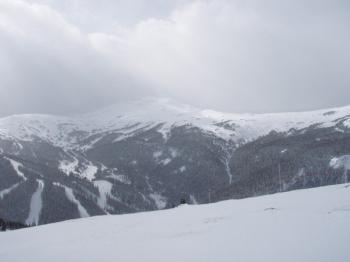 I arranged the trip so I would have two days of snowboarding, followed by two days of conferencing followed by a further two days snowboarding. My adventurous friend Brad, who wasn't attending the conference, tagged along to take advantage of my free accommodation. We had explored new snowboarding terrain in British Columbia's Coastal Mountains together and would now start to probe the offerings of the Canadian Rockies.
I awoke early for my second day snowboarding knowing we would be going to Sunshine Mountain. Sunshine Mountain is famous for it extremely challenging terrain and champagne powder where nobody follows the trails; they simply make their own imaginative route through trees and bowls of snow hoping they will emerge again close to a chair lift for the ride back to the top.
After a relaxed breakfast I discovered after passing some excited skiers in the hotel lobby that 30 cms of fresh snow had fallen over night. This changed everything into a frenzied rush to round up our snowboard gear, take the shuttle bus to the mountain and rip up the fresh powder like people possessed. I was so excited during the rush that I almost got angry by having to wait for more than about 10 seconds to brush teeth, to find gloves, to pinpoint clean socks, to wait for the bus or to line-up for a day ski pass.
Mid morning whilst riding up the Standish Mountain chair lift we decided we would like to make the connection to get to the bottom of the continental chair lift, which is an inter-provincial lift that starts in Alberta, briefly passes into British Columbia and then returns to Alberta. This route was essentially treeless and looked as if it started with a steep descent followed by a long flat section. Suspiciously, there was only one successfully created snowboard track along this flat section. That snowboarder must have hurtled down the steep section to make it through the flat without having to un-strap and start the arduous trek through the deep snow, something that every other rider has failed to accomplish.
We knew we were going to have to commit and go for it even though we didn't know the true nature of the terrain. Ideas of total commitment like this in the past had mixed success. I had known friends completely lose skis, wrap themselves around trees and on one occasion fall perilously through a hole in to a flowing spring creek below. We were going to have to be very alert.
The chair lift reached the top of the mountain; we dismounted, strapped ourselves in, set off and started to gain speed. Brad bravely went ahead with me following. Momentum would be precious by the time we got to the flat section so we didn't make any turns to conserve it.
All of a sudden Brad had completely disappeared!
There didn't seem to be anything he could have gone behind. I checked my speed immediately and advanced with caution. The light was poor and there wasn't much contrast to see what exactly was ahead. Eventually I got to the edge of what was a cliff with about a four metre drop. I assumed Brad was at the bottom of it, somewhere within the large cloud of snow his impact had created.
My panic increased as the snow settled, Brad eventually appeared at the bottom of the cliff laughing. The sheer depth of snow at the bottom had made the absolutely painless yet quite disorientating tumble quite fun. I made my way to the side where I was able to un-strap and slide myself down to him. In usual crash fashion, his hat and goggles needed to be found and lots of snow had made it down his jacket.
We spent the rest of the day getting the nerve to fly off some more cliffs to make the most of on the soft landings that were available. We made videos of these like we were daredevils. That was easily the best day of the season.
The conference was a success too.