After teaching English for a year in China, I was ready for an American homecoming. Not knowing when I'd next be back, I decided to make my return to the United States – slowly. In various conversations I'd heard mention of "the longest train journey in the world," and I was intrigued by this continent-crossing idea.
I learned that The Trans-Siberian Railroad has been escorting passengers from the Orient to Europe and back for one hundred years – having celebrated it's centennial birthday earlier in 2002. Images and thoughts of traveling through Siberia, the Mongolian plains, and the magical city of Moscow, sparked my imagination. As my teaching contract expired, it inspired me to reserve a ticket aboard The Trans-Siberian.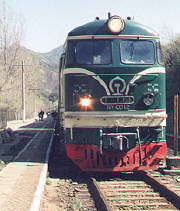 Chinese engine of the Trans-Siberian

After a hurried breakfast, and a few pre-departure photos, the train rolled out of Beijing's central station at seven-thirty on a rainy Wednesday morning, heading north for Mongolia. The morning's departure would begin a journey of nearly 9,000 kilometers, crossing three countries and many more cultures, and unveiling a wealth of remarkable experiences.
Krasnoyarsk
,
Omsk
, and
Novosibirsk
– not necessarily household names, but these cities, sandwiched by forests of birch, proved to be fascinating stops along the route of this legendary railroad.
Near midnight on our first day of travel, we reached the Mongolian border. The stop here is longer than the usual ten to fifteen minute pause for passenger and provision on/offs. It's here that the train's wheels are changed. The Chinese and Russian trains run on a different gauge of track and require different sized wheels. All of the train's coaches are uncoupled and each is lifted with hydraulics, individually, as workers exchange the wheels below.
During this two- to three-hour process, the small Chinese border town comes alive. Awaiting the incoming train are beer and banana vendors, money changers, pay-phone operators, and numerous other merchants looking to profit from this late-night crowd of Russians, Mongolians, and a handful of Westerners. After some purchases – this is the last stop that accepts Chinese currency – we reboarded the train, now traveling in Mongolia.
The following morning we awoke, crossing the waving dunes of the Gobi Desert. Dust and sand filled the air outside and inside the train, despite the closed windows. Peering out through this haze, we could see the circular Mongolian houses called yurts. Made from a light and flexible material, they are easily and often transported (a necessity for their nomadic lifestyle), but the fur-lined interior also provides warmth during the harsh Mongolian winters. As the numbers of these homes increased in sight, Mr. Lumpur, from the bunk across, prepared his China-purchased packages of fruit and wine for departure. We had reached his home, Ulan Bataar.
Unless you have pre-arranged a berth on a later train, you can't take a tour of all the cities the Siberian passes through, but you can stretch your legs and take a look. A usual stop at each of the forty or so stations en route lasts fifteen minutes. It's enough time to pick up some water, wood-baked fish, or a variety of baked goods – peddled by the babushkas (grandmothers) or ice-fisherman on the platform.
Fifty hours after leaving Beijing, on the journey's third morning after a late-night Russian border crossing, the train slowed to a stop in the Eastern Siberian city of Irkutsk. This is where I'd be staying for two nights. Bidding dah sveedanyah to my compartment mates, I exited with apprehension (my first visit to the former Soviet Union), excitement and a Russian phrase book.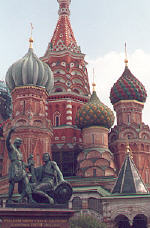 St. Basil's Cathedral in Red Square, Moscow.
Just an amazing building to behold.

In the city center, I exchanged some dollars for rubles ($100 equals 3500 rubles) and then it was back in the car with my soft-spoken guide, Ilya, for a forty-minute drive to
Lake Baikal
and the tiny village of
Listvyanka
. We listened to 1984's "Holding out for a Hero" on the car radio as I perused my phrase book for the word "shower." (Stunning to most westerners, there are no showers on these long-distance trains, but washing your hair and shaving are not impossible. I completed both tasks with a single-use shampoo pack).
Outside, we passed snowy forests and flatlands that reminded me of Yellowstone's western Wyoming border, and home. My accommodation here, pre-arranged by a Beijing-based travel agency, was in the home of a Russian family. The friendly mother-daughter team of Rita and Valentina maintained spare bedrooms for visitors and cooked traditional dishes of dumplings with sour cream, salads, and soups. Cream cheese pastries and coffee followed every meal. In the village, I attended an Orthodox church service, visited a museum detailing the history of Baikal, the world's largest lake, (approximately the size of Belgium) and the wildlife living in and around it. Sables, wolverines, and lynx roam the lakeside terrain, and the lake itself serves as home to the endemic olum, a fish we would enjoy later that night, served with a borscht (beet soup) accompaniment.
After a long day of eating and exploring, I relaxed in a Russian banya – a small wooden sauna adjacent to most houses – the major method of bathing and relaxing in all of rural Russia. The next morning, after purchasing some souvenirs in a small market, I drove east to reboard the western bound "Baikal" – the best of the Russian trains.
I lived in this moving, four-bedroom apartment for nearly six days. The train just kept rolling along, at a pace of about thirty miles per hour, so depending on your inclination, it can be either a very exciting time aboard, or very much the opposite. What you do is up to you. Your time aboard, there's surely lots of it, is what you make it.
Passengers played cards, slept, drank (the local beer, vodka, or Alexander Karelin-sponsored fruit juice), or stared out the window. In addition to these, I spent my time reading, writing, practicing Russian, consuming long lunches in the Mongolian and Russian dining cars, discussing travel and time differences over beef stroganoff, politics and Pushkin over Russian soup and schnitze – every morning awaking to a new landscape. Precautioned about safety on the train, I had no problems on board, but I did sleep beside my camera and passport every night.
The last day of the trip was a Wednesday – an entire week after setting out, and honestly, a bit wearing. Millions of beautiful birch trees had overwhelmed my appreciation for them, and my roommate, Stanislav, scorched me on the chessboard and with his critique of "The Drunken Russian" of American movies. When we finished analyzing "Rocky IV," and when my last remaining knight had nowhere to turn, my Kazakhstan-born competitor questioned, "Which strategy were you using?"
The train was heating up, our fruit and water supply running low, and craving stationary land, the last hours aboard were spent in excited anticipation – of our arrival.
Red Square. Lenin's Tomb. The onion domes. Awesome. Upon exiting the train in Moscow, I was met by an English-speaking guide who showed me to my hotel, and explained a few peculiarities that I had noticed on the train. We talked about the gloomy Russian character, the economy, and the recent changes within the capital. I spent a few days in Moscow, attempting to fully appreciate St. Basil's Cathedral and the Kremlin's massive walls, and purchasing some Putin-topped metroishkas for one hundred rubles – twenty a piece for each of the five former presidents housed inside.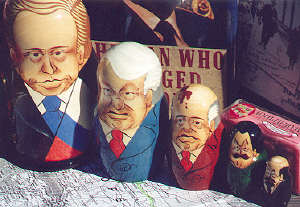 A metroishka (Putin-topped) of 5 recent Russian leaders. Putin, Yeltsin, Gorby, Stalin, Lenin.
I completed my visit to Russia with a quick jaunt to St. Petersburg and a Russian language viewing of "Spiderman". When the movie let out at nine-thirty, the city was as bright as it was at two-thirty, the famed White Nights creeping into their summer existence.
The Trans-Siberian is actually the train route that stretches across all of Russia, from Moscow to the Eastern port city of Vladivostok, but this name has come to signify all of the legs of the trip. One can depart from Beijing via Mongolia and it's capital Ulan Bataar on The Trans-Mongolian (as I did), or travel on The Trans-Manchurian through Harbin and the rest of Northeastern China. Of course, the trip can also be done in reverse, beginning and setting off from Moscow to all of these eastern destinations.
Prices vary, depending on where and when you buy, and how many stop-offs you plan to make along the way. There are also visa requirements for travel in Russia and China, and securing them on your own can be a bit tricky, but there are many travel agencies who will make all of the arrangements for you, and they are easily accessed on the Internet.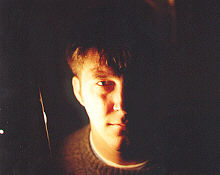 Your author

There's no doubt about it. Crossing all of Russia and circling one-fifth of the globe by train is a vast and lengthy endeavor, but it's the journey's length that makes it unique. No other train can boast of traversing eight time zones and two continents. Endless views of forests, colorful Russian homes, and grazing Mongolian horses, dusty deserts leaving behind deserted stations and towns, combined with the soft but constant sound of the tracks provide a peaceful and thought-provoking environment. Bring some books, some music, a tin or two of coffee or sardines, and toilet paper – a necessity on the Chinese coaches. Undertaken in the right spirit of travel, The Trans-Siberian will be your greatest journey yet.