New Delhi is awash in good food. From the kitchens of upscale hotel restaurants in South Delhi to the famed aloo chaat vendor in Connaught Place, a reasonably adventurous eater on any budget can find myriad ways to explore North Indian cuisine with relative ease. But it's within the walled, dilapidated confines of Old Delhi—the congested maze of narrow alleys where rickshaw pullers, mosque goers, shoppers, beggars, and vendors of every imaginable thing collide daily—where the very best food is found, as my husband and I found last summer while researching Delhi cuisine. The historic and symbolic heart of the city, Old Delhi has street stalls and sweets shops dating back 70, 100, 200 years, peddling the same popular delicacies now as then: spicy-tangy chaats (snacks), sugary jalebi, smoky mutton kebabs. There's just one catch about eating in this part of town: It can be completely overwhelming.
Try and picture it: clamorous, winding, dirty streets. Humans, bikes, and auto rickshaws competing for limited space. Little English spoken. There's a good chance it's very hot or very wet. Now think about what you've heard about eating—especially on the street—in India. You're not particularly keen to dive into that cream-topped lassi, are you?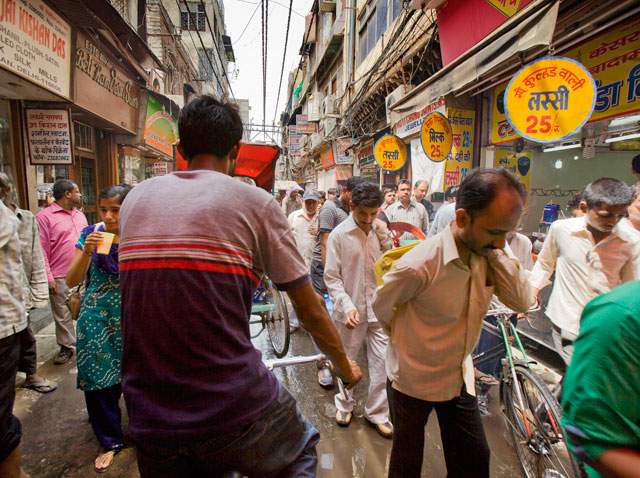 It's good to have a healthy suspicion of street food in India, of course. But the great thing about Old Delhi is the best vendors have been around for ages and remain extremely popular, vetted by plenty of locals and expats who've come before you. You just need to know what foods to look for and where to find them—a challenge in its own right on these labyrinthine streets. You can enlist the trusted services of a guide, like one from Delhi Food Adventure, or you can jump right in yourself, armed with a little knowledge—and some hand sanitizer.
1. Dahi Bhalla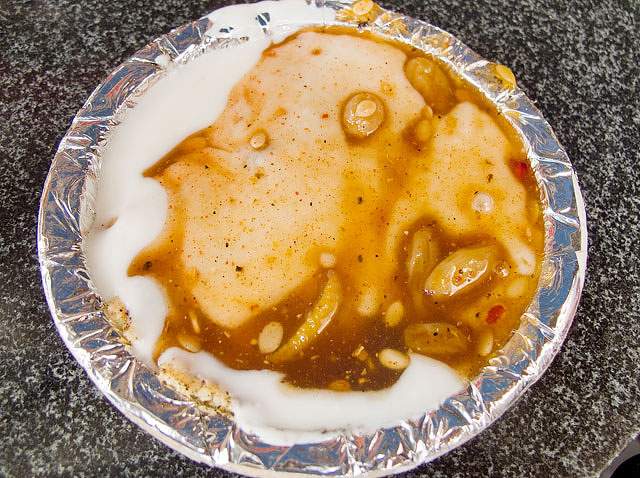 Right near the Chandni Chowk metro station, on Chandni Chowk—the main artery of Old Delhi—is the perpetually mobbed corner stand called Natraj. It sells just two items, and it's the dahi bhalla you should order, a creamy chaat of yogurt (that's the dahi) and bready fried lentil fritters (bhalla), topped with pomegranate seeds, yellow raisins, and tamarind chutney. At turns tangy, spicy, and sweet, it's wonderfully cooling on a sultry day.
2. Rabri Faluda
Near the 17th-century Fatehpuri Masjid (mosque), the original Giani di Hatti outlet is the place to try rabri faluda, a drink so thick it's served with a spoon. It consists of vermicelli-like noodles (the faluda) and a traditional sweet called rabri, made of boiled milk, cream, sugar, nuts, and cardamom. The rabri is scooped on top of a glass of faluda, topped with crushed ice (made with filtered water), and mixed well. It's a very heavy, floral-tasting drink—I'm not sure you want to drink the whole thing if you plan on eating more—but most definitely worth trying. If it's in season, also get the insanely delicious fresh mango shake here.
3. Paratha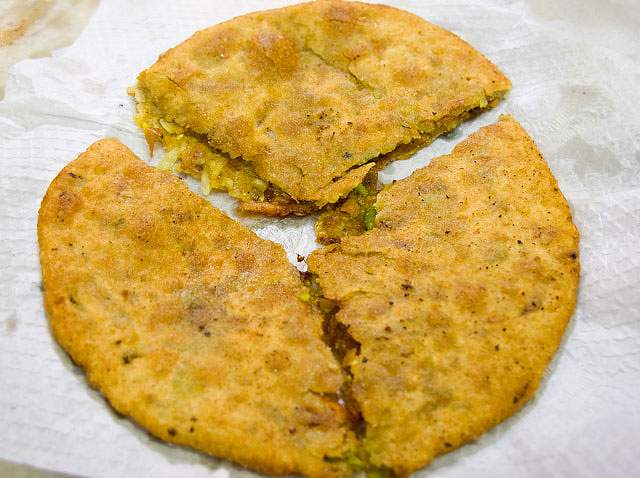 This one's not a secret, but it is a must, located on the narrow winding lane known as Parathewali Gali (named for the paratha walas, or sellers, that have long set up shop there). We like the first one, Pandit Babu Ram Devi Dayal, where there's some seating, but I'm guessing they're all pretty good. Parathas are pan-fried, unleavened flatbreads made from wheat flour, stuffed with various veggies and/or paneer, and served with a number of chutneys, sabzi, and pickled vegetables. Good ones like these are not overly greasy, but are crisp, soft, and chewy all at once. We loved the mixed veggie paratha here, as well as the surprisingly sweet, creamy khurchan paratha, made with a simple milk-based treat that is itself an Old Delhi specialty.
4. Jalebi
The most iconic place in the city to try jalebi—a neon-orange sweet made from fermented batter, which is fried in ghee into pretzel-like whorls and then soaked in a hot sugary syrup—the Old Famous Jalebiwala has been frying and soaking jalebi on Chandni Chowk for well over 125 years. Even if you've tasted this popular sweet before, try it again here—where it's always served fresh and hot, not at room temperature like in most sweet shops—and prepare to have your mind blown a little. Crisp and chewy, warm with gooey sugary liquid, it's kind of like a sticky Indian funnel cake.
5. Sohan halwa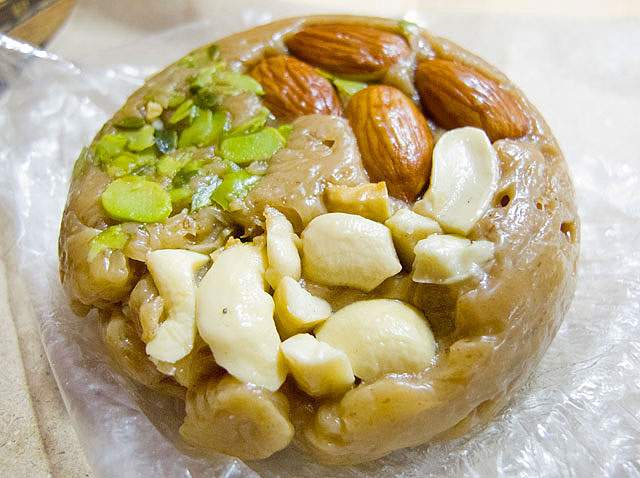 Among India's many sweets made with ghee, or clarified butter, there are halwas, of which there are two general types: the pudding-like flour-based (see no. 9) and the crunchy or crumbly nut-based. In the latter category, sohan halwa, a nutty Punjabi sweet (made of sprouted wheat flour, nuts, ghee, milk, sugar), has been satisfying Delhi sweet tooths for centuries at Ghantewala, one of the city's most famous—and oldest, established in 1790—sweetshops, also on Chandni Chowk. This is its signature offering, and it lives up to the hype, with a crunchiness almost like thick peanut brittle and sweet, nutty flavor—though it is a bit oily, thanks to the ghee. Pictured is the tiranga, or three-colored, with pistachios, cashews, and almonds on top.
6. Kulfi
India's version of ice cream, kulfi is a frozen dairy-based dessert traditionally made by boiling milk until it reduces and condenses; it's then sweetened, cooled, and frozen. Since there are no eggs or churning involved, kulfi is especially dense, smooth, and creamy—an absolute must when the temperature heats up in Delhi. At decades-old Duli Chand Naresh Gupta, on Sitaram Bazar near Chawri Bazar, south of Chandni Chowk, we loved a mix of the (seasonal) mango and kesar-pista (saffron pistachio) kulfi—the former a fruit kulfi, smooth and creamy; the latter a more traditional rabri-based kulfi, chalky and rich. The two classic flavors proved a winning combination.
7. Kulle, aloo chaat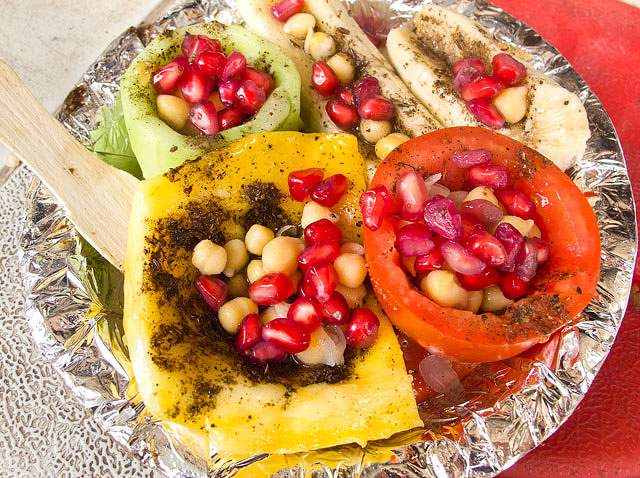 Kulle is fruit chaat, alleged to have been invented in Delhi, and definitely the prettiest—and most nutritious—street food around. Fresh fruits and vegetables (request them with peeled skins) are hollowed out and topped with chickpeas, pomegranate seeds, lime juice, and chaat masala, a salty, tangy spice mix. We found ours at decades-old Hira Lal Chaat, a tiny streetside vendor on Chawri Bazar, south of Chandni Chowk. While you're there, get the aloo chaat, too: a very simple, very delicious chaat of cubed, fried, spiced potatoes.
8. Papri chaat
The king of chaats, in this fan's opinion, is papri chaat, so called for the crispy-fried round wafers (papri) that give it its addictive crunch. It also includes boiled potato, chickpeas, chaat masala, a yogurt sauce, tamarind and coriander chutneys, and often pomegranate seeds and sev, or fried gram flour. A popular Old Delhi spot for it is Ashok Chaat Bhandar, on Sitaram Bazar near Chawri Bazar, or Haldiram's, an excellent Delhi-based chain specializing in "hygienic" chaats, with a location on Chandni Chowk. A perfect mix of spicy, sweet, tangy, soothing, and crunchy, this is one dish you'll require seconds of.
9. Bedmi-aloo, nagori-halwa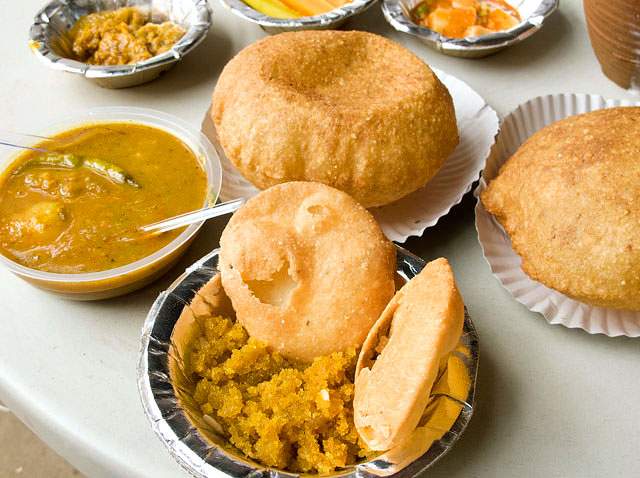 A popular Delhi breakfast (particularly in winter) and one of India's best savory-sweet pairings, bedmi-aloo and nagori-halwa are two distinct dishes eaten together. The former is the savory part: a puffy, hefty, deep-fried puri-like bread called bedmi, served with a spicy aloo sabzi, or potato curry. The sweet is nagori, a crispy, crumbly puri that's paired with suji halwa, kind of like a sweet, semolina-based porridge with the texture of couscous. Find it at the fifth-generation-owned Shyam Sweets, on Chawri Bazaar, where the whole spread comes with pickled vegetables and a spectacular pumpkin curry. To eat, take a savory bite and then a sweet bite, mixing and matching flavors with abandon. This is India's take on a balanced breakfast, and it's delicious. Shyam is also a good place to try a traditional lassi, served in a disposable clay cup and topped with malai, or clotted cream.
10. Mutton burra kebab
Karim Hotel, near Jama Masjid, Old Delhi's most famous mosque, is locally famed for its prestigious family lineage—its owners claim relation to the royal cooks of India's Mughal emperors—and its kebabs. (Delhi, you should know, is a huge kebab town.) But while you should definitely try the excellent, spiced mutton seekh kebabs grilled over charcoal in front of the restaurant, it's the tandoor-cooked mutton burra kebab we loved most. The meat is marinated, skewered, roasted, and charred in the tandoor, yielding tender, spicy, smoky meat. Pair it with pillowy tandoori roti, and close out your meat fest with some delicately sweet kheer, a kind of South Asian rice pudding sprinkled with pistachio nuts.
Check out flights to Delhi, book a hostel in Delhi, and read our new Delhi Travel Guide.
All photos courtesy of Eat Your World and may not be used without permission.
About the Author: Laura Siciliano-Rosen is the co-founder of Eat Your World, a food-travel website dedicated to regional foods around the world, to which users can also contribute. On EYW she has covered Delhi cuisine in depth. A devotee of all Indian chaats, she counts herself lucky for living in a South Asian neighborhood in Queens, NY.